Easy Life: The Simple Life
On second album 'MAYBE IN ANOTHER LIFE…', Murray Matravers is taking a step away from social expectation and leading Easy Life on a journey to the centre of themselves.
"I think they like how British we are - like, how polite and clumsy?!" suggests Easy Life frontman Murray Matravers, pondering his newfound friendship with wildly adored US rap troupe Brockhampton. The first time they met, however, it wasn't exactly the slick introduction he was hoping for.
"I was already an anxious mess because I've got to meet these celebrities, right? Then I couldn't work out how to open the fucking door of the car they were in," he groans. "And I was just stuck outside this Tesla, and it was really, really lame. But I think the fact we're like, 'We're British! Look how awkward we are!' is actually endearing to them…"
One week before our chat, Easy Life were atop Glastonbury's prestigious Pyramid Stage for the first time. The last time they played the festival, back in 2019, it was a rite-of-passage slot on the considerably smaller BBC Introducing Stage, but with a hugely successful three years behind them, a level-up was inevitable. There was their Number Two debut album, 2021's 'Life's A Beach'; two sold-out Brixton Academy shows; a hometown arena gig. And so, when thinking about what would make their Pyramid slot really pop, they decided a surprise guest would be a good move. Enter their mate, Brockhampton's Kevin Abstract, who was put on a plane from LA just to join them for his verse on 'DEAR MISS HOLLOWAY'. It was gearing up to be one of those Glastonbury Moments. The only problem? He forgot all the words.
"Ah d'you know what, I'm not annoyed. You can't be annoyed about it. This shit happens," says Murray generously, from his flat in London. "He's such a lovely bloke and he was really upset. It was actually hilarious. Sort of better than if he'd done it properly, because everyone is talking about it."
Bumbling Britishness, aside, there are more than a few comparisons to be drawn between the Leicester five piece and the Texan collective. Since the release of 2017's ode to being skint, 'Pockets', Easy Life - much like Brockhampton before them - have been reinventing what it means to be in a boy band, flipping lad culture and toxic masculinity on its head with songs packed with heart, humour, hope and a fair bit of anxiety about the shitshow that is modern life. With their own Midlands slant on inventive, Odd Future-influenced production, they make music that resonates with young people who are sick of being put in boxes, that are trying to make sense of the world they live in - a world that, let's face it, is increasingly bonkers by the day.
If 'Life's A Beach' was about having no regrets, forthcoming follow-up 'MAYBE IN ANOTHER LIFE…' is about realising that sometimes the things you do have consequences - and they aren't always rosy.
"At the start, Easy Life was a bit of a laugh and we were consistently amazed at how well it was doing because we were making it up as we went along," Murray says humbly of the band's inception. "We were very much like, 'This is what we think is cool right now and that might change in six months, but we'll tell you what it is anyway'."
The result was an amalgamation of experimental sounds that mashed genres and moods but all with the unshakeable confidence of your early twenties. It was only after Easy Life's non-stop climb was cut short with yet another lockdown, however, that Murray began to take stock of everything that had happened and immediately got to work on Album Two.
"Suddenly I had a lot of time and it made me reflect on everything," he recalls. "A lot of our music's quite extrovert. Don't get me wrong, the lyrics are always very insular. But sonically, it's quite big and happy and dancey. Whereas I feel like the second album is a lot more introverted, a lot more personal and, at times, quite sad, you know?"
"We were consistently amazed at how well [Easy Life] was doing because we were making it up as we went along."
— Murray Matravers
On first listen, that bouncy production masks the darkness underneath. But dig a little deeper and 'MAYBE IN ANOTHER LIFE…' has a melancholy to it. It's not that it exactly drags you down, but perhaps it suggests, 'It's OK, I feel it, too'.
"I've always said you can only write how you feel at the time. And I guess for a lot of the past couple of years, I've been struggling with anxiety and fucking wondering where Easy Life lives in the world?" Murray admits. "I've got a lot of shit to deal with. And like, it's just a lot isn't it? Living in this world, as it is, is fucking tough. And I think I've channelled a lot of that anxiety into this record. But just as I'm voicing this now, I realise how miserable I sound! I AM happy, and I know it's a luxury to be able to think about all these fucking metaphysical questions when other people are just cracking on. I genuinely love the second album. I think it's really good. And I think it encompasses everything that Easy Life is like in a really true, authentic sense. It's very honest."
Across the album's 18 tracks, that honesty is felt in a number of stark lyrical moments. "I feel the wheels coming off," Murray sings on 'BASEMENT', a house track about where it all began for the band. 'OTT', a collaboration with New Zealand star Benee, is a song for that friend who always goes a little bit too hard to the point of concern, and how to try and rein them in. Meanwhile, on 'MEMORY LOSS', the singer bleakly croons "It's all downhill from here". But it's at the album's mid-point that a little light begins to break through, with 'SILVER LININGS' providing a bit of that Easy Life hope of old.
"I try my best not to do this, but there are times when you end up writing music for the audience. You're like, 'Oh, the fans are gonna dig this'," he concedes. "But on this [album], I didn't do that once. And some of the songs are really slow and beautiful, and I don't know if other people will respond in that way, but I just wanted to make something that I wanted to listen to."
Album closer, 'Fortune Cookie', is one of those pared-back moments, with Murray channelling Randy Newman to deliver an emotional epilogue to anyone struggling. "If you believe you're in need of repair, take care", he begs. It's that shared sense of consciousness - a feeling that after listening to 15 tracks of their own struggles, Easy Life are looking out for you, too - that has helped build such a strong connection with their fan base.
"I've always said that if I can have the capacity to feel a certain way about something, then chances are everyone else feels the same way as well," Murray says astutely.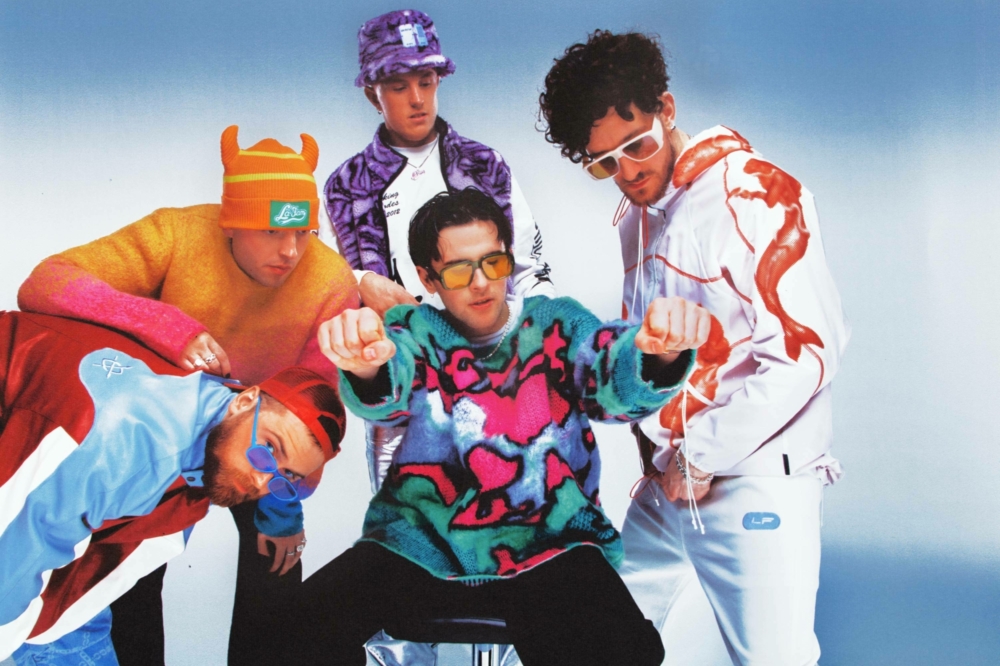 "Living in this world, as it is, is fucking tough. And I think I've channelled a lot of that anxiety into this record."
— Murray Matravers
Now, heading into the throng again for their second, there's an inevitable question looming over its release. Having been just pipped to the Number One spot with 'Life's A Beach', is topping the charts the goal for 'MAYBE IN ANOTHER LIFE…'?
"I'm always comparing. And I shouldn't because that's what's wrong with the world, and social media has cemented that in all of our brains, but I'm always looking up at other people who I admire who are so many echelons above us and thinking, 'They've smashed it, we've got so much work to do.' Or like, when we come off stage we're always going, 'This was wrong, this was wrong…'," Murray says, admitting sadly that their on-to-the-next-thing mentality means it's often hard to celebrate the wins.
"We're trying to enjoy the journey and, if I'm being real with you, we did care about having a Number One with the first album and it kind of ruined the experience. So this time, I'm just not bothered about chart position, we've trained ourselves not to care."
For Easy Life, 'MAYBE IN ANOTHER LIFE…' is about escaping to a world where you can say all the things you ever wanted to say to someone, knowing that, if you do, maybe things will turn out differently. It's an album by five lads from Leicester who aren't so different from you, whose experiences of being alive involve drinking and falling in love and worrying about the world. Who, somewhere in among all that, have coated those feelings with some exquisite and exciting production, with vocals that make you feel like you're listening to your mate have a little sing-song on the way home from the pub.
"We're all really proud of it. I just hope that people love it as much as we do. I genuinely think it's quite good," Murray says, still doubting himself, with a hint of disbelief in his voice. "I think it's an interesting album that doesn't sound like other things I've heard.
"Something I'm always really gassed about with Easy Life is when I hear other things and I think they sound like us," he smiles. "Impersonation is like the highest form of flattery isn't it? So I love it when people steal our sounds, and I hope they steal all of these because I think they're great sounds."

'MAYBE IN ANOTHER LIFE…' is out 7th October via Island.
Read More