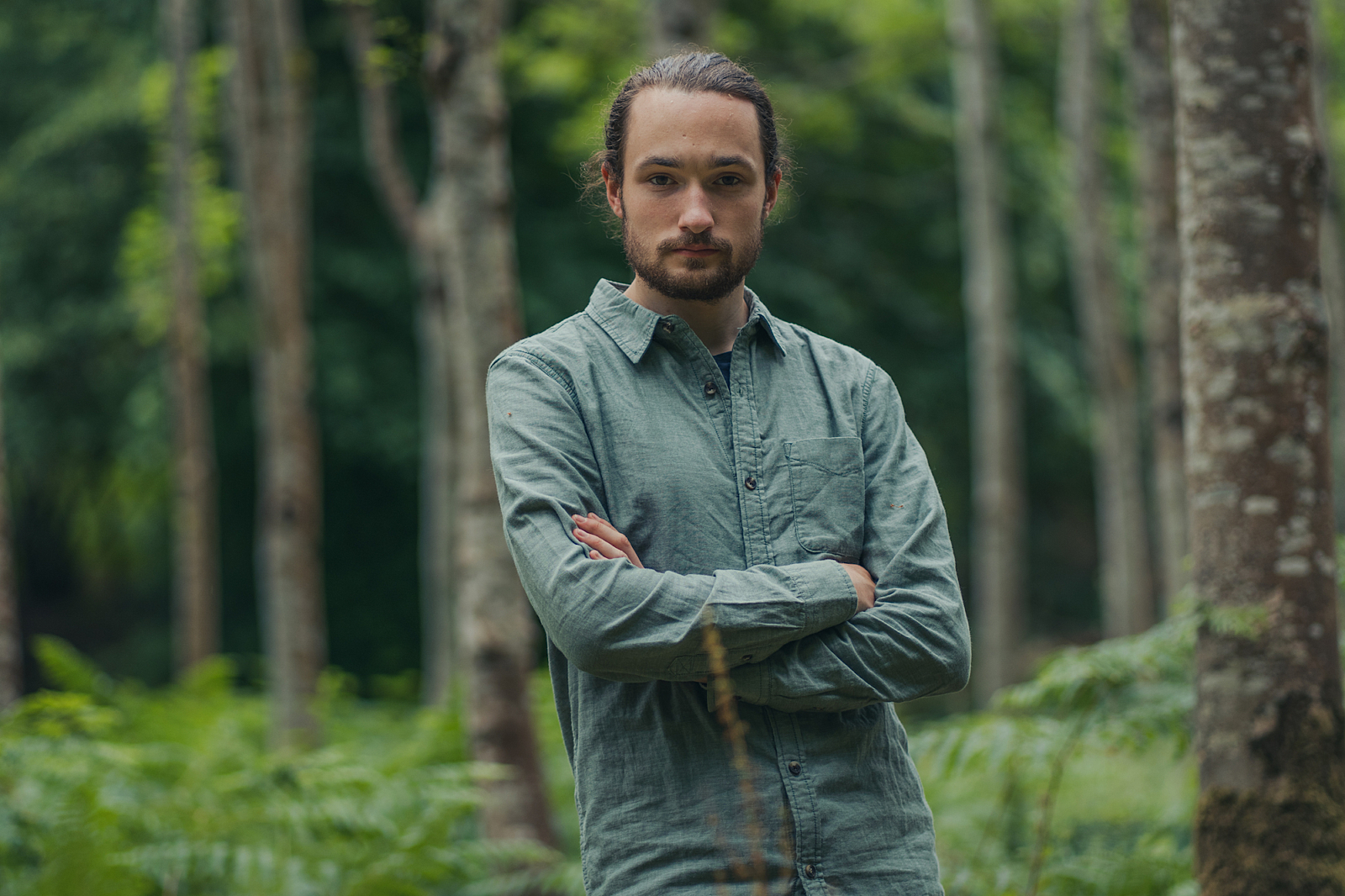 Photo: Dave Stapleton
"Hopefully this album proves that improvised music can be really beautiful": Fergus McCreadie talks 'Forest Floor'
Ahead of the 2022 Mercury Prize with FREE NOW, we spoke to the jazz musician about his rurally-inspired latest record.
Every year, the list of shortlisted artists for the Mercury Prize contains a small handful of legitimate surprises, and 2022's is no different. In amongst this year's big hitters (Harry Styles, Little Simz, Sam Fender), we find 'Forest Floor': the third long-player from Scottish jazz prodigy Fergus McCreadie.
Although McCreadie has quietly been amassing a loyal following in jazz circles since his debut album 'Turas' in 2018, his inclusion on the list has skyrocketed him into a new stratosphere. Recorded with McCreadie's regular trio (rounded out by double bassist David Bowden and drummer Stephen Henderson), 'Forest Floor' acts as a showcase for McCreadie's outstanding skills as a pianist. Its tracks are inspired by the beauty and natural ruggedness of the Clackmannanshire countryside that surrounds the family home that McCreadie retreated to during lockdown; we hear the seasons change and the ecosystem churn and regenerate before our very ears.
Ahead of the 2022 Mercury Prize with FREE NOW, we caught up with McCreadie to talk about the impact of the shortlisting, the connection between nature and improvisation, and the importance of diversity to institutions like this.
Congratulations on being shortlisted for the 2022 Mercury Prize with FREE NOW! Tell us what receiving that news was like.
I was actually just sitting at a piano, practicing, and the guy who runs my label called and said he had some news. He didn't even say it was good news, I was preparing for the worst. But he said I'd been shortlisted for the Mercury, which was the best news it could have been! No, it's great, it's such a surprising thing. These kinds of things make a huge difference, especially if you're a jazz artist and less mainstream - to be up for a mainstream thing, it's crazy. It's unusual for me.
Have you noticed the effect of being shortlisted already?
The obvious thing is that people are finding the music, I suppose. The two hard things about being an artist are making good music in the first place, and then getting people to actually listen to it. That's the other half of the battle, so anything like this helps a lot. There's a big uptick in Spotify [streams] and I've had a lot of people who aren't even jazz fans post or message me saying they really like the album. Jazz has this unfortunate reputation about being all weird notes or whatever, or something that's really intense. Hopefully this album proves that jazz and improvised music can be really beautiful.
People will be able to tell from the track titles alone that the album is inspired by nature and the wild, and it's like you can hear the changing of the seasons in the songs. You returned to your family home in Clackmannanshire to record. How did that place inspire the music?
It was during lockdown, and I just had so much time to find places around the home that I'd never found before. It's difficult with music, it's not like I'm telling the listener what they should be thinking about when they listen. The reason that improvised music can be so provocative is that it is by nature unpredictable, which is true about nature as well. You can research everything about it, but you'll still be surprised. That confluence between improvisation and nature works quite well in trying to evoke something.
"I want to leave the compositions as frameworks as much as possible, that can be altered during performances."
To what extent is your music improvised, and how much is it composed before you get to the studio with the other two musicians?
It varies track to track, but I'd say the ratio is between 30-40% composition and then the rest is improvised. Jazz is very flexible; it can go either way. I always veer towards the improvisation side because, as a trio, we can get such a good dialogue going between us. I want to leave the compositions as frameworks as much as possible, that can be altered during performances. Every gig becomes different as we explore little corners of the tune that we've never explored before. The songs evolve over time by leaving them open, which makes it fun for us and hopefully for the audience too.
Is it ever frustrating to have to record a version that will be preserved in time, when tracks can still develop so much more?
Yeah, there is an element of that. If I listen to my first album, I would not play the way that I play on that album now. That's just the nature of it. John Coltrane described it really nicely, because he epitomises the jazz musician who is constantly evolving; he said he tries not to think about albums as finished products, but rather little chapters on his musical journey. So, the next album we do will be a little further on in our story as a trio and as musicians. Thinking of it that way stops perfectionism creeping in, which is the enemy of good stuff, I think.
You met David Bowden and Stephen Henderson when you were all studying at the Royal Conservatoire of Scotland, and you've been playing together for over six years now. What does it mean to you to have that kind of deep, lasting connection with other musicians?
It's incredibly valuable, it means so much. As well as being such amazing musicians, they're my best friends as well. David is getting married next year and me and Stephen are both best men. It's really important that members of a band are close friends, because you have to spend so much time together. Through having that really deep connection, it allows so much freedom and space when we play, and there's no judgement either. That trust makes every gig really exciting.
There's often one jazz nominee on the Mercury list, but there's very rarely more than one. What do you make of that?
I think a lot of people accuse it of being tokenistic, and maybe there is an element of that, but the award does genuinely do a good job of reflecting a lot of different genres from across the UK. Obviously I'm biassed and I would love to see many more jazz albums on the list, but they do have to celebrate the whole music community. Honestly, I'd love to see more folk albums on the list too! There are so many genres out there, little niche scenes. It can really elevate these artists just by shortlisting them, and I think we do see it do that a lot, which is a really good thing.

Brought to you as part of our media partnership with FREE NOW, the mobility super app!
Move to the music with FREE NOW and get 50% off your first 2 rides with code FNXDIY22
Read More