Fletcher: "I'm not as scared as I used to be"
We spoke to the New Jersey pop sensation on the eve of her debut album's release.
Last year Cari Fletcher - who releases music under her surname moniker FLETCHER - was going through heartbreak. She did what many find themselves doing in such situations: signing up to a 21-day 'Love Yourself' podcast programme. "It was so cheesy," she laughs today, knowing very much how it sounds. "But also kinda cute?"
Focussed around "mirror work" (the act of talking to yourself in the mirror), these efforts were one of the steps she was taking during this period, a journey that's explored in her debut album 'Girl Of My Dreams'.
Raised in New Jersey, FLETCHER first cut her teeth as a contestant on the first ever series of the US version of X Factor, competing in the country-pop all-female group Lakoda Rayne, before stepping out on her own with 2015 debut single 'Warpaint'. However, it wasn't until her major label debut three years later, the infectious piano-led pop song 'Undrunk' with lyrics "Wish I could get a little undrunk / So I could uncall you / At five in the morning, I would unfuck you", that she was propelled more firmly into the pop spotlight.
Following her viral success with her 2019 EP 'You Ruined New York For Me' and 2020's EP 'The S(ex) Tapes', Fletcher became known as the new go-to pop girl for straight-talking, emotion-heavy queer anthems.
"I don't know when I decided to be so unhinged in my lyrics," she jokes. "I think it's a combination of having an Italian mother from New Jersey, and also just feeling wildly misunderstood growing up in a very small, conservative town." She adds of her formative years: "I've always craved a sense of belonging, because I couldn't really find it when I was growing up. I think, as a way, it started as a coping mechanism like 'Let me tell you everything and then maybe you'll understand me!' And, you know, I'm a Libra rising, so we love people and we love to connect. And I'm a Pisces, so I lead with my feelings first and my emotions."
Music, then, has been a way of exploring herself - as well as helping others. "I always just felt so fucking lonely," she continues. "This music has been for me, but it's also been my way to let someone else know they're not by themselves. I wanna show that it's okay not to stray from any emotions. I used to try and bury so many of them down! But they're all welcome at the table. It's a party! It's messy! Life's not supposed to be cute. Celebrities make it seem like it is, and it's not. No one has their shit together! If they tell you they do, they're fucking lying!"
"I'll never say something when I don't have the words to say it yet."
Starting work on 'Girl Of My Dreams' around two years ago, the songs originally stemmed from a feeling of devastation and loss after seeing her former partner move on. Urging herself to get through the day no matter how much it sucked, she turned to writing to find a way to get those feelings out of her body and ultimately start the road to healing.
"These songs are like bookmarks of my growth over the last two years," she smiles. "They're like mini little time capsules. I know exactly where I was when I wrote it, I know what I felt, I know what texts were coming through on my phone, I know what I was wearing. I can feel them!"
From the pop-rock leaning 'Becky's So Hot' written after creeping on her ex's new girlfriend's Instagram page, to the heartstring-pulling 'Better Version' about finding acceptance that someone will get the better version of your former partner, 'Girl Of My Dreams' charts FLETCHER's every feeling post-breakup.
Thumping album opener 'Sting' finds her recalling the moment when she'd heard about her ex moving on. "One of my really good friends called me and mentioned something about my ex," she reminisces. "It was something stupid about a new tattoo or something. I just had this thought like, 'God, I wonder if it's ever gonna not sting a little bit to hear about somebody's new life'. You used to be privy to having that information and you'll never have it any more."
One of the many emotional bumps that the record explores, FLETCHER's ease at writing about her heartbreak manifests in the album's title track, where she lays out her previous heartbreaks for the listener. "Number one," she sings, "was a boy and he had the greenest eyes […] Round two in the city she was crazy but she made it so pretty […] And three she was an angel, she could've been the one, but forever only made a couple of trips around the sun."
"And then it says 'I'm on heartbreak number four', and that's reflective of me breaking my own heart," she explains. "That was the song on the album that I was like, 'This is what it's called'. This is me landing on, 'Ah bitch, you've always been the one that's the girl of your dreams. You've been looking for it in all these places and it's been you'."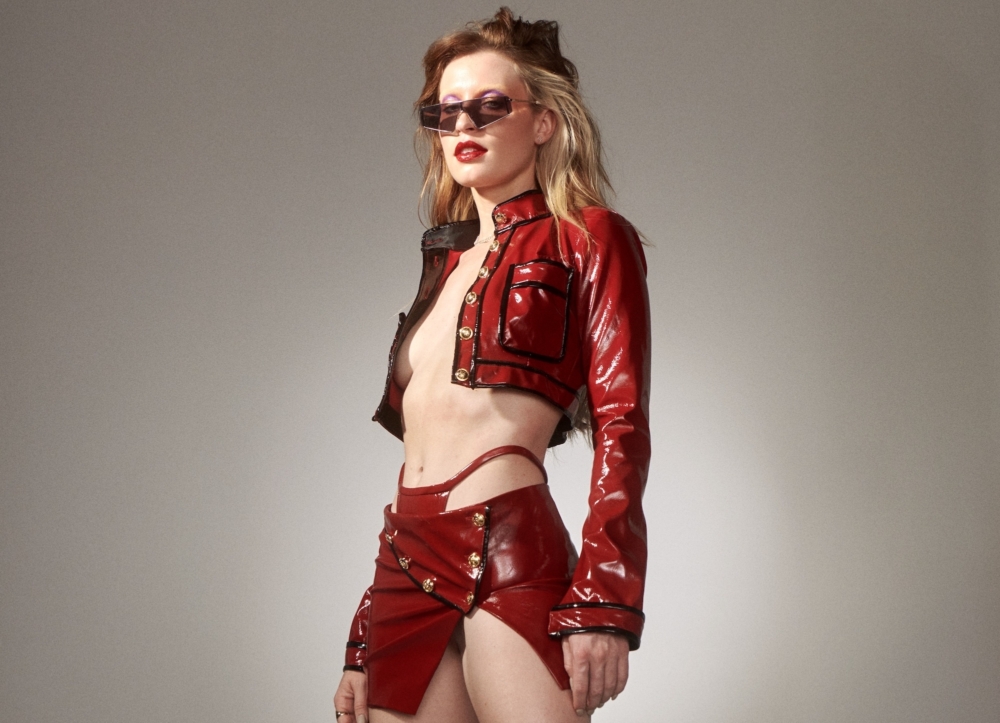 Using this album to heal from the pain of break-up, by the record's closing tracks, FLETCHER presents the new and improved Cari who has come out of the other side. Penultimate song 'I Love You, Bitch' was born from the aforementioned self-help programme and those two-minute gazes into the mirror. "I was like 'Oh my god, I've never looked into my eyes this long, I don't even know who this person is!'" She recalls. "I could see how much I was hurting and it was a very reflective, emotional experience for me. One of the days, it was like, 'Look in the mirror and say I love you and then your name', and I was like, 'How do I make this more me?' So I'm looking in the mirror and I'm like 'I love you, bitch. You are that bitch and I love you'. I wrote that on my mirror and it's still there to this day."
Closer 'For Cari', meanwhile, manifested after a period of doubt for FLETCHER when she began to rethink her path as a musician after a period of no inspiration and feeling like she wasn't good enough. Heading into the studio, she decided to pen a song purely for herself, singing in the chorus "I'll raise a glass while I toast to myself, I'm a bad bitch and nothing can scare me, this one's for Cari". "It's one of my favourites and it closes the album because it wraps up the whole concept," she smiles. "This album is for me."
While she was originally meant to release the album back in 2020, before heading on a tour with Niall Horan and Lewis Capaldi, the world shutting down lead FLETCHER to reassess and reevaluate the music that she was making. Quarantining with her ex-girlfriend during COVID - a time which manifested in her 'The S(ex) Tapes' EP - she realised that she needed to do more growing before creating her eventual debut. "Each body of work for me and for my artistry should be when you've turned a corner or have something else to share," she notes. "Right after 'S(ex) Tapes' I didn't have anything else to share, and I do now. I've lived through it and I've had experiences and I've turned this corner in my life of being able to speak about things from a different perspective. I'll never say something when I don't have the words to say it yet."
Embarking on a journey of self-discovery over the past two years, 'Girl Of My Dreams' finds FLETCHER figuring out her identity outside of a relationship. Ranging from heartache to self-acceptance, her debut acts as a frank reflection of the emotional rollercoaster that follows a break-up, soundtracked by Fletcher's characteristic diary-like lyrics. "I'm not as scared as I used to be," she states of the lessons she's learned while creating the album. "I used to be really scared about what people were going to say about me and think about me. While I'm still very conscious about that, life is too short to give that many fucks."

'Girl Of My Dreams' is out now.

Get your copy of the latest issue
Read More