Home Away From Home: Fontaines DC
Written as they relocated to London, Fontaines DC's third album 'Skinty Fia' is an interrogation of cultural identity and "mutated Irishness" set over their most experimental music yet.
'Skinty Fia', the title of Fontaines DC's third album as well as its best song, is an old Irish phrase used often by drummer Tom Coll's great aunt. Literally translated as "the damnation of the deer," it was used as a term of exasperation by the Donegal native, as one would sigh and mutter, "For fuck's sake…"
"It's a bastardisation of Irish culture," Tom says of the titular phrase, one which spoke deeply to the band, who have all moved across the Irish Sea to London in the past two years. "None of us speak Irish, but now we're in London we feel like we're fighting for this Irish culture that is kind of not real," the drummer adds. "It tied in with the album and made total sense."
DIY is speaking to Fontaines DC at their latest crossroads. After a period of settling into their new lives, learning how to live off the road and exploring domesticity in the English capital, Tom and frontman Grian Chatten call in from their separate homes in North London, the day before the band leave for a tour that's set to stretch over the entirety of 2022 and beyond.
"I'm about to not have a home for a year," Grian muses. "My home will be the tour, and I'm apprehensive about it because in order to become comfortable on tour, you have to let everything else go. It excites me, but to have these extremities in your life has a real effect."
'Skinty Fia' follows 2020's 'A Hero's Death', a reactive second album that Grian calls "sad and introspective" - one borne of the feelings of uncertainty and displacement that the band's mammoth tour for debut album 'Dogrel' brought with it. By their own admission, Fontaines DC were falling apart at the seams by the end of the tour and, as guitarist Carlos O'Connell told DIY in 2020, the greatest achievement of the process for him wasn't when they headlined Brixton Academy or slayed Glastonbury, but the moment he and Grian "just really, really fucking addressed" the self-professed "litany of resentments" they had built up against each other.
For Grian, these resentments stretched towards the band's audience as well. "I used to get angry at them whenever we played," he says, revealing that he's unable to properly eat while on tour, often having a snack in the mornings and being unable to stomach anything else until after they play because he wants to be "light and fluffy and energetic" on stage. "We'd be six months into a tour and looking like absolute shite, and I'd resent our audience and think they were the reason that I had ended up in this state," he says.
In the intervening years, Grian says he's begun to enjoy being on stage again, and is setting out on the 'Skinty Fia' world tour with a more grateful mindset despite being wary of the same troubles that plagued their last extended jaunt of shows rearing their head again. "I'm able to experience it as a celebratory event now, while for the first couple of years it felt like a really intense and gruelling exorcism," he says. "I was angry, and there's still that anger, but I'm now really enjoying people singing back to us."
"Now we're in London we feel like we're fighting for this Irish culture that is kind of not real."
— Tom Coll
Grian was the first of the band to move to London, with the other four members following - deliberately or otherwise - in the following year. Tom, who says he previously hated his experiences in the capital, flew over to join the band to write 'Skinty Fia', expecting to stay for a few months before hurriedly returning to Dublin. Two years later, he's visibly enlivened by his new life in the city, moving from his first home in the leafier Holloway to Dalston to get closer to the city's buzzy beating heart. "We're like a little moving circus!" he laughs. "Everyone I hang out with or meet is Irish. We do stick together."
Tom describes a "mutated Irishness" at the heart of the band's third album, and these feelings of anger, confusion and (sometimes) acceptance are splashed all over the record. Opening track 'In ár gcroíthe go Deo' translates as 'in our hearts forever' and made headline news in 2020 when an Irish woman in Coventry was banned from having the phrase on her gravestone without an English translation, so nobody misconstrued it as a political slogan.
Elsewhere, 'Roman Holiday' sees Grian trying to embrace London as an Irishman, wearing the aspersions and xenophobic stereotypes cast upon him as "a badge of honour," while the roaring 'I Love You' begins as a love song and ends as a thrashing exorcism of the guilt he feels for leaving his homeland for a country that has caused it so much pain in the past.
This grappling with identity is also beautifully reflected in the album's instrumentation, which features both the sparsest and most dense music they've written to date. In the album's second half, the song 'The Couple Across The Way' – a stark departure from the Fontaines of old – features just Grian's voice and an accordion, and leads into the title track, an industrial hammerblow which sees the frontman take on the cadence of a rapper more than a punk poet, over scything, metallic electronic music. The juxtapositions present in the band's lives, the country they left and the one they now call home, are played out thrillingly.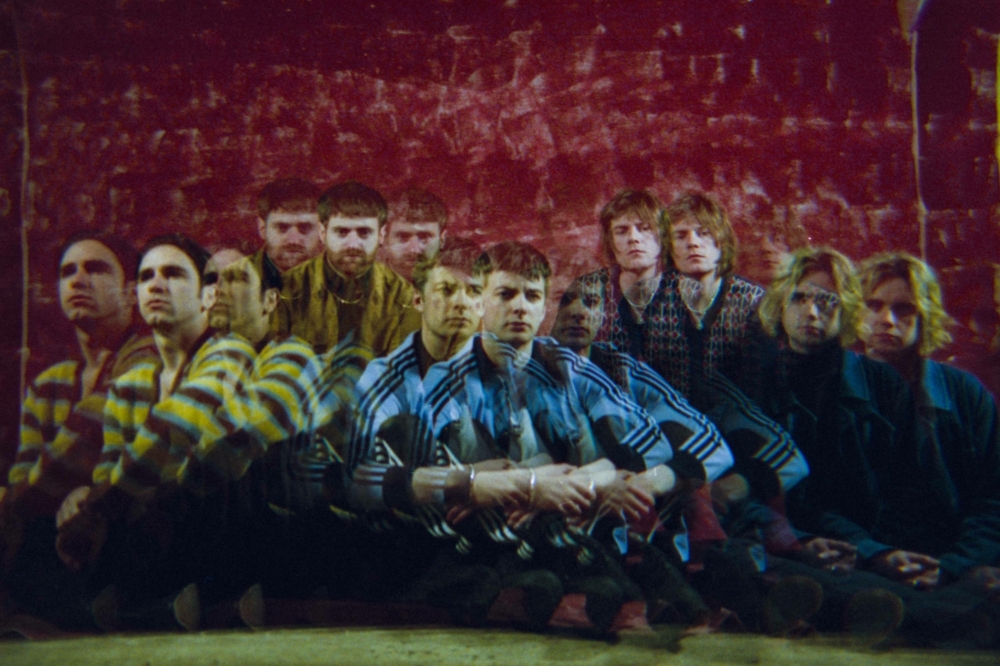 "I used to resent our audience and think they were the reason that I had ended up in this state."
— Grian Chatten
Fontaines DC's move to London coincided with continued lockdowns, meaning that the five members were able to settle into their new homes without the constant interruption of touring. This domesticity also proves an anchor of 'Skinty Fia', bringing a newfound stillness and reflective quality to Grian's songwriting.
On the aforementioned 'The Couple Across The Way', he writes of an arguing man and woman opposite his apartment, frightened and intrigued by the prospect of that becoming him and his fiancée in the future. To hone in on the feeling of putting down roots, he asked bassist Conor Deegan to make a cup of tea in producer Dan Carey's kitchen while he recorded his vocals in the corner of the room: "I wanted a tiny hint of domesticity in the background," he says.
As with 'Dogrel' and 'A Hero's Death', 'Skinty Fia' was recorded at the Speedy Wunderground mastermind's Streatham studio in South London. "It's a relationship of true friendship," Grian says of the band's work with Dan, "and it means that we have an unbelievable amount of fun working on stuff. I don't think, if we worked with another producer, I'd have the confidence to skip around the room when an idea was executed well."
For 'A Hero's Death', Fontaines had initially decamped to Los Angeles' iconic, plush Sunset Sound Studios to record, but scrapped the sessions and headed back in with Dan after making an album that was "too polished" and "like a big cocaine second album," as Grian told DIY in 2020. "It wasn't a cocaine album in that we were doing loads of cocaine, just in its sound," a laughing Grian is quick to clarify when reminded of the quote today. The choice he and the band made then - to prioritise comfortable and fun working relationships over glitz and glamour - is one that they firmly stand by however, and an ethos that they've carried with them ever since.
Two years later, this choice can be seen somewhat as a turning point for the band, leading them away from the delusional rockstar brink Grian says they flirted with after the tour for 'Dogrel', and back into the bosom of relationships that are personally fulfilling as well as artistically well-suited.
"I recognise certain ugly characteristics in myself that were a product and a result of touring life," the frontman reflects. "I became quite narcissistic, and couldn't fuckin' stop talking about myself when I met up with my old mates. When you're on tour, your world revolves around you, and all your mates in the crew are all having to make sure that you get on stage and do your thing. It's this weird little world that encourages you to have this toxic idea of yourself being at the centre of things on a daily basis."
When he would go back to Dublin between tours, he says, he developed an "ugly reflex" of zoning out while his old friends updated him on their lives and jobs, waiting "until I could talk about myself again." "Getting rid of that was…" he continues before pausing and chuckling to himself, processing the change in real time. "Jesus Christ, I truly dread to think what type of album I would've written if I still had that mindset."
Instead, he wrote 'Skinty Fia': a record he sees as more akin to 'Dogrel' than 'A Hero's Death' in its "communal" message, and one that tracks shifting cultures and identities - that's angry yet hopeful, confused yet defiant. It's their best album yet.
While everything may seem rosy as the 'Skinty Fia' world tour beckons, Grian has one tiny worry left. "I don't know what I'll write about on this tour," he says. "Because we have to keep writing. It's always been the way.
"Writing is proof that I'm alive," the frontman continues, his eyes suddenly glistening. He cuts a noticeably more animated figure when looking towards the future than regurgitating the past. "Writing means that I'm still thinking and moving.
"If we write a tune together on the day of a gig, that gig will undoubtedly be better," he concludes. "It gives us back our sense of autonomy and I become a better partner, son and brother when I've written something. It allays all my fears and insecurities for a little while."

'Skinty Fia' is out 22nd April via Partisan.
Read More