Heaven Sent: Gabriels
Bringing together three unlikely musical bedfellows, the rise and rise of Gabriels is proof that - as frontman Jacob Lusk tells us - "there are more things that make us alike than make us different".
Birth and death. Cleansing and renewal. Belief in something bigger than you, but also something you create and nurture yourself. All of these grand ideas come entrenched in the striking, black and white cover art that adorns Gabriels' recent LP release 'Angels & Queens - Part 1', an image of frontman Jacob Lusk kneeling and submerged waist-high in the river, the hand of his aunt placed gently atop his forehead. But even these widescreen notions don't quite cover the meaning for the Compton-born vocalist.
"Working with Ari and Ryan has reshaped my whole life, not just musically but in the sense that I had never been embraced or loved in this raw way before. They're two men who are very different - one is this white boy from Sunderland, but they were both just like, 'You're gonna be yourself and if people don't like it they can suck rocks'," he begins. "So to be loved in that way, and then to be able to share my personal stories and live in this very free way was very new to me. So that was also where the [image] came from - of this renewal, this refreshing. The birth of a new thing or the death of an old thing, it was all of those things."
The story goes that producers Ari Balouzian - an LA native - and Brit abroad Ryan Hope found Jacob while searching for a choir to sing on an advert they were creating the music for. Jacob's aunt (now immortalised on the record's cover) pushed him to take the job and arrange the parts for his church singing group; when he sent the choir off to do their thing, the two producers went hunting for the man who'd organised it all, turning up the day after at his church and kicking off a friendship that would lead the trio, slowly but surely, to here - with major spots on US and UK television under their belts and a place as one of 2022's buzziest word-of-mouth new artists cemented.
Jacob had had brushes with the limelight before - first as a contestant on American Idol in his early twenties, and then as a backing singer for such luminaries as Diana Ross, Gladys Knight and Beck. But Gabriels, from his first leap of faith onwards, was different. "We became friends who started making music for fun. Ryan had this house in the desert and he was like, 'Come stay for a week'. And I was like, 'White man want me to come stay at his house in the desert?! Um, no!'" he gesticulates wildly, voice raising comedically as he becomes more invested in the bit. "Get Out hadn't come out yet, but this white man asking me to come to the desert by myself?! Hell no! But something in me was like, just go, and I went and it was cool. Then we would meet up every few months and record just for fun for a year or two, and then we wrote a song for this Prada [commercial] and then the ball started rolling from there."
"Working with Ari and Ryan has reshaped my whole life; I had never been embraced or loved in this raw way before."
— Gabriels
Watching someone so evidently born for the life they currently find themselves in, it's hard to imagine the frontman as anything but an endless fountain of confidence. Despite having to Zoom in at 9am following a transatlantic flight the day before, he spends an hour with us hooting and cackling his way through a string of anecdotes, intermittently doing impressions of his own early vocal attempts that would make Mariah seem restrained. Meanwhile, watch the video of Jacob joining Harry Styles on stage in Austin during Gabriels' support tour with the singer, and a Styles-unaware alien would be hard-pressed to guess which was the superstar and which the relative newcomer.
This comfort in his own skin, however, has evidently been a hard-won thing; recalling his early days in the industry, he speaks of the kind of stereotyping and pigeonholing that began with him being called 'Little Luther [Vandross]' even from his teens. "I had managers telling me, 'You're gonna have to lose weight Jacob, they're not gonna listen to your music [if you're] fat'. And I was 50 or 60 pounds lighter than I am now," he remembers. "The kind of crazy conversations I was in where it was like, 'Are you gay or are you not? You need to make a decision because people wanna know and it's kind of confusing'. And I was young, I was 21 or 22, so a lot of my experiences made me tell myself a story that that was what I had to be. I thought I had to do R&B, I had to be the messiah, so that's what you do."
Throughout Gabriels' music, from the personal narrative-questioning 'Bloodline' EP through to the tales of pain and loss that riddle themselves within 'Angels & Queens', there's a goosebump-inducing juxtaposition of strength and fragility - Jacob's ship-sinking vocal prowess singing out tales of trouble and heartache. It's a duality that's at the heart of both the band and the singer himself. "I'm Harry Styles fanning right now but he has this beautiful song called 'Matilda' and at the end it says, 'You can let it go, you can throw a party full of everyone you know, you can start a family who will always show you love'," he nods. "You can create the life that you want, and I think that was something that resonated really hard with me because I'm living a life that's very different from my mother and grandmother and everyone else in my family, so how can I do that? I'm breaking the good things and the bad things in my bloodline. But by me identifying it and sharing it, hopefully someone else will see themselves too and realise they don't have to do or be something [they're not]."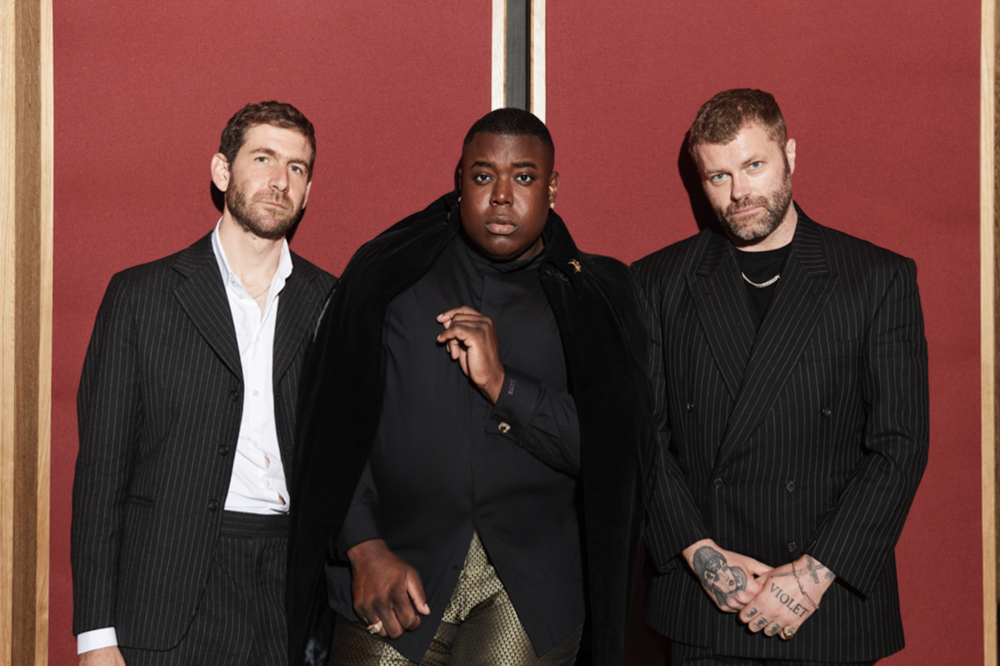 "I had managers telling me, 'You're gonna have to lose weight Jacob, they're not gonna listen to your music [if you're] fat'."
— Jacob Lusk
Leaning into everything that he is, and having the true backing of his bandmates, is evidently serving Jacob well. He describes himself as "a different person" since starting Gabriels, and narrates with still-wide eyes the pinch-yourself moments that have come his way in recent months ("When we did James Corden, I had to wake myself up like, 'Wake up son, [snaps fingers], you have six dancers with you! You're Beyoncé!").
Having tried to fit into the boxes he was prescribed - attempting to, at a young age, be an opera singer, then a soul singer and a jazz singer - Gabriels have made their own increasingly singular path by being no one thing. Still, he says, even their closest colleagues sometimes don't quite get it. "We still have these meetings where people are like, so what exactly are you guys?!" he questions. But in an age of playlisting, where it's increasingly difficult to occupy the grey areas in between, the trio have stamped their territory by virtue of essentially being too talented to ignore. "We did this showcase and I walked into the Warner Records building and the security guards started clapping," the singer remembers. "One of them was like, honestly your music is not my vibe but I respect it. And I was like, that's what's up. To me it's a compliment - like, OK it's not for me but I can't say that shit's not good."
Next comes the second part of 'Angels & Queens' - due for release in early 2023. Completed and including a reworked version of old track 'Professional', Jacob describes it as "a little more fun. It's still pretty dark, even our fast songs are kinda dark, but it's uplifting though!" But no matter where these new songs sit on the spectrum, the voice at their core is one that's able to transcend pretty much any boundaries.
"Doing the Harry Styles show, I was very nervous. We're a little old, I'll be honest - don't tell nobody! - but there are all these young screaming girls and I thought, they're not gonna like this," he remembers. "So I was very nervous, but they fucked with it hard. Our first night, they lit up the whole stadium with their phones and they were quiet - you could hear a pin drop. And then I was like, 'Oh, we're gonna be alright. They don't know us but we're gonna be good'."

'Angels & Queens - Part 1' is out now via Atlas Artists / Parlophone.
Read More