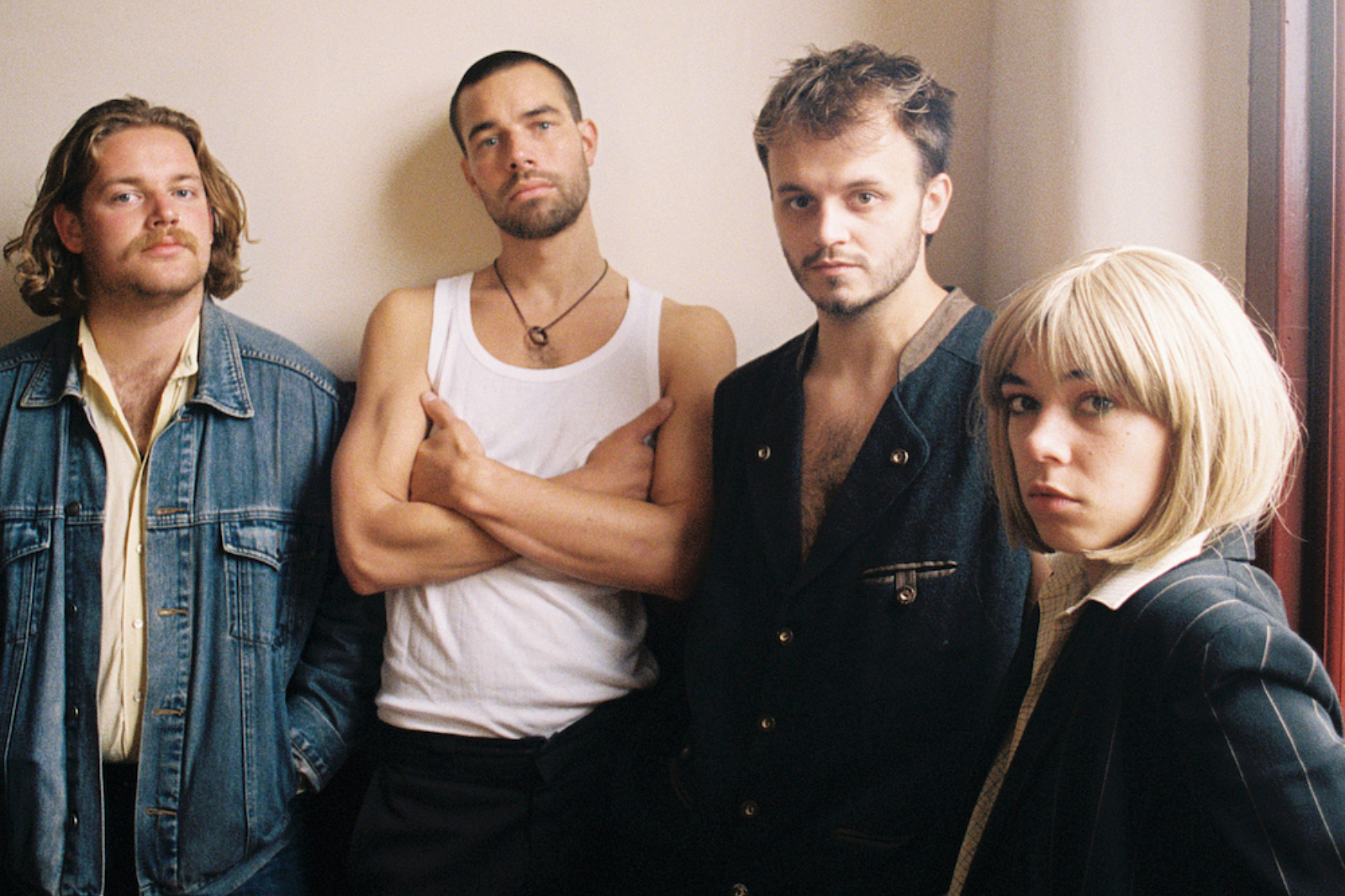 Photo: Rosie Sco
The Nottingham band are set to play our Hello 2023 show tonight!
Hello and welcome to DIY's introducing feature, Get To Know… getting you a little bit closer to the buzziest new acts that have been catching our eye as of late, and working out what makes them tick.
Recently we've met CVC, rising musician and producer pinkpirate, Houston-born alternative artist d4vd, Nell Mescal, South London based Rainn Byrns, and now we're introducing you to Nottingham-based newbies Divorce.
Already staples of the Nottingham scene, and with members in Do Nothing and Megatrain, the band are set to play our Hello 2023 show at London's Old Blue last tonight, 24th January, with Gretel Hänlyn, Cathy Jain and Ciel.
The group dropped their debut EP 'Get Mean' last year. "It was never supposed to be an EP," the band said. "We believe everything we put out under the banner of Divorce has undergone a great deal of consideration in an effort to make it ours, so that links all of our music — but these singles were not supposed to be a body of work. It was when the final track, 'That Hill', came into existence over the summer, that we realised they were a part of the same beast. The track finishes up our year of single releases with a tiredness for this life in all its monotony and glass ceilings.
"The record takes us from the juvenile arrogance of 'Services' to the sobering bitterness of 'That Hill', but we felt it would be apt to have those cynical lyrics sung like you're in a bar full of old friends and an out-of-tune piano. There is humour at the core of this record, a need to not take it all too seriously. This is sort of what we want people to feel when listening to the record, but we also feel this first record somewhat showcases our vulnerability and naivety and we think that's okay, and want the listener to be engaged in our entire journey as we learn/grow as a project. We hope you enjoy."
We sent vocalist Tiger Cohen-Towell over some questions to get to know Divorce a lil' better!
Describe your music to us in the form of a Tinder bio.
If Wilco and ABBA had 4 confused adolescent sons. Love pina coladas, but not getting caught in the rain because always carrying gear. Mummy and Daddy issues (we're called Divorce for god's sake). Our place or yours?
What's your earliest musical memory?
I think my earliest has to be singing jibberish along to 'Genie in a Bottle' by Christina Aguilera, as that was my favourite song aged 2 or 3. However, my mum told me as a newborn I was very responsive to the Coronation Street theme song, a trait which continues to this day. Nothing comforts me more!
Who were some artists that inspired you when you were just starting out (and why)?
We definitely took a lot from Mitski in terms of the song writing, I think while we were settling on a band identity, the songwriting being accessible was super important. The song 'Teenage Dirtbag; had a surprisingly big impact in the early days, we kept being fixated on writing something as good as that. In a band sense I think we looked to Big Thief massively, also Pixies, Sorry and a bit of Tom Waits.
You're from Nottingham! What do you think of the music scene there at the moment?
It's a good one. I think cities on the midlands often vie for an identity, but Nottingham has always managed to be significant in terms of its musical offerings. Our friends Blood Wizard, Do Nothing and Cucamaras have been big sources of inspiration for us, and there are bands like Catmilk and Victory Lap who are coming up alongside us that we would very much encourage you to check out. It's not all about north and south!
Are there any other artists breaking through at the same time that you take inspiration from?
Going wider than our home city, we're big fans of the mighty Jessica Winter, who is clearly a pop production and songwriting genius who I can see going very very far. Our friends Humour from Glasgow, incredibly talented and also wonderful people. We'd love to shout everyone over at Clodhop Records, a brand new label with some incredible artists on it including Watch Paint Dry, Boy Bovis and Mabel Clarke, super new and super super good.
Who would be your dream collaborator?
That is really tough! I think Felix and I definitely idolise Blake Mills as a producer, so working with him would be an absolute dream come true. In terms of an actual collab, obviously Pitbull. Or we'd accept Jason Derulo if Pitbull was unavailable.
Musically or otherwise, what are you most looking forward to this year?
We're so excited to play some festivals, we've just announced Bluedot and I can't say too much but there may be a few more in the pipeline… we're also stoked to be releasing more music, and since we've been working with Subpop publishing it's been a lot easier to plan the next year and get creative with music video ideas and stuff. We've all started taking much more of a hand in directing our own videos, so we're really excited for that too, although the results may be a tad unhinged!
If people could take away one thing from your music, what would it be?
I think as a band we have a bit of a wall up of not taking ourselves too seriously, which we intend to keep up for our own sanity, but we have had a couple of people say that our music helped them through tough times in their lives. It's a genuinely wonderful feeling to think that as an artist you can have an effect on anyone's life, and it's a privilege to have that reach, even if we're still a small band. I think we want to show ourselves as warm and human and hope that people can take good things out of our songs, because songs aren't the most important thing in the world, but they can be a good distraction from the harder things. We want people to feel like themselves when they listen to us!

Get your copy of the latest issue
Read More