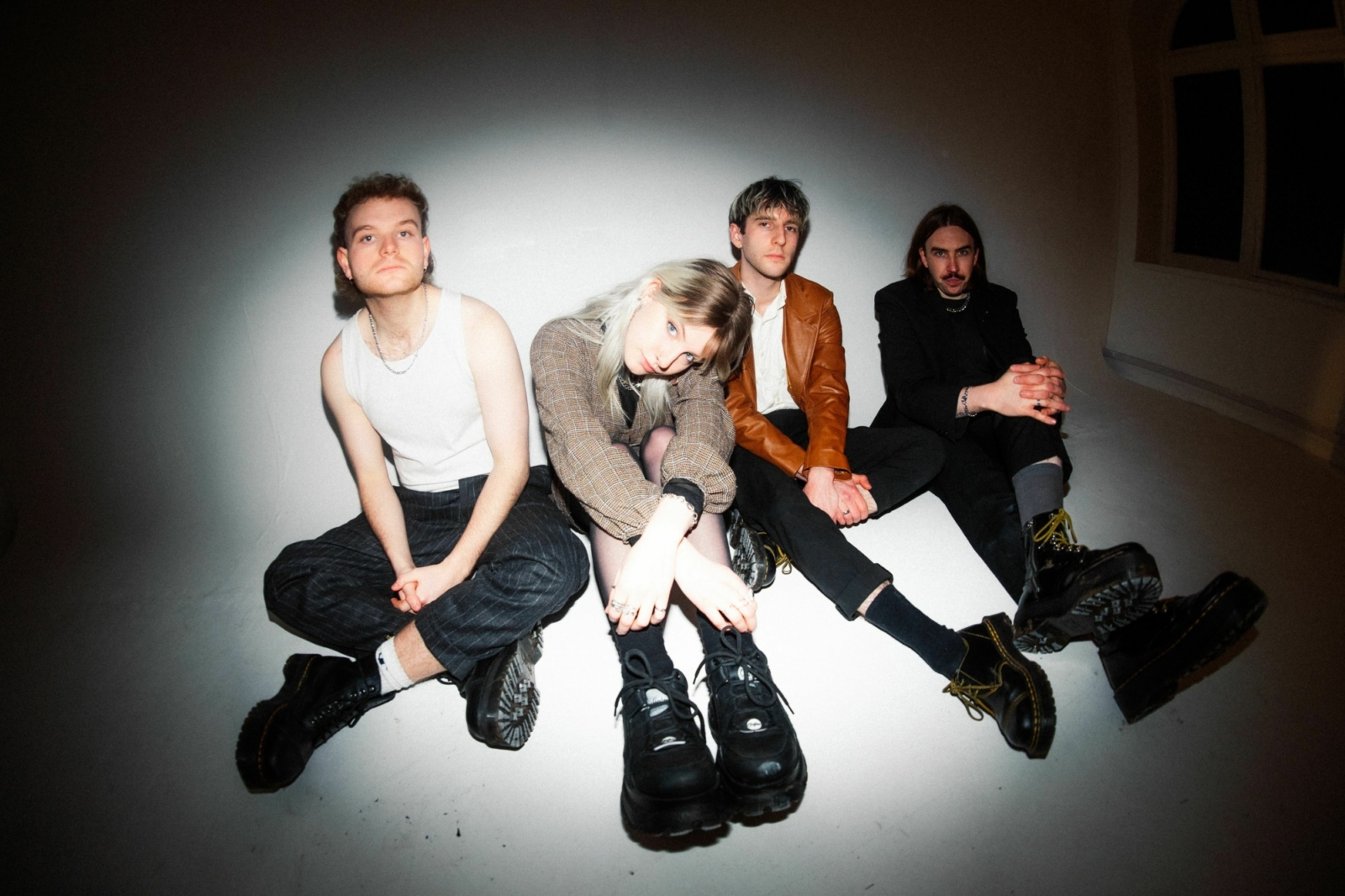 Photo: Rory Barnes
Neu Get To Know… Swim School
The band are set to play DIY Alive Festival next month!
Describe your music to us in the form of a Tinder bio.
Happy sounding tunes with dark undertones. (I've never had tinder so I wouldn't know lol)
What's your earliest musical memory?
Road trips were always accompanied by Paolo Nutini's earliest albums which I still love to listen to now - it's quite nostalgic. I remember going to my first gig when I was 16. It was some small, local band that were playing in Studio 24 (which has sadly closed down now) and I completely fell in love with the whole atmosphere. Before we started swim school, I had a lot of friends in bands and I always wanted to help them load in, load out and sell merch - I dreamt and knew that I was one day going to be in my own band.
Who were some artists that inspired you when you were just starting out (and why)?
Ellie Rowsell from Wolf Alice is the reason I had the confidence to be a front woman and guitarist in swim school. After discovering Wolf Alice, I dived deep into the indie scene. The Night Cafe are an amazing band that we take a lot of inspiration from. My Bloody Valentine, Pixes, Nirvana, Talking Heads and Slowdive are the bands that influenced the heavier side of swim school's sound.
You're from Edinburgh! What do you think of the music scenes there at the moment?
The Edinburgh music scene is starting to take off again. We love fellow bands such as Pressure Retreat, Cameo Habitat, No Windows, Vistas, Retro Video Club and Goodnight Louisa. There is such a good scene, with every band and artists having their own unique sound although sometimes it seems like they don't get enough recognition.
Are there any other artists breaking through at the same time that you take inspiration from?
NewDad, Pip Blom, Low Hummer, Vlure and Sprints are all bands that are killing it right now. I love seeing their names next to ours continuously on different festival lineups as it feels like we are all on the same journey together which is very, very exciting.
Who would be your dream collaborator?
Foals are a band who we have always drawn inspiration from as they have such a unique and impressive sound. We would jump at the opportunity to either do a writing session with them or support them live. We saw them live last year when they headlined All Points East and they were amazing. We take a lot of inspiration from their live sets as well as their sound.
Musically or otherwise, what are you most looking forward to this year?
Festival season! At this moment in time we currently have 12 festivals booked all around the UK. Nothing beats the atmosphere at a festival - everyone is in a great mood, the sun is (usually) out and you get to watch live bands and meet amazing people after you have played your set which is always exciting.
If people could take away one thing from your music, what would it be?
Our debut EP, 'making sense of it all', is based on the struggles surrounding mental health. I owe a lot to music as it introduced me to mental health many years ago, when we were not educated about it at school. It's hard to describe the feeling you get when you listen to a song and the lyrics are unbelievably relatable - it fills you with hope and comfort. That's the feeling I want our listeners to feel, and to know that they are not alone.

Get your copy of the latest issue
Read More