Class of 2023: Grove
Infusing a bass-heavy, patchwork sound with a proudly queer stance and strong political standpoint, the Bristolian's only genre is themself.
Joining the dots between punk rock and electronic music, with jungle, dancehall, drum and bass and some wild techno crossovers thrown in for good measure, bass-obsessed artist Grove has had a fruitful past two years. 2021 heralded the release of their first two EPs - 'Queer+Black' and 'Spice' (the former featuring a collab with art-punk renegade Lynks); this year, they've followed it up with a handful of standalone singles and live dates at Glastonbury, All Points East and more.
But as well as fusing a niche of their own that makes sense equally at a sweaty basement punk gig or a rave, Grove has used their music as a vessel for political messaging. 'Fuck Ur Landlord' from 'Queer+Black' skewers the housing system's suffocating grip, its choral sloganeering of "off with their heads" delivered with a raucous roar. Meanwhile, on 'Black', Grove rejects the dominant white gaze with the affirmation that "Black is the power".
"I think there's been an incredible shift in recent years in terms of the attention that's been put on us," Grove begins, spotlighting Bob Vylan - the Black punk-grime duo they supported live recently - as a band who have also been subverting assumptions about guitar music's historic affiliation with white indie circles. "In turn, I think that's going to lead to an exponential growth of young people interested in punk and seeing themselves represented in those scenes," they add. "It's only going to embolden people wanting to share themselves in that way."
Grove has seen a change in how audiences are responding to punk and electronic music crossovers, too. "Over the summer [my music] appealed to people in the Czech Republic at this hardcore punk festival called Fluff Fest as much as it did at [the dance-orientated] Outlook Festival in Croatia. I feel super grateful for that," they note.
What's most pleasing for the Bristol-based artist – real name Beth Griffin – is that they haven't compromised on making music that's authentic to them. Attracting fans of different genres "isn't particularly intentional", they say, but their music is "intentional in terms of knowing that it FEELS right". "It takes influence from my Jamaican heritage and also from the deep, heavy sounds that Bristol is known for," Grove continues. "A lot of my sound has happened as a result of moving there [in 2019], and being exposed to infinitely more soundsystem gigs than where I grew up in Cheltenham."
This year Grove has released 'Feed My Desire' - a UK Garage-influenced song featuring some of their most syrupy, soulful vocals to date - and a banger of a cover of Girls Aloud's 'Sound Of The Underground'. Again the music is very bass-oriented because Grove feels "that's just what I've always naturally gravitated towards". But the thrust of that sound also brims from "the frustration and angst" they felt growing up in a place where "there's very obvious class divides". "That's what brought the punk element in," they note.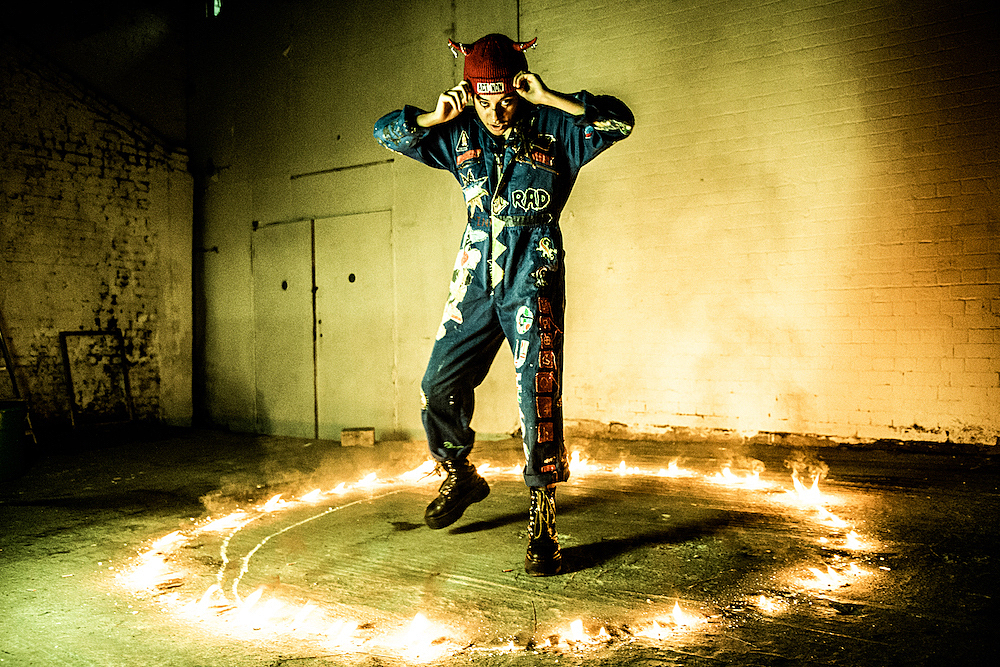 "My music takes influence from my Jamaican heritage and also from the deep, heavy sounds that Bristol is known for."
Cheltenham was where Grove got their musical start, from being mentored by hip hop collective 5 Mics to playing in bands. Being a self-taught guitarist, bassist, keyboard player, singer, rapper and producer has played into the richly dark, energetic music they make today. Bristol, with its fabric of drum and bass, dubstep and more, has boosted their love of bass culture as well as provided a stronger link to the queer community.
Although Grove feels grounded in the city, a future move isn't off the cards. "It has its downsides," they say, referencing the fact that London by comparison has a more vibrant and "tight, queer people of colour community". "There's obviously a lot of music that has stemmed from there: dubstep, the roots reggae culture, soundsystem culture and there's St Paul's Carnival that's rooted in Black culture, but you see fewer Black and Brown faces there than you'd hope to see."
They've always resisted the pull of London owing to its expense, but that's changing. "Bristol is being gentrified at an alarming rate. House prices are absolutely wild and there's people bidding on rent. That's quite unsettling," Grove says. "Obviously Bristol's known as a hub of protest and culture, and people like to own a sense of that while also gentrifying it. It's a really strange conundrum.'"
While they plan out their next geographical moves, work is simmering on Grove's debut album, which they say will "loop back to 'Queer+Black''s sensibilities with big, strong political messaging". But Grove's future music will also hear them explore "me more as a person". One move in recent years has been to employ a Jamaican singing style (see: 'Spice' cut 'Skin2Skin') atop dutty bass to pay homage to their late maternal grandmother who taught Grove bits of patois. "I very much enjoy how the Jamaican accent sits within jungle music. I think it makes perfect sense. It's beautiful," they say.
Grove notes that they've covered outward politics at length, and lyrics about sexual experiences (particularly seen on 'Spice') sprung from a previously "repressed" position where Grove felt that "being socialised as a woman" dulled focus on female sexuality due to social taboos. "Music and lyrics are the main way I've actually explored my emotions and sexuality because I was a very shy young person, and it felt like a safe space to map out what these experiences meant," they say. "And then hearing dancehall tunes where women are very open about their sexuality… I found that incredibly empowering and just wanted to do that in my own way."
On the horizon, then, is a project that will see Grove "being truly vulnerable in terms of what my life has been like so far". Just don't expect the dutty bass to go.

Read More