Bridie Monds-Watson takes stock of her whirlwind year. "I'm really lucky to be in the position that I'm in."
2014 was a big one for SOAK. With only a scant three songs and a Chvrches remix to her name, Bridie Monds-Watson was signed to Rough Trade and appeared in countless ones to watch lists. For some that could point to flash in the pan, overnight success, or perhaps the product of a legacy musician with rich industry parents.
Monds-Watson is none of those things, but rather just another teenager from Derry, Northern Ireland with a penchant for skateboards and dinosaurs. ("Oh, I'm a big fan of the stegosaurus," she jokes. "I appreciate a good Tyrannosaurus Rex, but I feel like that's too easy of a choice"). Biographical facts fall away when listening to her music, a blend of soft-spoken folk that has garnered comparisons to everyone from Lykke Li to Cat Power. Her light touch on tough subjects, from identity, to love, to bitter fights, is the basis of her debut full-length 'Before We Forgot How to Dream', a collection of fourteen tracks that sounds like the work of someone who has been there, done that, while still managing to skirt bitterness. On album track 'Reckless Behaviour', an ode to youthful living and advice stolen from online poetry, Monds-Watson is self aware enough to even take herself to task, singing, "I know better."
At the moment though, she sounds more like an eighteen-year-old than wise troubadour.
"I think it's a super lazy tag. It's classic," Monds-Watson moans. Here she's talking that descriptor, the one that manages to worm its way into nearly every review and interview - and could potentially be tattooed across her forehead until she hits 30 if she's not vigilant.
"'Oh we're writing an article about a teenage singer-songwriter: 'Wise beyond their years!''" she continues. "It automatically gets added on. It's a bit boring to write that. I do get where people are coming from. But I do think people should just write 'wise'. Young people can be wise! I think I'm a bit wise. When I'm with my friends, people wouldn't say that. When I'm with my friends we're pretty stupid and immature and hyperactive. Lyrically, with my songs and stuff, people call me wise."
At this, she pauses, her mild annoyance transforming into amusement. "People get surprised when young people talk coherently about anything," she muses. "I think that's where that comes from."
For Monds-Watson, childhood and music were intertwined. After all, she points out - when your father gives you a guitar at thirteen and sign your first deal at sixteen, not much time is left for playing what-ifs or mapping out a plan B. She approaches any discussion of the past with a good-natured incredulity.
"This just happened for me," she says. "I've kinda been doing it since I was in school and would have been choosing other occupations. So I never really followed up with anything else. Now I have no idea what I would do. I would be a bit stuck."
Given how quickly her music took off, it would be easy to paint Monds-Watson with a broad brush - perhaps assigning her a role as the preternatural, poetry-toter. Her single 'B a noBody' practically declares her as the kind of student who mainlined both Emily Dickinson's verse and e e cummings' casual relationship with capital letters. But she assures that's not the case. If anything, it was the exact opposite.
"I was a pretty hyperactive kid," Monds-Watson admits. "I spent a lot of time making videos and stuff with my friends. I hung around with the emo kids, but I didn't have an emo phase. I had a phase of searching really hard on YouTube and stuff to try and find really obscure and weird music, in order to be to my friends, like, 'Have you heard of blah blah blah?' 'You've never heard of them probably. They're really cool.' I did that."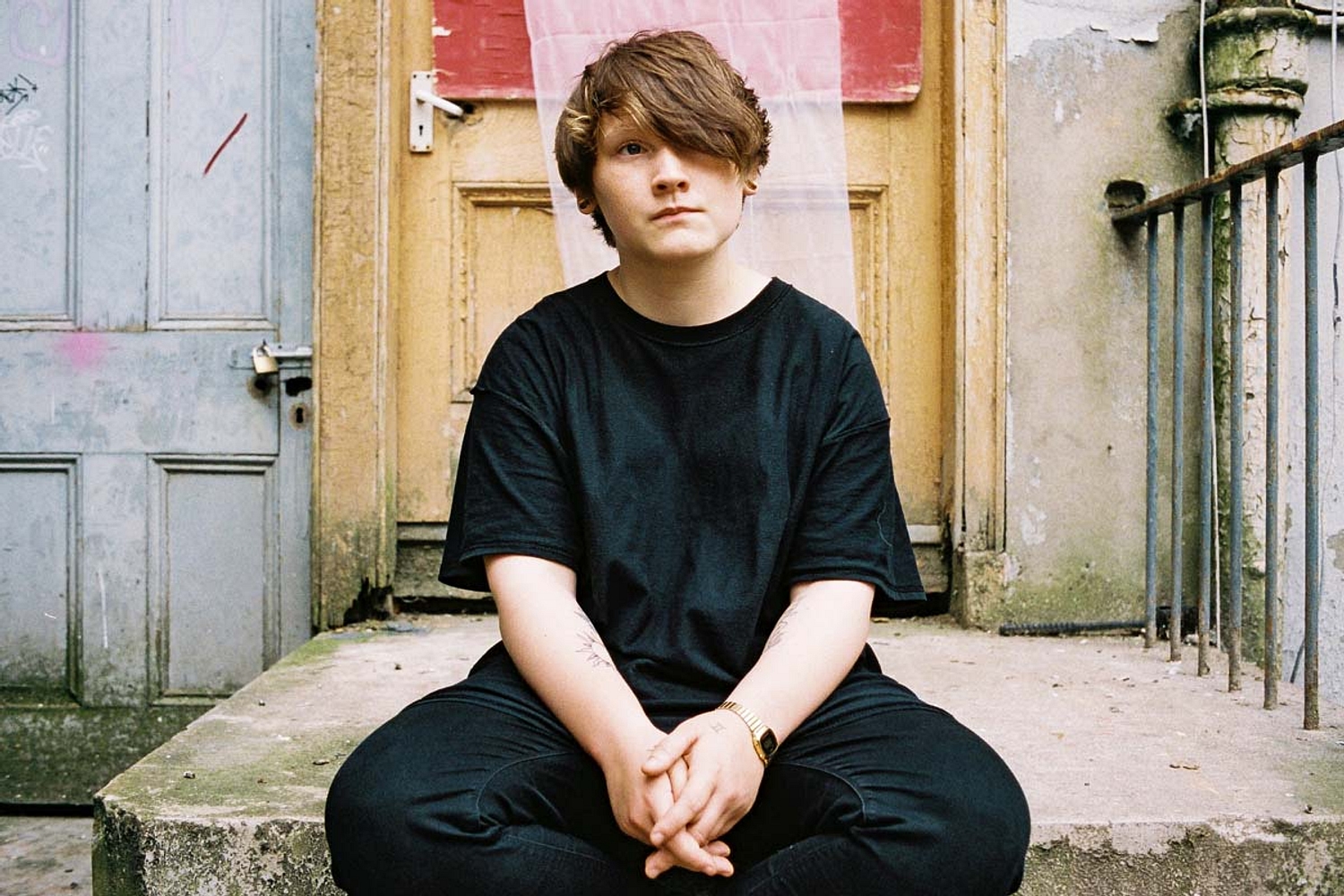 "People get surprised when young people talk coherently about anything."
— Bridie Monds-Watson
Youthful angst, she says, did play an active role in her songwriting at first. But soon the process opened up to everything she was experiencing. From her parents' fights - a topic she breezes over in conversation but documents in the heartbreakingly upbeat single 'Sea Creatures' - to questions of identity, to growing up surrounded by an army of friends, everything served as fertile creative soil. Where other kids spent time with their journals, she confessed to her guitar.
"I started writing in a way that was the easiest way to explain and understand things myself," she says. "And also a way that when I wrote a song and shared it, that's the way I could express myself and share thoughts and feelings without having to directly sit down and have a conversation about it. The whole idea of that made me, ugh, I just didn't like that at all."
Monds-Watson describes her home town, where she still lives with her mother, as an idyllic hamlet. In realty, Derry is the second largest city in Northern Ireland. But to hear her tell it, the village vibes, from living five minutes from the city centre, to being within arm's reach of her friends, heavily informed her musical development. It still continues to be a factor. Despite logging extensive touring miles, with no end in sight, she has no desire to move to a larger city.
"I gigged extensively since I was fourteen in the city," she says. "A lot of people have helped me out. I've made a lot of really good friends. The small town vibes have done me good. I've played pretty much everywhere. I think they've really watched me grow and helped me along the way. Every time I go home, my friends are pretty much waiting in my room for me to get there. I have ten or fifteen really close friends that I've grown up with. So we just mess around. We're all really fun together. So we mess around and have parties in my basement and chill in my room. It's really good."
It was that forward momentum, being taken seriously as a musician at home, and the support of the people around her, that inspired Monds-Watson to move forward with her career. Sure, she still looks the role of a skater kid - her arms covered in tattoos and her ears stretched with black plastic rings. But she's seeing the world a lot differently these days.
"I feel when I was in school and stuff I matured really late," she admits. "Then I feel like from sixteen onwards I matured really really quickly, just because I've been in this industry and surrounded by adults. Signing contracts that are going to decide the next 20 years of my life… I think I've been really lucky and really blessed being able to do what I'm doing as a career. All the opportunity itself. I'm really lucky to have the friends and the family that I do. And to be in the position that I'm in all together. There's not much I could fault. It would be ignorant not to acknowledge it."
SOAK's debut album 'Before We Forgot How To Dream' will be released on 1st June via Rough Trade.
Soak will play Latitude (16th-19th July) and Positivus (17th-19th July), where DIY is an official media partner. Tickets are on sale now. Visit diymag.com/presents for more information.
Read More
Featuring James Blake, Romy, Marika Hackman, yeule and more.