Interview Indigo De Souza: Complete Surrender
Written in the midst of upheaval, Indigo de Souza's third LP sees her finding comfort in the great unknown.
Ever since she was a child, Indigo de Souza has been grappling with the question at the root of the human experience: "Why live if you're just gonna die at the end of it?" If existence is fundamentally futile and no one makes it out alive, then for a long time the North Carolina musician would struggle with how you're meant to fill the space in between.
"I found some journals from when I was 12 or 13 in my mum's house the other day, and all of them were just like, 'Why am I here? What's the point?'" she says. "I had literally written that I wanted to die. I was so fucked up as a child. It was actually nice to read those letters because I felt so insane for so long but [it turns out] I've always been this way. For some reason, I've always been confused about being alive."
There's a positive punchline to the narrative; these days, with her soon-to-be-released third record in her back pocket, Indigo has done something of a u-turn. 'All of This Will End' might sound like the bleak reckoning of a person in turmoil, but its statement title is essentially the opposite: a glass half full exhalation of acceptance that comes with an unspoken addendum… and so let's embrace the ride.
"There's a shift that happened in the middle of the pandemic when I realised that my whole perception on the idea of death had completely changed and that, instead of feeling really sad and out of control over it, I felt really just so much joy and happiness that I get the chance to be here for a little while," she recalls. "And because of that chance, I get to do whatever I want with it, and I can really, really pour intention into every moment and express myself and make art and connect with people and try to make changes in my small corner of the world. That shift was so cool and it's really stuck with me."
And so, though its reflective lyrics still often ring with conflict and pain (she might be somewhat enlightened, but she's still only human), there's a brightness and excitement to her third that feels borne from realising that it's all up for grabs. "The album feels like the most confident thing I've ever done," she nods. "I just remember finishing and listening to it, and thinking that I wouldn't change anything. It was exactly what I wanted to do."
"For some reason, I've always been confused about being alive."
Sat on her bed in a pink kimono-style robe, arms covered in tattoos, Indigo exudes the aura of an artist. She's planning a relocation away from her adopted hometown of Asheville to a secluded spot where she and her best friend intend to "homestead on the land". Originally hailing from a small town elsewhere in the state, her mother was a multi-hyphenate creative, the sort of woman who could "just put her mind to anything and do it really well".
It's perhaps surprising, then, that Indigo's own journey as a musician has been one so riddled with self-doubt. Though she describes her homelife as inspiring, she recalls a constant, niggling inferiority complex. "Because my mum is such an incredible artist and did so many different things, I felt like there wasn't a ton of room for me to do things or to express myself," she explains. When she moved out, releasing her debut in 2018 and critically-acclaimed follow up 'Any Shape You Take' in 2021, she found herself in a different kind of negative space. "I was surrounded by really depressed indie artists, [where there's] a lot of darkness; it was hard to have strength," she says.
It took a pandemic for everything to shift. She decided to actively change her social circle, finding people "who knew about and were learning from nature, and making fires down by the creek, and hanging out together and talking about their feelings and creating really life-giving, deep bonds". One day, the entire group took a big, communal mushroom trip that reset the musician's views on vast areas of her life. "I came out of it realising that I didn't want anyone else to make my art for me anymore," she says. "I have visions for everything visually and musically, and it feels important to me to do it my way and show up for people in the most honest way possible."
In the midst of it all, 'All of This Will End' took shape - written while living alone, re-evaluating her life and reflecting on everything that had come before. You can hear the push and pull across the record. On the fuzzy, self-soothing swaddle of 'Losing', she questions "Am I trying hard enough? Or am I trying too much?"; the deceptively breezy indie-rock of 'Parking Lot' is full of devastating observations ("I'm not sure what is wrong with me but it's probably just hard to be a person feeling anything"), meanwhile the crux comes on the album's title track. "I don't have answers - no one does / I've been finding comfort in that," she sings as gently lulling guitars build into a soft wall of sound. "There's only love / There's only moving through and trying your best."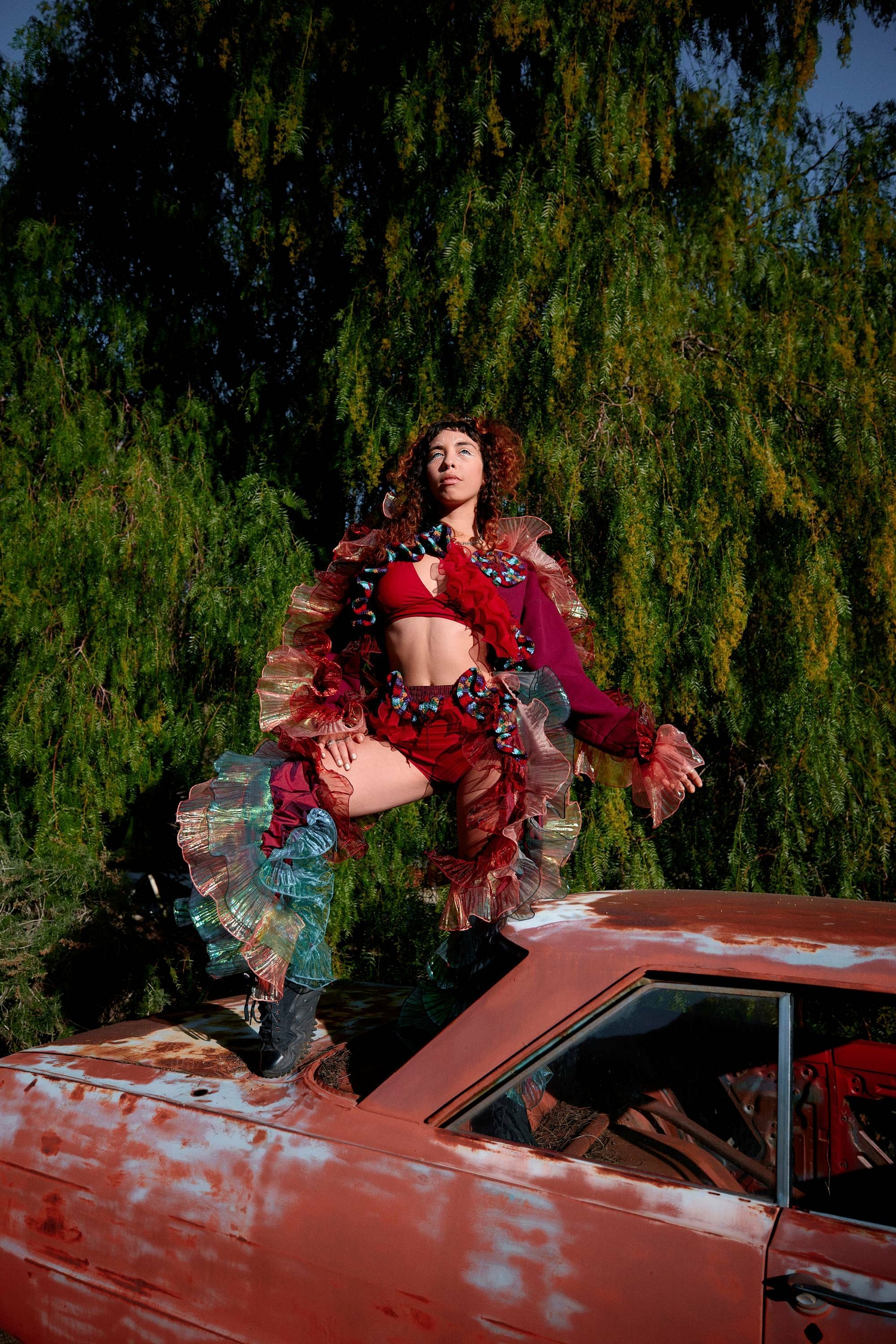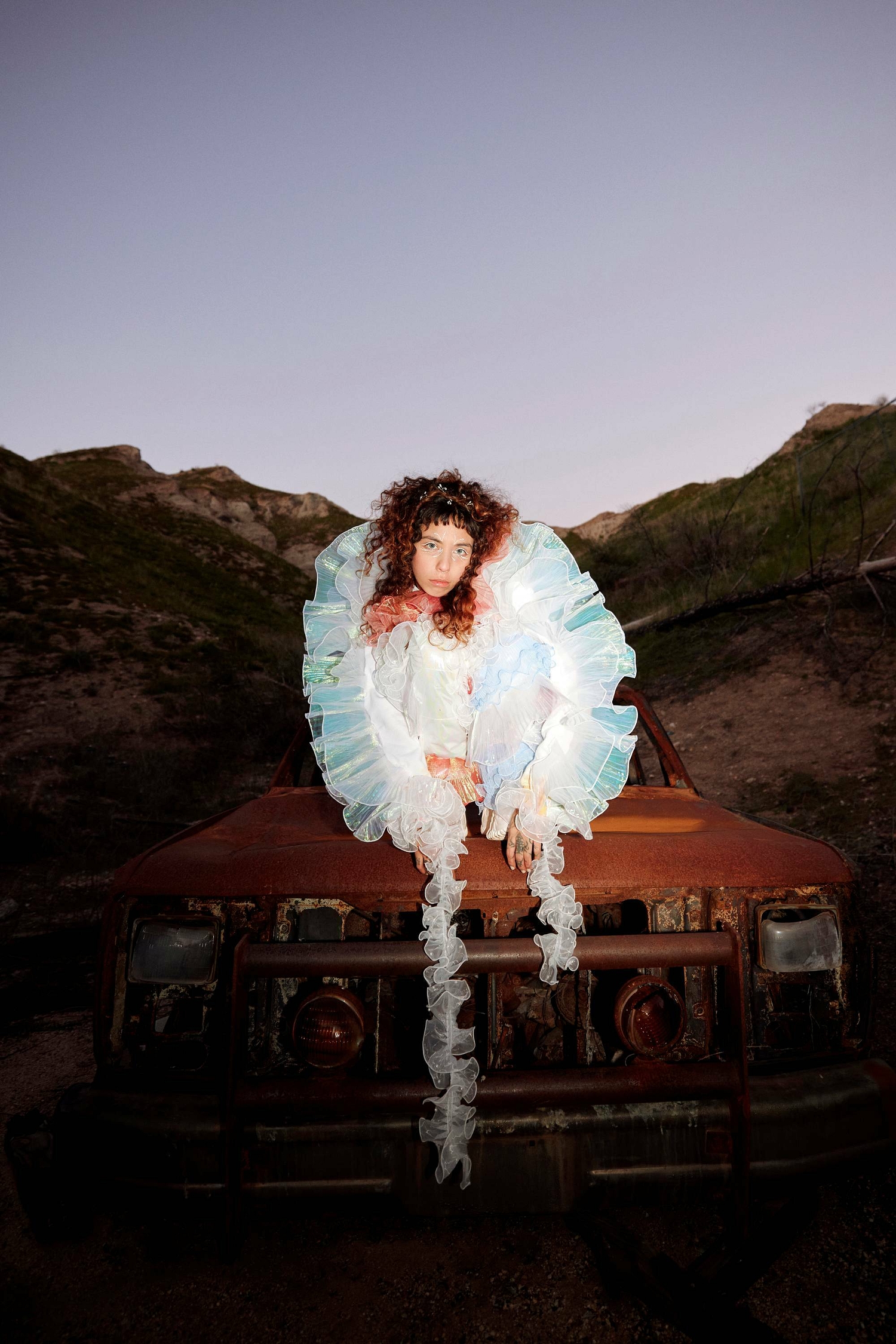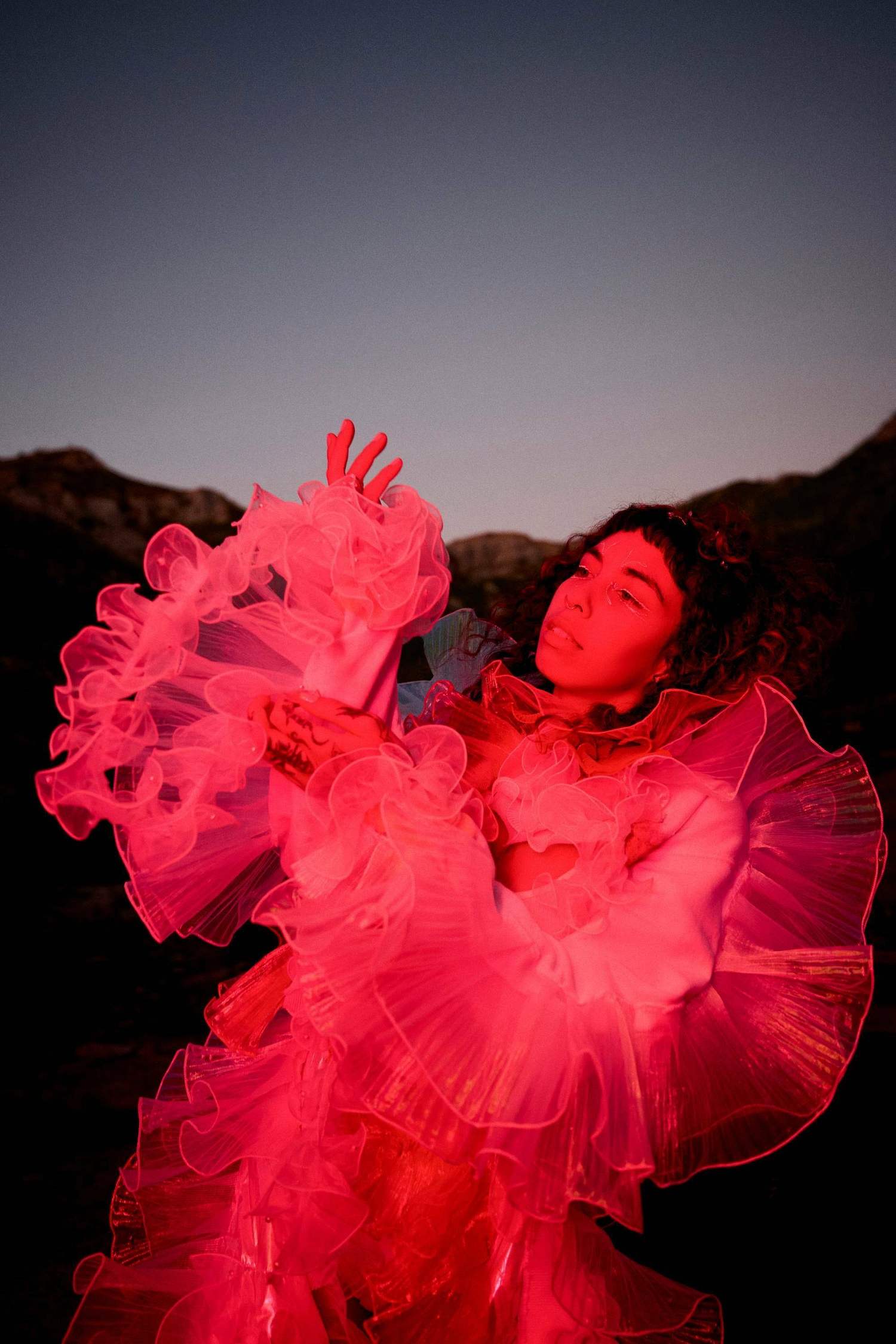 "For me, success would be feeling like anything is possible."
Trying her best, then, seems to suit Indigo de Souza well. The reaction to 'Any Shape…', she smiles, gave her the confidence to truly believe that just being herself was a good thing to be while, having also drawn a line under much of her creative team following that album, her latest marks an audible embrace of the more immediate sounds of the pop world that she loves. She gets visibly excited talking about her new guitarist ("a total beast") and drummer ("incredible") and how they helped her make the bold choices that write themselves over the gnarly riffs of 'Wasting Your Time' or opener 'Time Back' - perhaps the most radio-friendly, crossover track she's penned to date.
"I love big sounds that move your spirit in a big way, and it just feels invigorating to make music that's really hitting in a specific power," she says. "When we were doing 'Wasting Your Time', which is one of my favourites, I was just screaming into the mic and it came out sounding so insane - sometimes you don't even know what the sound is, it just sounds like death. I just remember feeling so excited about the album [when I was] recording that because it sounded just like I wanted it to."
There's melodic grunge on 'You Can Be Mean'; drum machine beats and sassy kiss-offs ("You think that I'm trying to fuck but I'm really just trying to bang") on recent single 'Smog' and a wide-screen yearn of connection on 'Not My Body'. On 'Younger & Dumber', an acoustic-helmed, stripped back meditation that closes the record, she concludes with a reflection: "When I was younger / Younger and dumber / I didn't know better". It's potentially a sad note to end on, but in its empathy for the past it also implicitly contains hope for the future.
"I'll never have everything figured out and I'll always struggle with mental illness and probably always be a bit messed up, no matter what," she says. "I think I will always be a little bit sad but I'm also completely able to function in the world and enjoy my life even though that is the case." Looking forward, she can finally see the point of it all and her place within it. "For me, success would be feeling like anything is possible."
'All of This Will End' is out 28th April via Saddle Creek.i
Read More
Featuring James Blake, Romy, Marika Hackman, yeule and more.