A Candid Conversation With Jenny Lewis
Untangling difficulty and heartbreak with razor-sharp storytelling and wit, 'On The Line' proves to be the musician's strongest statement yet.
Jenny Lewis first made her name for herself as a musician in the early 00s as the frontwoman of indie band Rilo Kiley, but by then she'd lived a whole other lifetime in the entertainment industry. Starting as a child actor at the age of three, she appeared in countless movies and TV shows over the next two decades - Troop Beverly Hills (1989), The Wizard (1989) and the television series Brooklyn Bridge (1991-93) among them - before moving into music in a career that's seen her release twelve albums and appear on numerous other collaborations over the past twenty years.
But in between the making of her last album, 2014's 'The Voyager', and 'On The Line', Jenny has had a lot to contend with. Her mother - who'd been a heroin addict since Jenny's childhood and whom she'd been estranged from for two decades - passed away in 2017 from liver cancer caused by hepatitis C. Not long before that, her long-term relationship of twelve years with the musician Jonathan Rice ended. Later, after announcing the album, Ryan Adams, who did some early production work on the record, was accused of sexual and emotional abuse by several women in a piece published by The New York Times. Addressing the allegations via a statement, Jenny said she was "deeply troubled by Ryan Adams' alleged behavior" and that she stands "in solidarity with the women who have come forward". But it's likely you knew all of that already.
To frame 'On The Line' in the context of difficulty and tragedy would be to miss its richness and complexity as a piece of work. At times it sounds like a hazy, dream sequence; at others, it's rich and theatrical, with lyrics about kissing a narcoleptic poet in a graveyard, eating hallucinogenic apples in Austin and running away to Mexico, laid over lush strings, reverberating piano and monumental production. Recorded at the legendary Capitol Studios in Hollywood, it also features a dreamy list of collaborators, with Beck, Benmont Tench, Don Was, Jim Keltner and Ringo Starr all making appearances on the record.
We spoke to Jenny about her creative process, how social media is probably obliterating our brains and how assembling her dream team for the album felt like she'd been caught in a "glitch in the simulation".
You've previously described the collaborators you worked with on this album as a 'fantasy football team'. Ringo Starr is on there! How did some of those collaborations come about?
When you're a solo artist, part of the process is putting together a band for each album and I'd never recorded in a studio like Capitol before. I'd done a little work out at Sound City in the Valley but this just felt like an opportunity to put together a dream session band. I'd played with Ben Montench from [Tom Petty and] The Heartbreakers who's on this record and Beck I worked with on 'Just One Of The Guys', he produced that song off The Voyager, but aside from that we just built out an all star crew. I didn't call Ringo but I believe Don Was did. I don't know how it happened. It's pure magic! [Ringo's] the best. He's the coolest. The nicest.
Did you ever think that you would work with one of the Beatles? Maybe you had high hopes?
No! Of course not. No way! But you'd be surprised that sometimes, well, you have to ask people to do stuff and sometimes they say yes. Most times they say no! But sometimes if you catch it at the right moment, it's like a glitch in the simulation. That's what that was basically, just a weird thing where I was just like caught in the glitch for a second. Simultaneously someone knocked on my door in LA and said, we're scouting locations for the new Quentin Tarantino movie and we wanna take pictures of your house. This happened at the same moment [I found out Ringo would be on the album], it was like a glitch in the simulation. So I was like, come right in! They didn't end up using the house but the fact that the portal opened… that shit's crazy, right?
Yeah, that's pretty crazy. You've spoken in other interviews about how a lot has been going on in your personal life since the release of 'The Voyager' in 2014, but what about your journey musically?
A lot happens in five years, as you know. But I did start a band in the middle of that with my friends in New York called Nice As Fuck, so I was still touring and making records, so really it was two and a half years… I have to stay creative and active and I love collaborating with my friends musically so, in a way, putting together the band for 'On The Line' was the exact opposite of Nice As Fuck. The three girls in a shop, one of which, Erika [Forster], was learning to play the bass while I was writing songs. So freeing and a really beautiful experience. Without that I don't know if this record would have happened in the same way. There's always like a yin and a yang and a reaction to the thing you did before. It's like super lo-fi! Super hi fi! Super stripped down! Lush-ass strings! Suit! Dress!
That must have been quite a different experience - making music with a bunch of friends vs. working with the 'On The Line' dream team?
There are advantages and disadvantages to both. When you're making music with your best friends, they know you so well that you interact in a different way. You can be the worst version of yourself because they're your best friends, you know? You can be a little baby while you're recording, because your friends are there and you can cry. When you're working with like professional musicians in their 60s and 70s, there's no crying! It's a different feeling in the room, so I think the performances reflect that. But it's a joy to make stuff with everyone, at different stages of their musical life, especially because people that are just starting out and learning their instrument, they approach it in a totally different way, which is so fresh if you're a songwriter. You're feeding off of that energy, like that's really a wonderful place to be in, like the purity of like inspiration and channelling something without like the knowledge of the structure of music or the theory.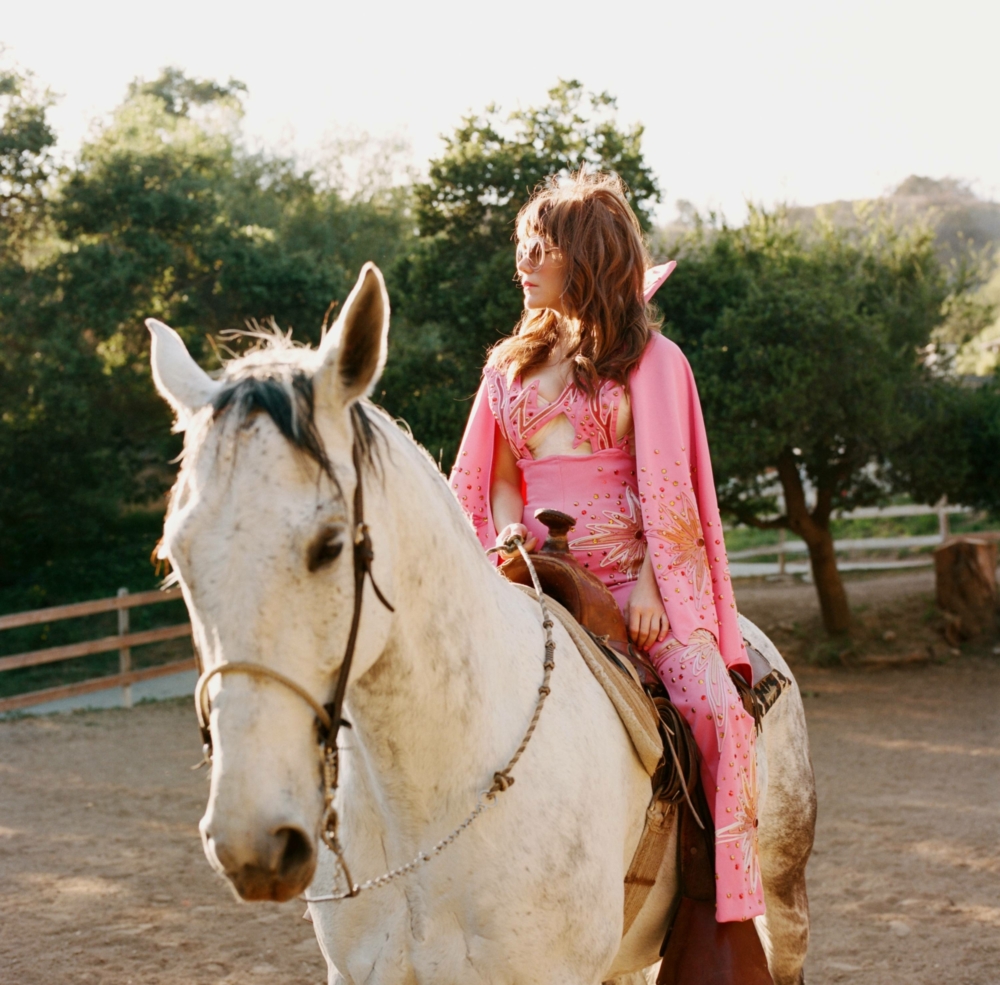 "The elusive beautiful love song is out there up ahead, I'm just driving towards it forever."
It's interesting, when do you get to the point where you know an album is finished?
Well, you just know. Or at a certain point you have to let go. You know, I mean there are still a couple of details [of 'On The Line'], where, it doesn't keep me up at night but I guess I could tweak forever, so at a certain point you have to let the new material come in. You gotta like wrap it up in a little bow, put it out into the world, just push it out there. It's a little bird getting pushed out of the nest. If words are your thing, every word, you know, it haunts me. Every word! At a certain point, I'm like, argh! It's good enough. It's fine. It won't ever be perfect to my standards but it's good enough to call it done or I'll go crazy.
But how someone writes changes, and hopefully gets better, with time. Do you find when you go back, it almost doesn't sound like you sometimes?
But you know it's you! I think as a writer, you hone your tone. But your voice is kind of present, even in the formative stage. And although the writing may seem immature or 'emo as fuck', it's still you. I think if you're a writer and you're gonna write for your life, you allow yourself your past and accept the younger artist version of yourself, right? I mean you can always improve but I don't think you ever get there. I don't feel like I've arrived anywhere. I'm just on a road, the elusive beautiful love song is out there up ahead, I'm just like driving towards it forever.
And you never get there?
No. Maybe at the end you get there? And then you have to start all over again.
You had a very successful acting career in your earlier life. What do you think you brought with you from your acting days into music?
Because I don't really do covers, it's just a totally different feeling when you're speaking your own lines, or telling your own story. I think just being a kid doing a job like acting, which is very emotional, and learning these skills, of how to cry, from a very young age… Like how do you get an eight year old to cry on purpose? You tell them to imagine that their dog died. Isn't it sad? I was like a little kid and it opened this thing and I didn't even know what was happening but I really was trained to connect with this kind of sadness, or like accessible sadness. So I'm sure I learn on that when I play because that's my training. As an actor it was always instilled that you want to be as natural as possible. Be yourself. So I think that's still the lesson in my work. Just write like you speak, talk to the crowd as if you're having a conversation. Find your own voice and use it.
"I just write the thing and then try to present something that's cohesive and entertaining or evocative. Then later, I kind of figure out what it all meant."
Do you remember realising that you were doing something different than other kids?
Yes. I knew I had more stuff to do. But I still hung out with my friends and rode a bike around and went to the mall and smoked cigarettes and like hung out with shitty kids and did bad stuff. It's good to learn how to stand on a stage even if you're not a performer, I feel like you learn to interact with other people.
You've previously talked about how in your songs there's a mix of both fictional events and things that actually happened. What's it like to look back at your earlier work? Do you find those lines become more blurred over time?
Well I think that's true of most writers. I think we all - not journalists! - kind of fudge the details a little bit or embellish. If you're a storyteller, you're not making a documentary. I don't listen back, unless I'm studying for a test, which is a show. So, I don't listen, but I re-live the songs if I put them in my set. Sometimes the details sneak up on me a little bit and I'm in the middle of singing a song and then I realise who I was singing about. Maybe I didn't even know at the time or I didn't know really what it was about. It's magic. I just write the thing and then try to present something that's cohesive and entertaining or evocative. Then later, I kind of figure out what it all meant.
So is the audience something you ever think about when you're writing?
No. Never. I think if I cared more about that I think I'd have more songs on the radio. I mean I've chosen a path; I've pretty much stuck to it. I can make whatever I want at any time and no-one tells me what to do creatively ever. But parameters are ok too. I think you become a better writer sometimes when you're given a challenge or limited to a certain amount of words or you're putting restrictions on yourself to create, like with Instagram. When it first started I loved it because of the filming app because it was just one little shot at a time. It was just so basic. Being creative in a box is really fun.
What's your relationship with social media like now?
I'm not on Facebook. Never been on there. Never going on there. Instagram, first, was an outlet for pictures and movies because I'm really into visuals and now it's kind of inter-twinned, because there's an expectation to use it to sell my record. But then there's the other part of Instagram aside from that, the evil part, where you're looking somewhere that maybe you shouldn't be looking because it doesn't make you feel good, but then you keep looking at it anyway. Other people's photos, just whatever is not relevant and doesn't need to be in your consciousness. It's just like, whatever that FOMO thing is, it's real. It's fucking real man! Fuck that shit. Where I think we're headed towards, I don't know if it's good.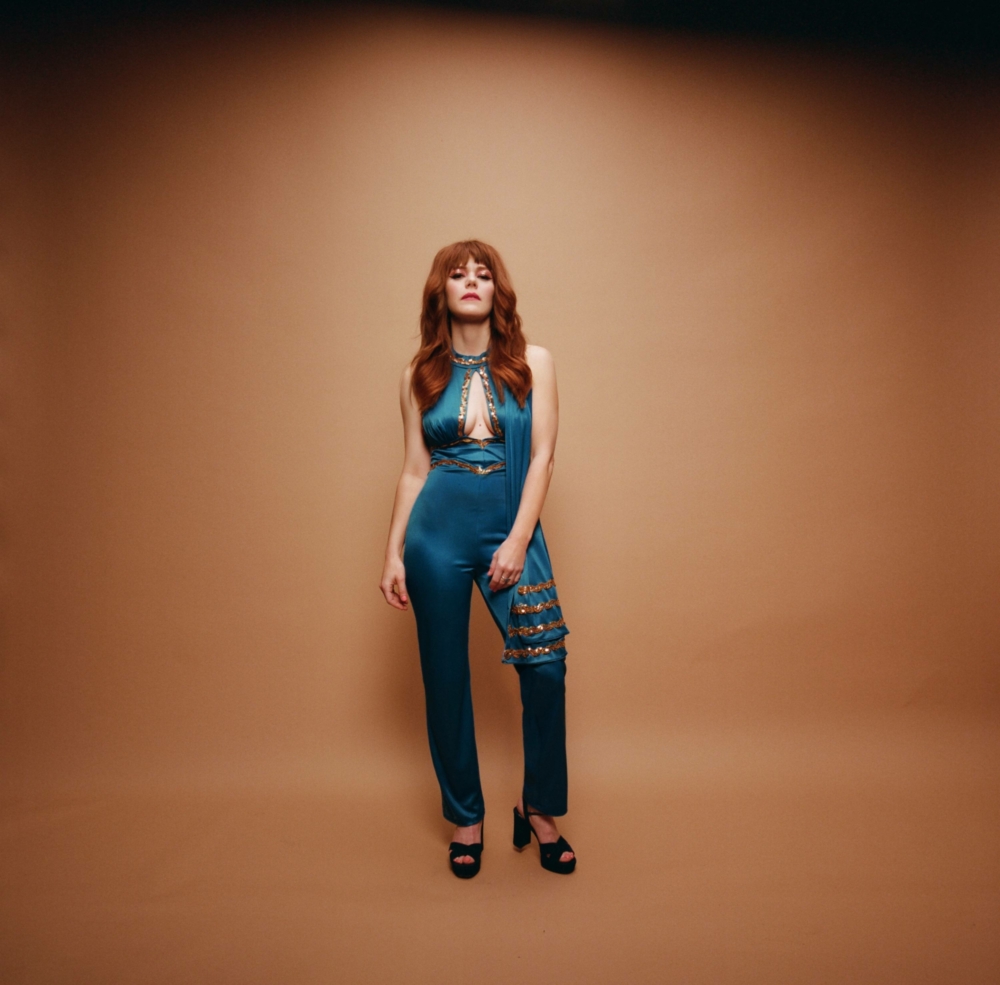 "2019 has a new feeling. There's a little room, I think, for optimism."
It sometimes feels like a backlash against that might be coming though.
Well, that's why people moved onto communes in like the '70s. You know, to get away from the thing that's happening? But I don't think so. I think we're so deep. And there are repercussions, evolutionary percussions, that I don't think we're even aware of now. It's interesting. It's all happening. I have a little more perspective because I remember a little bit of a time before computers. There was a time. I had a pager. Pager! This is a great interview.
Sometimes the best interviews can be about the most random things though!
Well, that's the most interesting stuff. In general, there's a story being told and everyone's telling the same version, or different versions of the same story. But when I read interviews with people that I like, it's always the random shit or the tips on how to live that I look for, like how does this person do it? What's the process like? Do they wake up and drink wine or coffee? Are they sober now, were they sober then? But just with the inundation of information, we're just taking it in so fast and we're not even getting the whole story, we're just getting little soundbites, so we get these ideas of what things mean, or what they are and we have an opinion but we haven't really investigated the whole thing. You just read the headline and you kind of roll with it.
Do you find it difficult to engage with it? Especially as everything seems to be so insane politically right now.
Well yeah, we can feel it. There seems to be a lot of duress and negativity in America especially. Just the tone of the news in this Trump era is just so strident and I can't even turn it on. It just immediately, like people bickering on TV, all day long, they're just yelling at each other. It's amazing what he's inspired. It's painful. So yeah I have to disconnect from it, sometimes. Although that felt more like last year. 2019 has a new feeling. There's a little room, I think, for optimism. I felt a shift and I think a lot of my friends felt a shift on the Super Blood Wolf Moon, the eclipse. Did you guys see that? Well, it kind of makes you realise that we don't really know what's going on. It forces you to zoom out, an event like that. Like, what's important? What are you doing to contribute? What kind of person are you? Not just your work. Your work can define you, but what kind of person are you? And I'm not saying I'm a good person but you know, it's good to check in. I'm nice. As fuck! I think those moments are really important. It's important to look up.
'On The Line' is out now via Warner Bros.

Get your copy of the latest issue
Read More