Interview Junodef: "I've come to realise that keeping things DIY is really important to us"
We speak to London-via-Sweden trio Junodef about writing inspirations, creativity beyond music, and their latest EP 'Catastrophical'.
Consisting of best friends Karin Grönkvist (guitar and vocals), Norea Persson (drums and electronics) and Tyra Örnberg (bass and vocals), the Swedish born, London based art-rock trio Junodef are regular's on the capital's live circuit. Having developed both personally and professionally since the release of their debut EP (2017's 'Ocean'), the band's recently shared sophomore effort 'Catastrophical' marries electronic production and haunting harmonies over six tracks which span sapphic desire, social inequality, and the celebration of community.
In the wake of the release of 'Catastrophical', we catch up with Junodef to discuss how notions of place and DIY sensibilities permeate their latest project.

You were born in Sweden but are now based in London - how do different environments affect your writing/music?
I think changing environments is really important to boost creativity in general, and for both of us it feels easier to write when we go back to Sweden. We're leaving our everyday life in London behind, and the places we go home to in Sweden are generally close to nature and quiet. It makes all the difference to be able to take time and write music after a day of walking in the forest and petting sheep rather than pushing yourself to sit down and create after a day of work in busy London.
With that said, we of course write songs in both countries, but it feels easier to start when in Sweden; it's easier to connect with yourself and hear your own thoughts so the songs tend to be a bit more honest and in touch, perhaps.
Your track 'Anemone' is based on a book about renaissance nuns that Tyra found at her mum's house. Can you give us a bit more insight into your lyrical inspirations?
We both write lyrics, and have some different ways of getting our words across.
Karin: Most lyrics will just sort themselves out whilst singing over the music we've written, and other times I'll have a proper sit down with a pen and paper and try to tell a story in a more thought through way. Recently, I've started visualising a video in my head to help me write the lyrics, which I really like as it really pushes the song forward: "what should happen next in the video? What does that then sound like, and how do I describe what's happening with words?" Our song 'Justice' was written in this way, and I had the whole video finished in my head before I finished writing the song. It's like scoring for an imaginary film.
Tyra: Same goes for me half the time, with the lyrics coming naturally when singing on top of the written music. But at other times when I feel like I want to start with the lyrics, I usually take inspiration from books etc., and use different fun experiments and techniques to squeeze some words out that will bring the story of the song forwards.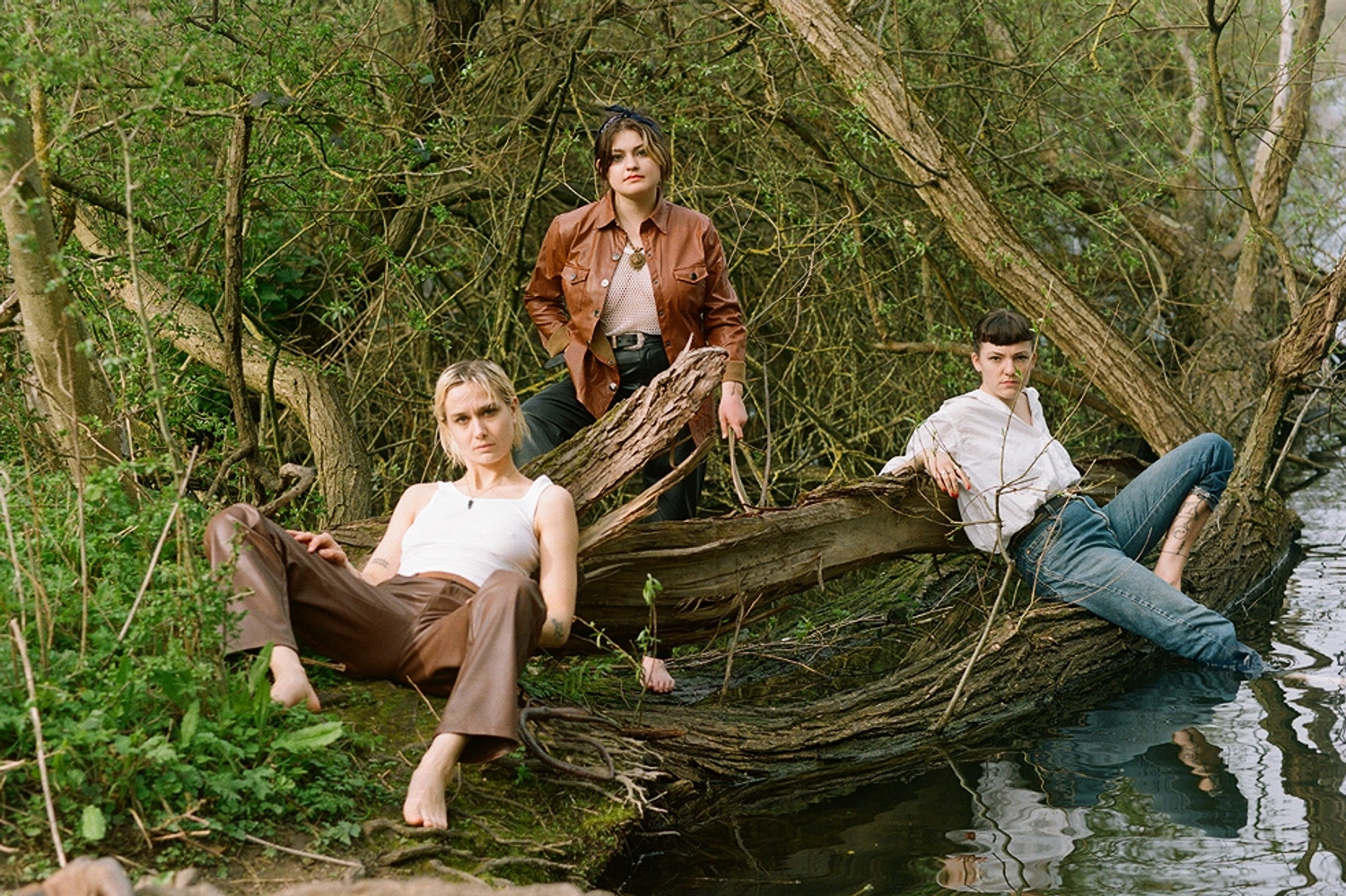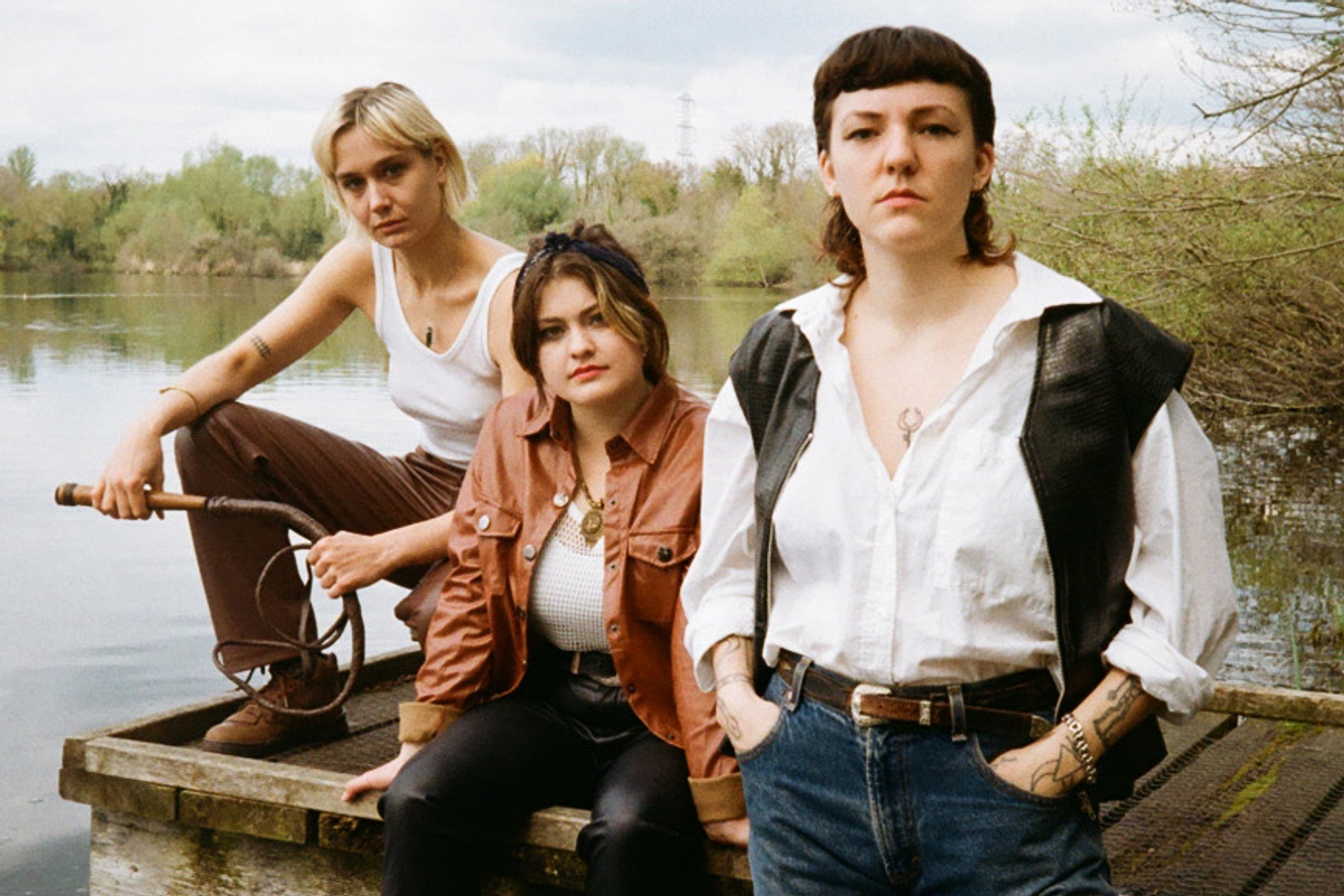 Can you talk us through the concepts behind your videos for 'When The Day Comes Around' and 'She Wants To Win'? Is it important to you to keep things DIY / in-house?
Karin got an old camcorder to shoot most of the videos and material for the EP, so a lot of the concept comes simply from the choice of camera and what feeling that particular quality of footage promotes.
The concept for 'WTDCA' was to make a video on a £0.00 budget, showing us and our friends just having a good time. The song is about the glorified grind, being tired all the time and desperately longing for a change, so the video is showing the opposite - the good times that exist alongside it. This video is supposed to be three minutes of feel-good, for us, our friends and communities, and hopefully anyone watching this collage of random people you've probably never met.
The visualiser for 'She Wants To Win' is quite literal. The song is about people thinking and acting as if they own you, not giving you space to be your own person and straight up disrespecting your needs and wants. The video is showing a person polishing and re-arranging trophies in a white bedroom, and it is kind of how I imagine those people treating others, keeping friends as trophies and obsessively trying to polish them to what they see as perfection.
Karin: When it comes to keeping things DIY I'm coming to realise that this is really important to us! I've always thought that having someone else do it for you would be a great relief on an increasing workload, but since I got into making DIY videos we've been able to capture more precisely what we want and be creative in a new way apart from music.
'Catastrophical' is more outward looking than your previous work - was there anything that prompted this change in perspective?
It's been a while since we released new music before this EP, so I guess in some sense we've just grown up, and a natural part of that is to change your perspective a bit and want to write in new ways. We've been in London for some years now, and we're not sure whether the mounting pressure we feel of being a functioning human in the 2020s is a part of living in London, part of growing older, or both, but it's definitely forced us to a point where it's impossible not to look around you and start digging into your not-always-so-great surroundings when writing lyrics.
We try to strike a reasonable balance between "omg the darkness inside", "oh no I'm in love again" and "there are things going on outside of this skin bag, hot new analysis on the state of the world incoming".

Now that 'Catastrophical' is out, what are your plans for the rest of the year?
Create more! End of summer/beginning of autumn is usually when a lot of our music gets written, so we're gonna try and hone in on that time sensitive inspiration before winter depression hits, and hopefully write a bunch of new material to be shared. We're also going to collaborate more and make more video stuff, like live videos and alternative versions of songs in cool spaces. There is definitely a whole lot more to come, maybe even some new music!
'Catastrophical' is out now via Physical Education Recordings.
Featuring James Blake, Romy, Marika Hackman, yeule and more.