Neu KEG: "We're all too stupid and uncomfortable to do anything vulnerable and serious"
Egg costumes, Uncut Gems and an EP that sounds like "a panic attack in loads of different states" - it's all par for the course for Brighton wildcards KEG.
When David Byrne immortally asked himself "How did I get here?", chances are he wasn't dressed as an egg yolk, vomiting between video takes. But a few months back, KEG frontman Albert Haddenham nonetheless was probably thinking of a very similar question. "I was horrendously hungover, with my head in a bald cap painted yellow, and I had to go and be sick. I was just looking in the mirror, all the paint was streaming because I was crying from throwing up… That was a low…" he recalls with a glint in his eye that suggests maybe he actually lives for such ludicrous situations.
Part of the gloriously surreal tableau that makes up the video for recent single 'Elephant' (first popping up out of a papier mache egg cup, Albert's head then gets smashed and fried as his bandmates play 'instruments' made out of vegetables - natch), this sort of madcap energy is emblematic of the Brighton septet. Landing like the wildcard, unhinged younger siblings of Squid and other such musically-eclectic types, they're simultaneously dark and hilarious, throwing out rattling, anxious tracks full of yelping neuroses that also somehow manage to be all sorts of fun.
"We're all too stupid and uncomfortable to do anything vulnerable and serious so we'll always try and make it into a joke," shrugs Albert of their amusing aesthetic choices. "It's always gonna be Vic and Bob-esque which, at its highest, is fine art in my opinion. Which is what we're aiming for," he laughs, "fine art." "Not fine art," qualifies bassist Joel Whittaker. "Just fine… art."
Slowly building their line up - completed by drummer Jonny Pyke, guitarists Frank Lindsay and Jules Gibbons, keyboard player Will Wiffen and trombonist Charlie Keen - from various former bands and more recent friendships, the ethos of KEG from the beginning was one where anything goes. "I think maybe [KEG] was a blank canvas, which is what I was so happy about. From one song to the next, it could be completely different but it still managed to have some kind of vein along it, even though none of us knew what that was," Albert theorises. "We wanted to do everything, we wanted to be like Ween," Jules picks up. "We used to be called Ricky Stansted and the Baggage Boys for a short while, which was Frank's solo stuff really," chuckles Albert of one iteration along the way as Frank sighs: "I was confused then…"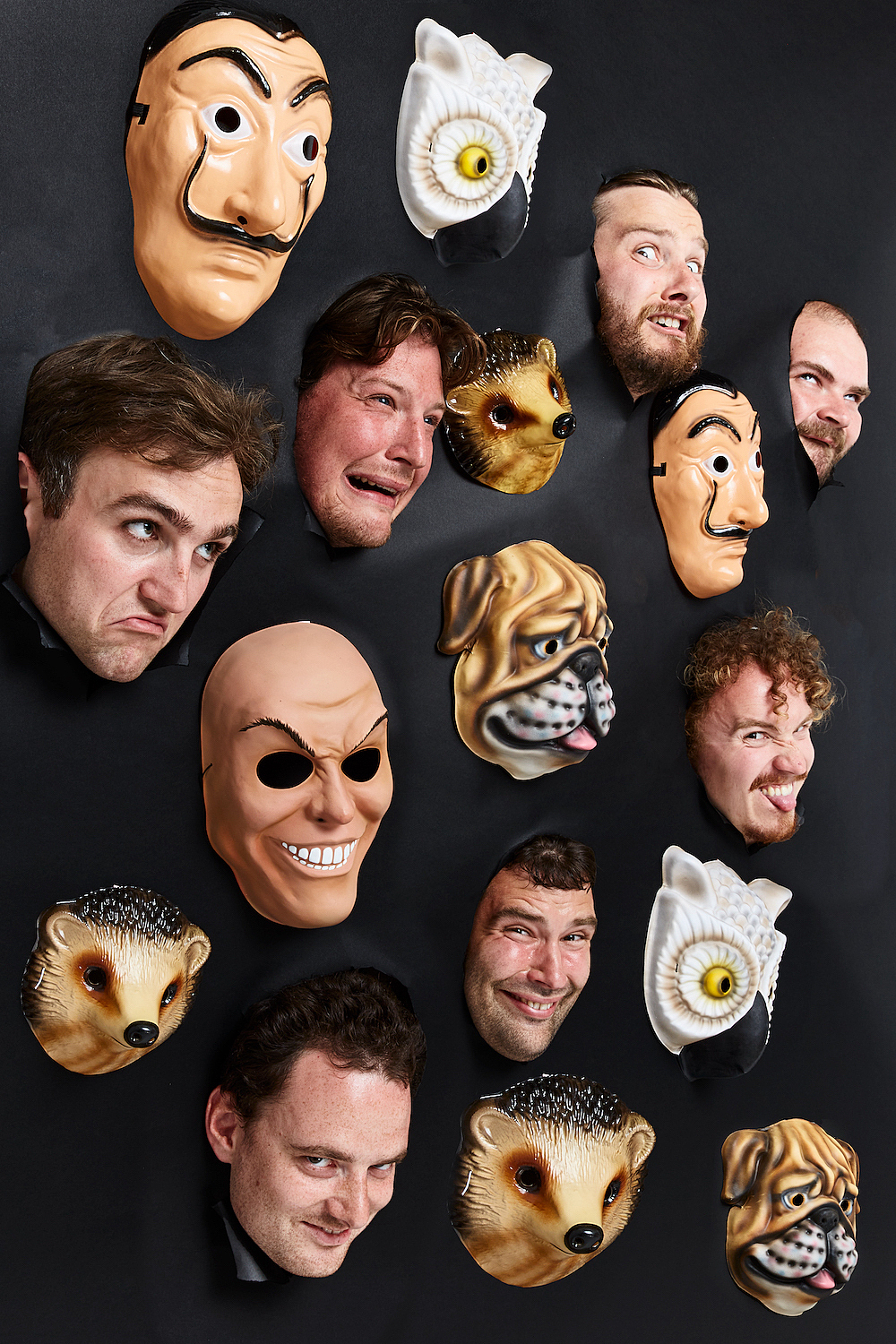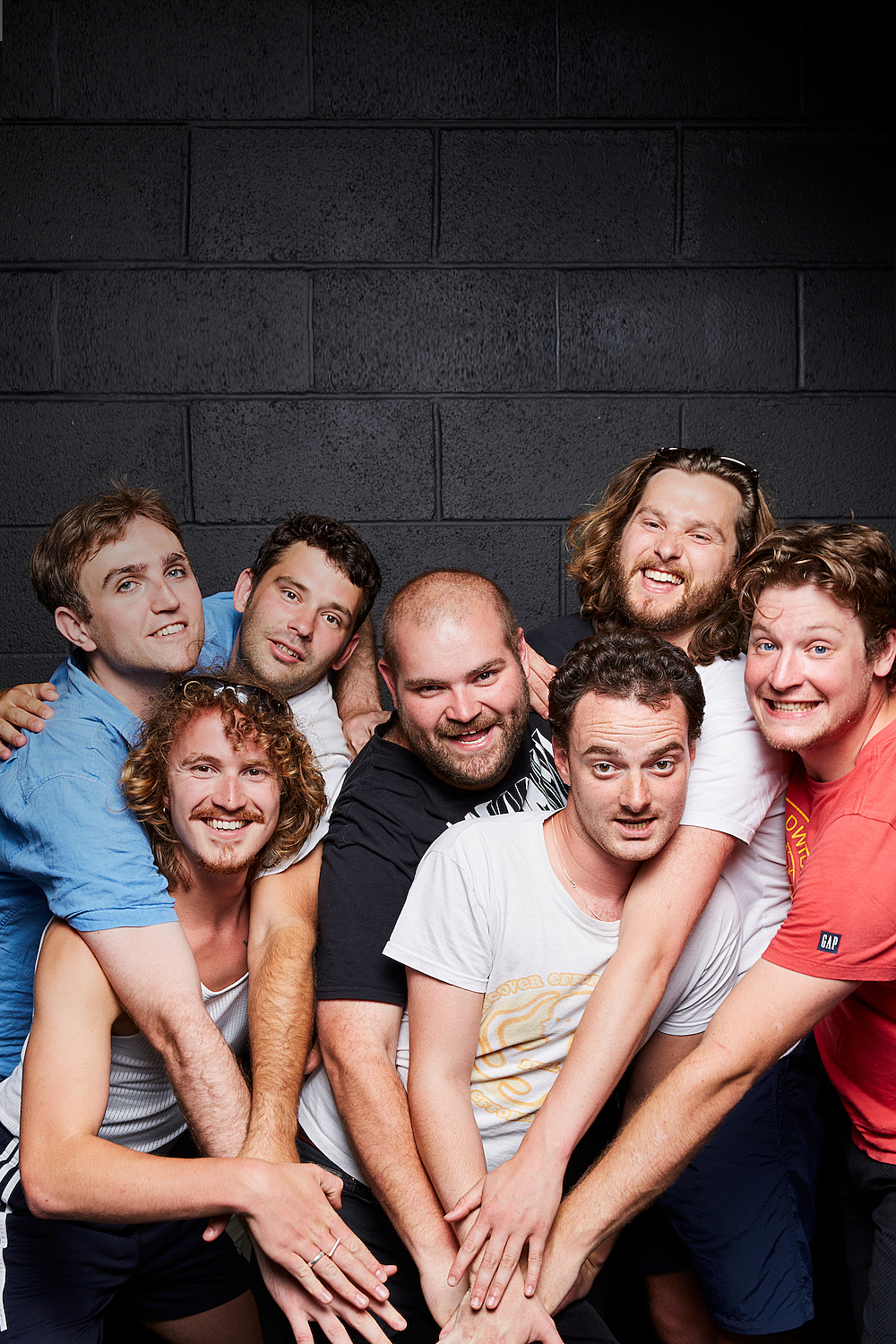 "The music's very serious, but you can say a lot with a good joke. Often it's overlooked how powerful it can be."
— Albert Haddenham
Having ditched that particular moniker, a lockdown of living in each others' pockets gave birth to last year's debut EP 'Assembly'. Next month, it'll be joined by second EP 'Girders'- a wild ride through five tracks that the singer describes as "a panic attack in loads of different states". Logic might suggest the claustrophobic sirens that open '5/4', or the everything-all-at-once cacophony that closes 'Sing Again' to be the result of that intense period, yet really it's more indicative of the band's mentality as a whole.
"'Elephant' really exemplifies the way we write where we just patch things together that are insane and then it makes insane soup," Albert laughs. "When I listen to music, there's a certain bit when I reach peak enjoyment where it's stressful almost - where's it's just… ARGHHHH!!" he vents. "Where it's like Uncut Gems," quips Jules. "That's my favourite film and I think it's exactly that feeling throughout the EP as well, hopefully," the singer picks up. "I love that feeling. That Devo song 'Too Much Paranoias' does that exact thing to me, it's like a fire between my eyes. Once you go over that line you're in fucking zen zone. Cloud land…"
However, though KEG might musically be aiming for "a way of being vulnerable but sounding aggressive," lyrically the band are a riot of humour and surreal fun. Take previous single and EP highlight 'Kids' - a musing on what happens if your spawn grows into something you hate. Hitting a home run of ridiculous one-liners ("Daniel watches repeat editions of Michael McIntyre's Roadshow on repeat / No I don't find it funny, Dan!"), it highlights a band ripe to pick up the baton of artists such as Yard Act and Wet Leg, merging playfulness with genuine musical chops.
"The music's very serious, but you can say a lot with a good joke. Often it's overlooked how powerful it can be," muses Albert. "Some people say they find us just funny to watch live," notes Frank as the singer glances around at his bandmates: "I really like it when people say that because I sometimes look round and it IS a weird looking group of people… Jules has got his little shoes off, everyone looks like they don't really know why they're here…" "Conscription," Joel deadpans.
Far from a perfunctory service, however, KEG are the sort of band to remind the world exactly how much fun being in a band can be. "I was just a free egg on the loose. Just a big man in his underpants dressed as a yolk," recalls Albert wistfully of that ridiculous early day. You don't get this shit with Coldplay, do you?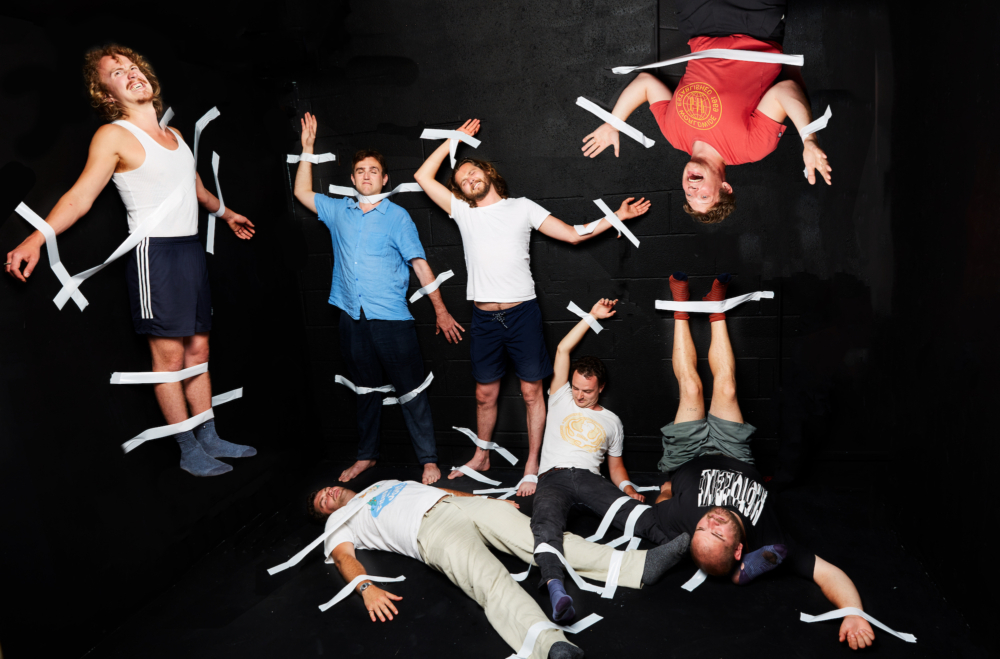 Read More