Class of 2023: Meet Me @ The Altar
Diversifying the face of rock and earning some superstar fans along the way, the emo trio are ready to unleash their debut and push for greatness.
Take a closer look through the line-up for When We Were Young - the recent Paramore and My Chemical Romance -headlined throwback to the heydays of emo - and one thing immediately jumps out: there's an important shift in the lower part of the billing. On a poster dominated by the white men that have led the charge across the scene for the past two decades, there's a new wave of alternative voices rising through the ranks - something that isn't lost on Paramore's iconic frontwoman Hayley Williams.
Stashed away for safekeeping inside the glovebox of rising trio Meet Me @ The Altar's van, there's a letter from Hayley, written from that Las Vegas show. "It's going to give us good luck," drummer Ada Juarez smiles, met with nods of approval from vocalist Edith Victoria and guitarist Téa Campbell. "The letter talks about how we are really opening the doors for Black and Brown people who want to create music, and for a lot of women who want to create music too," Edith continues enthusiastically. "And that we're doing really good work."
The letter acts as a physical representation of the band's welcome role in changing the landscape of their subsection of rock, joining contemporaries such as new friends and viral sensations The Linda Lindas. That line-ups such as these rarely diversify isn't the source of any anger, however; instead Meet Me @ The Altar are proud to be part of a noticeable change.
"We always knew what we were getting into, even from the start," recalls Téa. "When we were 15 or 16 starting a band, we were kind of waiting for something like us to come along as we were growing. Now, I guess it's us. We knew how much having a band that looks like us, that we could see ourselves in, would have meant to our elementary school selves. It's really cool for us to be in that position. It's important to talk about and get the conversations going, and draw attention to the fact that there needs to be more women and people of colour in this scene who are being uplifted by the people who are already in power."
"You have to be delusional as fuck and you have to do the work."
— Téa Campbell
That path hasn't always been easy though. The band formed in 2015, welcoming Edith into the fold two years later. Momentum was slow at the start, but a wave of fans found their way to the trio in 2020. As bands grappled with the emerging obstacles of remote creativity, they had experience in that field already; Téa had met Ada through drumming videos on YouTube and bonded over a shared love of Twenty One Pilots, meaning [email protected] had worked across US state lines since their inception. With a clear passion for their musical heritage, unfazed by isolation and spurred on by global uprising, they drew the attention of scene stalwarts such as Dan Campbell of The Wonder Years. A deal with iconic Gainesville, Florida-based record label Fueled By Ramen followed.
"We've been mentally preparing for these days," Téa takes stock. "This was always the plan from the start. It's taken a while, but it's so fulfilling to know that we were right to trust ourselves and to go against the grain no matter what people said. We've put our all into this band for the past seven years, and it's so cool to see it start to pay off."
Having packed in their day jobs to take the band full time, and with global tours and festival appearances under their belt, Meet Me @ The Altar have no plans to slow it down. In fact, their frustration at a current limbo between touring and the release of their debut album - due in the spring - is palpable. "We want to be a household name!" Téa exclaims with infectious ambition. "We want to be one of the greats. We fully believe with our entire being that we're going to get to that place we want to be. We know we are going to get exactly what we want."
That their moment has come seven years after forming doesn't deter them either. "If anything, we're stronger than ever before," Edith says, mirroring Téa's self-belief. "Once you get a little taste of something, you want a lot more. It's definitely stronger, and very much here. You want to keep going and going and going." "That's literally the secret," Téa laughs. "That's how we got here. You have to be delusional as fuck and you have to do the work."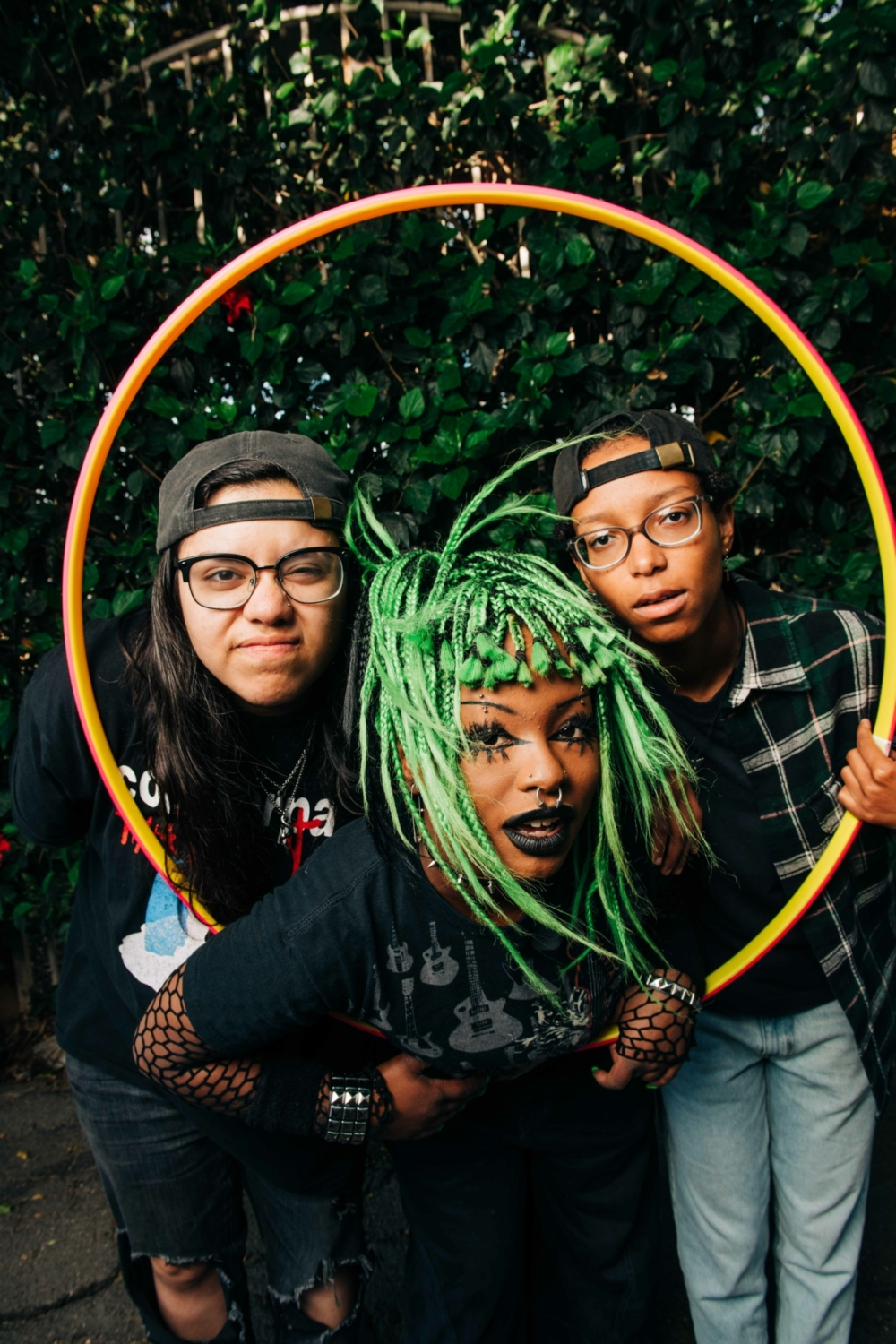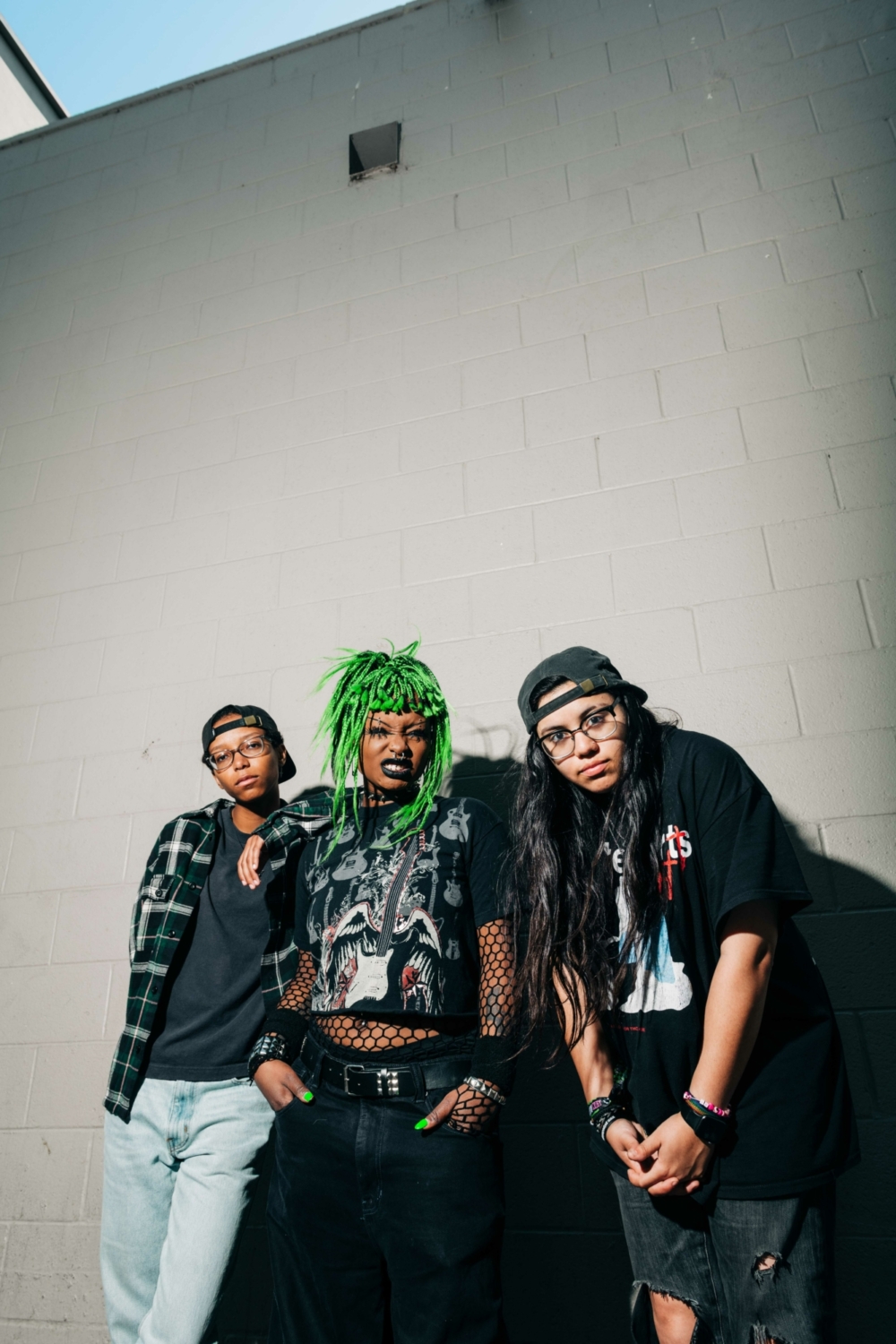 "We fully believe with our entire being that we're going to get to that place we want to be."
— Téa Campbell
Their new music looks to continue that trajectory, and finds Meet Me @ The Altar still working very much on their own terms. Self-described as in the world of rock but a softer step away from easy-core, it's set to propel them onto new stages in front of diverse audiences. They've recently completed shows with queer alt-pop powerhouse MUNA and are heavily inspired by Taylor Swift's recently announced shows with Paramore, Phoebe Bridgers, HAIM, Beabadoobee and more - breaking boundaries and celebrating women in music, regardless of genre.
"I feel like artists and bands confine themselves too much in a certain box sometimes because it's comfortable and that's what they're used to," Téa expands. "I feel like you can only grow so much if you are stuck with the same thing. It's cool to branch out."
It's all part of the band's subtle mission to change the face of rock, and to show the world that music can stretch beyond and embrace all. "There's a lot of beauty in thinking about when people will just see any band like how they see a bunch of white dudes up there," Edith concludes. "A lot of our fans that really ride or die for us, they just see a band and we just happen to be who we are. The act of just being us is really enough."

Read More