Interview "We've sat down and asked the question: 'Can we get away with that?'" - Muse talk 'Simulation Theory'
Chris Wolstenhome chats ridiculousness, blending the old and the new, and plans for a theatrical new stadium tour.
On new album 'Simulation Theory', Muse don't dial down the ridiculousness one jot. A relentless stream of genre-melting behemoths, the album harbours as many twists and turns as it does jaw-dropping '…did they really do that?' moments, and is as overblown and full-of-life as an album from the Devon trio should be.
"Take a step back from the ins and outs of the record and 'Simulation Theory' stands as a ridiculous, bombastic stab of maximalism from one of the world's biggest stadium rock bands," we wrote in our review.
"The chugging intro of 'Algorithm' is perfect for walking out to at a sold-out Wembley Stadium to, and it's clearly been written with exactly that in mind. Single 'The Dark Side' is a suitably groovy aside from the album's relative lack of danceability, and by the time you've stopped laughing at the frankly jaw-dropping robotic intro to 'Propaganda', you realise you're toe-tapping to its '80s-indebted verse without even realising."
With the album out now, and a UK and European stadium tour set for next year, we hopped on the phone with bassist Chris Wolstenholme to chat 'Simulation Theory', the plans for said tour - spoiler alert: it's set to be very theatrical - the place of the album as a format in 2018, and if any idea is too ridiculous, even for Muse.
Listen to 'Simulation Theory' and read the interview below.
'Simulation Theory' is your eighth album - by now, do you know between the three of you when it's time to get back in the studio working on new stuff?
It was a little bit more natural on this album. It's a difficult one - sometimes there have been certain albums where... in the early days, going from 'Showbiz' to 'Origin [of Symmetry]', we definitely felt like a new album needed to come out pretty quick, building the foundations with the first album and seeing this opportunity there and having to crack on. You don't want to do the initial hard work and then everyone forget that you exist. There was a bit more of an urgency in the early days, building momentum and not wanting to stop. Once you feel like you've got to a certain level, you also have to think about the quality of the music that you're making. Inevitably, as you get older, and with things like having children - general personal life stuff - it's very hard to combine all those things and still make really great music. What you don't wanna do is make an album that you feel like you're rushed into making. There comes a point where you feel like it's better to have no music than do something shit.
For the last couple of albums, we've never really felt like we've been in any sort of mental rush, and with this album, we didn't really know what we were doing. We'd had a lot of discussions about whether we were going to do an album, or whether we were going to do just a series of songs or singles, and the approach that we took to start with was a very casual one. When the band are together, in our period of off time - Matt and Dom would sometimes be in London, so we'd meet up, work on a song and record it - and then maybe a few months later we'd do the same thing in LA. We felt that maybe by doing that, it'd allow us to work on songs and release them totally individually, either as a standalone song, or well in advance of an album. That was the idea initially - maybe these were songs that wouldn't be on an album. When we released 'Dig Down' and 'Thought Contagion', we were thinking maybe they're just singles. In the end we agreed that it was a bit of a half-way thing. Yes, there have been a series of songs that have been released, but at the end it all comes as part of a record. For the people that still like having an album, they have an album. For the people who the album doesn't have that much importance anymore, they've had a series of songs.
With this indecision around releasing singles or a full album, what was it that drew you to the latter as a final product? Do you still personally feel sold on the album as a format?
I don't think we're set on anything. The music industry has changed, and people have changed with it. In a way, I think that's why the last 15 years has been such a weird time of uncertainty for a lot of people, because there's been a way of doing things for such a long time - in terms of people working in album cycles - and I guess the way that the industry works now, and the way that people listen to music now, means that the idea of cycles isn't as relevant as it used to be. You're not really promoting an album anymore, because people don't buy albums anymore - you're effectively using your album as a means to promote the band in general.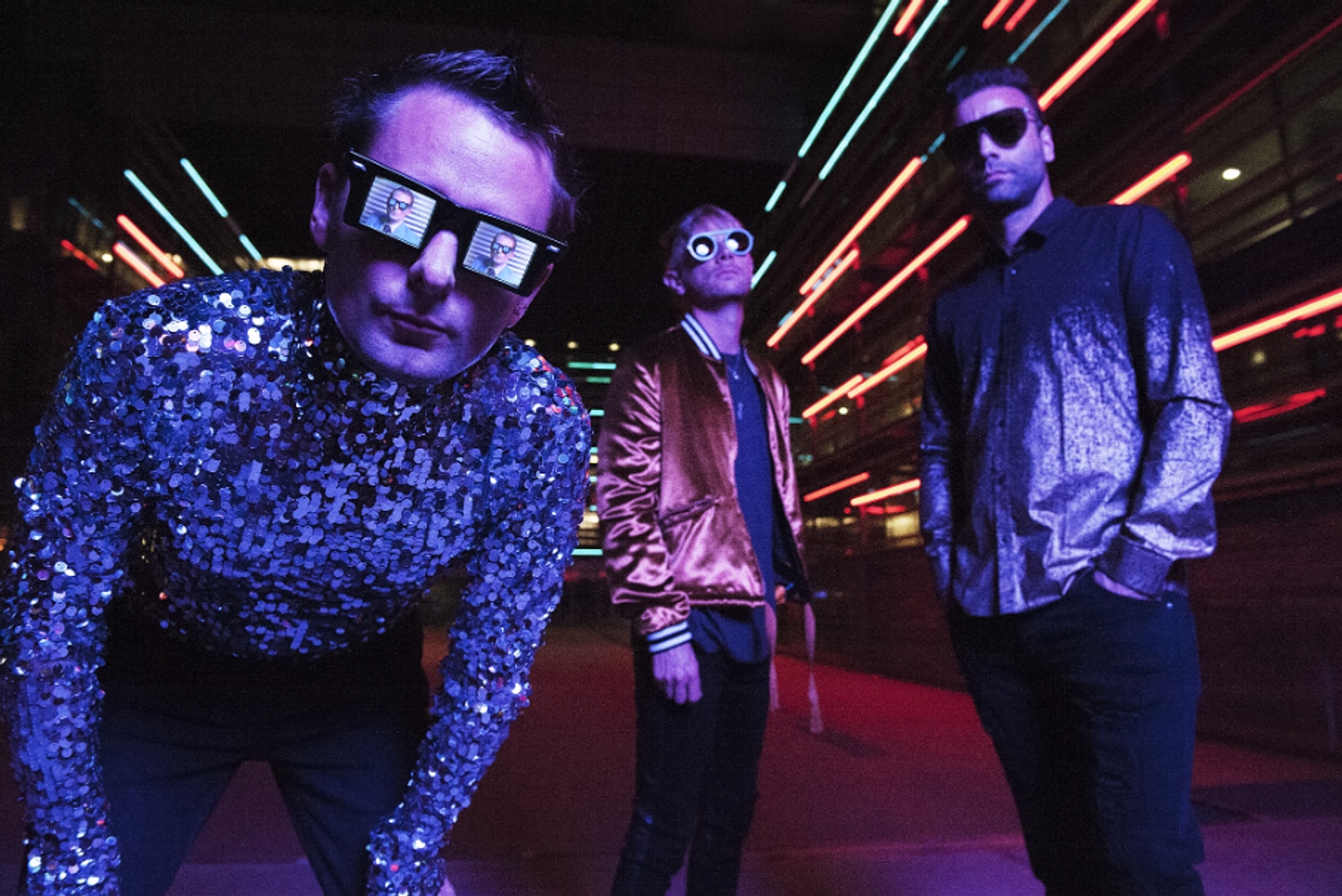 "We've been very lucky in that the band has coincided with this era of technology development."
— Chris Wolstenholme
'Simulation Theory' is an intense listen, with plenty of moments that make you think '…did they really just do that?' - is every idea that's brought to the table considered, or is anything called out for being just a bit too ridiculous?
We consider everything. There have always been moments where we've sat down and asked the question: 'Can we get away with that?', and that's something that's said quite a lot. Usually the answer is 'Well, shall we find out? Let's see if we can get away with it, and we'll soon find out if we can't'. When you listen across all eight albums, there's a lot in there. Fundamentally, I think we're a rock band, and I think we'll always be considered to be a rock band, and the core DNA of the band is based upon a rock band, but even from the early stages, we've always been interested in pulling in these external influences. In the early days, it was the classical influences, 'cause Matt was a pianist and really interested in classical music, and that expanded into a lot of things.
With this album in particular, I almost feel like this album on its own is almost like a display of us trying to mould together as many musical genres as we can. I feel like that's the most effective way of trying to create something new. It's very hard to create something that is 100% new, because then people don't have a connection to it, and I think that when people listen to new music - even new music - they want to feel some sense of familiarity, and something that they can latch onto. There's this very overarching '80s feel to the album in terms of synthesisers, and we wanted to see how far we could push that, blending it with genres that were quite unusual. 'Dig Down', for instance, is really a gospel song, but it has this electronic feel to it. 'Pressure' is, I guess, a rock song, but you've got this funky brass section going on. And 'Something Human' is very folky, and was written as a folk song, but then you have all these synthesised elements going on which give it this really unusual feel, because you don't very often hear a folk song with synthesised vocals, you know.
Is this unusual blend of styles presenting any problems with you in terms of translating it to the live set, ahead of your stadium tour next year?
It's always a struggle. To be honest, 'Drones' was probably the first album that we'd done that we thought 'This is easy'. That was a real step backwards in a way - and I don't mean that in a bad way - but it was the most retrospective album we've done. We really made a conscious effort to eliminate all the external influences outside of rock, and really strip it back to the basics. That was a really easy album for us to play live - I remember going into rehearsals for that album and we played it as we did in the studio, and that was it. Obviously with this record, it's going to be more challenging. We have Morgan [Nicholls] in the band - the keyboard player - and he bears the responsibility for a lot of those sounds, and I'm sure there's going to be a fair bit of instrument-swapping and various other things going on. We've toyed with the idea of having other performers on stage with us, rather than pushing the technology element, which is what we did with the 'Drones' tour, and trying to create something more theatrical, with more people.
"We've toyed with the idea of having other performers on stage with us, rather than pushing the technology element."
— Chris Wolstenholme
You've been a stadium band for over a decade now - do you ever feel like you've exhausted the limits of what's possible with a stage show?
I don't feel like we've exhausted it. We've been very lucky in that the band has coincided with this era of technology development, in terms of both music and visual. I think back to the first album, when we had no production - we were just a band on stage with a few lights. Around the 'Origin of Symmetry' time, it was the first time we had a screen, but it was a proper old-school projector, effectively a piece of plastic rolled down at the back of the stage. We've grown through this time now... HD was a big thing. All of a sudden, being able to have these big screens. And then 4K! It's almost like every time we've gone on tour that there's been this whole new bunch of technology available to use that even 3 or 4 years previous to that would've seemed unthinkable. That's something we've always tried to do, and not even just with the basics of HD or 4K. For instance with 'Drones', the actual drones themselves, that flew around the arena - that was something that had never been done in a live show, and was brand new technology that had just become available and that we really wanted to push.
I'm sure now when we start exploring what's available, there will be a whole bunch of new stuff. As long as you're aware of what's available and what's happening, closely watching everything as it's in development, there's always lots of new things that you can do. I think for us, we were thinking that maybe we can step away from that a little bit and try and enhance the performance side of the show. That's something we've never really done. In 2013, when we did the stadium shows, we started to bring in a couple of performance elements, but it was quite basic. We had a couple of actors that came on for a couple of songs. We quite liked that, but it wasn't enough of a thing. We've been talking about really trying to explore that avenue now.
'Simulation Theory' is out now via Warner Bros.
Read More
Featuring King Gizzard & The Lizard Wizard, IDLES, Tkay Maidza, Sleater-Kinney and more.