Thugs, romantics and Pierce Brosnan - anyone's welcome in the weird world of this Liverpool duo.
Stephen Fitzpatrick and Audun Laading formed Her's as an 'in-joke'. Studying in Liverpool, they took trips around the city after midnight, video camera in hand, to film joke music videos that would make their way onto YouTube that same morning, around 5am. Crafty detectives can still find them somewhere, but the Her's of today have sprouted from a prank to a fully-fledged force.
Pop chameleons with bucketloads of personality, Stephen brings baritone vocals and Buddy Holly-nodding guitars, while Audun's raw bass parts are one spectacle, his hip-shifting dance moves on stage another thing altogether. Debut collection 'Songs of Her's' sees them flitting between A-Ha-nodding, romantic 80s pop ('Dorothy'), Mac DeMarco-style wooziness ('Marcel') and 'Speed Racer''s tough guy image. The pair are keen to state this isn't an Actual Album, and in a way it shares more with Drake's playlist antics than any cohesive work. Each song feels like it's lifted from a different dimension. "There's a scene for every song," agrees Stephen. "We always knew 'Speed Racer' would be the image of this gross, rough-around-the-edges character." Audun, who designs all the artwork, adds: "Same with the nook and cranny beach vibes of 'Marcel', with a radio playing the track on the shore."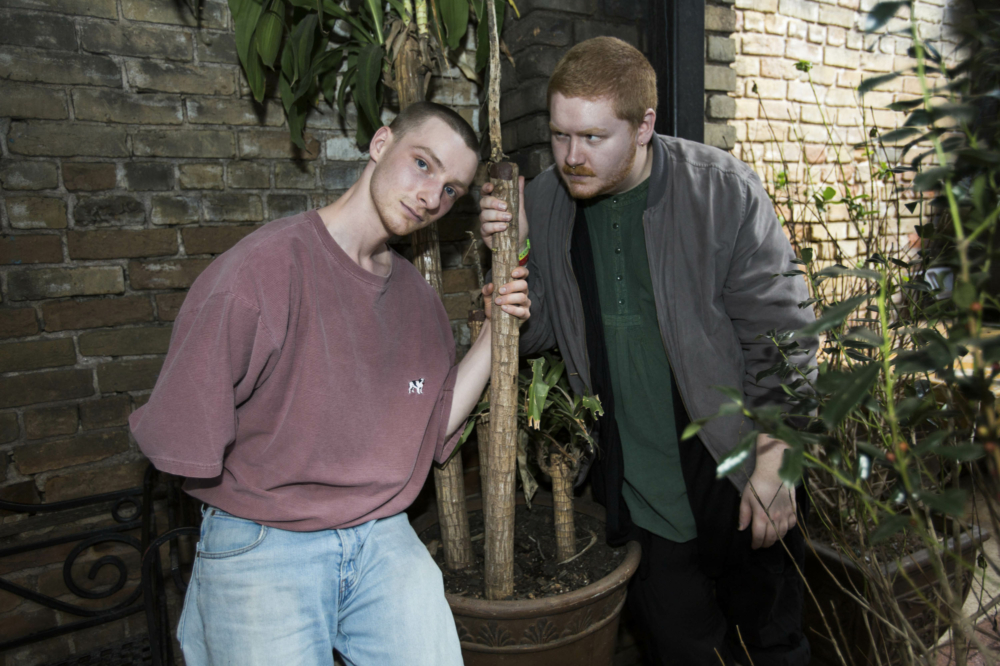 "Pierce Brosnan is our spiritual guide."
— Stephen Fitzpatrick
It's already clear, on stage or off, that Her's have nothing to hide. Live, they're both magnifying and genuinely hilarious, sharing jokes and sarcastic jibes between frenzied renditions of songs. On record, everything's upfront. Stephen's vocals are stripped of effects, guitar and bass parts are high in the mix, and a deadly, repetitive drum pattern tends to do the rest. "There are so many super reverb-y bands who I like. But it adds a strong element of mystery to a band," says the vocalist. "A lot of bad musicians can hide under reverb on record," he says. But Her's seem to put substance over style. Within seconds of each song starting, they've found the essence of it – more room for big hooks, less room for faffing around.
Her's also have a third, honorary member: Pierce Brosnan. Dressed in Bond attire, he can always be found at the front of the stage, in cardboard cutout, around 20 centimetres high but no less formidable than his real form. "He's our spiritual guide," beams Stephen. "He has been acting up recently though," adds Audun. "He actually fell over on stage…" Pierce clearly had more than his fair share of the backstage rider. "He toppled over and queued another beat on top of the one we were playing. There was this jungle madness going on. We quickly sorted that out, threw him off stage. He got out of control."
Even in these early days, the duo have created their own warped universe. Not long from now, Richard Branson will be pioneering space missions to Planet Her's.
Photos: Emma Swann

Taken from the June 2017 issue of DIY. Subscribe below.
Read More