Class of 2023: Opus Kink
The jazz-punk jokesters intent on creating a chaotic party on every stage they touch.
Our mums and dads are very impressed," informs Opus Kink frontman and chief spokesperson Angus Rodgers on their year just gone. A rather wholesome reflection, perhaps, for this most grimy, boisterous, and chaotic of bands, but one that you'd be hard-pressed to argue with either.
Completed by keyboardist Jazz Pope, trumpeter Jack Banjo Courtney, saxophonist Jed Morgans, and brothers Finn and Sam Abbo on drums and bass respectively, the Brighton-raised sextet call their music 'jazz-punk'. Underlying Angus' romantic, sepia-tinted chronicles sit tarantellas and wartime, raving rhythms that come punctuated with fanfares of brass and woodwind, adding a bebop abandon that might have made John Coltrane lift his brow.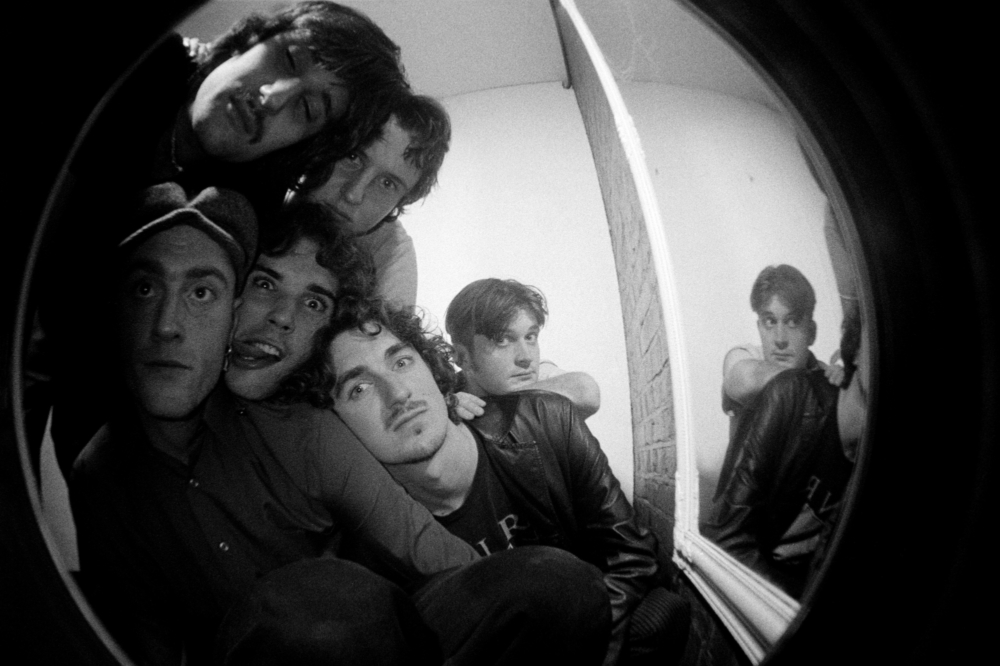 "The worse and more of a joke it becomes, the more serious it becomes at the same time."
— Angus Rodgers
While the growing presence of horns in UK guitar bands is not lost on them - "It'll be out by next year," quips the singer with a wry smile - Opus Kink go about their work with such theatrical levels of tongue-in-cheek melodrama as to create an aesthetic that feels uniquely theirs. And as their rapid growth over the past 12 months indicates (a sell-out 100 Club show in February; a debut EP in June; a recent support tour with Warmduscher), it's an appeal that can only grow from here.
"We are relishing it," he says of the bigger rooms they've found themselves playing of late. "If the sound's good and it's coming at your face, that's one thing. But when it's coming up your arse as well…"
Despite their distinctly alternative approach, Opus Kink's music makes sense in these spaces; feverish entertainers at their core, their catalogue is already full of unabashed crowd-pleasers. Be it their irresistible mosh-friendly energy, proclivity for tantalising false endings, or the no-nonsense choruses that just beg to be bawled back stagewards ("Tarantula!", "Mosquito!" and "Wild Bill!" comprising just three of them), so maximal is their intensity and infectious abandon that enjoyment ceases to become something voluntary, but more a fantastic obligation.
Meanwhile, we're assured that a second Opus Kink EP will spill onto our laps before the summer. "With this record we hope to have left the sound tarnished, blemished and ruined in the way of a live show," offers Angus by way of cryptic teaser. "It's an attempt to bottle whatever feebleness and malevolence might seep out of us in a raw form."
Will they get more serious from here on out? "Never," he asserts firmly. "The worse and more of a joke it becomes, the more serious it becomes at the same time. We'll become more serious through further debasement and jokes. It's as serious as your life, man."

Read More