Neu Panic Shack: "People just can't take it that women can make it without being fucking rich or knowing someone"
Proving that girls can wanna have fun while also sticking two fingers up to the pricks, Cardiff quartet Panic Shack are a bundle of unapologetic energy that harness the power of both.
An excitable, effervescent gang of mates with a withering line in patriarchy-blasting punk bangers, it's easy to see why Panic Shack should be put on the curriculum for teenage girls. But, as it turns out, those in the 30+ age bracket could learn something from their can-do attitude, too.
"We had partners in bands but they were just boring," begins bassist Em Smith of the group's formation. "It's scary when you see boys on stage with their millions of pedals, and you think you can't do it, but you can! Why do you have to overcomplicate things? You can literally use one distortion pedal, three chords, and a song can sound better than a million songs that are like…" We're not sure how to fully pen the gesture that follows, but we'll label it 'wanking eyeball roll'.
Formed in late 2018, Em is the only member of Panic Shack who'd been in a band previously (a short-lived duo, comprising her and her dad). Vocalist Sarah Harvey and guitarist Meg Fretwell worked in Lush, spending their days plotting karaoke sessions and lamenting the musical dream they'd never made a reality; however, when the quartet - completed by guitarist Romi Lawrence - came back from a group trip to Green Man festival, they decided enough was enough. Inspired by watching Amyl and the Sniffers' unstoppable Amy Taylor, they bought instruments, taught themselves how to play them well enough to begin to write songs and, thus, Panic Shack was born.
"The vibes and energy, that's what we prioritised, and we have fun which is what people are connecting with. We have a laugh and we're mates and no one's really looking at your feet anyway," grins Sarah. "We're living out our childhood dreams."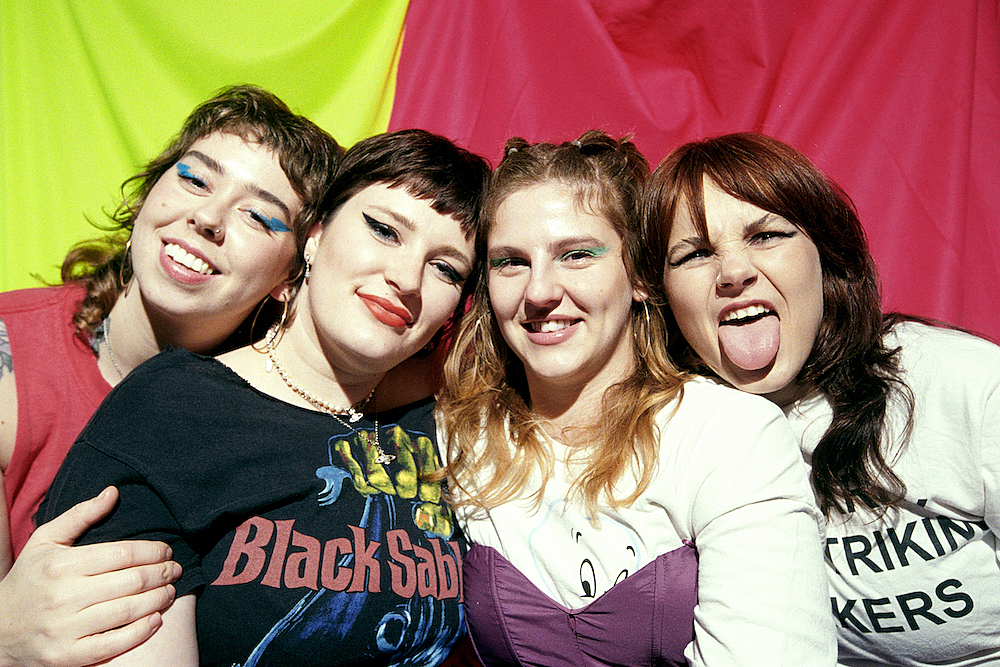 "We want to get our point across but we ain't serious girls."
— Em Smith
Citing the punk spirit of The Slits and riot grrl, coupled with the brightness and sparkle of classic pop (Riot Grrls Aloud, anyone?), the group's live shows are where the vision comes most fully to life. "We wanted to combine the dance moves and the outfits of [pop] with guitar music," explains Meg. 'Mannequin Man' lambasts London poseurs with a section in which the band all do their own on-stage mannequin-robot dance, 'Who's Got My Lighter?' closes the show in sweaty, chanty carnage, while 'Jiu Jits You' distils the essence of Panic Shack into one giddy three minutes: funny and angry and sweary and just the right amount of silly, all in one go.
"We want to get our point across but we ain't serious girls," notes Em. "All of our songs are so literal; there's no bigger meaning. 'Jiu Jits You' was about this one guy who was pissing us off in a bar in Liverpool; I'd been to a jiu jitsu class and was like, 'I'm gonna jiu jits you!' and then the song was done in a night."
Entirely, depressingly unsurprising is that, with the band's increasing popularity (2022 saw them collaborate with Metronomy, tour with Yard Act and release debut EP 'Baby Shack'), the trolls taking onus with their fun, celebratory feminism have come out in force. "There was this one video from Reading and Leeds of our song 'The Ick' and people were going fucking crazy. Overnight, we were inundated with about 5,000 horrible comments on us, our music, our outfits; they were trying to say we were cosplaying as working class," recalls Sarah. "The worst comment that caught on was someone who said, 'Join the 27 club early' - which in a way is quite nice because we're all older than 27…" Em succinctly picks up: "When Wet Leg popped off they were calling them industry plants, and then they started calling Crawlers industry plants and it's the same with us. People just can't take it that women can make it without being fucking rich or knowing someone."
Panic Shack, we can confirm, however are the real deal. A band to believe in, who've rallied themselves to chase their dreams and are watching them become a reality. "It's exceeded every expectation I've ever had," Meg smiles as Sarah affirms: "I just wanted to be in a band, I thought it was over and now here I am."

Read More