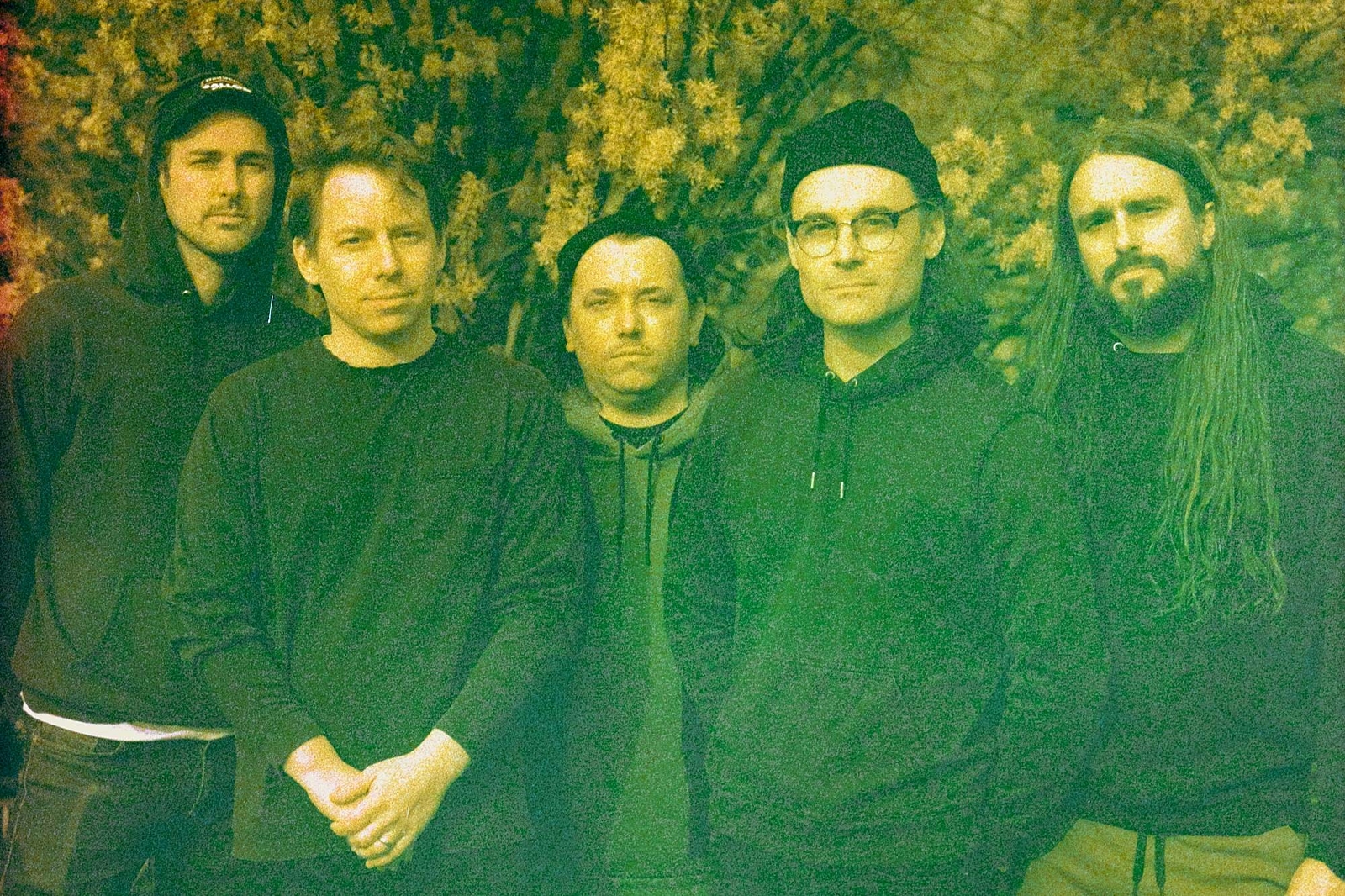 Photo: Micah E Wood
Pianos Become The Teeth: "I do still love and need this band in my life"
On fifth album 'Drift', the Baltimore band continue their slow and steady evolution through an impeccably sequenced record set over the course of "a long and drawn out night".
Sometimes when you get older, your band can take up a different space in your life. While it once may have been the centre of your existence as a young person, starting a family and maturing as a human can lead to your musical endeavours becoming an extension of yourself rather than your entire life. Though it may seem like this could lower the passion and effort put into the music, it can often work in the opposite way, with more outside experiences and growth to pour into its creation.
For Pianos Become The Teeth, who formed in Baltimore in 2006, the trajectory rings true. Once a fierce and frenetic post-hardcore band fronted by a screaming Kyle Durfey, the five-piece have undergone a slow but certain transformation, now influenced more by The National than their screamo contemporaries. This musical change also coincided with a realignment of the band's ambitions, no longer touring until their bodies gave out but instead taking the precious time available to them to craft considered and beautifully crafted musical statements.
"The role the band plays in our lives has definitely changed over the years," Durfey tells DIY from Baltimore, just moments before the band have their first practice in years ahead of a run of US headline shows. "It's not that we were ever the biggest band in the world, but we definitely pushed it hard," he adds of their early days. "We were always trying to play shows, always trying to tour, always trying to travel overseas. Now we're all grown ups, we all have families, we all have jobs.
"In a way, it's a blessing," he adds of the change, "because I could walk away from it and I'd still have my life. But it's been such an outlet over the years that I still feel like I would have a hole in my life without Pianos, but it wouldn't affect me now the way it would have done 10 years ago. Durfey says that while the band isn't always at the forefront of the members' lives, when they do manage to carve out time to write, record and tour new music, it reconnects him to why he does it in the first place.
"The role the band plays in our lives has definitely changed over the years."
— Kyle Durfey
After releasing and touring 2018 album 'Wait For Love', another subtle but sure progression in the band's sound, Pianos Become The Teeth ground to a halt ahead of the pandemic. Work began on new music years later, but after a host of songs were scrapped, work on fifth album 'Drift' only began in earnest when the band decamped to a cabin in Virginia owned by guitarist Mike York's uncle in 2021. "We would all go there for a couple of days at a time and just bring over our gear and set up, cook out on the grill and drink and hang," Kyle remembers. "We'd play music all day and then go upstairs and edit and listen to the songs back. We'd make dinner and talk about what we liked and what we didn't like.
"This way of working is great for us now, as adults," the frontman adds. "That's the best way for us all to get together and focus on the music at hand. We can get together for practice every now and then, but everyone has so much other stuff going on. The cabin is a refuge for us to be there together, enjoy each other's company, and just solely focus on the record." This feeling was furthered by working with engineer Kevin Bernsten, a close friend of the band who recorded their first two albums a decade ago and added more familiarity and comfort to the process.
This concentrated way of working feeds heavily into 'Drift', the band's most coherent and focused album yet. Kyle describes the album as tracking a long evening that slides into morning, and is designed to be listened to as one continuous song. Across its length, one song bleeds into the next, with the ten tracks constantly in dialogue with each other. In line with the band members' slower, less intense pace of life, it's also Pianos' quietest album yet. Intensity and energy sometimes explodes on the record (most notably on brisk lead single 'Genevieve'), but it's defined by its slower, more languid moments.
On 'Genevieve' and the slippery 'Easy', the band channel the propulsive rhythms of 'In Rainbows'-era Radiohead, while the gorgeous 'Buckley' marries dirty basslines with chiming guitar lines. Over it all, Kyle continues to blossom as a vocalist. After swapping screams for singing on the band's revolutionary 2014 album 'Keep You', he has added more melody and sweetness to his voice, and on 'Drift' his voice adds yet more sugar without losing any of its cutting potency.

"I want people to feel like they're looking in on something that maybe they shouldn't be looking in on."
— Kyle Durfey
"It's about the past couple of years," Kyle says of the inspiration of 'Drift'. "Raising a son, being married. They're everyday life things." He adds: "The record feels like a very long night, from the start of the evening to the sun going down and coming up again in the morning – a very, very long and drawn out night. Each song is like a version of that night.
"I want somebody to feel a certain way when they listen to this record, even if they don't know what it is that they're feeling," he adds. "I want them to feel like they're looking in on something that maybe they shouldn't be looking in on."
Five albums and 15 years in, Pianos Become The Teeth remain a perfect example of a band changing their priorities but keeping their focus, expanding their musical ingredients and sliding between genres but maintaining a signature sound, and tapping back into the core of why they make music, with all the bullshit around it stripped away.
"Because we can't meet up or write or tour as much as before, when we do manage to it means that much more," Kyle says. "It makes me realise how much I do still love and need this band in my life, in whatever capacity that can be."

'Drift' is out on 26th August via Epitaph.
Read More