Neu Pinch, punch, first of the month: Oh Wonder
There's been no rulebook and no great masterplan - so why are these two being lauded as discovering a "genius" way to release albums? It's all in the timing.
Last September, London duo Oh Wonder began to spread the message that they'd be releasing one song on the first day of every month. It started with 'Body Gold', and the promise that a second track would follow in exactly thirty days.
There was every chance that this monthly ritual could fall into the void, nothing but a self-serving exercise in routine. But people flocked - quickly, too - subscribing to the alt-pop pair's post-payday treats.
Almost twelve months later, Josephine Vander Gucht and Anthony West are being hailed as having a stroke of genius for releasing full-lengths. They find themselves with a record deal and a world tour in the pipeline, with some serious demand for a self-titled first work.
"People are saying it's a genius way to release an album," says West. "But we didn't think of it as a great idea."
"It's either great or really stupid, because everyone's going to have heard the album. But at the moment it's working in our favour," adds Gucht.
With Oh Wonder, both members share vocals and production duties, giving a 50/50 split to every aspect that rinses their head-turning pop. Both had their own projects to deal with when this monthly exercise started, but it soon became clear that they'd have to put those on the backburner. "It was never intended to be a physical, tangible album where we could say, 'Here, go buy our record,'" Gucht says. These were Soundcloud uploads that could either be embraced or ignored - they'd simply stay online. "But as the months went on, it became obvious that it would do the album a disservice to not do this properly. We grew really attached to these songs, and we want it to last forever."
"I used to just sit around in a room for a year without putting something out," she remembers. "Now, it's so fresh and it's such a privilege." Both remain confused about why their simple but stirring electronic pop's been embraced by millions, but they think it might have something to do with the routine they've stuck to. "I remember when I was a kid, I'd have this CD player, and there's something really powerful about playing it for the first time and not really knowing what was the best song, the biggest song or what had the most plays," Gucht says. "You just made your own mind up about what you enjoyed. You end up having your own favourite song from an album."
"People like to know that a song's coming," adds West, who admits that it's going to be a strange feeling, post-album, not to have another song lined up. "I think we'll be getting withdrawal symptoms," he jokes. "Taking to the bottle and watching episodes of Friends!" adds Gucht.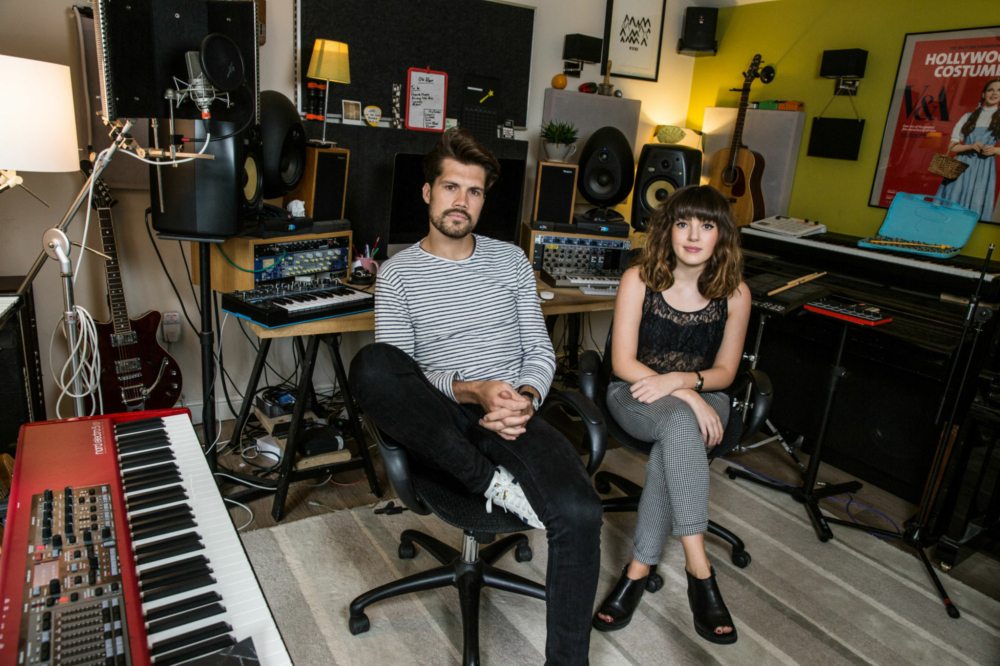 "It's either great or really stupid, because everyone's going to have heard the album."
— Josephine Vander ​Gucht
They're talking from a South London studio that's been their hub since 2012, way before Oh Wonder took off. What was once a basic space is now lined with instruments and mementos from trips abroad and even merch from previous bands. Placed above a piano is a handwritten bucket list, of sorts. A "little list of goals," it contains a series of aims that Gucht and West set out to achieve as a career. One aims to be "in-demand songwriters, respected for our art." And that's how Oh Wonder started - as an exercise in songwriting.
It's since spiralled, throwing these two into the foreground. "The best thing for me, in a totally selfish way, is to be able to write a song, record it and release it the next day. People record songs and then they go round the labels, delay it and then three months later your song comes out," says Gucht. They won't have that privilege for much longer - things are looking much more official with this album business - but there's a magic in their early material that they're determined not to lose sight of, even if monthly deadlines become a thing of the past.
Photos: Emma Swann / DIY.
Taken from the August issue of DIY, out now. Oh Wonder's debut album will be released on 4th September via Caroline International.

Get your copy of the latest issue
Read More