Upon the release of their debut album, Pumarosa's world was turned upside down and not in the way they expected. With follow-up 'Devastation', they're taking that part of their history and owning it.
"It's an active word. Destruction is an active thing," says Isabel Muñoz-Newsome. She's talking through the rationale behind titling Pumarosa's second record 'Devastation' - an album born of an unequivocally turbulent time, one intrinsically swept up in visceral, bodily words such as these. "Sometimes, good can come out of that. If everything's laid to waste, and everything's crushed around your feet, you've got to go somewhere from there." Nick Owen, the band's drummer, concurs: "It felt like a good reflection of everything that had happened. A lot of upheaval and a lot of change. I don't think there was a morbidness to it; it was more about the idea of letting go of certain things, and pursuing regrowth."
A little over two years ago, the London band were gearing up to release their first record. It was the culmination of a couple of years of hard slog, and the realisation of a sound first conceived in a dilapidated Homerton pub - what began as a straightforward punk duo expanding to encompass a swirling amalgamation of psych, space rock and electro. With Dan Carey on production duties, Pumarosa were all set to deliver one of the debuts of the year, equal parts exhilarating and confounding and, when early reviews rolled in, the press agreed. Increasingly, the group looked to have the world at their feet.
What nobody could have known though, was that, as the date was approaching, the singer had bigger things on her mind. "An abnormal smear test," she nods. "They knew something was wrong, and it was right as we were about to go out on tour. We did it anyway, and I went nuts; when you know it's looking like bad news, you can be a bit self-destructive, I guess."
The same week that 'The Witch' was released to critical fanfare in May, Isabel was diagnosed with cervical cancer. "We did Jools Holland anyway," she says, laughing grimly at the absurdity of having carried on as normal. "It was a very strange time, but everybody was amazing. I really felt held by the band. We carried on doing the stuff we had planned up until I had surgery in June." Three weeks later, whilst still in the early stages of recovery, the singer insisted on honouring their planned slot at Glastonbury. "I have to admit, when you were shuffling around in bed right before it, I was saying, 'Maybe we should cancel…'" recalls Owen. "I just couldn't imagine it happening. But it was actually fine."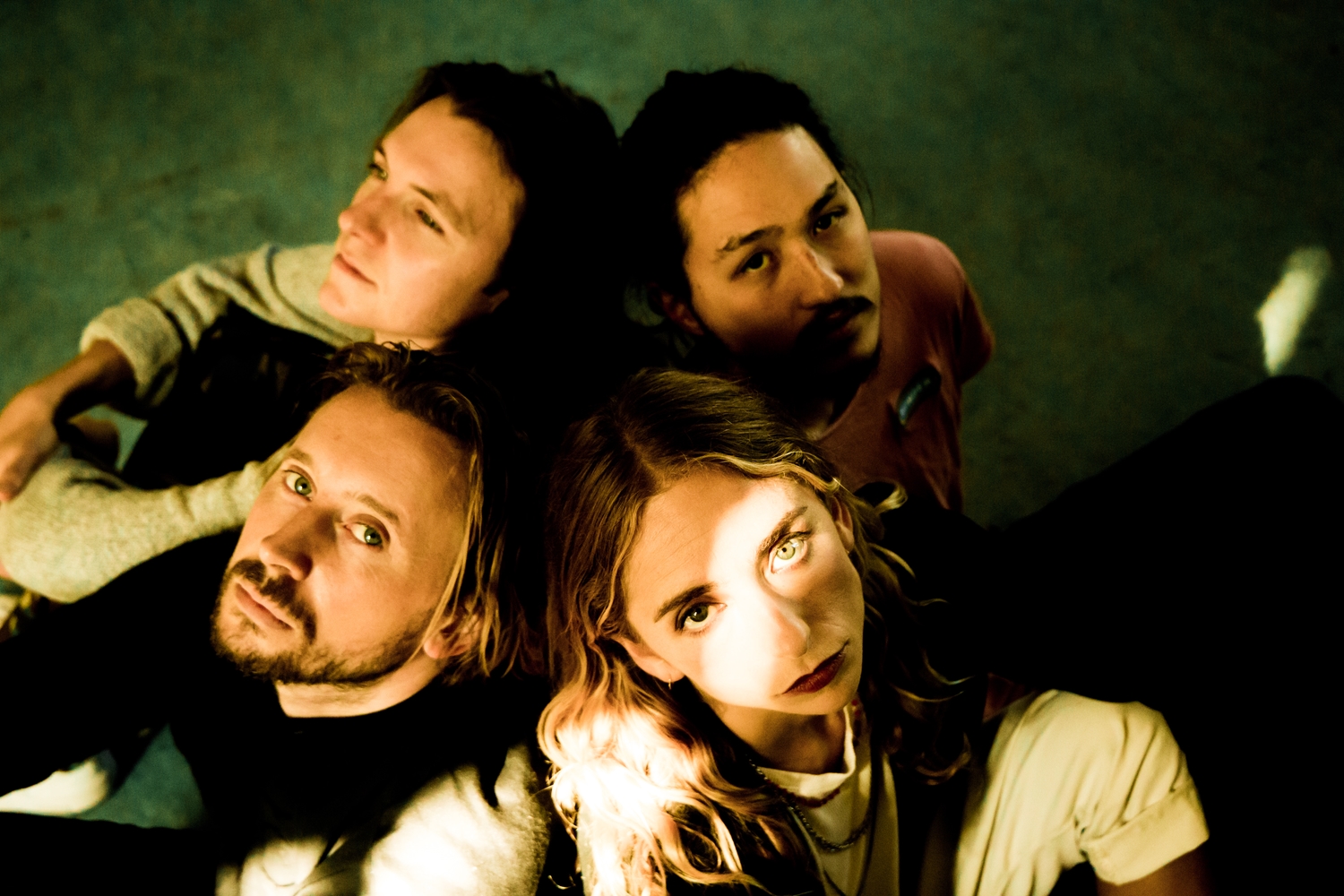 "If everything's laid to waste, and everything's crushed around your feet, you've got to go somewhere from there."
— Isabel Muñoz-Newsome
"It was better than fine!" she shoots back. "It felt really victorious. I had a chair ready on stage because I thought I might have to sit down. But as soon as you guys started playing, I knew I wouldn't need it; I was that excited. And then afterwards, I had to lie down for about three days straight. In a weird way, though, the adrenaline might have sped up the healing."
Now fully recovered and firing on all cylinders, Isabel is ready for a more celebratory release day when 'Devastation' drops. A much more personal affair than 'The Witch', for obvious reasons, the record swaps outward-facing reflections on politics and friendships for an introverted, thoughtful reckoning with the turbulence of her past couple of years. Musically, however, Pumarosa's sound remains enormous and burns with cross-genre ambition. Heading to Los Angeles to work with super-producer John Congleton (whose credits include everyone from Lana Del Rey to Jamie T) and featuring, as a replacement for departing bass player Henry Brown, rhythm work from Justin Chancellor of Tool, the album takes the distinct palette of their debut and emboldens it even further.
"The subject matter is all much more cohesive in terms of the story that we're telling," Isabel explains, "so we knew it was important to have a consistency to the sound. John can bring the sort of amazing clarity and textures that you hear on those St Vincent albums, but also, you know, he worked with Swans; we knew he could handle that heavy, dark gnarliness too."
Having pulled off that balance, Pumarosa are ready to mark a rebirth after no shortage of tumult and trauma; they've been battered and bruised but, the singer affirms, they've emerged on the other side stronger for it. "The experience has taught me to be a bit softer with myself, to back away from the anxiety that being like a dog with a bone with the band was causing me," she continues. "There's a lot of fallout from going through something like that, and it's changed me quite fundamentally - in my head, more than my body. By the time I got back to writing, I had a lot of words ready to get out.
"I've worked through all of that on the record, and it's been painful and personal, but we've ended up with something we really love. Plus, we can't wait to get back on tour, after so long being on-and-off. It feels like we've been starved of the live experience - now, we're fucking gagging for it!"
'Devastation' is out 1st November via Fiction.
Read More
Featuring King Gizzard & The Lizard Wizard, IDLES, Tkay Maidza, Sleater-Kinney and more.