Class of 2023: Rachel Chinouriri
Throwing off the stereotypes that had limited her early career, Rachel Chinouriri is harnessing the power of self-belief (and a good splash of '00s indie).
If 2023 is set to be Rachel Chinouriri's defining year so far, the timing could not be better. The Croydon singer-songwriter has been amassing a formidable head of steam with her esoteric, leftfield indie pop music for the last few years, but she admits that only now does she feel ready to take the next step. "I feel like if this was happening to me when I was two or three years younger, it would've gone really wrong," she says.
After weathering a turbulent period in her personal life, Rachel spent 2022 putting her instincts first. The results - including last summer's 'Better Off Without' EP - have been resounding. "This is the year when I've doubted myself the least and said no to a lot of different things," she explains. "In return, it's been my most well-received year and the music has been the closest to what I want it to actually sound like.
"I feel really excited," she continues, eager to look towards the year ahead. "It is a slightly anxious feeling, but more because you want to prove yourself because you've been given the platform and space to deliver the music you want to make. There are a million and one people that would love to be in this position, so the fact that I've been granted it, it just makes me excited to show what I've got and prove to people that I can be an indie pop artist."
The genesis of her newfound self-assuredness can be traced back to the start of 2022. She posted an Instagram message in January, outlining her frustration at being mis-categorised as an R&B or neo-soul artist, despite her records bearing none of those traits. "In my early days, to be put into genres I never grew up listening to was so bizarre to me, then it clicked it was because of my skin," she wrote. The post became widely shared and prompted supportive messages from her peers, including Arlo Parks and Connie Constance.
The experience coincided with a difficult break-up and, as she emerged from that period, Rachel redoubled her efforts to make the type of art that she felt was the truest expression of her identity - something she realised she had previously allowed herself to be distracted from. "I did try to change my sound, and accommodate certain things, and look a certain way," she reflects. "And as much as I loved that music and that sound, it was not entirely who I was.
"I would literally be sitting in the studio and be like, 'Black artists that do well in the UK, what do they sound like?'," she recalls. "I started shifting the way I would think in a creative space. As someone who has been writing things since I was six, seven years old, I've always written things for myself. So the fact that, entering the industry, I had started to think, 'What will people say? What will the press say?', that was the first time I'd ever done that and it really messed up the process for me a bit."
"Now I'm just writing and I don't care about anyone else's opinions. That's a good thing."
On the contrary, 'Better Off Without' arrived in May as a bright and sparkling testament to the real Rachel Chinouriri: a strikingly confident electro-pop bonanza. 'All I Ever Asked' is the quintessence of the change - a hooky, irresistibly slinky number that blossoms with primary-coloured shoots of life. And yet, beneath the bustling positivity of the tunes, there remains a lyrical darkness borne from Rachel's real life circumstances. "It was the worst break-up of my life," she says, describing her ex-partner as being "too cool for joy" and explaining that he also contributed to the sense that she had to in some way alter her public identity. "I ended up so depressed, so I started trying to fight it," she says. "And it worked out for me, thank god. I'm very happy now."
With that identity crisis now firmly behind her, the singer exudes excitement when discussing the plans for her debut album. Some around her wanted her to travel to Los Angeles to record, but Rachel put her foot down, choosing the familiar comfort of the English countryside instead. "I did go to LA at the beginning of the year and it was incredible," she says. "But I feel like I want to just write it at home. When I'm in LA, I make very 'LA-sounding' music, I think. For my first album, I don't know if that's the right vibe."
She's currently in a cycle of heading to Herefordshire for week-long writing and recording sessions, determined to further develop the musical direction that electrified 'Better Off Without'. The earliest indication of the results is the recent 'I'm Not Perfect (But I'm Trying)' single - another pristine, propulsive alt-pop nugget. She describes the track as the perfect bridge between the last EP and the album; a shift towards being "more organic" and "more British".
"I'm a Londoner through and through and I want to show that, especially being a Black British person in the indie scene," she affirms. "I'm also someone who is unapologetically proud of being African and Black, so I need to show that there are Black British people and Black Londoners who do enjoy this music and who call London their home."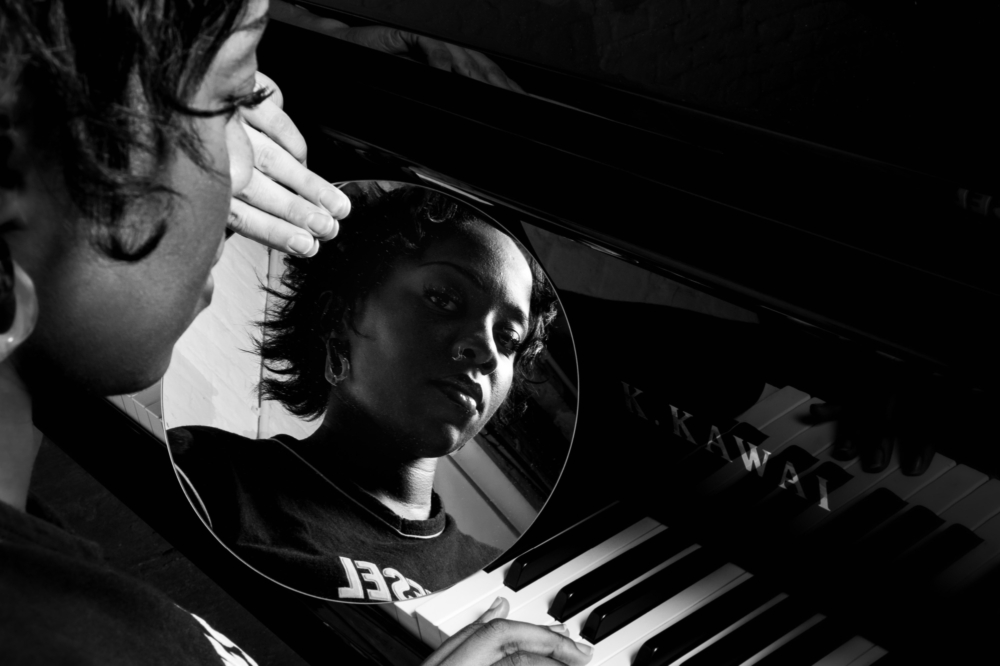 "I'm a Londoner through and through and I want to show that, especially being a Black British person in the indie scene."
It is spiriting to hear Rachel, who only just turned 24, speaking with such reverence for the enduring importance of the debut album: something she clearly believes remains the ultimate yardstick by which a new artist can attempt to stake their claim at immortality. "I was thinking, what would my younger self want my first album to sound like?" she says. "Because when I was younger, the idea of making an album was a dream."
As a child of the early 21st century and a devotee of guitar music, she names bands like Arctic Monkeys, Blur and The Wombats as examples of the kind of arms-in-the-air celebratory energy that she would like to infuse into her record, although her own idiosyncrasies will inevitably lend nuances all of their own. "I can already tell it's going to be my most personal piece of work," she says. "Some of the song titles are just horrifically sad."
The one song from her back catalogue likely to survive onto the album's tracklist is 'So My Darling', her 2018 breakthrough release. An acoustic re-working of the song that she released in January 2022 is her most-streamed number - a delicate, intimate and charmingly endearing paean to real love. Together with 'All I Ever Asked', the two songs serve as a reminder to the singer that her most successful work emanates from her inner voice. "There is a reason why those two are doing the best, so now I'm just writing and I don't care about anyone else's opinions. That's a good thing. It's trusting my instincts and remembering that the music is coming from me," she says.
It perfectly captures the new Rachel Chinouriri mindset. "I'm someone who laughs through my trauma. Being yourself is just always the best way to be. You can't really try to be cool, you just have to be yourself."

Read More