Of Monsters and Men exploded with their debut album, beating chart records. But as we meet them in their home city of Reykjavik, they couldn't be more chilled.
"We were playing Sasquatch!," reminisces Of Monsters and Men guitarist Brynjar Leifsson. The band are sat in an impossibly cool hostel in the band's home city of Reykjavik, Iceland on what's nominally the first day of summer here – something the locals take very seriously. ("It's a reason to celebrate, when it's cold all year long, but everyone pretends it's hot," laughs vocalist Ragnar 'Raggi' Þórhallsson, "and throws outside concerts and wears t-shirts although they're freezing really and everyone gets pneumonia…") "I got this 'what the fuck' moment. It's an outside festival in Washington, in the States, and there were maybe four or five thousand people already watching us play, and then we began playing 'Little Talks' or something, and there was a hill in the distance, and people just kept coming running over the hill, and I was like 'what the hell is happening?!'. It was a funny moment, and for me that was when I realised were were probably doing something good."
'Probably' could well be an understatement. By this point, the band's debut album, 'My Head is an Animal' had reached #3 in the album charts here in the UK, and #6 in the US – where their first week sales amounted to achieving the best chart performance for an Icelandic act in US history, usurping that of Björk's 'Volta' in 2009.
"We didn't experience it as everybody would think," suggests bassist Kristján Páll Kristjánsson. "It just kinda happened, and we were in the middle of it."
"We were busy," adds Raggi. "So the tour just got bigger and bigger, and longer, and the shows started piling up, and all of a sudden we were getting TV spots and stuff like that."
Kristján finishes his sentence. "We went with the flow."
'Beneath the Skin' is nothing if not a different beast to its predecessor. While there is a smidgen of glockenspiel to be found under the multiple layers of 'Human', and for the most part it's all still heavily percussive (take the closing moments of 'Thousand Eyes' or opener 'Crystals', for example), if 'My Head is an Animal' was made in glorious Technicolor, this second record is shown in grainy, contrast-heavy monochrome. Iceland's endless winters might be the cause of constant references to wind, cold, storms and water – but the guitars are amped up, the rhythms more ominous and then there's the brutal intimacy of 'Organs', Nanna Bryndís Hilmarsdóttir's vocals given minimal backing as she sings lines like "I cough up my lungs 'cause they remind me of how it all went wrong".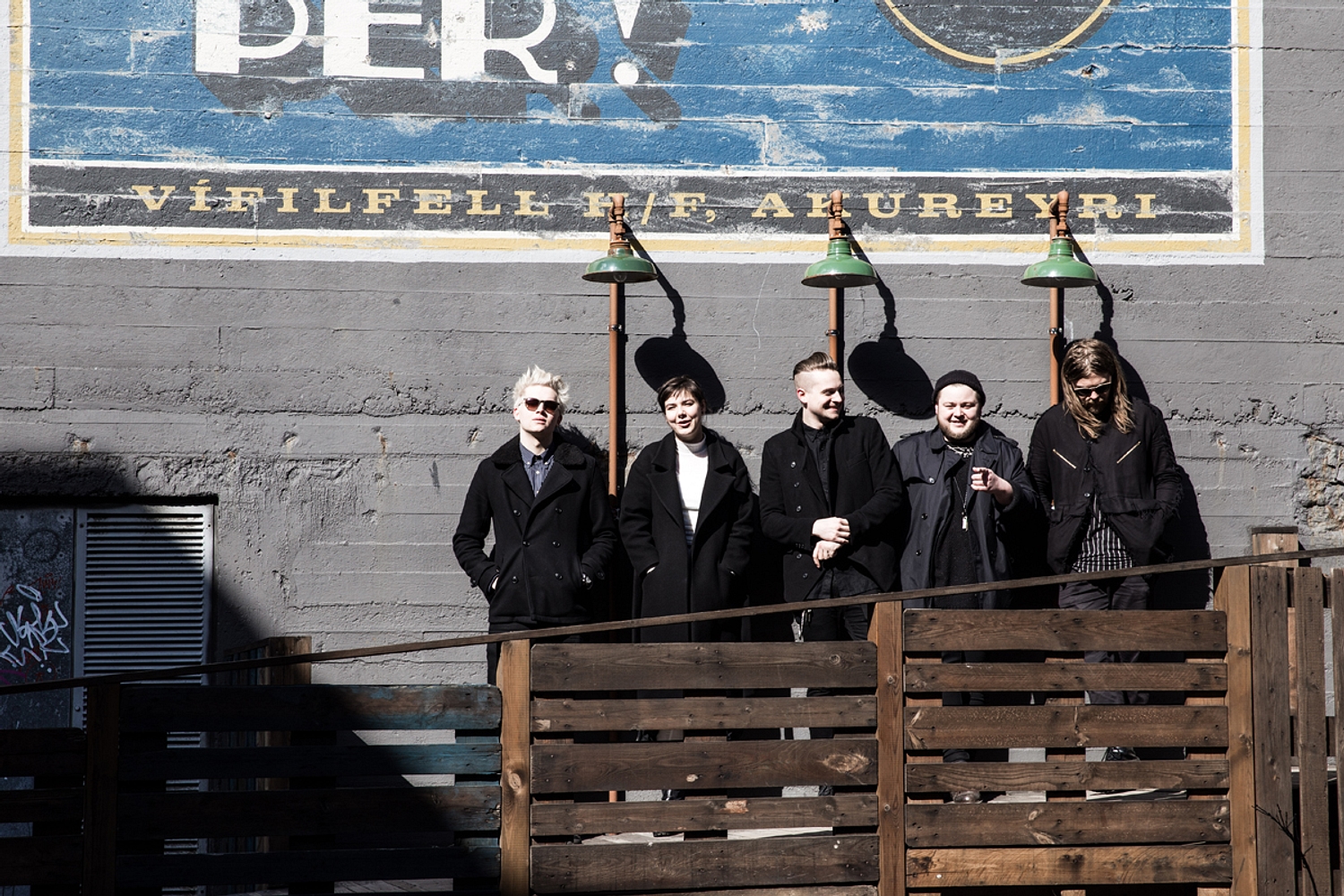 "We love this album and that should be enough."
— Nanna Bryndís Hilmarsdóttir
Unsurprisingly, Nanna describes the lyric-writing process as "very weird". "It's just me and Raggi," she explains, "we figured out that in order for us to take it all the way, we had to go all the way, we had to allow it to be what it is, and not hold back, and we definitely did that, and it was weird but kind of nice. It is weird, though, working with someone and being so personal. We write it all together. Sometimes there's an idea or whatever, but we go and sit down for hours, or days, and sometimes we're completely quiet for a while, and other times we talk and talk and talk. Nobody else can be around us, because it's probably very weird for someone to be there and hear someone like 'LUNGS'!" She laughs.
"More mature" is how Kristján would describe the new record's sound, and at almost the same moment he says that, Raggi spills water over himself. "Not me, obviously," he laughs. "I'm still doing this."
"It's been almost five years since many of the songs were written on the last album," he adds, with a slightly more straight face, "so maybe to our fans it feels like the first album is us, but we've been doing stuff for five years so we think about music and writing differently to then, you know?"
"We know our fans wouldn't want anything totally different," says Drummer Arnar Rósenkranz Hilmarsson, "that is in the back of our heads, we can't just go and make a techno album or something!"
'Beneath the Skin' was recorded partially in Iceland – between Sundlaugin, the former swimming pool converted by Sigur Rós in Mosfellsbær, on the outskirts of Reykjavik, and Alex Somers' studio in the city itself – and at Rich Costey's Eldorado studios in California.
"I think it was very helpful," says Nanna of splitting the work between locations. "It got us to think differently," adds Brynjar, "we were getting too focused and too isolated in one studio, and we got to LA, ripped out of our natural environment, and it gave us a new perspective on the recording process."
"Even when we were going back and forth to Mosfellsbær," continues Nanna, "and then we went to Alex's studio, even that was a big part. We only spent a week at Alex's, but there's so much sound [on the record] from there, because we went in, and there were all these new instruments and we started to think differently.
"I think it's a good trick," she laughs, "I think next time we'll do it in ten different studios! It totally makes sense to do that."
Their intention had been to finish the album in a month in LA, but unlike the rest of the process, which all say went smoothly, they spent twice as long there – and only finished hours before they had to leave. "It definitely dragged on a bit," confesses Raggi. "The last night, you [he points at Arnar] had to be at the airport at like 8 or something, and we were there until 6."
"I hadn't packed my bags," laughs Brynjar.
"We were in the studio going 'No, it should end like this, and not like this!'," adds Nanna. "It was crazy, and we had to figure it out right there, it was just ridiculous."
Brynjar continues, "It was a big moment for us, because it was probably the first time we'd argued as a band."
"Yeah, we didn't argue about anything on this album, we just trusted each other to know what's good. I think it was also the pressure of, you know, you're leaving the album. It could've been anything, it was that moment of 'my god, we have to catch a flight!'. And I wasn't ready."
"It's really hard to stop," agrees Kristján.
"There's always something that somebody thinks needs tweaking," continues Brynjar, "like sometimes there are guitar parts and I hear something I don't like and the others don't hear it, so I have to go, if they don't hear it then it's probably OK."
"It's probably not there," adds Nanna. "Like, when we were mixing it, we got to a stage where we had listened to it so much that we started hearing things that seriously weren't there. It's a dangerous process, because you can't over-analyse your work, you have to allow it to be what it is. So it's important, I think, not to have all the time in the world, because you'll censor yourself too much."
"It's weird," says Nanna. "I didn't feel pressure. Of course there was pressure, but we just ignored it, because you can't let it affect you too much. And if you start making something because you're afraid of what people... then you're just catering to what you think people want to hear, and you're not...
"You're not being honest with the songs," Brynjar continues. "You can't let it affect you, people's opinion. You can't have it affect what you're doing."
"And it's good to freak out about later!" laughs Nanna. "Like right now, and it's done, and like, pow!, and you guys come over to listen to it and then I'm like... fuck! I forgot how hard it is to make an album. If we were gonna make a new album tomorrow, I'd be like, 'oh what the fuck, god!'. But we at least feel like we did something that we love, we love this album and that should be enough."
Photos: Emma Swann / DIY. Taken from the June 2015 issue of DIY. Of Monsters and Men's new album 'Beneath the Skin' is out now.
#AD
Records, etc at
Read More
Featuring King Gizzard & The Lizard Wizard, IDLES, Tkay Maidza, Sleater-Kinney and more.