Sleaford Mods: Talking 'Bout Their Generation
Rather than reinvent the wheel, Sleaford Mods have been whittling it evermore to their own shape. 'UK GRIM' is its most fully-formed incarnation yet: rolling the band further down their own lane.
Sleaford Mods' bearded beat-maker Andrew Fearn is sitting on a bench, just around the corner from the band's Nottingham studio HQ, trying to make a point about pop music. "Who's the ginger guy?" he questions, scrabbling in the back annals of his brain as we suggest Ed Sheeran and bandmate Jason Williamson breaks into laughter. "Yeah, all that kind of shit. He's just making escapist pop tunes, and that's what we're faced with because that's what sells. It's the opposite end of what we're doing, so it's surprising that anyone even likes us…"
If the discrepancy between Sheeran and Sleaford Mods' antagonistic, minimal, political, electronic punk hybrid hardly needs highlighting, then the greater point Fearn is making is clearly about the perhaps surprising trajectory of the duo themselves. Since releasing breakthrough seventh record 'Divide and Exit' in 2014, the band's popularity has grown steadily, album upon album. 2021's 'Spare Ribs' brought with it a UK Top Five chart placing, an Ivor Novello nomination and their biggest live shows to date - culminating in a gigantic hometown gig at Nottingham Motorpoint Arena and a London festival headline; for a band who sound like the absolute opposite of the mainstream, Sleaford Mods have increasingly begun, through no real inclination or acquiescence of their own, to infiltrate it.
"I was rehearsing yesterday and I thought, why do people like this singing? Regardless of Andrew's music, which is very good, why do people like this fucking blunt, rank, local dialect? This growly bullshit?" says Williamson. "I got quite down on it because I can't be anything else. When I'm on stage, I can't walk around and pretend; you've got to be yourself and everything you've been brought up with, everything you believe in, comes out. It keeps feeding it.
"I'm aware of the fact that I live in a nice leafy suburb of Nottingham now, and I'm a lot happier [these days], but I think if you experience what it's like to be at the bottom then it always stays with you," he continues. "It might not, some people it doesn't, but with my lyrics it's stayed with me, and the idea of the reality and the truth of the world peppers everything."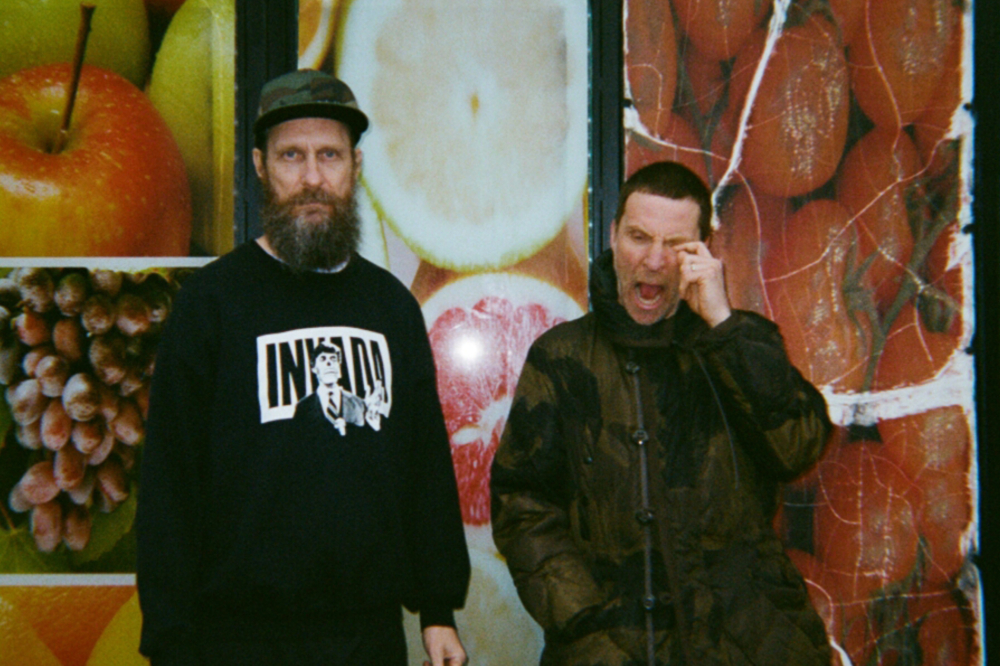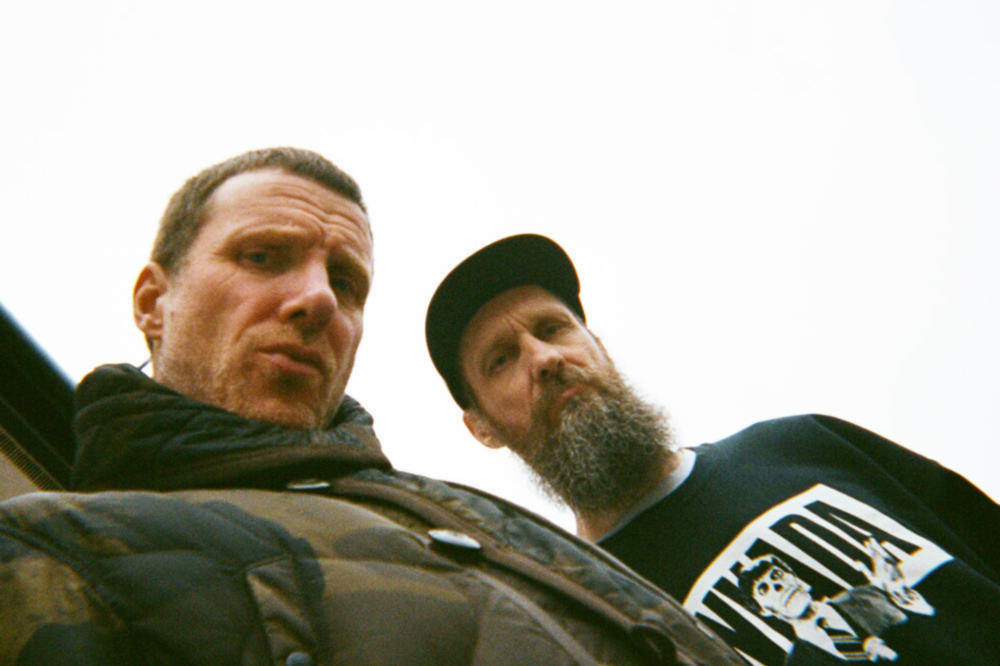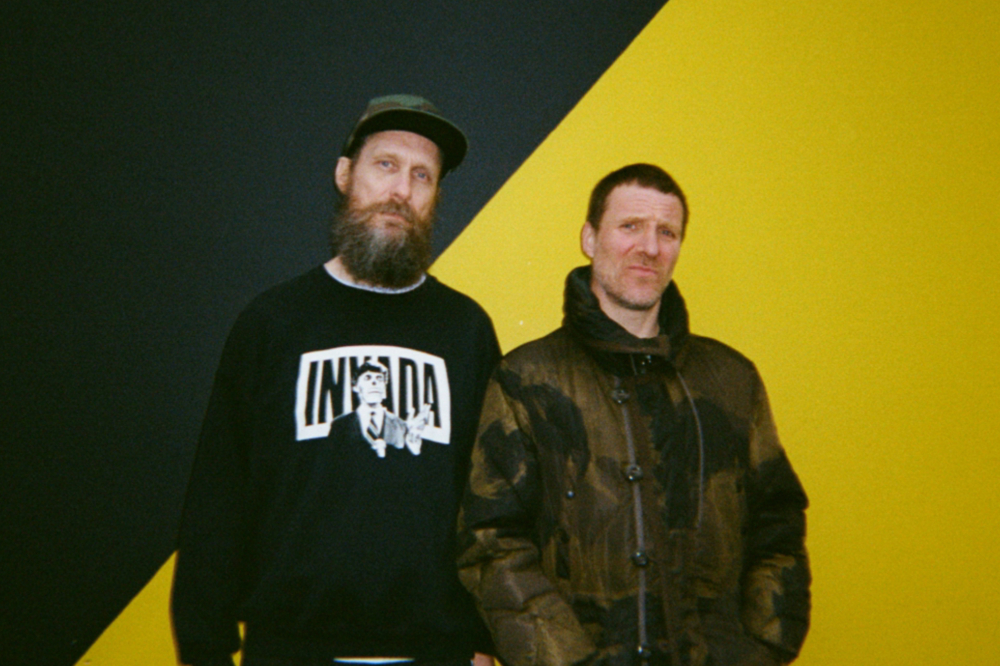 "I think if you experience what it's like to be at the bottom then it always stays with you."
— Jason Williamson
Indeed, though they note an increased appetite for collaboration and "slightly better quality, more variation" in their production over the years, Sleaford Mods' greatest skill has been in understanding the value of being resolutely, steadfastly themselves. Fearn still handles all the production; the band are still based out of an ex-fruit and potato merchants building in the town where they met. This month's new album 'UK GRIM', meanwhile, tackles Williamson's go-to topics of social turmoil, political fury and the conveyor belt of hopelessness that constitutes our modern news cycle with his customary mix of anger and hilarity. Their concession to anything resembling publicity 'theatrics' this time around is a mural of the album sleeve, painted by a local graffiti artist on the side of a Nottingham backstreet wall, with their faces purposefully melted and unsettling.
"We've nurtured our own sound, and that's something we've got going for us. A band like Mogwai are brilliant because they just do what they do. I asked a friend which Mogwai album I should buy and he said, 'Just buy one, they're all the same'," says Fearn as Williamson chuckles: "We're a bit like that, aren't we!" "They've got their own sound so they can do that. They can say, 'Fuck you all; we're not gonna subscribe to whatever you think and we're just gonna do our music'," Fearn continues.
"I think Andrew's music is wild; it's an untainted forest that grows in whatever direction it wants to," Williamson grins. "There's nothing wrong with getting other songwriters and producers in if that's what suits the artist, but a lot of the time it doesn't. They just do it because they don't have any fucking ideas."
Ideas and opinions are something that 'UK GRIM''s lyrics clearly aren't lacking. "It's not enough to just shout, 'Boris is a cunt! Boris is a cunt!'" the vocalist barks with a customary Sleafords delivery. Pause. "I mean, it's got a ring to it…" From the petty thievery of 'Tilldipper' to 'Right Wing Beast', which speaks to a society slowly eating its own tail, the singer's pen is a sharp as ever and none more so perhaps than on 'D.I.Why' - not, thankfully, a treatise on this particular publication but on Williamson's online tiffs with a certain type of holier-than-thou punk band. "That's just me slagging people off, and I'm not right and I'm not wrong," he shrugs. "There's too much of this earnest, 'We need to pull together to do this' bullshit, and as soon as some of these people get integrated into the industry then it's largely forgotten."
Though Sleaford Mods evidently don't pay much heed to awards ceremonies and chart placings, the fact that their journey towards recognition has been infinitely lengthier, more hard-fought and often less rewarded than many of their peers clearly still smarts. Williamson recalls finding out that 2015 LP 'Key Markets' had missed out on a Mercury Prize nomination. "I was fucking fuming. And they filleted Slaves in at the last minute; I was really fucking mad," he says, calling back to numerous interviews around the album in which he'd claimed the Tunbridge Wells duo had ripped off their sound.
Even now, despite objective public popularity and critical acclaim, Sleaford Mods' trophy shelf is largely empty. Why, we ask, do they think that is? "Because we're too abrasive still for some people. Because we don't fully play the game, and also because we're quite original. Most bands that get inducted into nomination lists or accepted into the top tier hierarchy - GRAMMY nominations, larger arenas, headlines blah blah blah - are still very much clichéd outfits," the vocalist replies. "It's frustrating sometimes because obviously what we've done is so apparent in people's work and they, for some reason, have become a lot bigger, quicker. And some of them have a massive machine behind them and others haven't, but the more I learn about this job, the more I realise that a mass audience just wants a relatively simple message."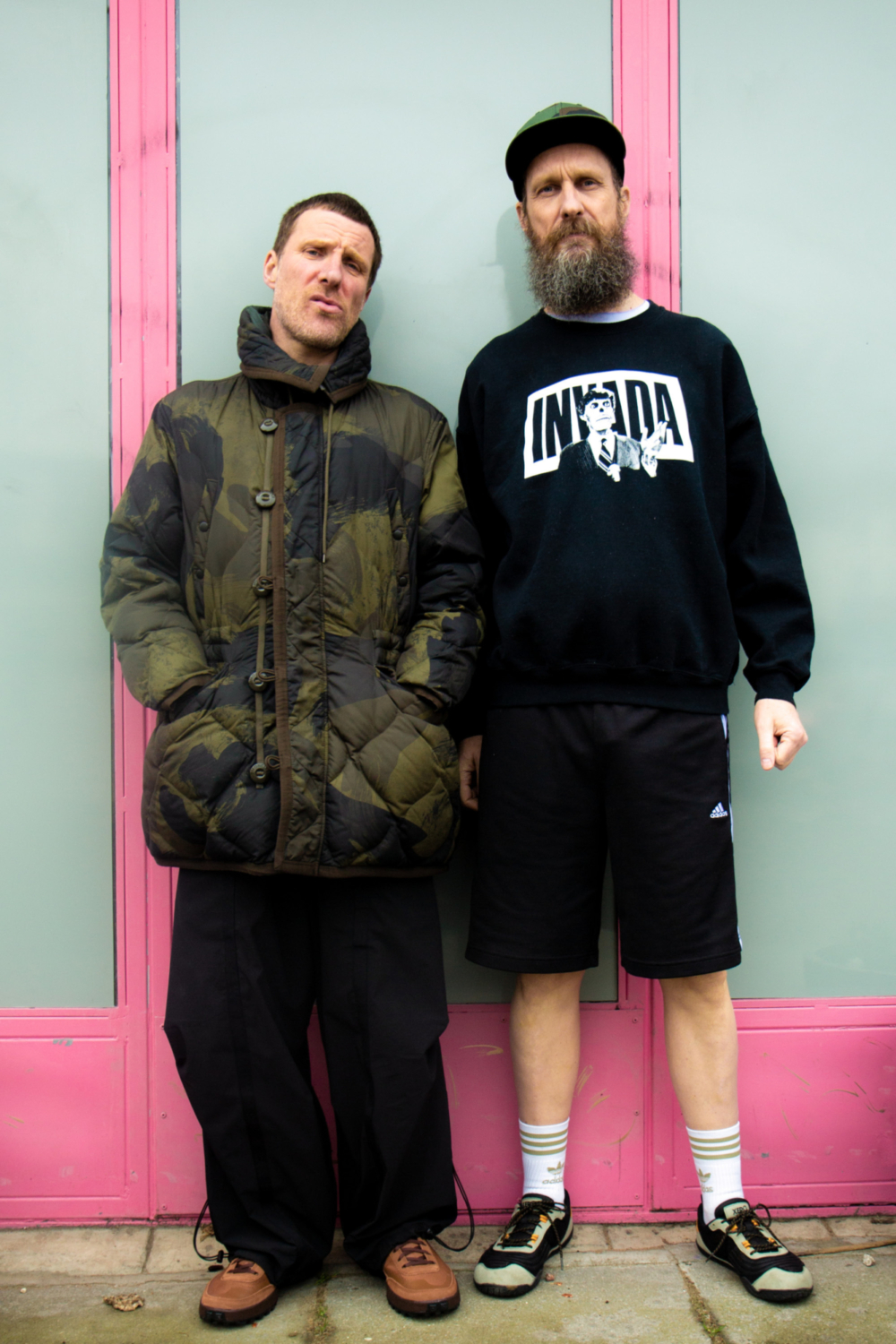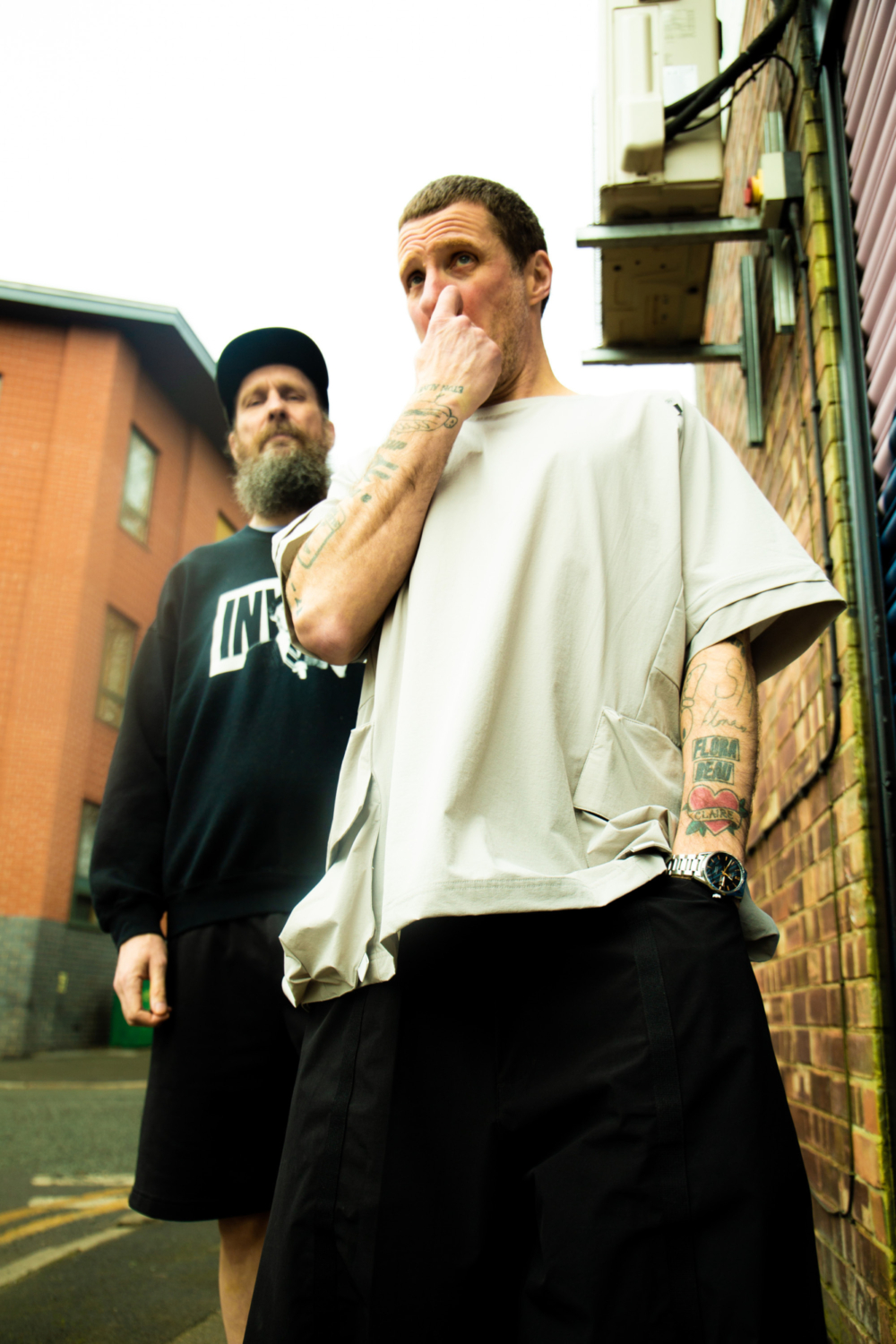 "I think Andrew's music is wild; it's an untainted forest that grows in whatever direction it wants to."
— Jason Williamson
In some ways, what Sleaford Mods do IS simple. 'UK GRIM''s title track kicks off with staccato barks and ominous, repetitive beats; 'Don' utilises a drum machine and a skeletal riff that sounds purposefully tinny; 'Tilldipper' is predominantly based around two notes. Throughout the record, Williamson cuts an angry figure, raging at the outside world and at himself with titles such as 'Smash Each Other Up' and 'On The Ground' - tracks that he says manifested from a lot of "violent fantasies" dreamt up at the tail end of lockdown, when frustration was at an all-time high.
"There was a lot of daydreaming, a lot of fantasies about people that were annoying you online, or people that you'd come across when you walked out the house - which for me was a result of being pent up, stressed, having a lot of anxiety," he recalls. "I started to realise, 'Oh, this is anxiety. This is what that is'. Whereas before I'd never really identified with it. There's a lot of that in there."
'UK GRIM' is undoubtedly a furious record, filled with aggression and tearing its hair out at the state of everything including themselves. But within its 14 tracks are also moments of vulnerability and self-analysis nestled within the dry wit and one-liners - nuances that, they explain, are sometimes lost in the public perception of their band. "Men don't deal with things very well, they don't talk about things, which is one of the things that's great about what Jason is doing: he's actually exposing himself lyrically in a way that's probably relatable to a lot of people," says Fearn. "And because it's put in an artistic way, some people might think it's naïve, but there's probably men that get a lot out of it because instead of having 'men sessions' which is never gonna happen, you can hear someone talk about it instead of whatever Metallica talk about…
"A lot of rock music is men living in a viking fantasy world where they all think they're Thor, and this is the opposite of that," he continues. "There's a lot of naïvety about what me and Andrew are and what we represent, which is just normal life," Williamson shrugs.
Far from the extremities associated with your average punk rock cliché, these days Sleaford Mods' life is even more normal than most. Williamson has been clean and sober for seven years, his wobbles now directed towards a lockdown habit of buying expensive secondhand casualwear that "got a bit obsessive" and is documented in new track 'Pit to Pit' ("Hide it in the wardrobe/ My partner thinks I'm being secretive and I am…"). Every day, he tries to get up at 4.45am to get to the gym for 6am; "If I'm in bed by 10pm," he says, "I feel great."
Sleaford Mods began amongst far darker scenes, where art and substances were the only salves for a life that the vocalist describes as "not fucking destitute, but we didn't have a lot". When the duo talk about their background still permeating everything they do, it's because those memories of struggling and self-medicating against a government that continues to do the most vulnerable people wrong are still visible, littered along the streets they walk down daily - albeit it from a healthier place that they've tenaciously fought tooth and nail to reach. Both now in their fifties, it's been a long road.
"I do think about the fact that we've made our way out of it in a way. It's hard not to," Fearn muses. "I literally was thinking yesterday that the fact that we make money from art is a privilege. But then I've worked really hard to make it happen, doing loads of shit part-time work to have time for music; I sacrificed a lot of living. People that get on a treadmill of working six days a week so they can eat out and drink out and consume, which is just that hamster wheel - it takes a lot of effort to think, 'No, I'm gonna go completely against the grain to not even think like that'."
"We didn't have anything; we had fuck all. I regret taking drugs, and the only reason I don't regret it is because it led to meeting Andrew and forming Sleaford Mods," Williamson says firmly. "But I'm a big believer in the idea that you can pull it back and get better."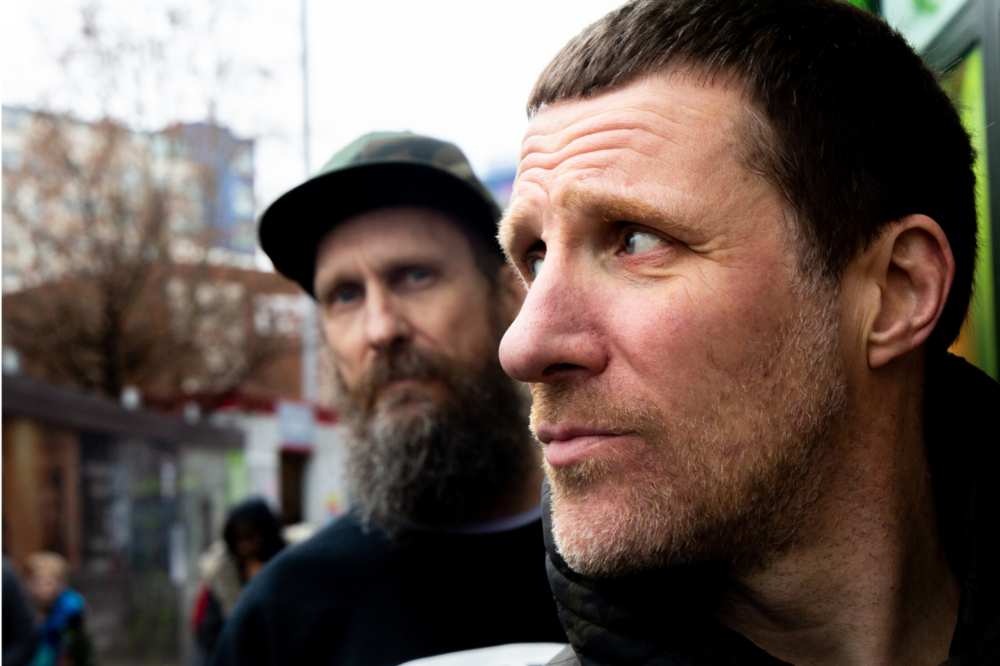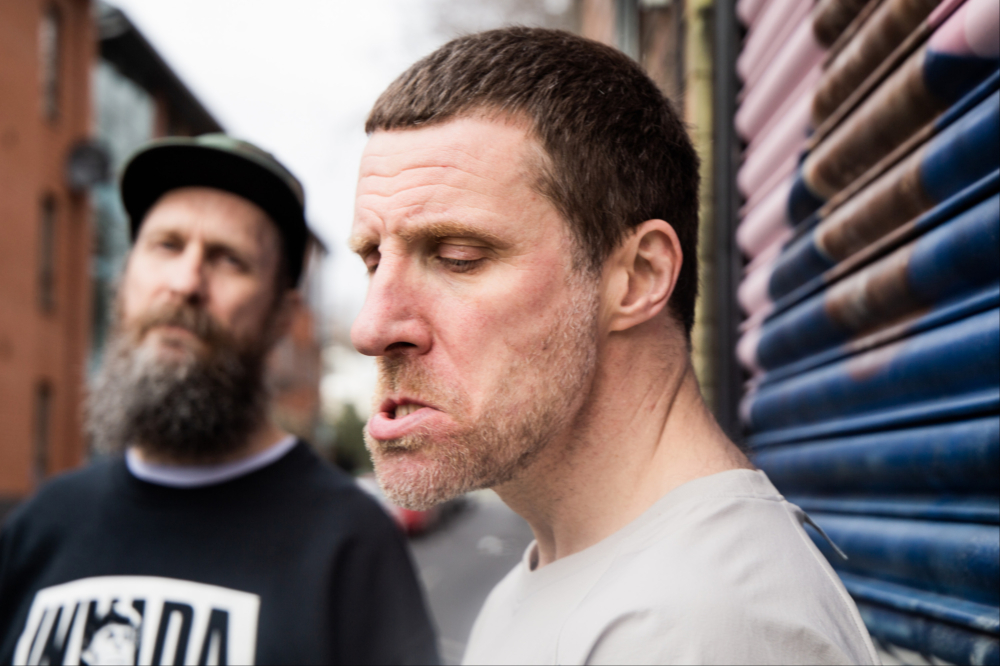 'UK GRIM' is out now via Rough Trade
Read More