Interview "There was never an intention to make a statement" - Sons of Kemet talk 'Your Queen Is A Reptile'
We spoke to the band's Shabaka Hutchings about their 2018 Hyundai Mercury Prize shortlisted record in-depth.
The long-standing misconception that every jazz record shortlisted for the Hyundai Mercury Prize has made the list for tokenism's sake might be about to be shattered. Should they clinch the award, there'd be a timely quality to the triumph that wouldn't simply be a case the genre finally shedding its always-the-bridesmaid tag.
What 'Your Queen Is A Reptile' lacks in titular subtlety, it more than makes up for in the sharp intelligence of its political ideas and the ferocity with which they're delivered. No other record on this year's list, perhaps even in the history of the Hyundai Mercury Prize, has railed against both the monarchy and the patriarchy as fiercely this one does. The name of each of its nine tracks pays tribute to a different iconic woman of colour - from bandleader Shabaka Hutchings' great-grandmother and Nanny of the Maroons to Angela Davis and Albertina Sisulu - with the band celebrating their contributions to society whilst delivering a sharp rebuke to the systemic discrimination that kept them on the fringes of mainstream acceptance.
Set against the backdrop of Brexit Britain and the reckoning of the #MeToo movement, 'Your Queen Is A Reptile' feels especially pertinent to the present moment, but it's also proving that the genre is far from a niche concern. Hutchings and his bandmates are irrepressibly ambitious in their aim to break down musical boundaries, and accordingly, they've produced a thrilling shape-shifter of a record that mines the rich diversity not only of jazz's history but of dub, ska, Afrobeat and more besides.
Jungle legend Congo Natty and Benin City's performance-poet-in-residence Joshua Idehen lead the vocal charge on an album that feels every bit as musically contemporary as it is thematically relevant. That it marks Sons of Kemet's first release on the iconic Impulse! label feels apt, given that they have scoured the storied past of jazz to produce something that genuinely sounds like its future.
Ahead of the 2018 Hyundai Mercury Prize award show this month. we spoke to Hutchings to discuss the record in-depth.
You were born in the UK, raised in Barbados, you've spent time travelling in South Africa, and you've lived your adult life back in London - how much has all that geographical mobility influenced the way in which you blend genres on 'Your Queen Is A Reptile'?
I think your surroundings create you. As a musician, the only way that they wouldn't sculpt how you operate or sound is if you were creating within a set framework. If you were making salsa or bebop and just playing it as it's always been presented, then maybe it doesn't matter where you've grown up, because the stylistic mould has already been set. With our music, one of the defining traits is that we still try to see how far we can push it in terms of getting our experiences into the music, and how much we can get the different aspects of our lives that influence us to come out in the sonic tapestry.
This is your first record on Impulse! Do you see yourself as part of that label's pantheon of jazz artists, or are you trying to break away from being pigeonholed within that genre?
It's true that we're trying to break down the boundaries that genres present, but we are still jazz musicians. That's the music that we studied, and it's something that's influenced us. It's not the only thing within that sphere of influence - we still have other forms of music that we've experienced and that have shaped our sound - but for me, the Impulse! connection is something that anchors our music to a certain era of the past. What we're trying to do is change people's perception of that. You look at Pharaoh Sanders or John Coltrane or Alice Coltrane come through the Impulse! family, and then you see us, putting our record out with them, and you see the trajectory of where history leads, rather than where it stops.
"We were all thinking about the role of the patriarchy in shaping our reality, and the fact that women's voices, both past and present, have been relegated to the peripheries.​"
— Shabaka Hutchings
'Your Queen Is A Reptile' is evidently a deeply political record. Did you set out to make it the way, or did the themes emerge as the music developed?
There was never an initial intention to make a statement. I don't like going in and actually making a concerted effort to do that. We started making the album because we wanted to write and we wanted to record. These issues were around at the time in our minds, so some of the energy of these ideas - the stories of these women, and of the monarchy - they were beginning to influence the way we were writing and performing. We dedicated the songs to those messages.
Was there a specific tipping point, like the referendum result, that made you confront those ideas?
Probably not. They gradually wound their way in, I think. We'd been contemplating them for a while, but they seemed to reach fever pitch around the time of the making of the album, and that's for many reasons. The referendum result was one of them, but also trends on social media that seemed to amplify the patriarchy, and then of course the whole #MeToo movement. We were all thinking about the role of the patriarchy in shaping our reality, and the fact that women's voices, both past and present, have been relegated to the peripheries.
"One of the defining traits is that we still try to see how far we can push it in terms of getting our experiences into the music."
— Shabaka Hutchings
Did it feel important to have a creative outlet for those thoughts?
Yeah. For one, because it's an outlet of visibility, and that's one of the things with ideas that come from outside the mainstream - you're always wondering how you can put them in front of more people than are currently thinking about them. I was reading a lot about post-colonialism, and the record felt like a way for me to take these ideas from people like Frantz Fanon and Paul Gilroy and, even if only in a very watered-down state, present them to a wider audience. That's an important aspect of artistry - the ability to take whatever message you choose and relay it to people that might not have come into contact with it within their regular lives.
How did [legendary jungle artist] Congo Natty become involved with the making of the record?
I've been playing with him for a few years - if he's performing in London and I'm around, I'll usually do that. I've done some shows at festivals with him, and played at KOKO. I went up to his studio in Ramsgate to work with him on his own record, and then he reciprocated by helping us with ours. I've not been asked a lot about it, but there seems to be this sort of rolling engagement between jungle and jazz that hasn't been above the radar so far. The way he's used my band within his own music is quite revolutionary in a way, but not a lot of people have mentioned it in relation to the record.
What does 'Your Queen Is A Reptile' being shortlisted for the 2018 Hyundai Mercury Prize mean for the visibility of jazz in the UK?
There's a broader importance to the nomination, above and beyond the fact that it's nice to be recognised, because this award is one of the few spaces where jazz artists like us can be in the same room as somebody like Arctic Monkeys or Lily Allen. For me, that's a completely different world, and one that doesn't have the same priorities as our world, so if we can bring them closer together, it can only be a good thing for music. What I mean by doing that is one, those artists being aware of what's going on at the other end of the creative spectrum and two, having their audiences be aware that there are different types of music that they might be into out there.
Sons of Kemet have been shortlisted for the 2018 Hyundai Mercury Prize. For more information on this year's Prize, head to mercuryprize.hyundai.co.uk/.
Brought to you as part of our media partnership with Hyundai.
The 2018 Hyundai Mercury Prize Awards Show is on Thursday, 20 September at the Eventim Apollo, Hammersmith featuring live performances from many of the shortlisted artists. Tickets are available here: bit.ly/2018HMPTickets
Read More
It's the second single lifted from their highly-anticipated new album.
23rd April 2021, 12:00am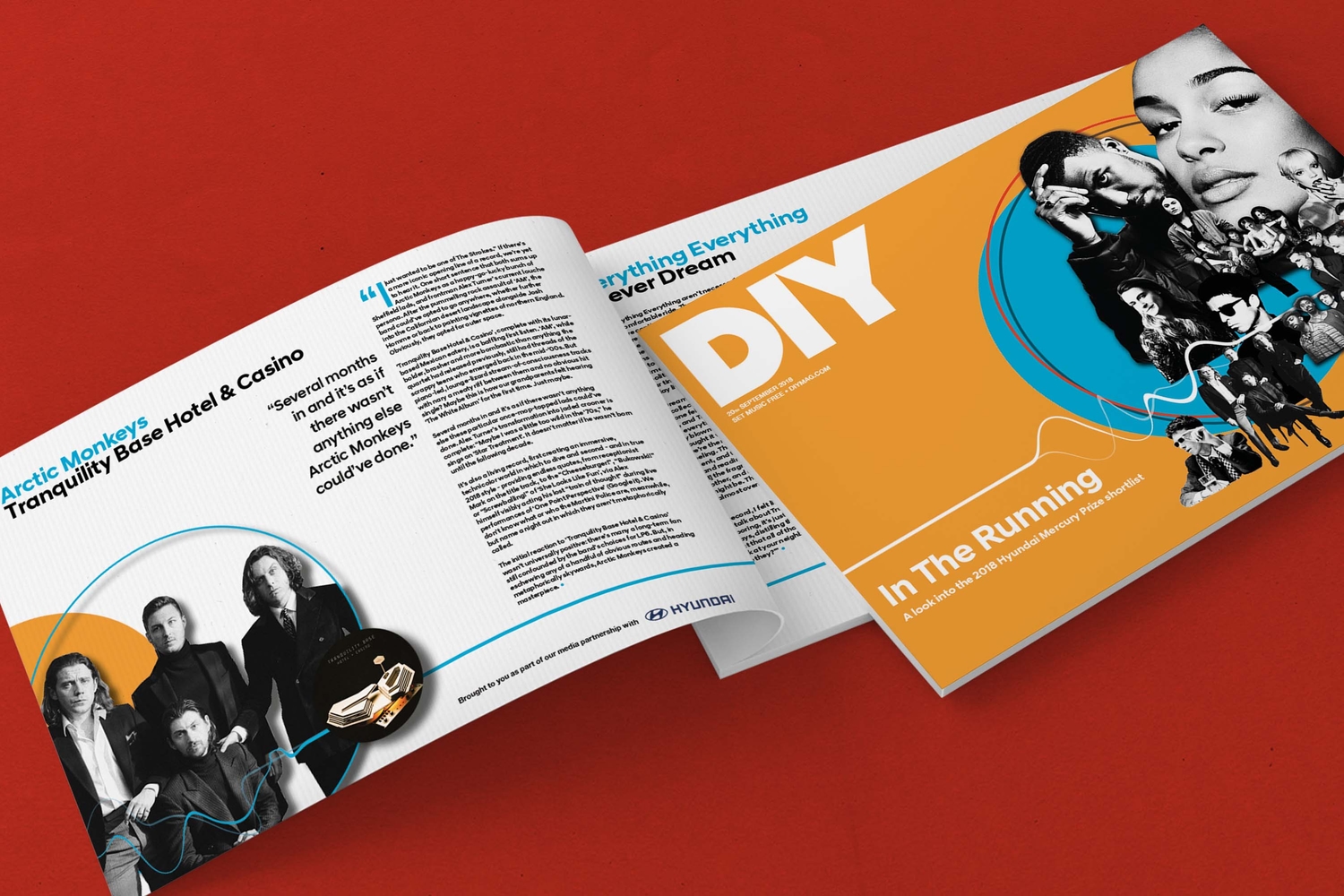 The new publication features interviews with shortlisted artists, and will be available at select stockists and at the ceremony in London this Thursday.
18th September 2018, 12:00am
Featuring King Gizzard & The Lizard Wizard, IDLES, Tkay Maidza, Sleater-Kinney and more.