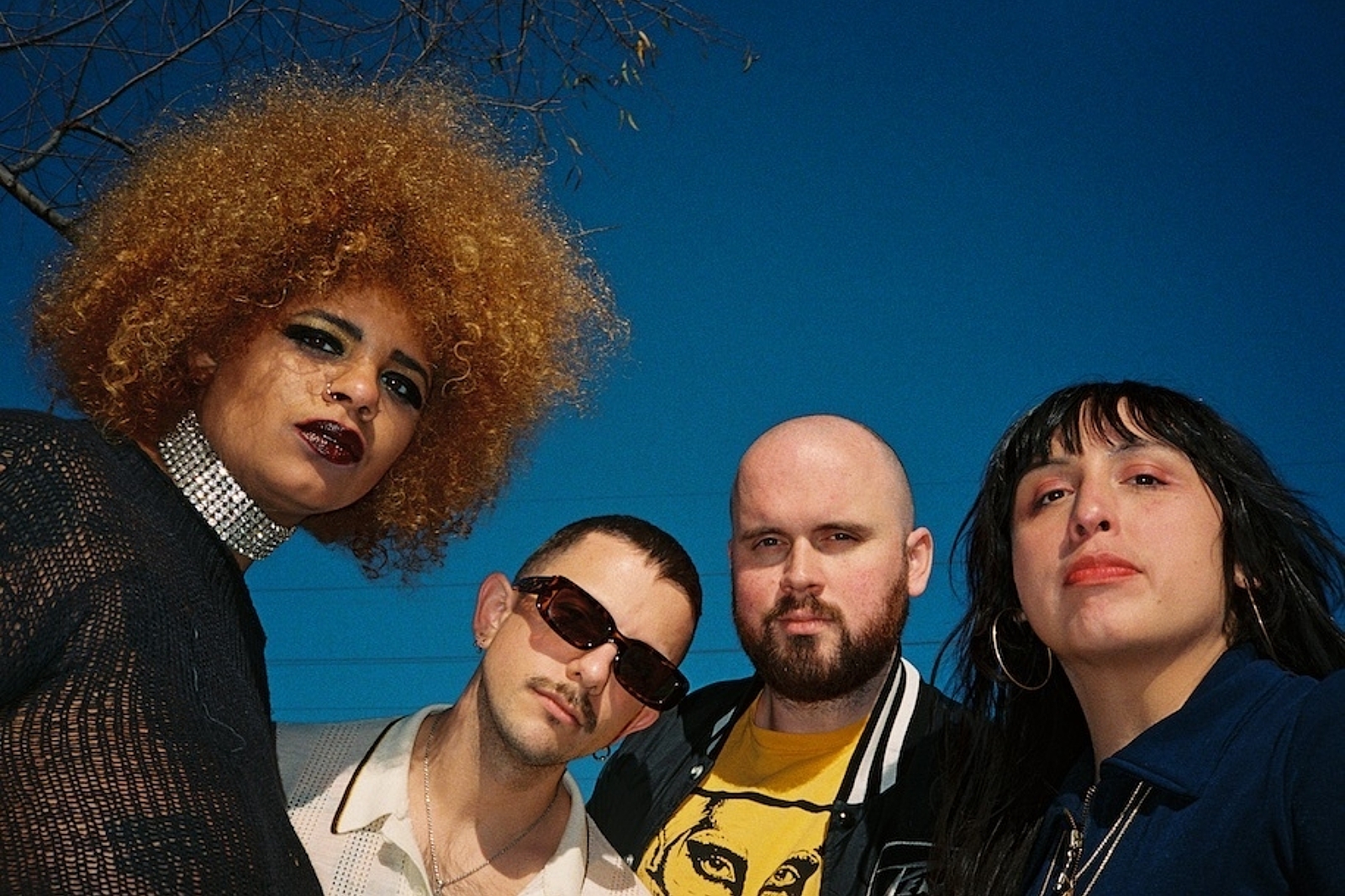 Photo: Alexis Gross
Special Interest: "We're just original rockers"
Having set the underground alight for some years with their incendiary dance-punk, the New Orleans group are dreaming big with 'Endure'.
Special Interest have never sounded more direct than they do on 'Midnight Legend'. The New Orleans band have spent the past half-decade of underground releases establishing a formidable reputation as one of the most vital, high-energy outfits in the US, positioning themselves at the raging intersection of DIY punk and dancefloor hedonism. With this song, though, those instincts are channeled into a slightly slicker package; the vocals are smooth, the energy emerges from a gently insistent rhythm and, by the end, you have a melody humming inside your mind.
To the band, this is nothing more than a natural progression. "There's an underlying noise on that track, mostly on the guitar," says bassist Nathan Cassiani. "It just has to be there, that's just who we are."
"I'm interested in electronic textures that are mangled and distorted-sounding, and we're always going to hang onto those things," adds Ruth Mascelli (synths). "For 'Midnight Legend', it just came out fully-formed; it was like the song already existed. We're just following what we all find moving."
Born from the outrageously fertile musical palette of their home city, Special Interest's music bursts with life in the way that most bands can only dream of. 2018's 'Spiraling' and 2020's 'The Passion Of' brought them alternative acclaim, and the same primal, visceral thrills run throughout next month's Rough Trade debut 'Endure' - only this time with a broader range of textures.
Across the release, we get the contemplative, eight-minute epic 'L.A. Blues' rubbing shoulders with the taut and abrasive 'Foul': tracks far apart in tone but united in sentiment and commitment. "I think a lot of the things that might seem leftfield that we're doing on this album are actually just things we've been interested in the whole time," explains Ruth. "We're just getting more comfortable experimenting and playing with each other, and just doing something different."
"Special Interest are different to a lot of bands right now."
— Alli Logout
The record's genesis was during the summer of 2020, a time of unease and uprising. The band wrestled with the turmoil of the day and their results present a mix of escapism and a gritted determination to restore fairness and sanity to our society. "That was definitely a mood, and not a great one," reflects Nathan on those long, hot New Orleans summer nights during the making of the album. "We wrote songs that were working some frustrations out, and also some that were a little bit freer in nature, just to have some sort of enjoyment."
For a band so closely associated with their frenetic live shows, having the art of public performance taken away from them was especially difficult. For vocalist Alli Logout, renewed inspiration came from a somewhat unlikely source. "We went to Berghain on our day off in Berlin and I met Kelela," they say. "And I didn't know her but I had a full-on conversation with her about playing live music and it was really beautiful. She said something to me that really stuck, which was about learning how to push with your voice. I learned to move people more with my voice, rather than with the high energy performances that we're used to doing. The last tour we did, it was like, 'Oh, OK, we can do ALL of this; we can have these insanely high energy shows, but I can also just sit back and sing and just feel it and move people in that way'."
Anyone familiar with Special Interest's live shows will have mental images of Alli lying on their back, screaming like a whirligig of provocative punk fury, and the band are keen to stress that those days are far from behind them. "That ain't going nowhere, that's never going to go away!" the vocalist says, reassuringly. "But I do think there are some things that are shifting that are really exciting."
The subject matter of 'Endure' also reflects the difficult times that birthed it. 'Midnight Legend', for example, is actually a study into, as Alli puts it, "how devastatingly lonely we all are". Game-changing single '(Herman's) House', meanwhile, reflects on the story of New Orleans' Herman Wallace - a Black revolutionary campaigner who spent four decades in solitary confinement for the alleged killing of a prison officer, only to be released days before his death. "His story is so intense," says Alli. "Even in confinement, he was able to actually continue dreaming and striving towards liberation and that's very inspiring. The song is a way to remind myself to keep dreaming and to keep building."
What remains unshakably true about Special Interest, however, is that even with bigger label backing, they're still maintaining that fiercely independent streak. They take pride in being responsible for every little detail of their output, a group of equals that stand by everything they do.
"Special Interest are different to a lot of bands right now," says Alli. "We are actually a band. It's not one person's backing band with one person having all the ideas, it's fully a collaboration. A lot of bands aren't like that anymore. Isn't that what real bands do? We're just original rockers."

'Endure' is out 4th November via Rough Trade Records.
Read More