Interview:
Teleman: "I still sometimes feel a bit lost in the world"
'Brilliant Sanity' is a cocktail of ambition - and the London band have even invented a beverage to match it.
What better way to celebrate the release of a new album than by creating a boozy drink named after your band? Seriously, has anyone tried this before? If not, Teleman deserve some kind of a prize. "I'm gonna invent a Teleman cocktail: tequila, prosecco and lime", declares the band's singer and guitarist Thomas Sanders. Then he adds in a slightly conspiratorial tone, "There's going to be another element there, but I'm not sure what yet."
'Brilliant Sanity' - the album they're commemorating with alcohol - is a confident progression of the delicate krautrock pop debuted on the London quartet's 'Breakfast' debut. Unlike its predecessor, which was made "over a very long time", the new LP came into being in a very different fashion. "The first album was recorded in a very piecemeal way. Kind of starting from the ground up. Little bits here and there. We'd do an afternoon, and then come back a few days later and do another a couple of hours," recalls Thomas. "We were just starting out. We didn't even know when we were releasing it. It was just a big experiment. When the producer [Bernard Butler] had some spare time we would work with him. We were also pretty busy 'cos we were playing lots of gigs and recording at the same time. This time round we literally went into a studio, sat down for two weeks and recorded the whole album."
As a result, 'Brilliant Sanity' feels like a much more determined and focused project, where the whole band were "firing on all cylinders". "We'd work hard, have a very quick lunch break and then go straight back to work. Sometimes we'd work all night," says Thomas. The main body of each song was recorded live, which added a degree of spontaneity. Despite it being "exhausting," Thomas enthusiastically agrees that it was a "great experience" - made even more exciting by the wise guidance of producer Dan Carey (Bat For Lashes, Kate Tempest, All We Are). He previously recorded Teleman's between-the-albums single 'Strange Combinations' on his own label Speedy Wunderground. The band immediately knew he was the one. "As soon as we'd done a recording we knew straight away that we wanted to do a whole album with him 'cos we had such a good working relationship," Thomas says.
"Sometimes it's hard to tell when people are really being real with you."
— Thomas Sanders
Thomas may be officially credited with writing all songs on 'Brilliant Sanity' but he is keen to stress collaborative aspect of Teleman's work. "Regardless of who writes the songs, everyone is adding their own touch to the recording. Say we get stuck somewhere in terms of arrangement: Do we want to do this part on a piano? Do we want it on a synth? We probably all have something to say. And normally the most passionate opinion is the one that takes precedent. You've gotta have passion."
And for Thomas, music is the primary element of his passion. "I tend to write lyrics afterwards. For me lyrics are slightly less important, but I still really agonise, and spend a long time thinking of words." Avoiding "really simple lyrics that spell it out all out" and retaining "an element of intrigue" with narratives not connected by a single idea is what Teleman do best. He stops for a second, playfully remarking: "I love ambiguity, when you're not quite sure what you're trying to say and everyone has their own reading. I don't think we'll ever write a concept album… Maybe a breakup album, like Adele?"
But other people's readings aside, what does 'Brilliant Sanity' mean to him? He pauses cautiously. "Learning about life, discovering yourself and discovering other people. The [title-track] itself is about feeling like you're still a child and then realising you're an adult. I'm 35 and I still sometimes feel a bit lost in the world. That's the reference to "standing in your daddy's shoes." he pauses. "And faking it. You know, pretending that you know what you're doing. Blagging. Everyone's blagging, aren't they?" Thomas asks. "Pretending that they know what they're doing. I think being honest with yourself and other people is a constant struggle. Being a musician, I find there's so much fakery around you. Sometimes it's hard to tell when people are really being real with you and you're being honest."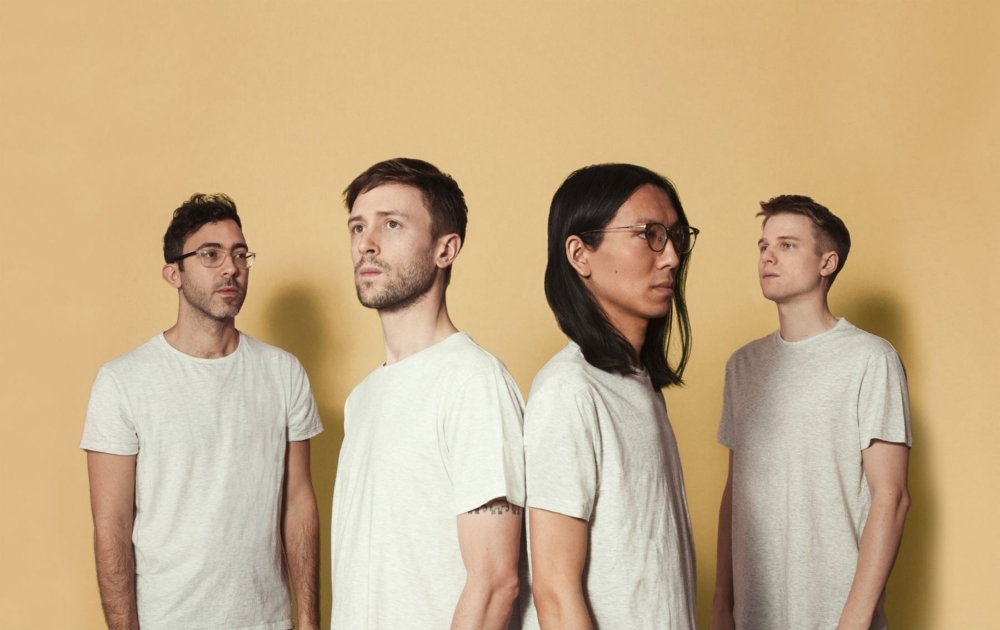 "I don't think we'll ever write a concept album… Maybe a breakup album, like Adele?"
— Thomas Sanders
"Some people have so much to say about everything," Thomas continues. "They've always got an opinion and you just can't shut them up. And they're always in the conversation, with the loudest voice. I don't know, but I find it really draining. I find Twitter really exasperating 'cos I get really bored of this relentless bombardment of people telling you what they think about this and about that, and what he said and what she said. Sometimes I feel like, 'Why is my opinion important? Why do people care about my opinion? Why do these people think that people care about their opinion?'"
On the other hand, Thomas admits that he is finally getting to grips with Twitter. "I started using it, but not for broadcasting opinions about everything in the world; just as a way of talking to our fans. It's a really lovely thing to be able to have a conversation with people who love your music, to answer their questions, to keep them up to date with things we're doing."
With the band's name linked to the German baroque composer Georg Philipp Telemann, along with their recent single 'Dusseldorf', it seems fair to ask if they have a particular affinity with Germany. "Yeah, Germany is my favourite place to tour," Thomas explains. "I guess it reminds me of England: we have a similar climate, we both like beer and there's a great German music tradition. And I just always have a very good time when I'm in Germany." With a few German dates lined up on their current European/UK tour, perhaps the mystery final ingredient of the Teleman cocktail is going to have a German flavour. Whatever it is, if it's anything as good as the music, it's bound to go down a treat.
Teleman's new album 'Brilliant Sanity' is out now.
Teleman will play The Great Escape (19th-21st May), and Standon Calling (29th-30th July), where DIY is an official media partner. Tickets are on sale now. Visit diymag.com/presents for more information.

Get your copy of the latest issue
Read More