On The Other Side: The Big Moon
The Big Moon's third album 'Here Is Everything' was written through and after vocalist Juliette Jackson's pregnancy. A record of change, it might come from a specific place but still feels universal.
Juliette Jackson sees The Big Moon's third album 'Here Is Everything' as a record of two halves. The first was written while the singer was six months pregnant with her first child. Work on the album - the follow-up to 2020's 'Walking Like We Do' - then stopped for half a year of, in Jules' own words, "Aaaagh?!", before the second was then written and laid down.
"When I listen to it, I can really hear the difference," she reflects now, speaking to DIY on Zoom the morning after a now-common sleepless night. "I didn't listen to the album after we finished it for a while, but I revisited it recently and it makes me feel so emotional - it makes me choke up!
"Becoming a parent feels like I've divided my life completely in half, and I can see that the old me is behind this wall, and the future me is on the other side," she says. "I'm just not the same person anymore." When she listens to the older songs on the album, it feels like "the old me is trapped inside them," she reflects. "It's amazing to be able to go there and listen to that person and all the things that she thought it was going to be like."
"We'd never done the surgery of a record before. This time, we were like, 'Hand me the scalpel!'"
— Fern Ford
While anyone would be justified in putting their band on pause while growing a literal human inside them, Jules used songwriting during this period as a tool with which to untangle her feelings, and says she's delighted in retrospect that the songs on 'Here Is Everything' stand as a document of that time. "Some of it was really hard, but I am really glad that I did it and have this as a record of that insane time in my life," she nods. "It's weird, because sometimes I hate writing songs, but when I've finished a song, I feel amazing. It's so cathartic to be able to express how you feel through music. It's so much more expressive and says things in ways that words never could."
'Here Is Everything' is an album with a balance of the ups and downs of her experience, and ecstatic first single 'Wide Eyes' contains lashings of the former. "There's a lot of joy on the album but also a lot of pain, which is just how you feel after you become a parent," she explains. "I felt insanely happy and insanely sad all the time. The songs really go across that spectrum of feelings."
To write 'Wide Eyes', Jules went into the studio with singer-songwriter Jessica Winter. "I went to her studio and she said, 'What do you want to do?'. And I was like, 'I really need to write a happy song!' I was feeling so much joy, but I couldn't express it because I was so exhausted and just couldn't string sentences together. I'm really, really happy with how that song came out - it just felt exactly right."
The new album's title also feels emblematic of the stark emotional openness on show: 'Here Is Everything', taken from a lyric in 'Wide Eyes', is Jules delving deeper than ever before. "I just felt like I couldn't have given any more of myself to this album," she reflects now, a sentiment that also links with its instantly-iconic album cover, which sees her posing on a bed while heavily pregnant. "When I saw the photo, we were all like, 'Oh my god, this should be the cover!' And I thought, 'Great. I'm like, half naked.' The title just seemed so… right. It's literally me saying, 'I'm not hiding anything. This is how I feel.'"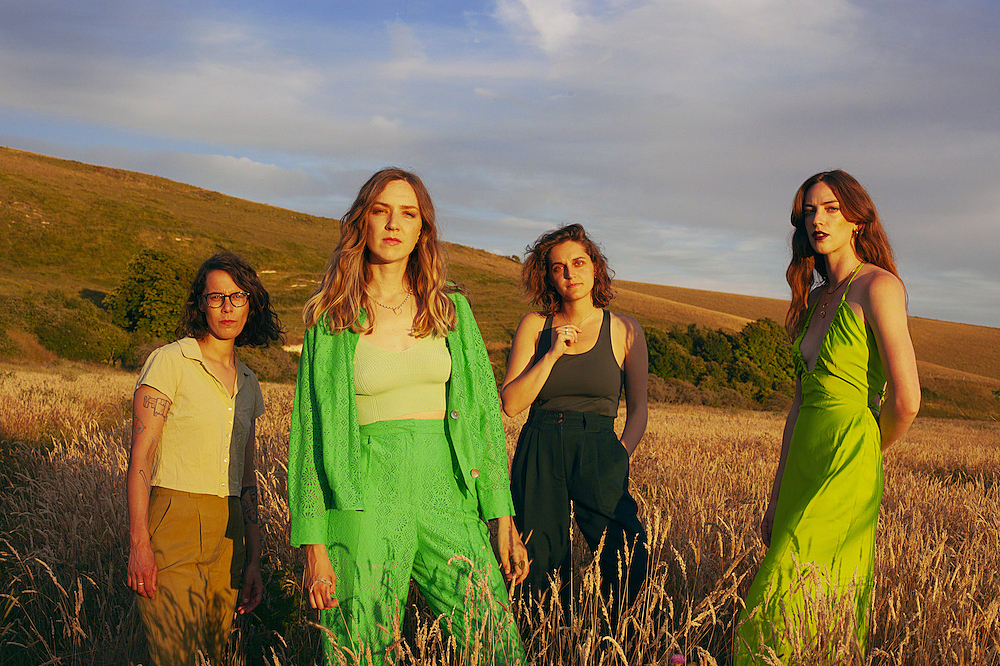 "I couldn't have given any more of myself to this album."
— Juliette Jackson
Though 'Here Is Everything' has the singer's journey as its central anchor, its creation also proved revolutionary for The Big Moon as a band. After a first chunk of recording in early 2021, the quartet emerged with, as drummer Fern Ford puts it now, "songs that didn't feel whole".
"We felt like there was only a certain amount of time, so we went into the studio for two weeks," she remembers. "Then - and I don't know how she did it - Jules, with a little baby, started writing more songs." The band (completed by guitarist Soph Nathan and bassist Celia Archer) then spent time at Fern's home studio, re-working the songs from the initial sessions, "working out what we weren't feeling".
"We regrouped and, one by one, opened up the sessions by saying: 'What is this? Why isn't it landing?'" Fern says. "It was really fun and a great bonding experience for us, given that we had spent so much time apart. We'd never really worked like that before, and had never done the surgery of a record; we'd always given it to someone else to do the surgery. This time, we were like, 'Hand me the scalpel!'"
The second half of songs for 'Here Is Everything' were then co-produced by the band alongside engineer Adam 'Cecil' Bartlett, who worked with them on 2017 debut 'Love In The 4th Dimension', and the greater freedom this allowed for is reflected in the record's exploratory sonic detours.
"You can be quite limited by time and money in the studio," Jules says, "and we just gave ourselves as long as we needed. Fern has built this amazing studio in her flat, and we went there every day for a while and re-produced all these songs. I don't know how we knew where we were going with it, but somehow as a group we always tend to agree on stuff," she adds, mildly bemused. "I guess that's why we're a band - we have the same musical roadmap and are going the same way all the time.
"I feel like, on this album, as friends and as a band, we're stronger than we've ever been," the singer continues. "Going through this process together, recording the album, re-producing the album, recording new songs, all with me being pregnant and having a baby, the support and the love that we've given each other has just been incredible," she beams, before pausing and checking herself. "This is classic 'interview as group therapy', but it's true!"
Though an album inspired by a deep personal experience, 'Here Is Everything' has somehow also become The Big Moon's most collaborative and interconnected record at the same time. "Because I couldn't do as much as I used to, because, you know, I was looking after a small human, everyone else really stepped forward, and you all just created this incredible world," Jules says, gesturing to Fern and her absent bandmates out in the world. "It was amazing."

'Here Is Everything' is out 14th October via Fiction.
Read More