Interview The Hotelier: "I couldn't write another sad album if I tried"
New album 'Goodness' finds The Hotelier on the cusp of re-invention. Ryan De Freitas catches them at a sold out London show to talk the future.
Right in the middle of The Hotelier's forthcoming third album, there's a moment that perfectly summarises all that the band set out to do on 'Goodness', the album that may well go on to define their career. A lively full-band verse gives way to a gentler, two-note guitar line that allows vocalist Christian Holden's voice to pull focus. Longtime fans of the band know what comes next; Holden's singing builds and builds to an intense crescendo, at which point the rest of the band come back in to ferociously punctuate his words. Except this time, right at the moment those instruments are due to come crashing back in, the track glitches out. The band played exactly what was expected of them, only for it to be crudely scratched out in production.
That moment, just when it sounds like The Hotelier are about to step back into the space that breakthrough record 'Home, Like Noplace Is There' occupied, is more than just a knowing fake-out. It's the sound of the Massachusetts four-piece extinguishing any lingering thoughts that 'Goodness' was going to be a continuation of that album, as they take their identity into their own hands. And they had to. If they allow their previous output to strictly define them, they'd run the risk of being typecast as simply 'the band with all the sad songs'.
For Holden, sat on a couch in the lobby of London's Scala a few hours before playing to a packed room in support of Into It. Over It., such complacency was never an option.
"I'm not too stoked on staying stagnant as a band," he explains. "I wanna continually develop this as much as it can be developed and then when it starts being stagnant, that's when it's time to end. I think that's just how an art project should go. These albums are really just a reflection of how I'm interacting with my life at the time, and 'Home…' was an album of trying to re-evaluate things and deconstruct self, and sort of understand all the moving parts of the really complex situation I was in, and this record is a sort of rebuilding. It just responds nicely. I couldn't write another sad album if I tried."
Necessary though it might be, it's still a bold move for The Hotelier to take this path. 'Home…' saw the band pick up a legion of fans. In fact, that album was so impactful that The Hotelier could've easily headlined tonight off the back of it – the songs from 'Home…' draw the night's loudest sing-alongs, headline set included. It'd be reasonable to think, then, that there might've been fair reason to continue on in that album's image.
"This might sound cocky," Holden warns, "but I just didn't think that way. I think that the way that people interacted with our last record, it felt like I understood what our strengths were and if I incorporated certain aspects of what Hotelier strengths were into the next record, we could do whatever we wanted. And that's what we did. We sort of just played around with ideas and desired to challenge the listener more. Especially our old fans, I wanted to challenge them more when listening to music, and what to listen for, and how to listen to music, and try to do that through our record."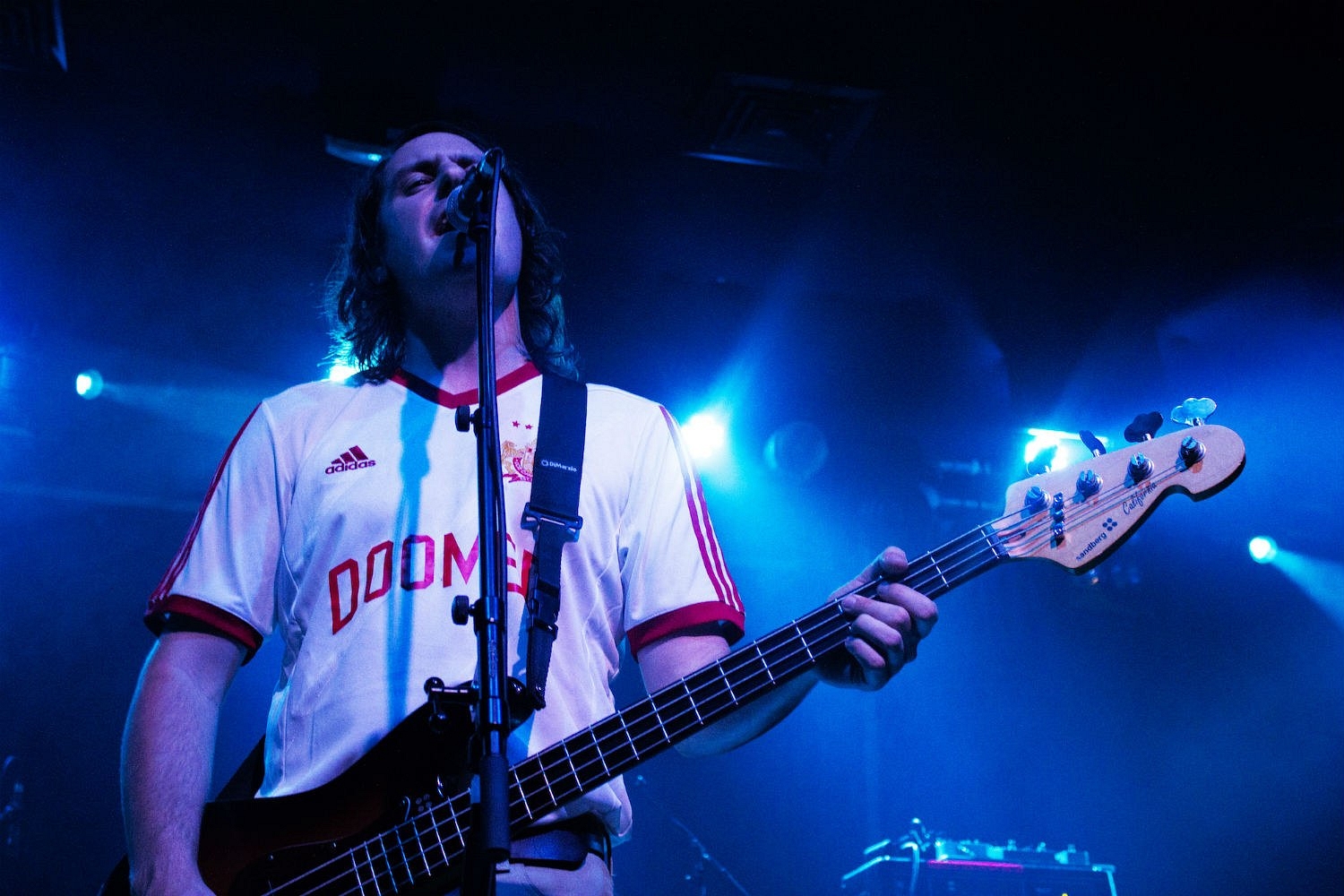 "Death doesn't have to be a sad thing. Death is just what happens before rebirth happens."
— Christian Holden
Opening the new album with a spoken word intro track that leads into the subdued 'Goodness Pt. 2' certainly does that. Perhaps in preparation, The Hotelier's set opens with an instrumentless Holden stood under a lone spotlight, singing an even more minimalist version of that very song - another bold move, but it's also another win as the crowd before him stands utterly captivated by every word – and when the band come out to join him and they go into the song proper, the room feels as though it's been lifted suddenly out of a trance. It's a near-spiritual moment that sets the scene perfectly for an album with a very spiritual core.
That's not to say that 'Goodness' is a preachy album at all, fear not. Instead, 'Goodness' simply sees Holden approaching the concepts on the album "the world and love, and cycles of how the world functions and people relate to one another" in a more abstract way than he has in the past. In a sense, that's what The Hotelier have always written about; this time it just came with a bit more guidance.
"I made a point to name and identify what the spirituality I have is," Holden says of his inspiration. "It's sort of Daoist, maybe positive nihilist spirituality. My mom and my grandmother were both Catholics, however didn't really seem to care about Jesus too much, or God. They really liked angels, and they really liked Mary, and they liked these more feminine aspects of the religion, and when they pray they're praying to their guardian angels (interestingly, Holden is on record referring to the naked people photographed for 'Goodness'' cover as 'angels'). They're Catholics, but that can mean almost anything. My grandma really loved Sathya Sai Baba, which is an Indian spiritual leader. So I always just thought it was interesting how they interacted with their own spirituality in this pretty creative way, and pretty personal way."
'Soft Animal'
The seventh track on 'Goodness', 'Opening Mail For My Grandmother', sees Holden very frankly – and in a particularly positive nihilist fashion – interacting with his own spirituality in a similarly creative and personal way.
"I was literally opening mail for my grandmother," he explains. "I was literally sitting down with her in the assisted living place she was living at, opening mail for her, reading her letters from people who she at some point in her life interacted with but now she may or may not remember, and I thought it was interesting how these are people talking to each other nearing the end of their lives, and how they all sort of… aren't phased by death. I was reading these while interacting with my grandmother who is in an assisted living home, can't take care of herself, and who in a certain regard – and I'm not trying to be rude or anything – is sort of on her way out, and I wanted to write a song that represented how I felt that she was throughout her life when I knew her, which was a very bright, joyous and caring person, in a way that she can't be now.
"It was just about sort of interacting and understanding that death is a part of this cycle, understanding the cycle of how the world works and even the natural rhythm of how the world works means that death is a real thing, and death doesn't have to be a sad thing. Death is just what happens before rebirth happens. That's literally the cycle of the record; it comes to this point of death, before this new spiritual rebirth at the end of the record."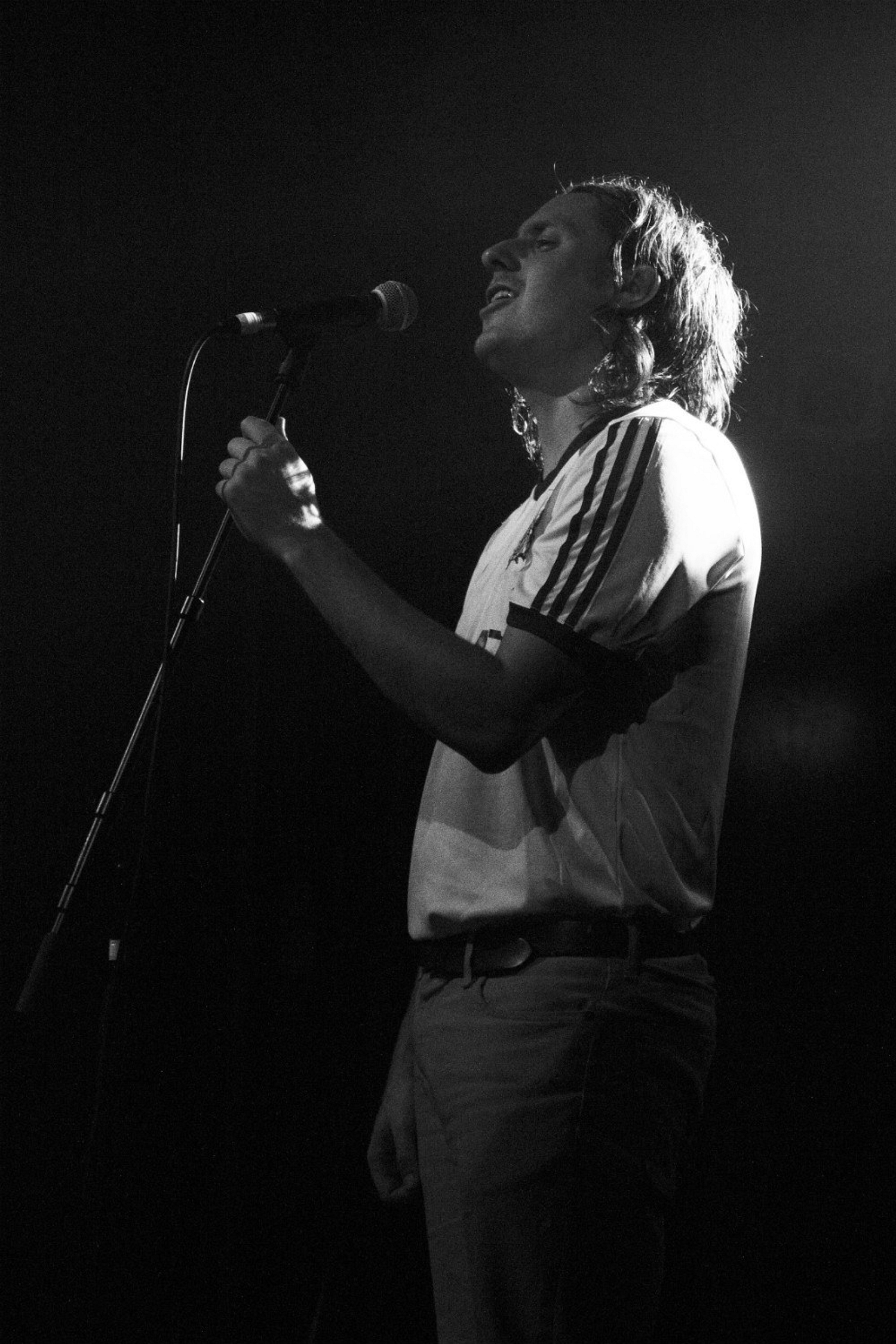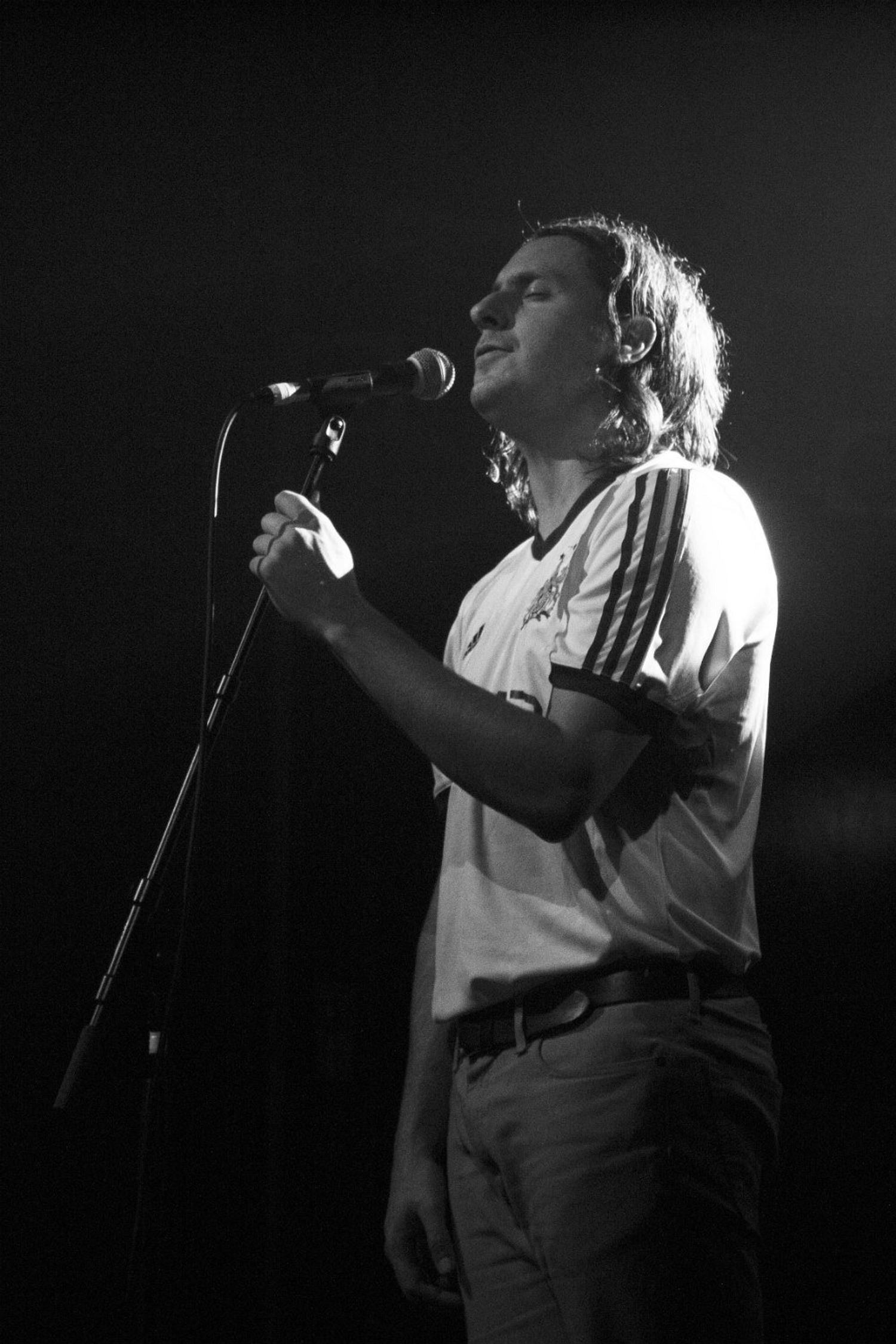 "I made a point to name and identify what the spirituality I have is."
— Christian Holden
On 'Home…' Holden wrote about death as a destructive, harrowing thing, something to be sung about in anger and regret. On 'Goodness', an album self-described as a 'love record', it's sung with acceptance in major key melodies. And, despite all the efforts rightly made not to be bound by their past, The Hotelier and their fans will be able take an odd sort of comfort in the consistency of that. Though in truth, given the reception the never-before-heard 'Sun' gets throughout its entire seven minutes, any worries The Hotelier might have had about their fans' acceptance of the new album will surely have been quashed.
This is a band stepping out of the shadow of what popularised them and scoring points for creative freedom and artistic merit along the way. Should their fanbase stick with them through that – and the reception tonight suggests they will - it won't be long before The Hotelier are top billing at venues this size and beyond – and having shown this level of courage with their art, they'll deserve every single ticket sale.
Live photos: Marthe Johannessen.
The Hotelier's new album 'Goodness' is released May 27th via Tiny Engines.
Read More
Featuring King Gizzard & The Lizard Wizard, IDLES, Tkay Maidza, Sleater-Kinney and more.