With new album 'Clear Shot', TOY are wafting away the psychedelic clouds and charging ahead.
After releasing two albums in just over a year, TOY seemed poised to become one of those death-and-taxes bands that you could count on to give you a new batch of dense, fuzz-inflected tunes at least once before the calendars changed. But a confluence of events, including the departure of keyboardist Alejandra Diez in 2015 and a lengthy tour in support of 'Join the Dots', forced the band to hold off on putting together a follow-up until this year. Still, hearing guitarist Dominic O'Dair describe their creative process makes it sound like the band would find a way to get put an album together if they were trapped on a desert island with nothing but rocks and sticks. "We would've liked to bring it out earlier, but it takes a little time for things to come together," he admits.
Once their hectic schedule - which included a collaborative one-take album with Bat For Lashes's Natasha Khan under the name Sexwitch - settled down, the band was able to find their footing in no time at all. 'Clear Shot', a collection of surreal songs that range from prog-tinged modish mayhem to sunny lo-fi, was the result.
"With the third record, we recorded it in two weeks as well," says Dominic today, referencing their debut, which was also completed in a fortnight. "That's really important to us, as is playing everything live and together. That way the sounds interact with each other. We did it in this place outside Manchester, where we got up everyday, had breakfast, and just recorded."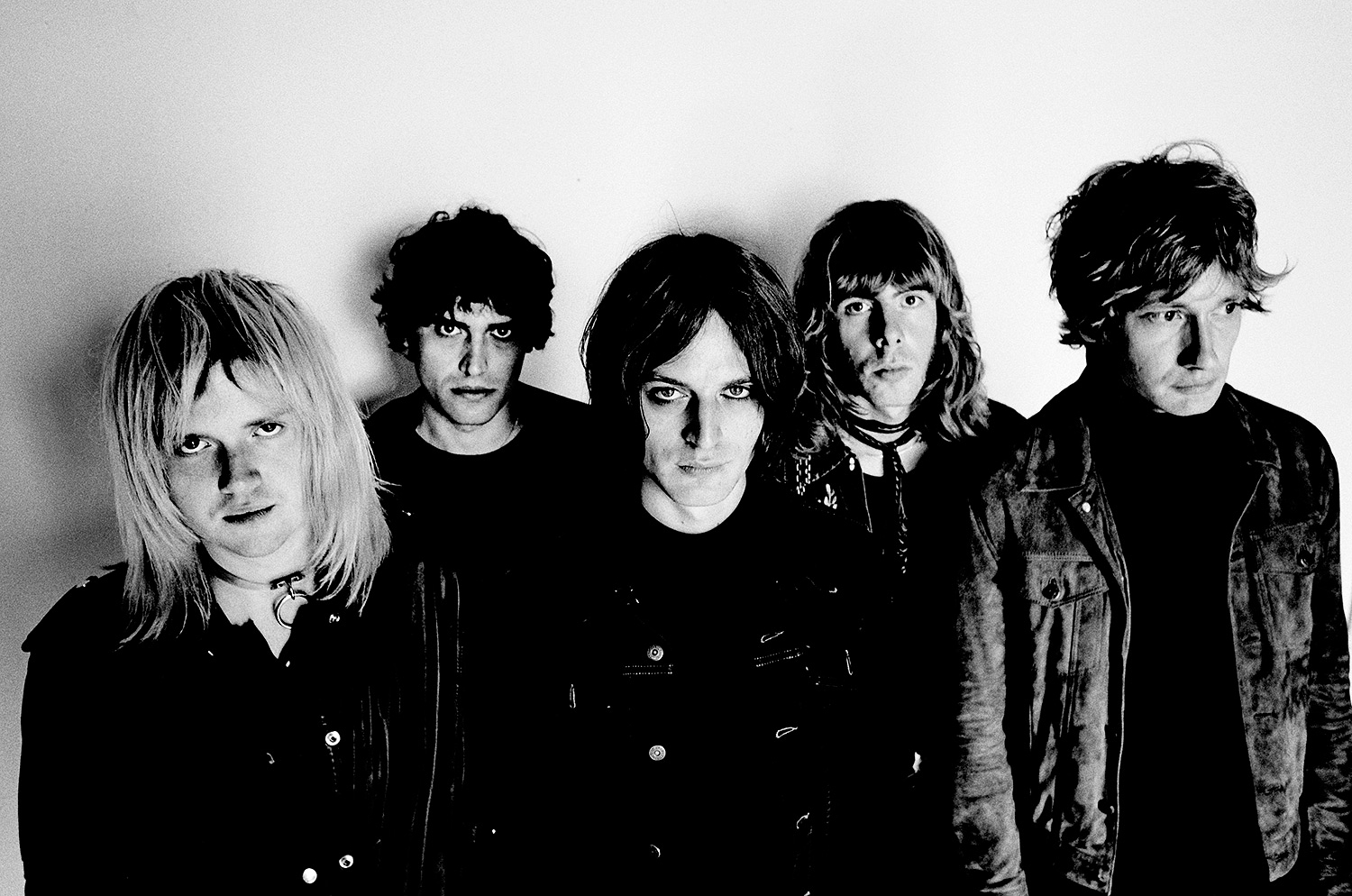 "We like the idea of a live version being completely different - you allow it to take on its own form."
— Dominic O'Dair, TOY
He explains that one of the keys to the album's wider palette was the treasure trove of keyboards they found at the studio. "We love using as many different timbres and sounds as we can get our hands on. We had millions of different synths and organs and pianos," he says. "I always think about Brian Wilson, who wanted two instruments playing the same melodic line, because it would almost create a third instrument."
Organs and synths have always been peaking out of the corner of the frame for TOY, but they take the forefront with 'Clear Shot'. Sharp stabs give single 'Fast Silver' an occult edge, while they provide the rollicking 'Dream Orchestrator' with an intoxicating energy and 'We Will Disperse' with a blast of 80s new wave.
These flourishes, all incorporated effortlessly into the band's knotty, cerebral sound, help continue to set TOY apart in a field of psych-soaked rock that has only grown more saturated since 'Join the Dots' was released in late 2013. O'Dair acknowledges that a greater number of bands are shooting for that kaleidoscopic style, but doesn't seem concerned with them cutting into TOY's niche. "I've definitely noticed a lot more bands that are supposedly psychedelic, but I think that bands that make it to the mainstream are quite watered down," he admits. "I don't think anything genuinely mind-altering makes it to the mainstream."
'I'm Still Believing'
"I don't think anything genuinely mind-altering makes it to the mainstream."
— Dominic O'Dair, TOY
TOY certainly present an interpretation of the subgenre that is anything but stereotypical or unoriginal. Singer Tom Dougall's vocals are typically tight and restrained; a conscious rejection of the freeform sprawl often associated with psychedelia. Even when the band indulge in some intergalactic imagery on 'Another Dimension', the fretwork by O'Dair and tom-and-bass pounding of drummer Charlie Salvidge on the verses make it feel like a Built to Spill or Car Seat Headrest song that unexpectedly bursts into Adventure Time colors on the hook. Album closer 'Cinema' opens with a drawn out guitar riff that O'Dair describes as "kind of flamenco in a way," before morphing into a nearly seven minute barrage of varying tones and textures.
"We definitely like the idea of one record containing a wide palette of sounds and emotions and feelings. We don't really like to think too much in terms of genres," he says. "If anything we try to avoid it."
The band are set to embark on a sprawling UK tour in the coming months, and O'Dair stresses that fans should expect a lot more than just a straight translation of 'Clear Shot' to the stage. "We like the idea of a live version being completely different. When you play it more than once it can be a totally different thing, you allow it to take on its own form. Some people feel they don't have a good show if they don't make it sound just like the album, but I disagree."
'Clear Shot' feels informed by the nearly three years since 'Join the Dots', but still like a natural progression in the band's consistent output. And, in case listeners are concerned that the upcoming road dates will once again slow down their relentless wok ethic, it seems the studio bug is still firmly embedded in TOY - "we're keen to get the fourth record out, too."
TOY's new album 'Clear Shot' is out October 28th via Heavenly - they play Rough Trade East the same night.
Read More
Popular right now
Featuring James Blake, Romy, Marika Hackman, yeule and more.