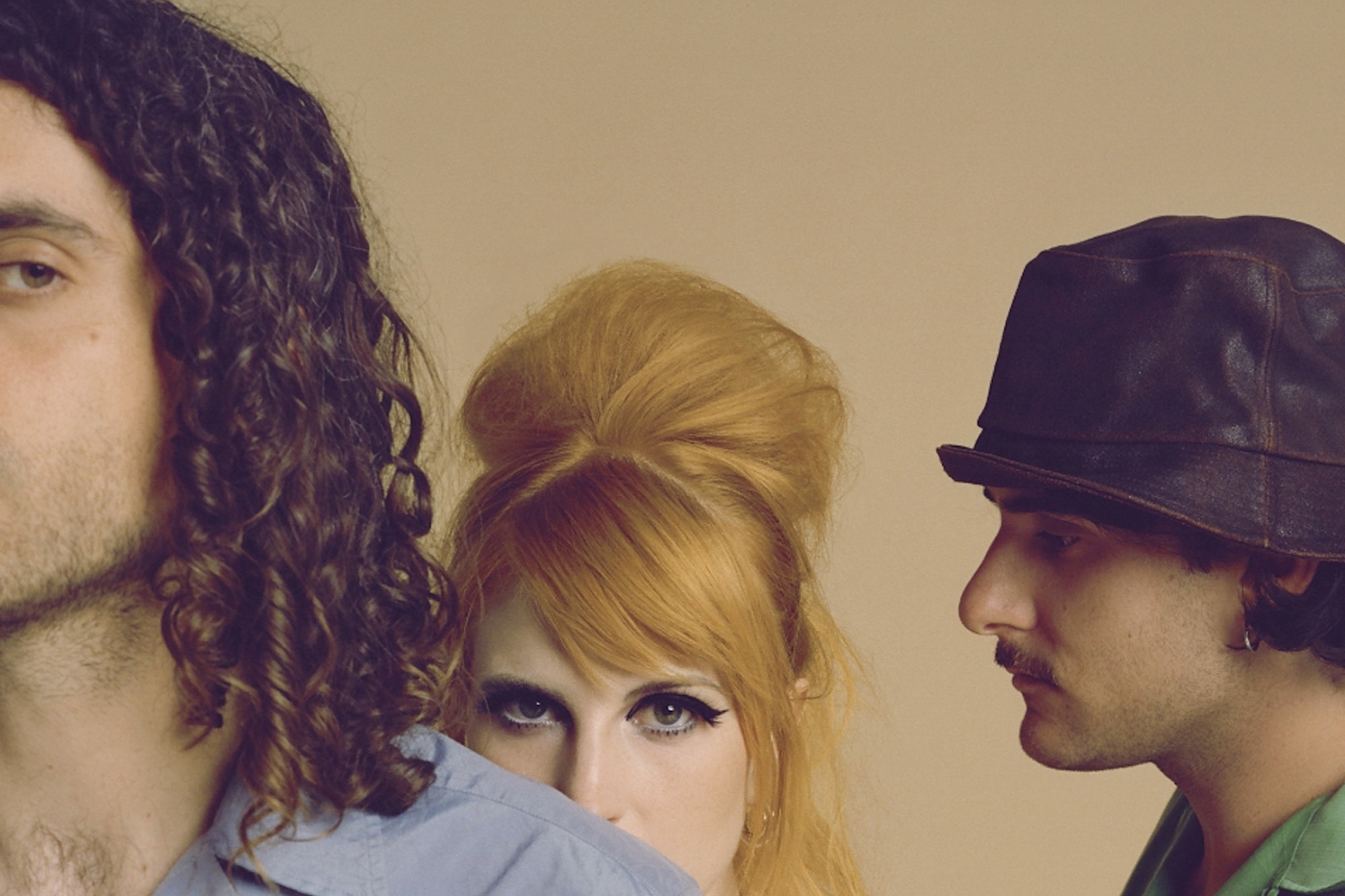 Photo: Zachary Gray
Tracks: Paramore, Poppy, Christine & the Queens and more
The biggest and best new songs from the week that was.
This week is all about the return of Paramore. Five years after the release of 'After Laughter', the trio are back with new album 'This Is Why' and a new single of the same name. Bringing to life those Bloc Party influences that have been spoken about by Hayley Williams, while pushing themselves forwards once again, it's a tantalising first glimpse at album six.
Get the DIY verdict on 'This Is Why', alongside new tracks from other big hitters like Arctic Monkeys, Poppy and LCD Soundsystem, as well as Christine & the Queens, Martha and more, below.

To update your ears with the best new music, see Essential New Tracks below. To find out what we've got to say about some of them, read on…

Paramore – This Is Why
A band always focussed on continually evolving, after five years away, the return of Paramore is certainly a welcome one. Finally arriving with the first cut from their sixth album - after weeks of teasing, and a hefty US tour on the horizon - 'This Is Why' once again sees the band grow even bolder and more confident in themselves.
Funky licks of guitar come accompanied by the soft lilting vocals of Hayley Williams in a manner reminiscent of her previous solo effort 'Petals For Armor'. And much like her solo albums before, 'This Is Why' arrives with a bite: "If you have an opinion / Maybe you should just shove it," she coos, before the angular dance-punk of the track's chorus shudders into life. Building upon the technicolour funk of previous album 'After Laughter', their newest offering, instead, has a darker heart; one that mirrors the disillusionment of our current times ("This is why I don't leave the house"), while possessing the kind of stomp that The Rapture or Yeah Yeah Yeahs would be proud of. A defiant introduction to the band's new era, it marks another invigorating new turn for the trio. (Sarah Jamieson)
LCD Soundsystem - 'new body rhumba'
For anyone lucky enough to have caught LCD Soundsystem at their Brixton Academy residency earlier in the year, the question as to whether James Murphy's troupe of disco infiltrators have still got it as a live entity is null and void; Murphy could, we suspect, be in his pension years and still be able to instigate the most joyous party on the block. That they're still able to knock out funky, excitable gems like 'new body rhumba' - LCD's first new music since 2017's 'American Dream' - however, is cause for true celebration. The ingredients are simple; Murphy's inimitable falsetto, a playground chant of a backing vocal, a bass line built for a wiggle, some infectious hand claps. But as ever with LCD, the result is bigger than the sum of its parts - the clever, clever bastards. (Lisa Wright)

Christine & the Queens – Rien Dire
'Rien Dire' is the second track to be revealed from Christine & the Queens' new album under the Redcar moniker, 'Redcar les adorables étoiles'. The title means "say nothing" in French, and the gorgeous, minimal new song is an ode to communicating without words. Across the song, layers of Redcar's vocals swim amongst each other while quietly forceful synths bubble away in the background, saying so much with not much at all. (Will Richards)
Arctic Monkeys - Body Paint
Piecing together a new Arctic Monkeys album is like slowly revealing the image in a jigsaw, and whilst 'There'd Better Be A Mirrorball' suggested that forthcoming seventh LP 'The Car' might be a fairly understated affair, on 'Body Paint' Alex Turner has looked both options in the eye and chosen drama. The genius comes at 1 minute 30 when, after loungey piano beginnings, the strings switch lanes and sweep into a Beatles-esque tempo change; exactly 1 minute 30 later again and we're steering a course to a crescendo with a guitar solo that'll bring goosebumps when it rings out across their forthcoming stadium tour. It's not 'heavy' like their old goods were heavy, but there's guts and grit to 'Body Paint' in a whole new way. (Lisa Wright)

Martha – Hope Gets Harder
Durham's DIY darlings Martha pull no punches in the statement accompanying new single 'Hope Gets Harder'. "'Hope Gets Harder' is a song about England: a uniquely fucking terrible idea," they write. "A place governed by the most absurdly mediocre people in history." Its final kicker is even more unequivocal: "Abolish England. Fuck the king." While staring such vast hopelessness and fatigue in the face, we need songs as defiant and righteous as this to cling to a glimmer of light. Martha don't sugarcoat things on 'Hope Gets Harder', but even as a representation of solidarity (and an excellently catchy punk-pop gem) it keeps us going a little longer. (Will Richards)
Poppy - FYB
As far as central mission statements go, "Fuck the world, it'll just fuck you back" is likely one of this week's bleaker ones. However, what Poppy lacks in positive pep (try saying that after a few pints), she makes up for with a sonic niche that's becoming increasingly heavier and more metal-indebted with every release. 'FYB' is a relentless onslaught of a track: a simple guitar riff played hard and repeatedly, over drums pummelled to within an inch of their lives. And hey, in terms of timely social commentary, a relentlessly heavy onslaught of bleak nihilism is probably pretty accurate anyway, eh! (Lisa Wright)


Get your copy of the latest issue
Read More