Class of 2023: VLURE
Throwing splashes of techno and punk, a laser-sharp aesthetic and a unified gang mentality into their confrontational sonic melting pot, Glaswegian quintet VLURE are the cool kids with hearts of gold.
"Something I always find lovely about this band is that we'll come off stage and people will be a wee bit scared of us and think we're gonna be a certain way, but we're really nice people! We're all pretty bubbly and happy!" VLURE vocalist Hamish Hutcheson laughs. "This music is our outlet that allows us to get that pent up angst and aggression out on the stage."
Catch the Glasgow quintet - completed by guitarist brothers Conor and Niall Goldie, drummer Carol Kreikaard and synth player Alex Pearson - in their natural on-stage environment and you'd be forgiven for being somewhat intimidated. Fond of getting right in the faces of the front row and blessed with a thick Scottish bellow that seems to resound from the very bones of his being, Hamish is a magnetic commander of a frontman. Meanwhile "ask ten different people in a room what they think we'd be influenced by musically," he suggests, "and it'll jump from the Amazing Snakeheads to Faithless to The Murder Capital"; at the centre lies a wall of sound that's intense and all-consuming and various other adjectives that add up to the idea that VLURE are not to be messed with.
Scratch the industrial surface, however, and in the likes of 2021 debut single 'Shattered Faith' or the desperate plea of 'Show Me How To Live Again' lies vulnerability and heart to spare. And, forcibly rallying against any ideas of coldness or unapproachability ("We've never really considered aggression as part of what we do," notes Conor), it's this sense of empathy and kindness that elevates VLURE from aloof art school types to a band to really believe in.
"The root of creating something comes from trying to understand your place in the world around you, and projecting that out on stage can sometimes feel like such an unnatural thing but we just try and rip the filter off. There are probably some horrendous screen shots of our faces from our performances because we're not putting anything on," Conor grins. "We have a folder of photos from gigs that are just horrendous, but it's part and parcel of the game," Hamish nods. "We wanna create an environment where everyone feels like they can be in that moment together."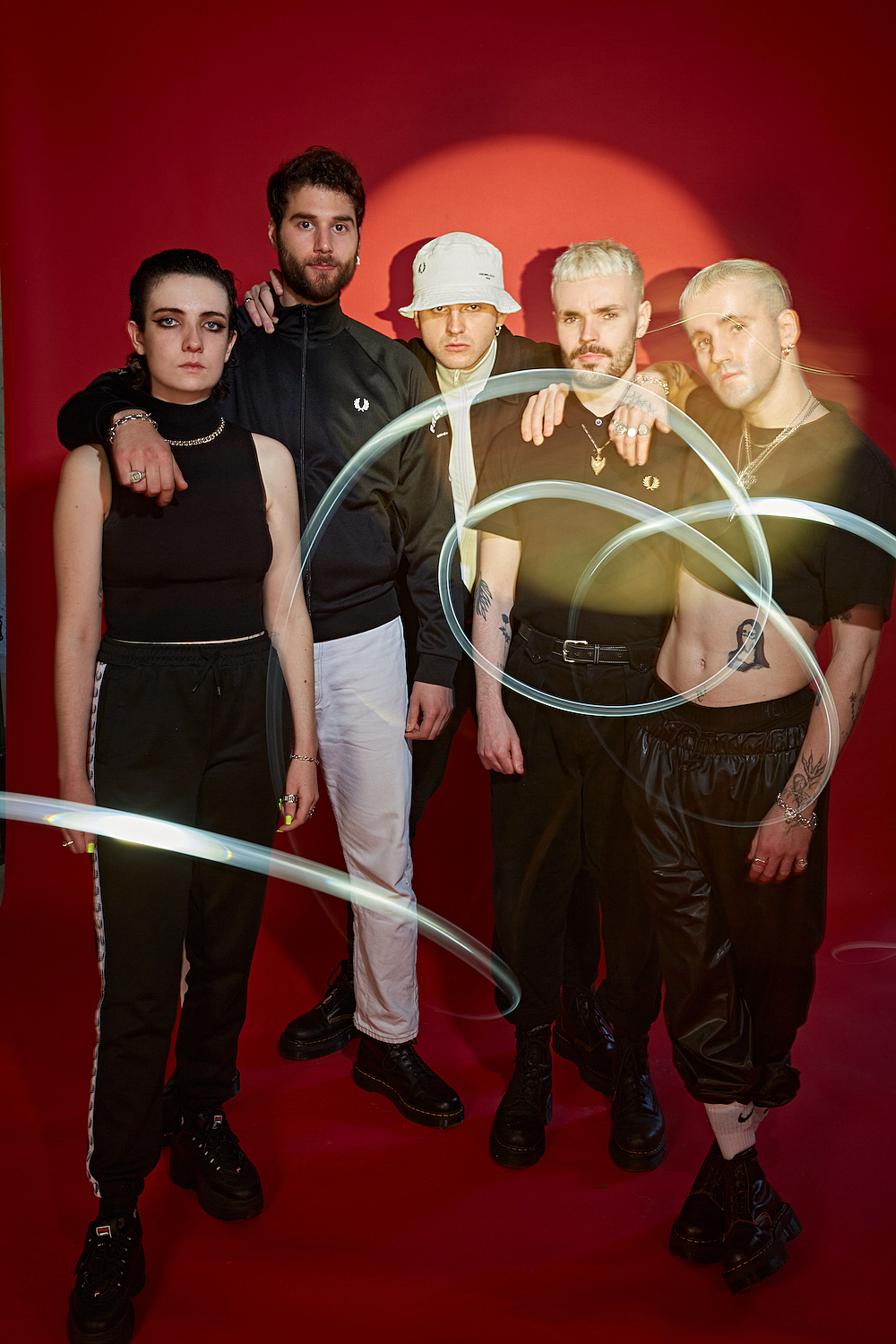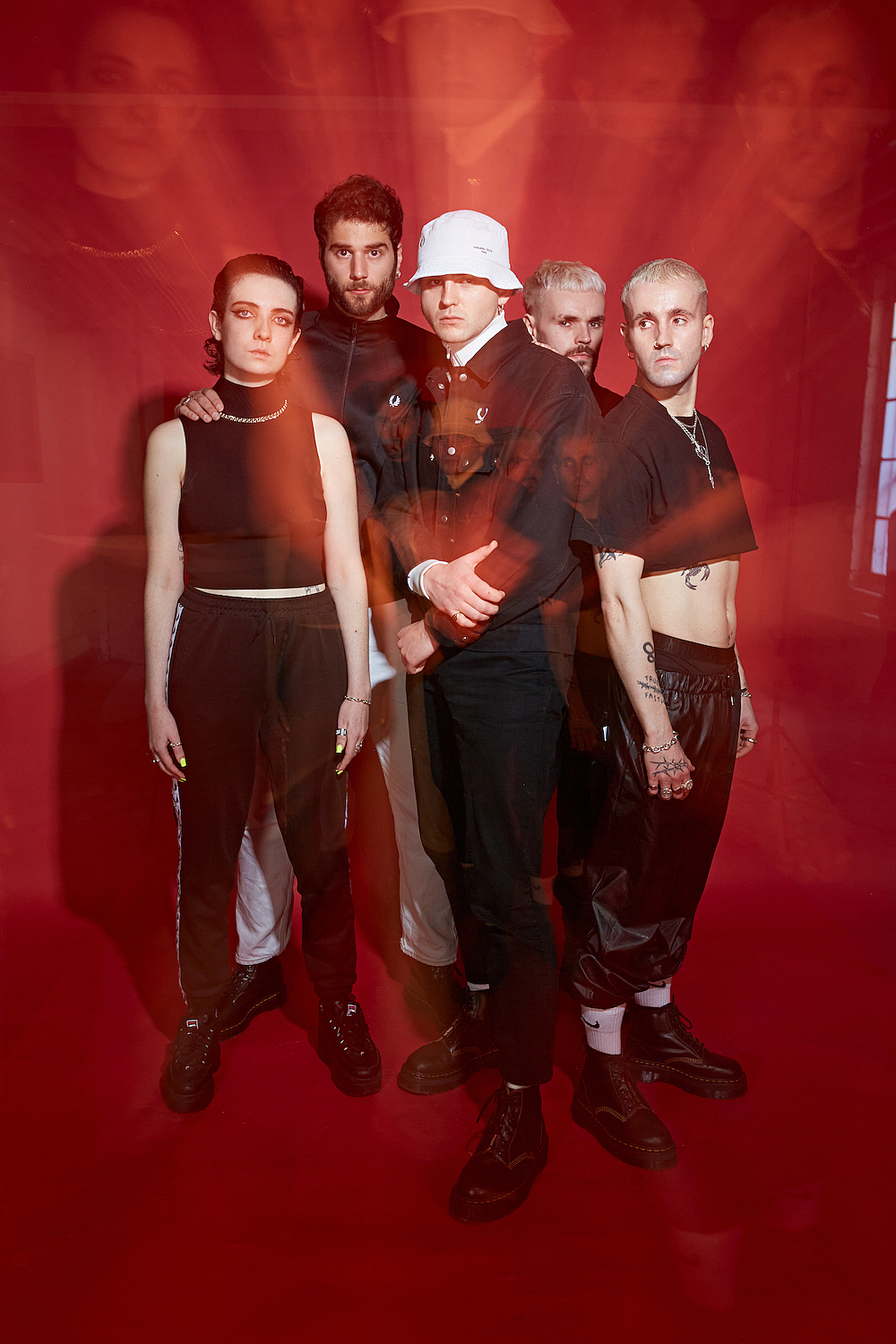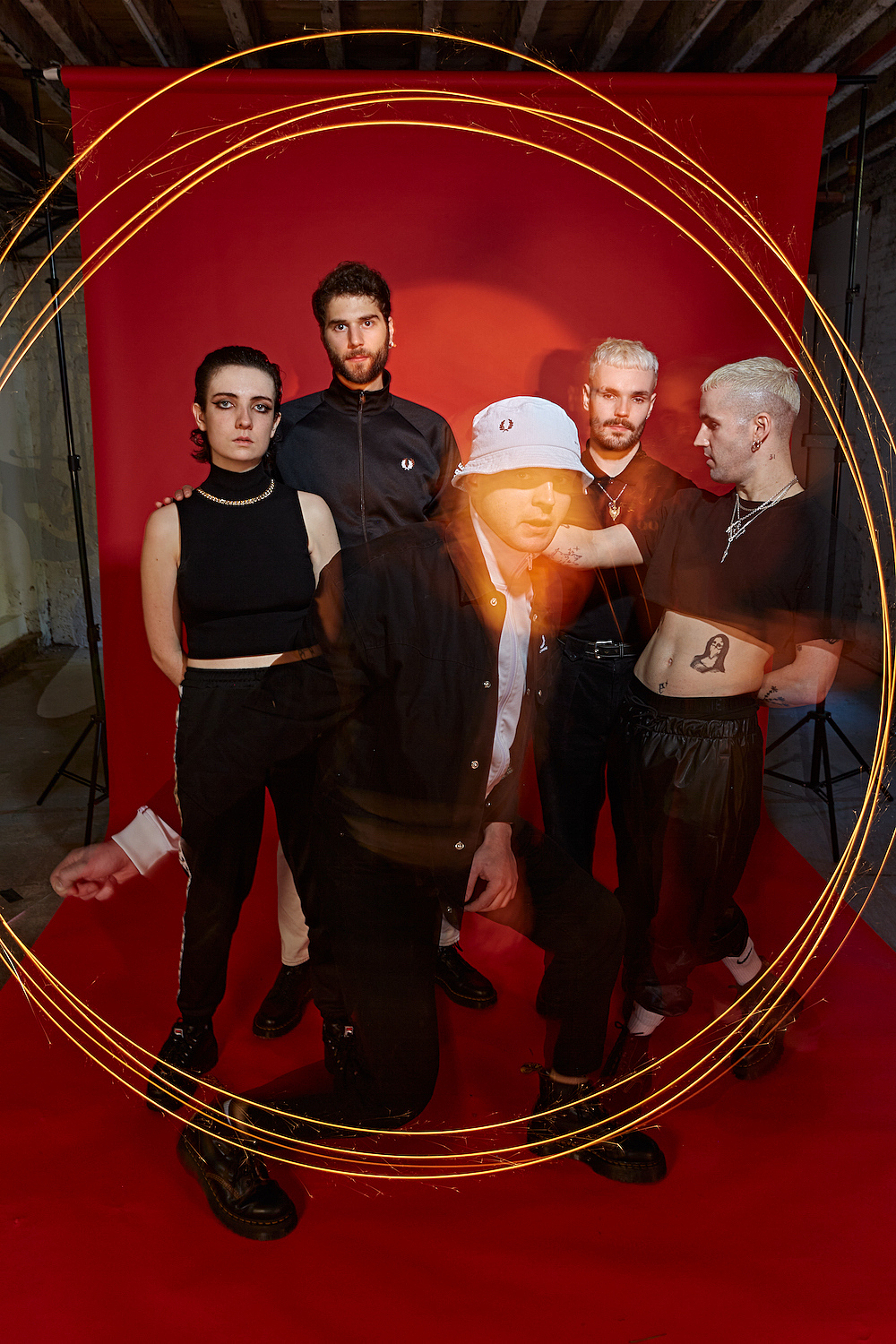 "Even the first photos of us, we were succinct then and we're succinct now."
— Hamish Hutcheson
Part of this desire can likely be attributed to a musical adolescence that spans wider than your traditional guitar band education. Head to VLURE's Glasgow club night Euphoria (named after this year's debut EP), and you'll find techno DJs rubbing shoulders with rappers and punk bands; truly eclectic in their tastes, they also attribute the fertile happy hardcore scene of their youths as contributing to the venn diagram of what they do now. "There's lots of darkness in a lot of the music we're inspired by but, in happy hardcore, there's no dark, it's just dance," Hamish enthuses as Conor picks up: "There's a punk ethos to it as well. A lot of those producers based in Glasgow at the time making those tunes were just doing it on their laptop. The directness is the same as picking up your first guitar, learning three chords and wanting to be Iggy Pop. It all comes from the same place."
However, though VLURE are undiscriminating and broad-reaching in their music tastes, there's a united front to their five members that present like a band in the truest sense of the term. Slick and aesthetically-minded, you can tell the quintet haven't been thrown together just by circumstance - they're a proper gang, invested in growing and nurturing this togetherness as much as possible. "Even the first photos of us, we were succinct then and we're succinct now," Hamish nods. "We have our own tweaks individually but that commonality has been there since the beginning. The five of us gravitated towards each other really quickly, and we took time to really get to know each other and learn each others' intricacies before we moved into doing live shows and started releasing anything so that when we did come forward, it really projected us as a whole."
And, since that first single, the results of this considered and fully-realised attitude have been tangible. Early next year, they'll build on a string of sold out headline shows by supporting masked art-pop disruptor Lynks at DIY's own Now & Next Tour, while their next release - January's 'Cut It' - finds the singer embodying a cult leader-like character, backed by their most fleshed-out music yet.
"We always want to ask the big questions. That's maybe where our brains meet and why we're friends in the first place - we're always asking questions and want to know more," Conor says of their upcoming material. "Every decision you make from the moment you get up - are you gonna have a coffee or a glass of water? Are you gonna make your bed or not? These tiny decisions shape your life in the smallest ways but they build up, and every day you decide how you're going to be. Whether you're going to be selfish or generous, good or bad," Hamish continues. "Trying to translate those battles in your head into lyrics is what interests me, especially when you try to embody the other version of what you could be."
Putting a sense of warm heart into sometimes cold sounds, VLURE are the best of both worlds: a band asking questions and writing their own rulebook of answers.

Read More