Class of 2023: Wesley Joseph
The multi-hyphenate singer-rapper-producer-filmmaker has already shown he has ideas and ambition to spare. Slowly piecing together a one-man creative empire, in 2023 the sky's the limit.
Wesley Joseph is delving straight into the imagery of his self-directed music video for latest single 'MONSOON'. "The image is of an angel with an AK47 aimed at her. It's [held by] the same person, but a version of her as the devil. She's staring it dead in the face, unflinchingly. That's just a metaphor in itself: in the face of phobia, you've made that decision."
The metaphor for the track's visuals, explains the Walsall-raised, London-based soloist, stands in contrast to its lyrics, which question one's purpose in life in "to the point" fashion. "One line is about my relationship with phobia and how I stare it in the face - how as a result of that I'm stronger," he says. "I have so many phobias but one is my fear of not reaching my own potential."
Indeed, the 26-year-old singer, rapper, songwriter, producer, filmmaker and artist has ambition writ large. Wesley takes a holistic approach to his work - from making his own beats and branching out to collaborate with the likes of A.K. Paul, The Invisible's Dave Okumu, and Leon Vynehall, to directing his music videos and teaser trailers. The former film student's art intersects naturally. "That's what I love about film and music. With the film work, it contains a lot of abstract and metaphor, with powerful scenes that people can interpret differently," he says. Wesley, however, prizes music above all. "Music is the most powerful engine that allows me to have a consistent sense of presence," he affirms.
'MONSOON' - a track that finds him hopping effortlessly between supple rapping and lacy falsetto - features on his forthcoming second project 'GLOW'. In summer 2021, meanwhile, Wesley released his debut project 'ULTRAMARINE' featuring 'Patience' - a collaboration with his childhood friend Jorja Smith, with whom he was also formerly in the West Midlands music collective OG Horse. Chatting today, the multi-hyphenate is already a couple of weeks into working on his debut album with help from some of those collaborators, following a recent feature on Loyle Carner's new album. He has a "hit list" of guests to secure for his own, but doesn't want to reveal the names for risk of jinxing.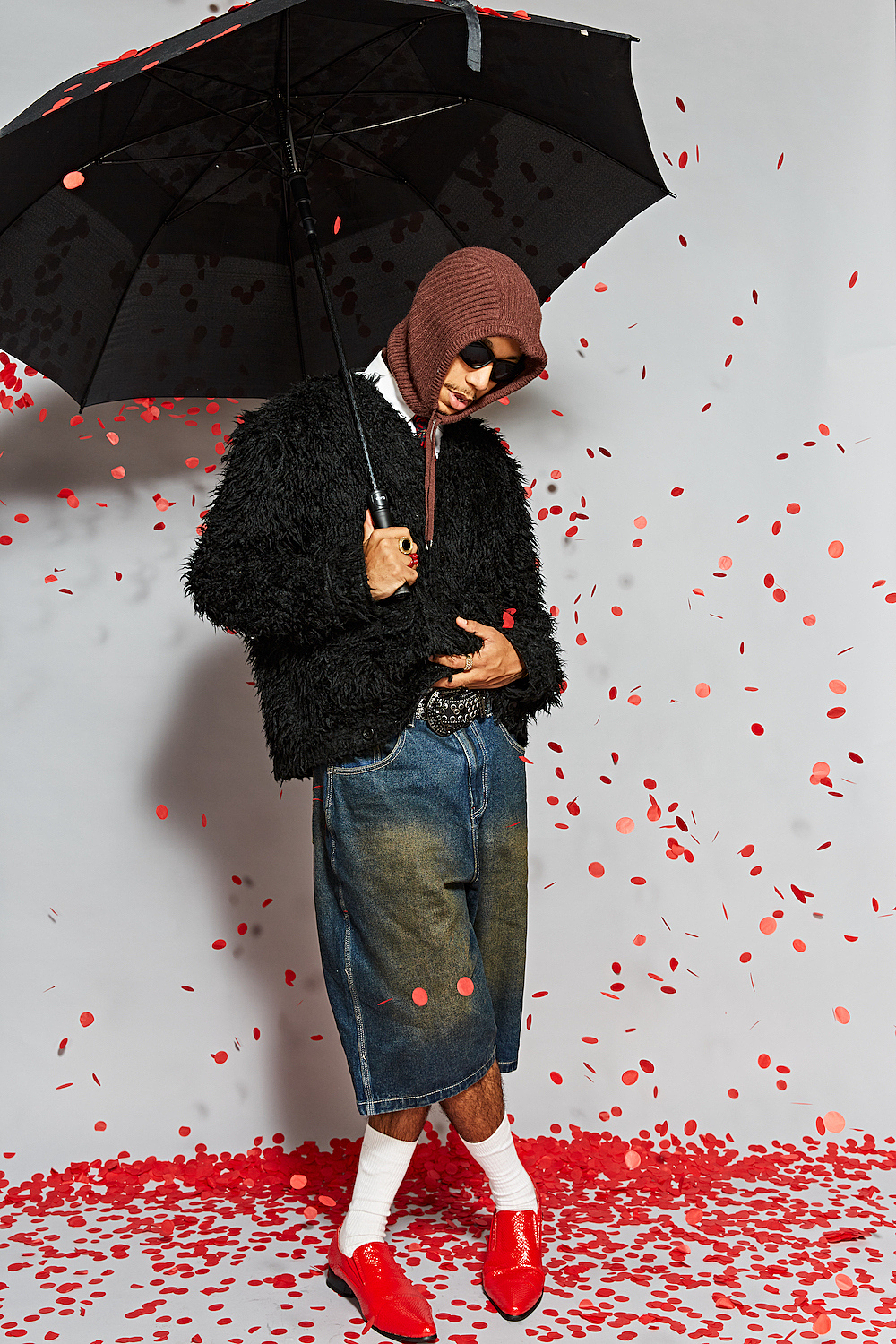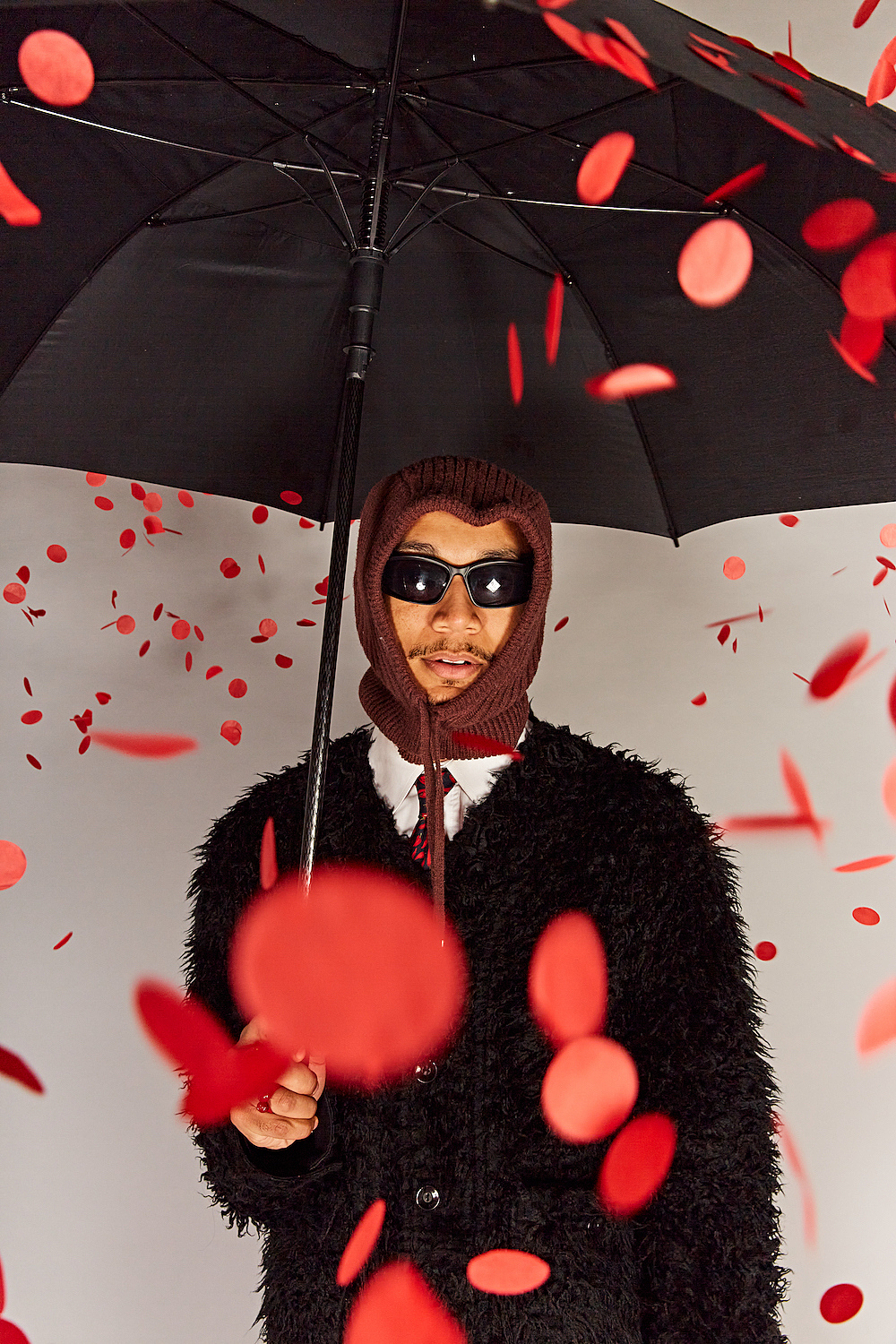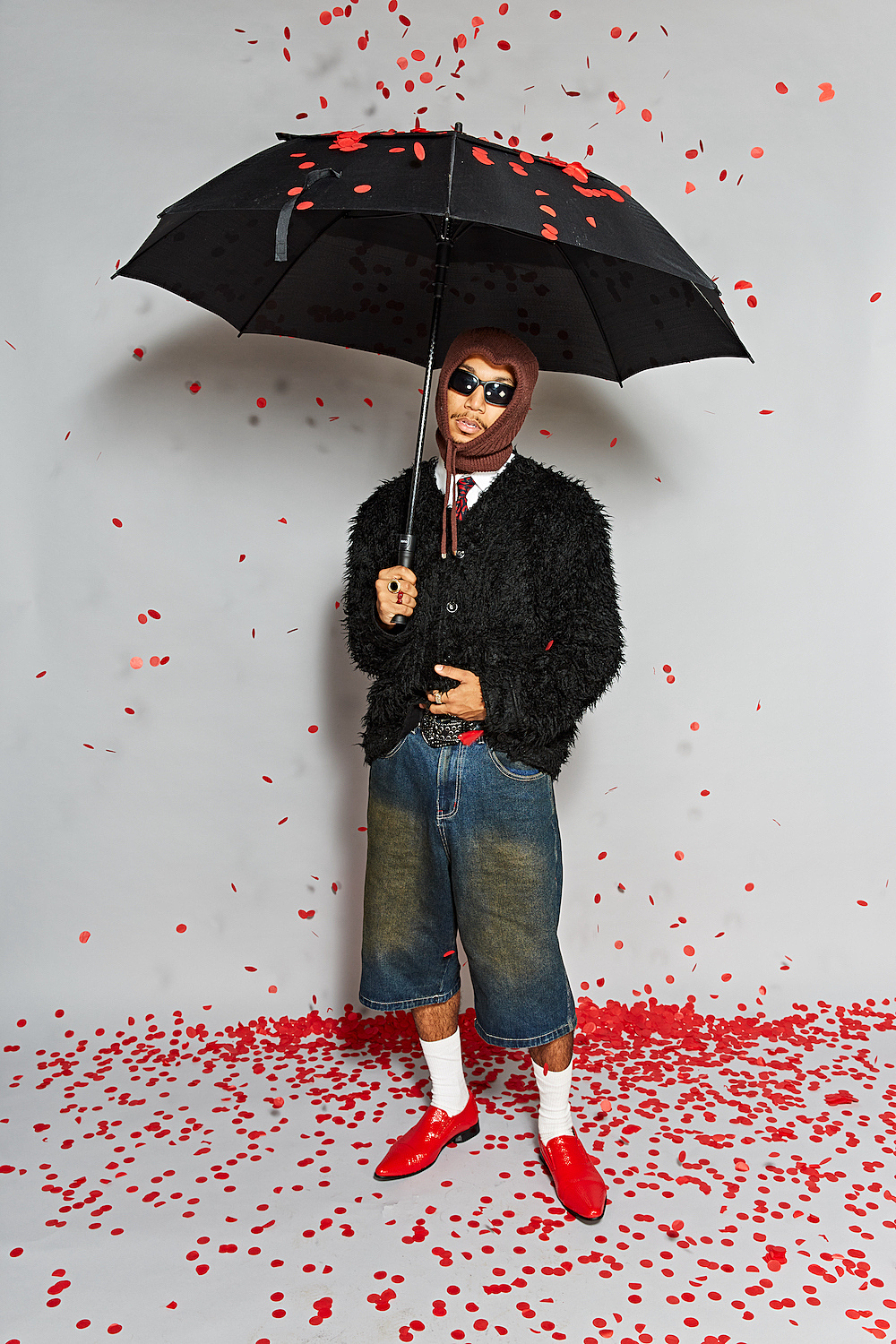 "I have so many phobias but one is my fear of not reaching my own potential."
If that sounds like a busy creative mind at work, then that's because it is. Wesley, who says he's an anxious person, can't help it; his brain is firing on all cylinders at all times. Although he didn't know it at the time of making 'GLOW' (arriving 17th February via Secretly Canadian and his own EVIL TWIN imprint), the artist now realises that it's been an antidote to his "phobia" about his career aspirations.
"Before I finished 'GLOW' it had a therapeutic, soul-enriching and liberating purpose for myself. It allowed me to grow personally," he explains. "By the end of it, I listened to it and realised it had a reassuring warmth to it. I hope it provides people a sense of security, growth and fulfilment in the same way. I guess it's like an introvert's blanket."
'GLOW' undoubtedly shows Wesley's development as a songwriter. He's more sonically curious than on 'ULTRAMARINE', deploying melancholic strings on project highlight 'Cold Summer' or twisting Auto-Tuned vocals to make a Middle Eastern-tinged flute sample on 'I Just Know Highs'. Lyrically, he at points plays more loosely with narrative - particularly on the Jekyll and Hyde voice play of that latter track. "I just know lows, and you just know highs / That's where I go blind," he sings with a rap lilt. Of the lyrics, he explains today that "it could be a relationship with yourself, or it could be relating to a relationship. I love that it can be taken either way; it's purposely an overarching metaphor for loads of things."
On another 'GLOW' cut - the rattling, eerie hip hop number 'Hiatus' - he raps about the "small town mentality" pertaining to his home town. After the welcome move to London in 2016 to study film ("I felt like a grown man in a child's bedroom, creatively and spiritually, in Walsall"), he completed the song that he'd started as a teen.
"I had a rough version of it when I was a depressed teenager in Walsall," he says. "I was working a retail job. I hated it and I was super anxious and really pessimistic. Everyone who I'd try to relate to at that time just kind of looked at me like I was some weird alien or didn't understand that I wanted more - [which is] not to say that people at home don't want more.
"I found myself at times speaking to people and it felt like the general consensus was that the childlike dreams you have aren't realistic, like, 'Why do you still think like that?' That's what the 'small town mentality' line was about," he continues. "Now, the song's more liberating and powerful because of where I'm at. The only consistent thread between the two [versions] is that I never stopped working; I never had a 'hiatus'. It's like the teenage superhero anthem I never had."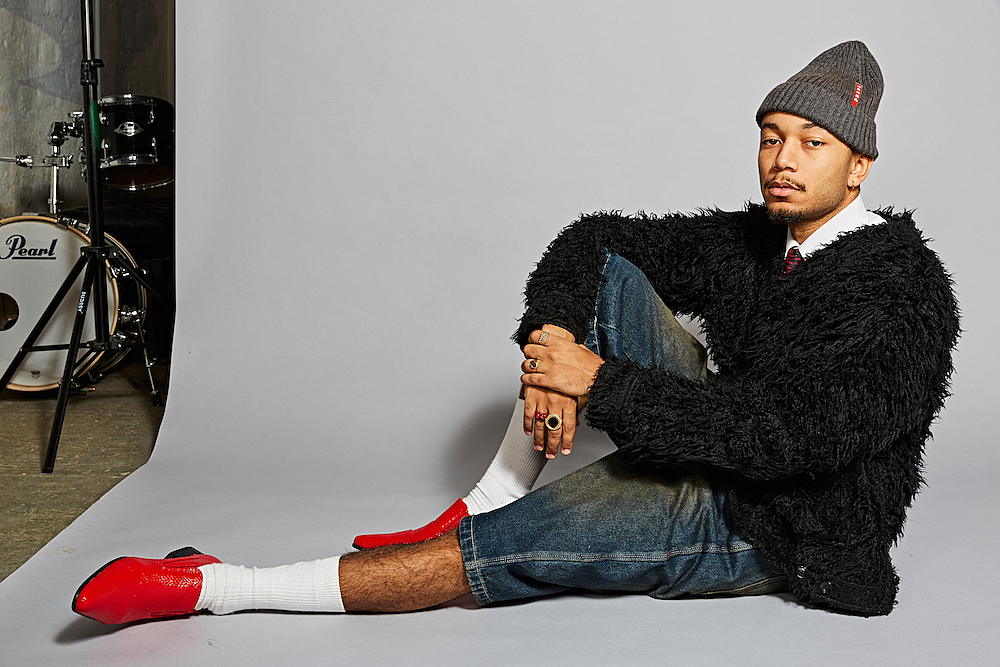 "As long as your brain's programmed to constantly be ready for that moment of inspiration, it always comes."
Wesley wrote 'GLOW' more collaboratively. It wasn't devoid of his usual solo bedroom songwriting, but it was a less isolated process than 'ULTRAMARINE' where he'd completely "mapped" out songs: something he says often felt stilted. For 'GLOW', instead, he decided to make whatever he felt in the moment the priority.
'ULTRAMARINE' first allowed him to "understand my artillery, my strengths, my own methodology" so that he was ready to take things up a gear, he explains. "That's why you could say the quality of music technically and musically [on 'GLOW'] is better, because there's a confidence there and there's a spontaneity." He's managed to utilise that spontaneity, ironically, by being eminently prepared.
"In order for the most seamless sense of magic to happen in the spontaneous moments, I prepare for them," he elaborates. "So, for example, I might have spent days prior [to the session] making a vocal preset that sounds like a flute. I do that [preparation] constantly. I recycle and make samples, sounds and presets; I make vocal settings; I draw ideas; I write things down; I screenshot things; I assemble things. I make roughly 10 voice notes a day. If I wake up from a dream and there's a song playing in it, I make the noise into my phone. It's a consistent stream of ideas."
That's why, whenever he's asked about who or what influences him, the answer eludes him - even if in the past he's counted Frank Ocean and Kendrick Lamar among his musical mainstays. "I honestly can't think of any singular names," he says. "I might just skip through a book, or maybe I watch a scene [in a film] I've liked, but just the colour of it sticks. Then I'll keep that in mind for the colouring of another scene [in his videos]."
Wesley challenges himself to keep his art as fresh as possible - something that must be intrinsically difficult to maintain. He takes a pause from his lunch and stares at the ceiling like a contemplative philosopher at the idea. "The truth is, you can either chase the dragon and you never catch it because you're relentlessly trying to chase it. Or you can wait for the bird to sit in your hand and plant seeds and you just wait," he says.
"For me, I just need to be completely immersed in life itself: having conversations with people, reading, seeing things, taking it all in. Literally, there's no limit to life itself. And as long as your brain's programmed to constantly be ready for that moment of inspiration, it always comes. If you can harness that feeling, that's literally the cheat code."
As with 'GLOW', Wesley Joseph is willing to let his creativity spark for his debut album without too much overthinking - even if his mind barely switches off. In the future he has ambitions to write a score, make a feature-length film, make a series, venture into the art world and design clothes. As he affirms: "There's no limit whatsoever."

Read More