Listen
Måneskin team up with Rage Against The Machine's Tom Morello for new single 'Gossip'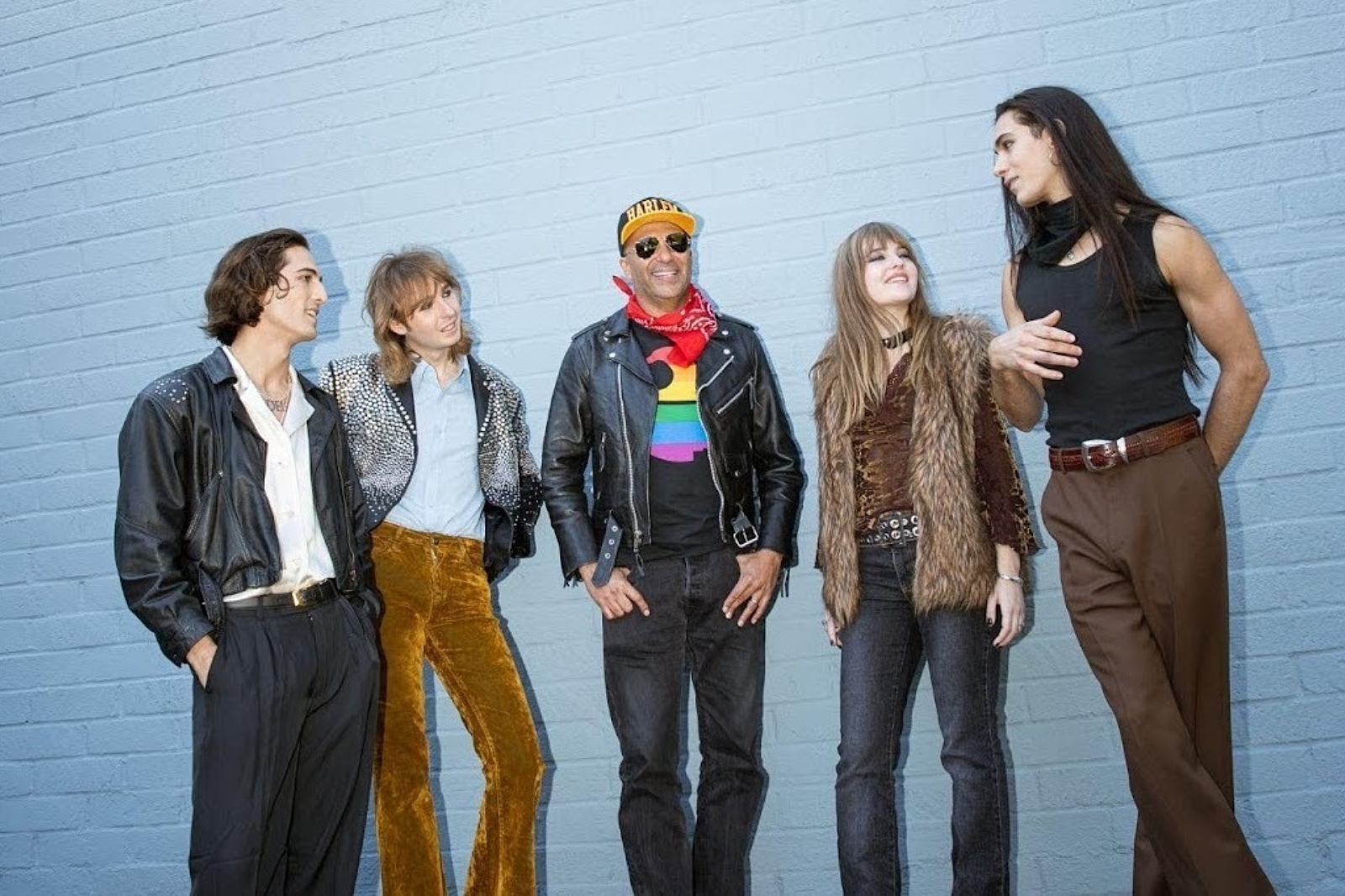 Photo: Fabio Germinario
Måneskin are releasing their new album 'Rush!' later this month.
Ahead of the release of their new album 'Rush!' on 20th January, Måneskin have teamed up with Rage Against The Machine's Tom Morello for new single 'Gossip'.
"Tom Morello's enormous experience allowed us to take cues on how to work on tracks without overthinking," Damiano David says. "We can't thank him enough for joining us on this track. It's an honour for the whole band!"
"Tom is one of the greatest musicians that I've always listened to and learned from," Thomas Raggi adds. "Playing with him is a dream come true. It's an enormous gift and a personal highlight of this incredible year."
"The song originated from a riff which Thomas had written some time ago and which we had been holding onto for a long time which we kept developing," Vic De Angelis continues. "Then the icon Tom Morello joined and brought something extra to the classic uptempo Måneskin cheerfulness."
"He brought some Rage to Måneskin!" Ethan Torchio says.
"When I heard that there was a rock and roll band from Italy that was blowing up around the world I was like 'Really? Come on'," Tom recalls. "Then when I saw them play live I was blown away. They are unapologetically loud, unapologetically sexy, and unapologetically ROCKING and deserve to be one of the standard bearers for rock and roll for a younger generation. I got to jam with them at their studio in Hollywood, it's a great band, they all play great, they write great songs, they connect with their audience in a deep and meaningful way, and if you've seen them play live the crowd goes OFF! It looks a lot like some of the big bands of the '90s."
Have a listen to 'Gossip' below.
'Rush!' Tracklisting:
1 Own My Mind
2 Gossip Feat. Tom Morello
3 Timezone
4 Bla Bla Bla
5 Baby Said
6 Gasoline
7 Fee
8 Don't Wanna Sleep
9 Kool Kids
10 If Not For You
11 Read Your Diary
12 Mark Chapman
13 La Fine
14 Il Dono Della Vita
15 Mammamia
16 Supermodel
17 The Loneliest
See Måneskin live at the follow dates:
FEBRUARY
23 - Pesaro, Italy - Vitrifrigo Arena SOLD OUT
25 - Turin, Italy - Pala Alpitour SOLD OUT
27 - Amsterdam, Netherlands - Ziggo Dome (previously at: AFAS LIVE) SOLD OUT
MARCH
02 - Brussels, Belgium - Forest National SOLD OUT
03 - Brussels, Belgium - Forest National SOLD OUT
06 - Berlin, Germany - Mercedes Benz Arena SOLD OUT
10 - Cologne, Germany - Lanxess Arena SOLD OUT
13 - Paris, France - Accor Arena (previously at: Zenith) SOLD OUT
16 - Bologna, Italy - Unipol Arena SOLD OUT
17 - Bologna, Italy - Unipol Arena SOLD OUT
20 - Florence, Italy - Nelson Mandela Forum SOLD OUT
21 - Florence, Italy - Nelson Mandela Forum SOLD OUT
24 - Rome, Italy - Palazzo dello Sport SOLD OUT
25 - Rome, Italy - Palazzo dello Sport SOLD OUT
28 - Naples, Italy - Palapartenope SOLD OUT
29 - Naples, Italy - Palapartenope SOLD OUT
31 - Bari, Italy - Palaflorio SOLD OUT
APRIL
03 - Milan, Italy - Mediolanum Forum SOLD OUT
04 - Milan, Italy - Mediolanum Forum SOLD OUT
06 - Milan, Italy - Mediolanum Forum SOLD OUT
11 - Barcelona, ​​Spain - Palau Saint Jordi SOLD OUT
26 - Zurigo, Svizzera - Hallenstadion (previously at: Halle 622) SOLD OUT
28 - Vienna, Austria - Wiener Stadthalle SOLD OUT
30 - Esch-sur-Alzette, Luxembourg - Rockhal SOLD OUT
MAY
02 - Copenhagen, Denmark - The Royal Arena
05 - Milan, Italy - Mediolanum Forum SOLD OUT
08 - London, UK - The O2 Arena (previously at: O2 Academy Brixton) SOLD OUT
12 - Warsaw, Poland - Torwar Hall SOLD OUT
14 - Prague, Czech Republic - O2 Arena (previously at: Malá Sportovní Hala)
16 - Budapest, Hungary - Budapest Arena (previously at: Barba Negra)
18 - Riga, Latvia - Arena Riga
19 - Tallinn, Estonia - Saku Suurhall SOLD OUT
Read More