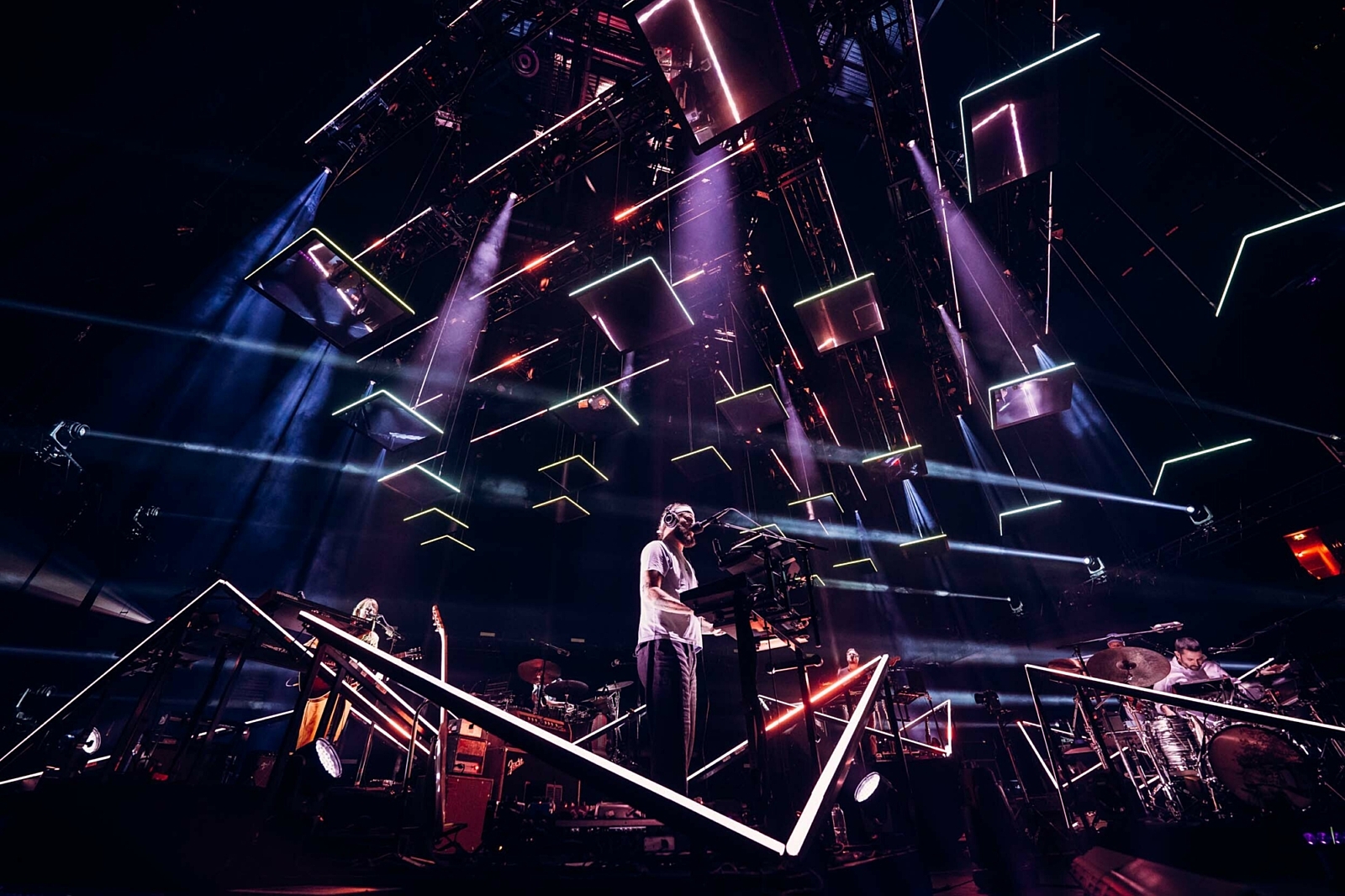 Photo: Matt Eachus
Live Review
Bon Iver, AO Arena, Manchester
24th October 2022
What arguably shouldn't work in a live setting instead thrives in it, washing across mesmerised fans in masterful waves.
It's been well over three years since Justin Vernon's Bon Iver last played a UK show, and one more since he last appeared on an indoor stage. His most recent, a headline appearance at London's All Points East festival in 2019, concluded with the understated unveiling of then new tracks 'Hey, Ma' and 'Man (U Like)', both played out of the speakers as the band left the stage and the crowd filtered out of Victoria Park. It marked a subtle shift in sound away from the considered electronics of 2016's '22, A Million' and back to a softer, more insular tone. It also ramped up the scale of instrumentation, adding a beautiful grandeur to the album's crescendos, many of which dominate his first Manchester performance in some time.

Delayed for the usual reasons, the show arrives with whole new experiences under Justin's belt. His collaborations with pop powerhouse Taylor Swift have pushed him further into the mainstream, and he's already been steadily releasing new material leading to a live unveiling of the saxophone-fuelled new track 'Speyside'. He's reembracing his more traditional songwriting, yet adding his distinctive orchestration, the quality of which remains firmly on show in early material such as 'Flume', 'Blood Bank' and breakthrough 'Skinny Love'.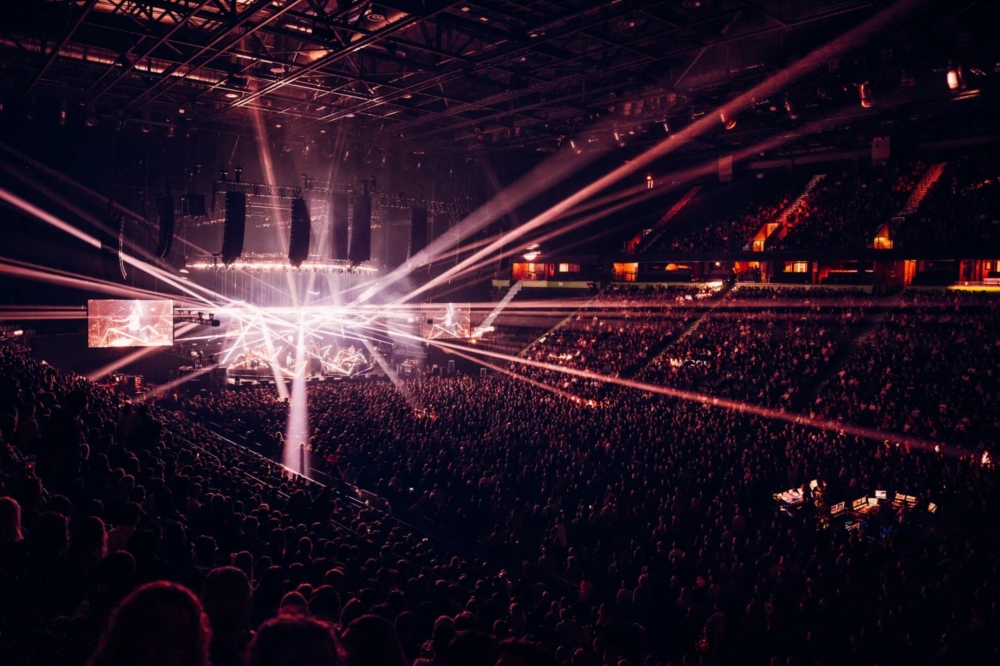 Justin is draped in dramatic lighting that matches the mood of each track and surrounded by an array of musicians with an even larger array of instruments. He himself stands under the spotlight, calm and collected and donning sweatpants. It places two of Bon Iver's characteristics centre stage; the sheer scale of their music paired with its relaxed intimacy. It's mirrored in tonight's venue, a sprawling dark space affixed in pin-drop silence.
Bon Iver glide through a curated snapshot of their decade-plus career, largely giving equal weighting to each record and the occasional rarity between. Arguably beyond 'Skinny Love', the setlist is free to twist and turn, devoid of staple fan favourites or hit singles. With that, it lands somewhere between a gig and an orchestral experience, nodding to everything from the expansive prog heyday of Led Zeppelin's calmer moments to jazz aficionados. Justin's understanding of music and sound effortlessly bleeds into the live performance, borrowing from and elevating countless more musical styles.
It's all punctuated by his outfit's uniqueness, be it the subtle drone of '22 (OVER S∞∞N)' or the distorted build of 'iMi'. What arguably shouldn't work in a live setting instead thrives in it, washing across mesmerised fans in masterful waves. It marks a welcome return to the UK stage and one that presents Bon Iver at their best, delicate and rousing all at once.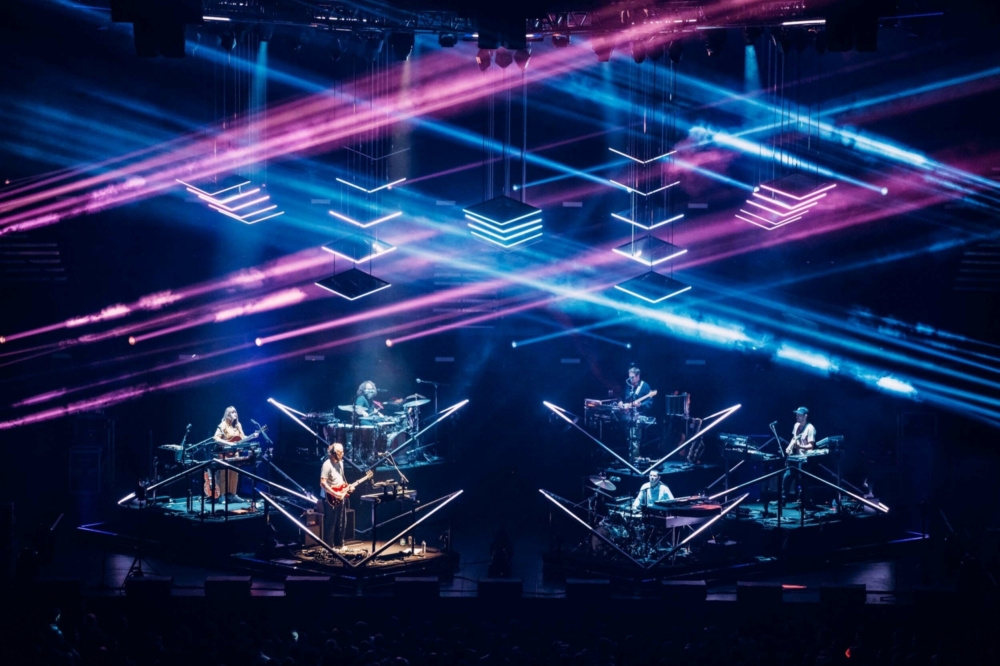 Photos: Matt Eachus.

Get your copy of the latest issue
Read More