Photo: Courtesy of BIGHIT MUSIC
Live Review
BTS bring celebration and sincerity to jubilant LA stadium return
28th November 2021
The world-conquering superstars' second of four sold-out LA shows offers a utopia of euphoria as the band look ahead to brighter days.
Winter might have brought a chill to the Californian night outside, but inside LA's SoFi Stadium, BTS leader RM is comparing things to a season more closely associated with new life. "Finally, the spring has come to us," the rapper tells the crowd as the Korean band trundle back onstage on a giant bed.
It's fitting that his comments come as the first notes of the contemplative 'Life Goes On' ring around the stadium. The track, which featured on last year's 'BE' album, described the inevitable emergence from the pandemic's winter ("Like an echo in the forest / The day will come back around / As if nothing happened") and, although outside fears about the Omicron variant might put pause on that return to normality, within the stadium walls, a euphoric reunion is being made the most of, just in case.
Tonight (November 28) is the second of four sold-out shows BTS will hold at the venue - their first in-person concerts since October 2019. At last, they're a chance for the seven-piece group to perform material from their last two years for a live audience for the first time and an opportunity to revisit old favourites after a long time away. "Now the song everyone wants to see," singer Jimin says cheekily before 'Fake Love', famed for its choreography that sees Jungkook flashing his abs.
Despite being familiar, the old songs feel like breaths of fresh air, thanks to inventive presentations and - sometimes - remixes giving them new twists. During the vibrant 'DNA', the stage-wide big screen displays barcodes specific to each member as the camera focuses on them, while the already giddily fun pop of 'Boy With Luv' becomes a technicolour bolt of pure jubilation with the addition of a live band.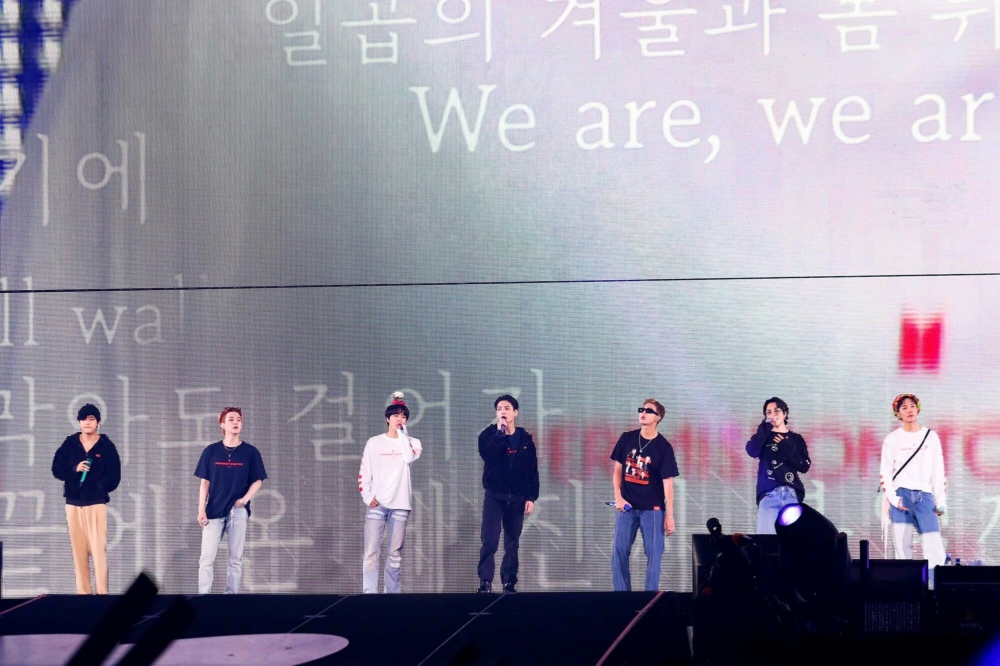 The group's post-2019 material refuses to be overshadowed though. 'Blue And Grey' and 'Black Swan', in particular, form a stunning highlight of the show. On the former, V and Jungkook sound astonishing, their voices rich with goosebump-inducing emotion. BTS face their own reflections in seven individual mirrors as they sing sombre lines like "I just wanna be happier".

As they turn and walk away down the runway to the b-stage, their reflections remain frozen. It's as if they're breaking free from those frustrated and tormented incarnations of themselves and trying to find better times. What follows is a show-stopping segue into 'Black Swan', dancers with white feather sleeves getting into formation to become each band member's wings. If it felt like it had been lifted from a modern dance piece during BTS' recent 'Permission To Dance On Stage' online concert, then in person it feels even more exquisite.

Many of these newer songs were written with the intention of trying to give the world some happiness during a dark, uncertain time and what were once comforts to cling to now become anthems of celebration. 'Dynamite', with added brass section, reaches new heights of ecstasy even when that didn't seem possible. 'Butter''s pop perfection, meanwhile, gets a polish from a special guest, with Megan Thee Stallion emerging from under the big screen to deliver her verse from the record-breaking track's remix.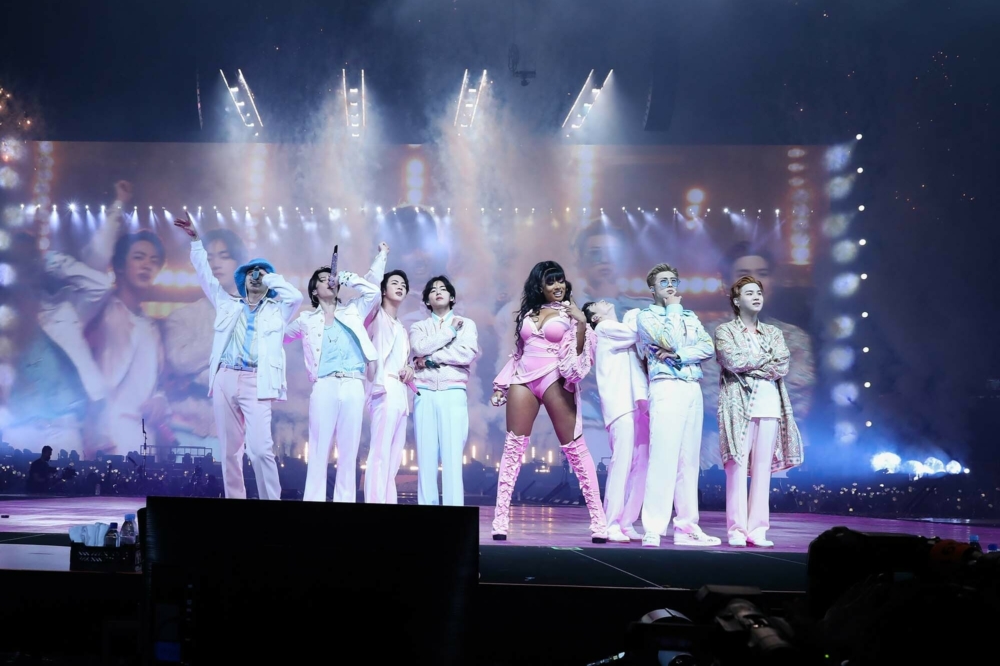 Later, after snippets of a flawless 'Airplane Pt. 2' and a thrust-filled 'Baepsae', the screen is filled with images of ECG monitors set against a hospital background. 'Dis-ease''s bubbly hip-hop sonics soundtrack the visuals as the group contemplate their different maladies. "Is the world sick or am I sick?" rapper Suga ponders on his verse, delivered with blistering energy. As the retro-funk bounce of 'Telepathy' replaces it, the band split up on either side of the stage, climb aboard big orange carts and go for a gentle ride around the edge of the stadium's floor section. When they return to their central platform, they lift the mood even higher with 'Stay''s EDM rhapsody and an explosive 'So What'.
There are three moments in tonight's show that perhaps best illustrate our re-emergence from a long, dark winter into something brighter and happier. First, when 'Save ME' becomes a jungle re-working of 'I'm Fine', the band's pleas for rescue dissipating as they begin to see the "sun shine, shine shine". The second instance comes in the encore when 'Spring Day', one of the jewels in BTS' bedazzled crown, highlights the longing for this moment everyone in the stadium has felt over the last two years. "Maybe cherries are blossoming / And winter is going to be over," Jimin and J-hope suggest optimistically.

Finally, the group's ending speeches both highlight the meaning behind tonight's show and make it feel like we've never been apart. Jin revives his tradition of making the stadium roar with laughter, tonight fixing his hair in pigtails with red bows and pretending to be the giant robot doll from Squid Game as his bandmates recreate her sing-song catchphrase. On the other end of the spectrum, J-hope offers a heartfelt assessment. "I think this concert is going to be a big part of my own history, my life story, my memory," he says. "After two years being away in the pandemic and then here, coming to LA, SoFi Stadium, seeing all of you ARMY – this is also going to be really meaningful to me."

As the cavernous venue unites for the final song of the night, the impossibly infectious 'Permission To Dance', it's clear that the feeling is mutual for everyone present tonight. BTS have consistently said they just want to make people happy with their music and, as the world tentatively tries to return to normality, their presence on stage continues to make that mission a beautiful reality.

Read More