Festivals Geese, BLACKSTARKIDS, Nova Twins and the best of SXSW 2022
Get acquainted with the names setting this year's edition of the Austin event ablaze.
Returning for its first year back on the streets of Austin after two quiet ones away, it's comforting to know that the annual madness of SXSW is still just as packed with bustling bands vying for victory in a post-lockdown world. Like a sort of amiable Hunger Games for new artists, the week is an endurance test where only the most dazzling can win the buzzy crown. And while, of course, those playing DIY's own showcases - Monday at the British Music Embassy with the twerking joy of Moonchild Sannelly and the country stylings of CMAT, via Wednesday's Augustine show featuring star turns from Yard Act, Self Esteem and more - had our hearts, there were plenty of other contenders throughout the week nipping at their heels.
Turning the bright afternoon sunshine of the outdoor Pershing stage into a slice of effortless Brooklyn cool, Geese might look like they've bunked school to be here but their twisting indie-art-rock-funk-whatever hybrid belies their minimal years. At some points they recall the tongue-in-cheek eyebrow raise of Foxygen; two minutes later, singer Cameron Winter is a young Julian Casablancas incarnate (the real JC, meanwhile, is spotted watching Yard Act later in the week). There's funky falsetto on 'Low Era' and, across Geese's set, a breadth of ideas that's bursting at the seams.
Another bunch of New Yorkers are on equally bruising form as Sunflower Bean head out for a blitz through the wares of forthcoming third album 'Headful of Sugar'. Singer Julia Cumming tells the crowd that her first SXSW was at the tender age of 13 and you can tell she's a seasoned pro; determined to incite a pit even in the blaring heat, halfway through the band switch up their set to prioritise only moshers. Cue the riffs of blistering new track 'Beat The Odds', plus the glam stomp of 'Who Put You Up To This?'. There's even a run through of psych wig out 'Somebody Call A Doctor' from the band's debut 2015 EP thrown in for good measure.
Over at Seven Grand, Chicago trio Horsegirl are proving one of the year's most frequently whispered names. Conjuring up a shoegaze wall of fuzzy guitars on the likes of recent single 'Anti-glory' and last year's Billy', it's in the juxtaposition between co-vocalists Penelope Lowenstein and Nora Cheng that their particular alchemy starts to fizz. The former a glowering, intense, ridiculously cool presence; the latter a sweeter, more unassuming foil, you can practically hear Michael Cera scrabbling to make an indie buddy movie about them already.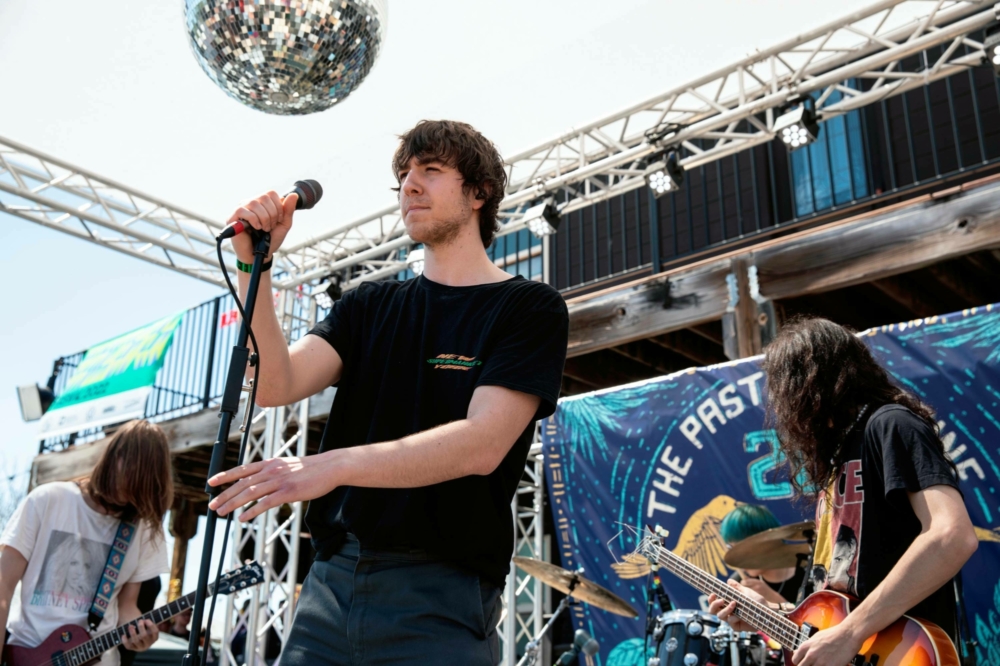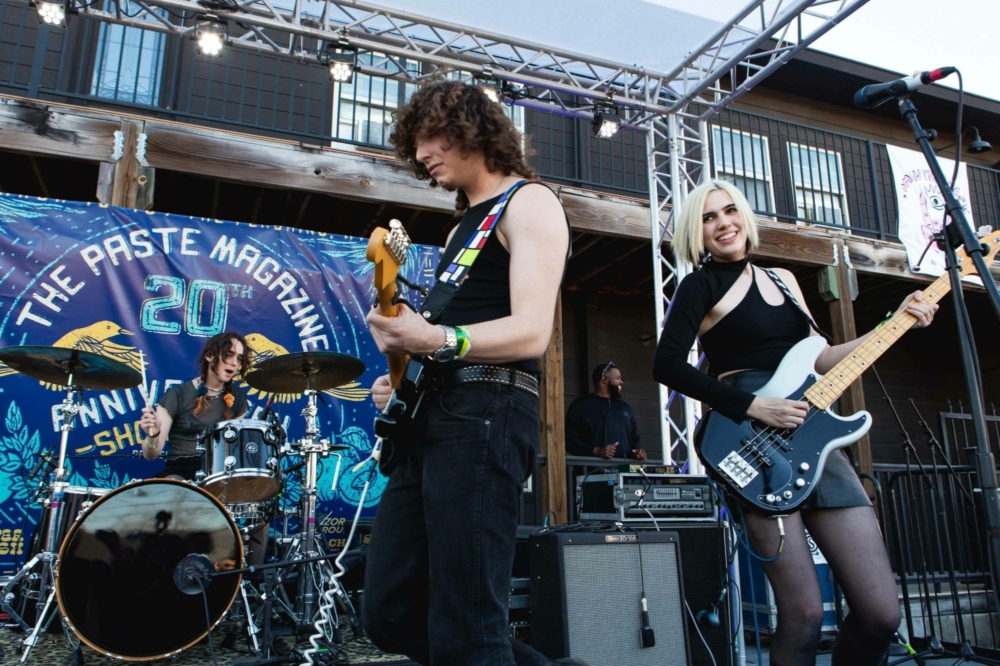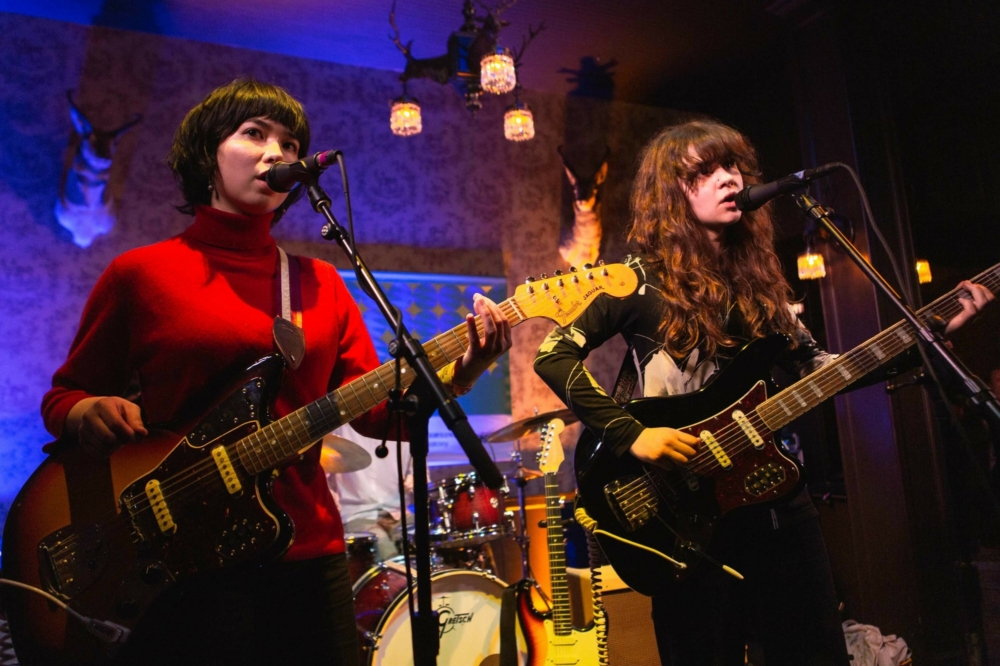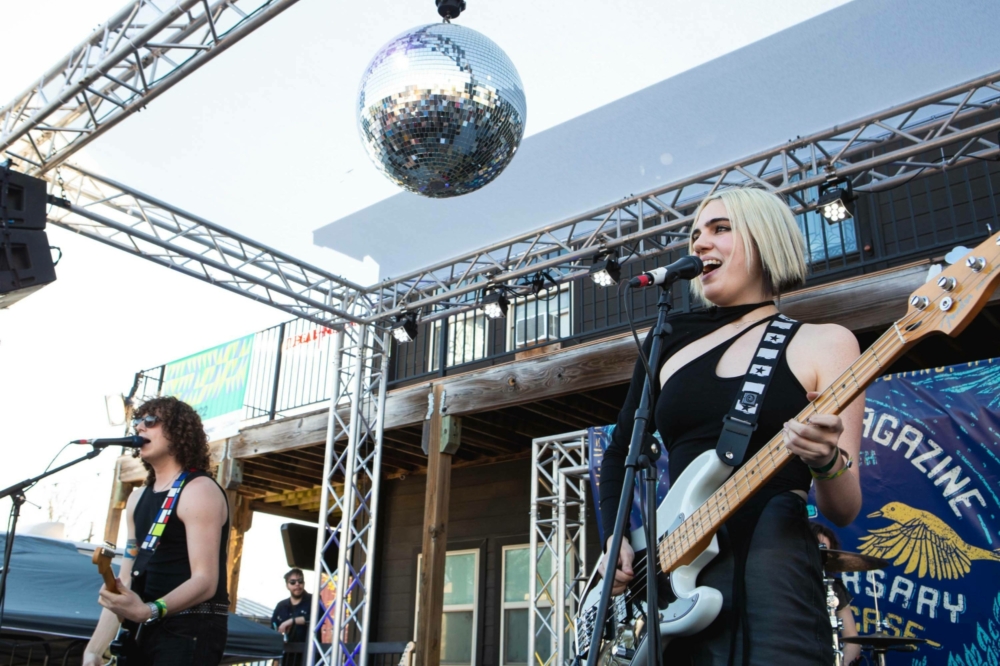 Back at Seven Grand, Hull's Low Hummer draw a more than respectable crowd, the dual vocals of finale 'The People, This Place' juxtaposing icy cool and wordy frenzy, while gothy new wavers Glove take a little while to warm up but, by the end, come good on the promise of their Depeche Mode-indebted icy beats. Squint and you could be looking at a time-travelling group comprised of a young Billie Joe Armstrong, Thora Birch, Alice Glass and Faris Badwan, but there are tunes beneath the aesthetic too: slick, sexy things that'll seduce you down to the disco dungeon.

Already riding a wave following last year's debut 'Death of a Cheerleader', Pom Pom Squad should have a sizeable team hyping them on in no time. Taking the sort of American grunge-pop bones that should endear her to fans of Snail Mail, Soccer Mommy and the like, but injecting them with the energy of a magnetic pop star, singer Mia Berrin, meanwhile, already feels like someone destined for more than the underground.
Similarly prepped for greatness are Nova Twins, whose bouncy, electronic rock - cues taken as equally from punk, metal and dubstep - has a sweltering British Music Embassy jumping in tandem with Amy Love and Georgia South's 100mph energy on stage.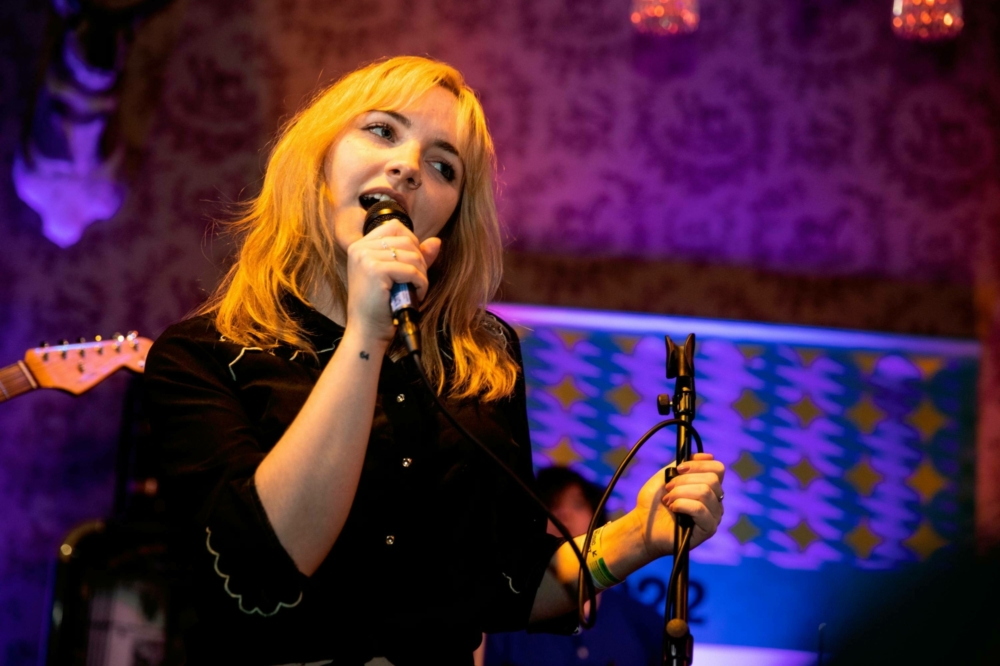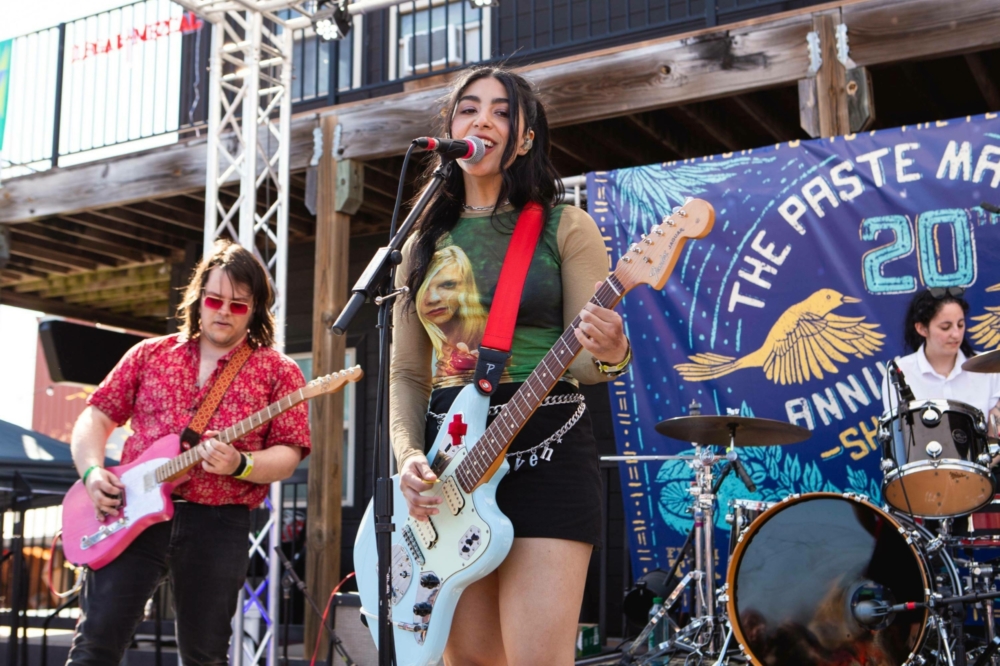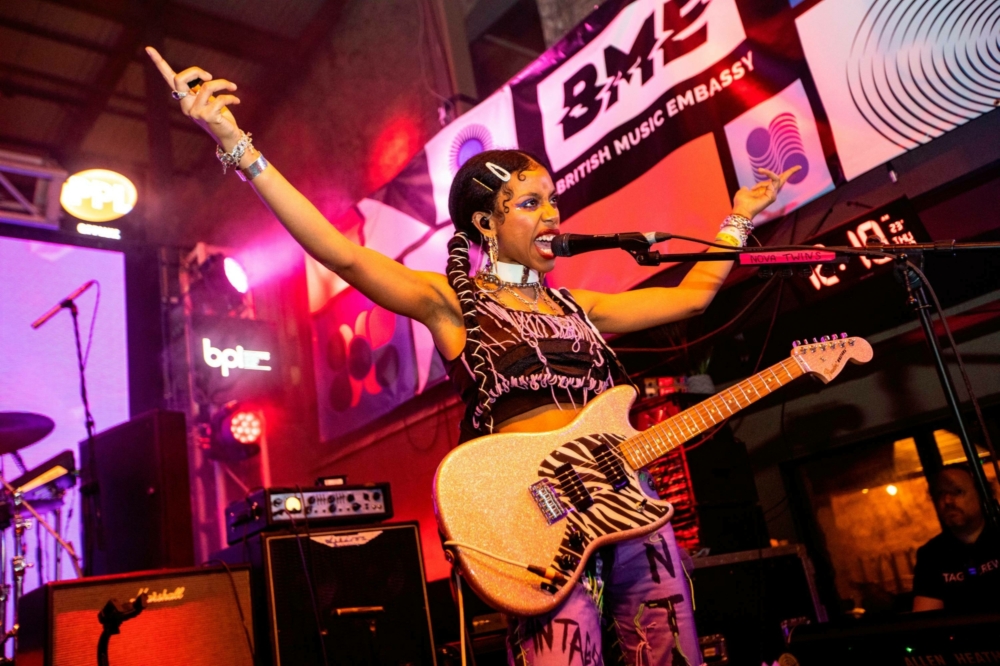 Tacoma, Washington's Enumclaw make the sort of hardcore-indebted rock that's perhaps less suited to an environment where standout songs and memorable hooks are key, but band of the moment (and DIY's current cover stars) Wet Leg have no problem where that's concerned. If there was any question as to the buzz translating overseas then the endless queue of people left straining at the entrance to every one of their shows this week should allay those fears. There's tangible magic to their sets - a perfect mix of wide-eyed wonder, cheeky lyrical piss-taking, classic indie melodies up to their eyeballs and that indefinable je ne sais quoi. Every time singer Rhian Teasdale sweetly instructs her adversary to "suck my dick" in 'Ur Mum', a fairy gets its wings.
Technical difficulties have the stage Claud is playing running over an hour late, but nothing proves lost as Nashville-via-New York songwriter Annie DiRusso proves a more than adequate time-filler. With her band dressed in identical dresses, her set of emotional indie-rock with a country tinge - Annie's vocal is uncannily similar to Jenny Lewis, making the whole thing akin to a punkier Rilo Kiley - has an excitable fanbase here yelling back every syllable. Fans of the boygenius trio, Courtney Barnett or Alex Lahey would likely find much to love. A lengthy changeover delays Claud's set further still, so by the time the Chicago songwriter and band finally take to the stage, things do start a little subdued - but for the fans who've stuck around, once the trio warm up, their charming indie-rock proves worth the wait.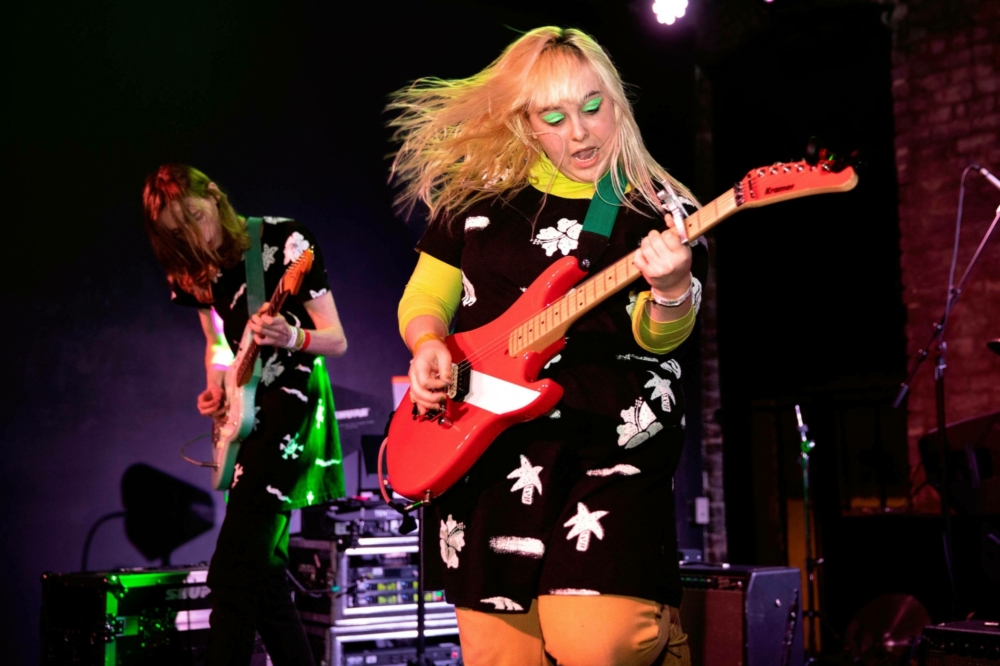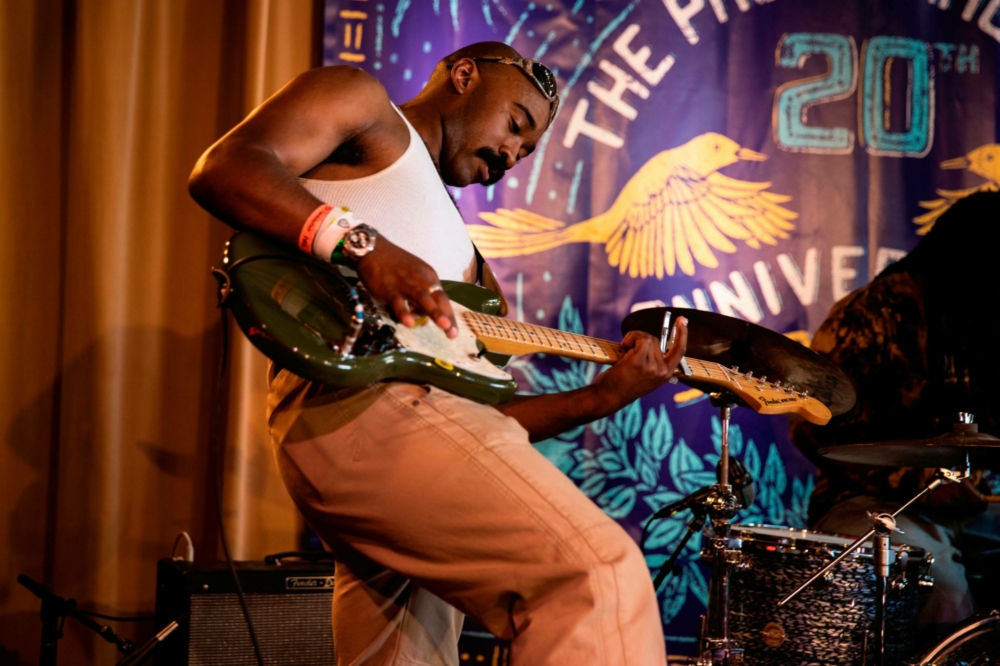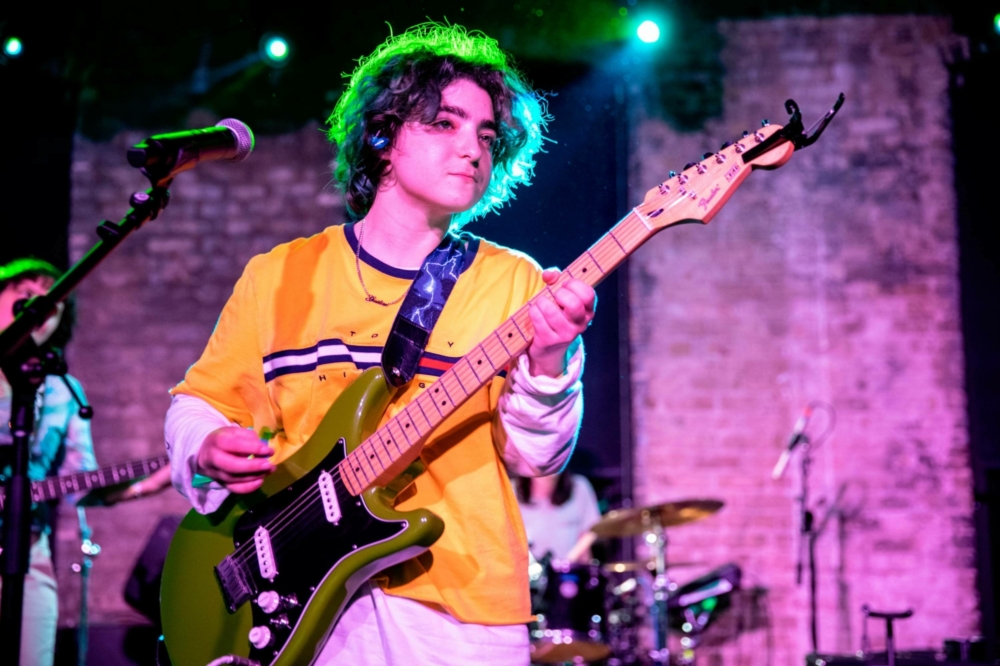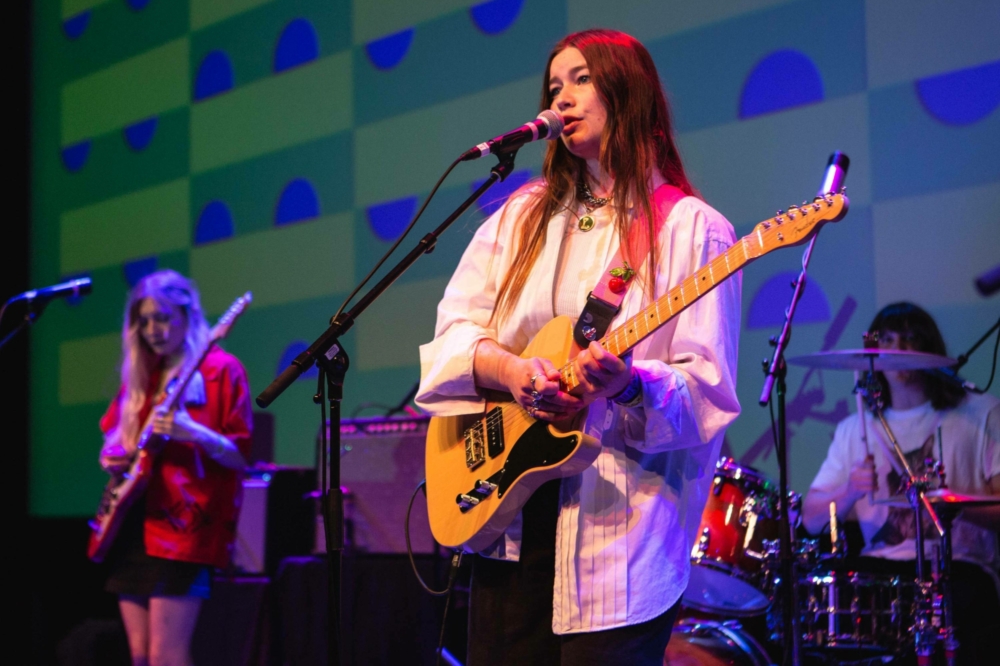 LA's Sasami is having something of a second wind at the moment, and it's clear to see why: having flipped her previous grunge set for a sort of goth Goldilocks and the Three Bears scenario - her band all dressed in enormous fluffy animal outfits as Sasami herself contorts and wild-eyes the crowd - there's a whole lot more to see, second album around. Musically, she spends the heavier, metal-tinged wares of 'Squeeze' extolling speeches on heaven and hell; it's part Poppy, part St Vincent, a smidge of Nirvana and fully bonkers.
And if the party has to end, then we'd rather have a final hurrah with BLACKSTARKIDS than most others. A three-person ball of energy, bounding around the stage to the sort of nostalgia-soaked jams that recall Bran Van 3000's iconic 'Drinking in LA' at their more chill moments and Estelle's 'American Boy' at others, they're a wholesomely magnetic way to see out the week, and an easy highlight.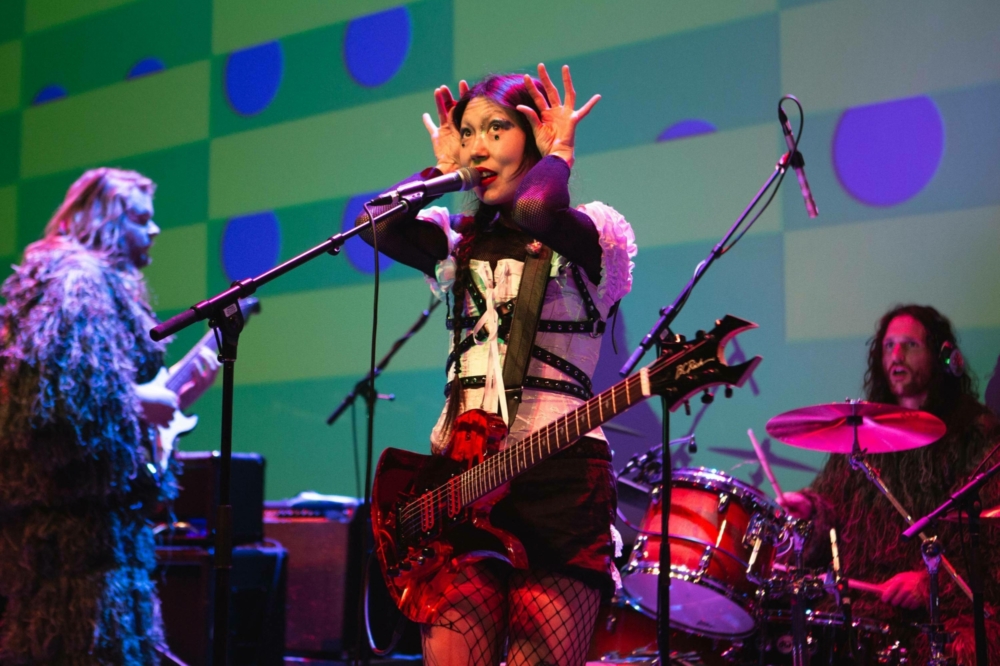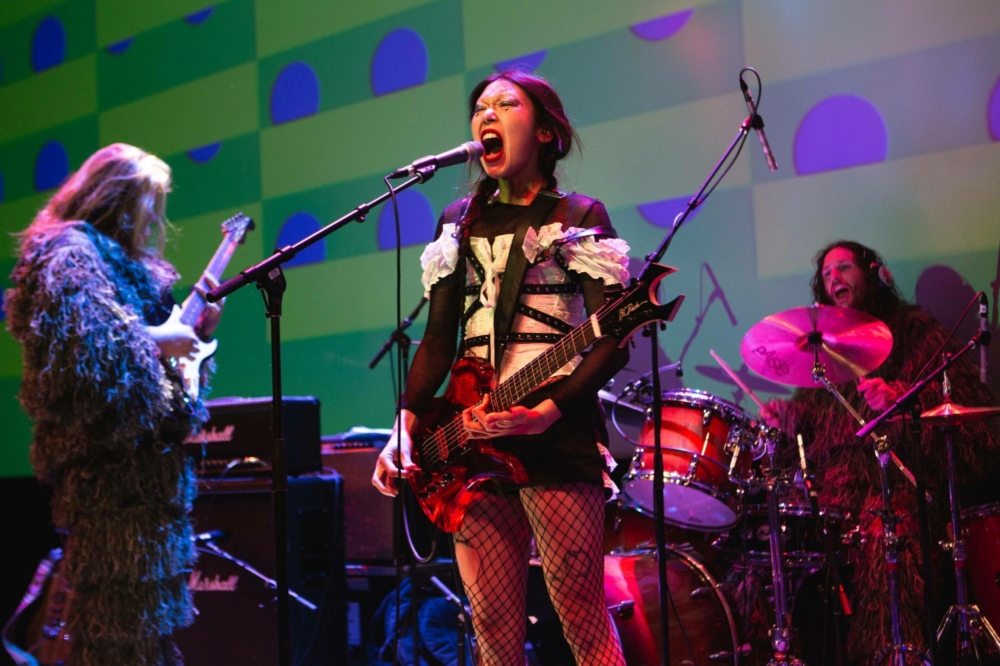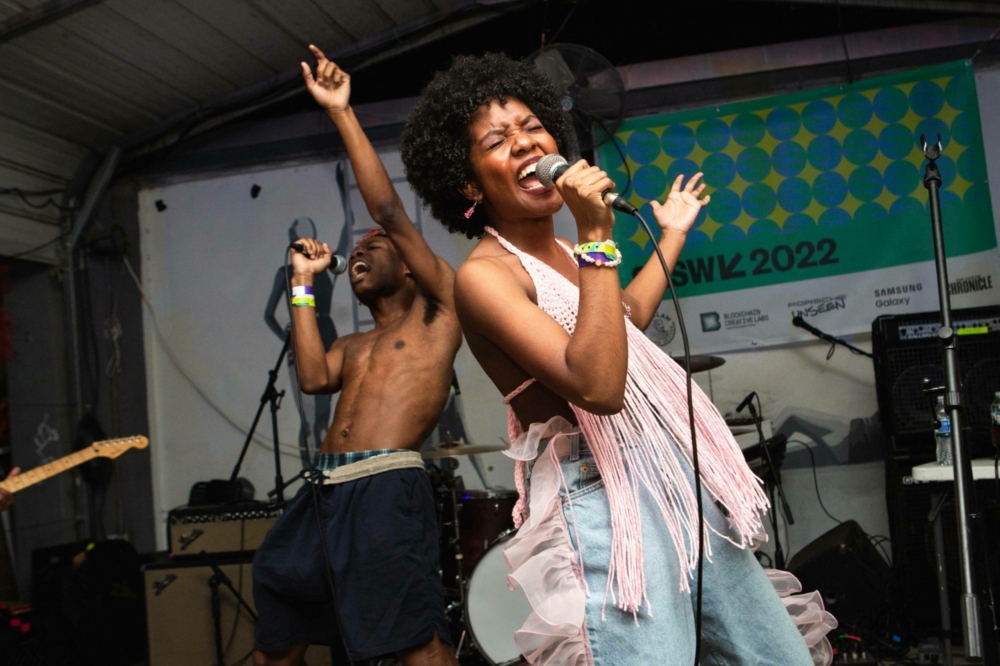 £10
Read More