Live Review
Katy Perry, The O2, London
14th June 2018
All in all, the level of spectacle is mind-blowing but at times, begins to feel a bit too daft.
Let's be honest: Katy Perry is no stranger to spectacle. After all, this is the superstar who once announced plans to pump arenas worldwide with cotton candy scent as part of her 'California Dreams' world tour, before – some six years later – sharing the stage at 2017's BRIT Awards with two giant skeleton puppets dressed suspiciously like two political figures. Brilliantly kitsch and colourful, her live shows have always thrived on cartoonish energy and fun; with every step of her career so far, she's upped the ante. Unsurprisingly her latest London headline show is no different: nothing is too out there tonight.
After an interplanetary rush through the universe – courtesy of the giant eye-shaped video screen backing the stage – her 'Witness' show kicks off in a suitably ridiculous but slick fashion. Katy emerges in a giant star-shaped aircraft contraption, a vision in red sequins, her outfit harking back to Kylie's iconic 'Can't Get You Out Of My Head' garb. While her first two cuts – taken from her most recent album – are interesting enough, it's with 'Dark Horse' that the arena really bursts into life.
From then on, her stage production barely stays static: one minute, there are giant dice with dancers snaking around them, the next, two giant flamingoes are marched out to bop along to 'California Gurls'. She becomes a human karaoke machine for 'Hot N Cold' – the song's lyrics programmed into an LED screen on her boob tube, naturally - gets gobbled up by a giant pair of inflatable lips, rides a planet around the arena while playing acoustic guitar and pole dances on a flower. All in all, the level of spectacle is mind-blowing – and the sheer scale of shiny production is admirable - but at times, begins to feel a bit too daft. Even the wonderfully self-aware appearance of Left Shark – who stays on stage a bit longer than necessary - becomes just a tad too panto.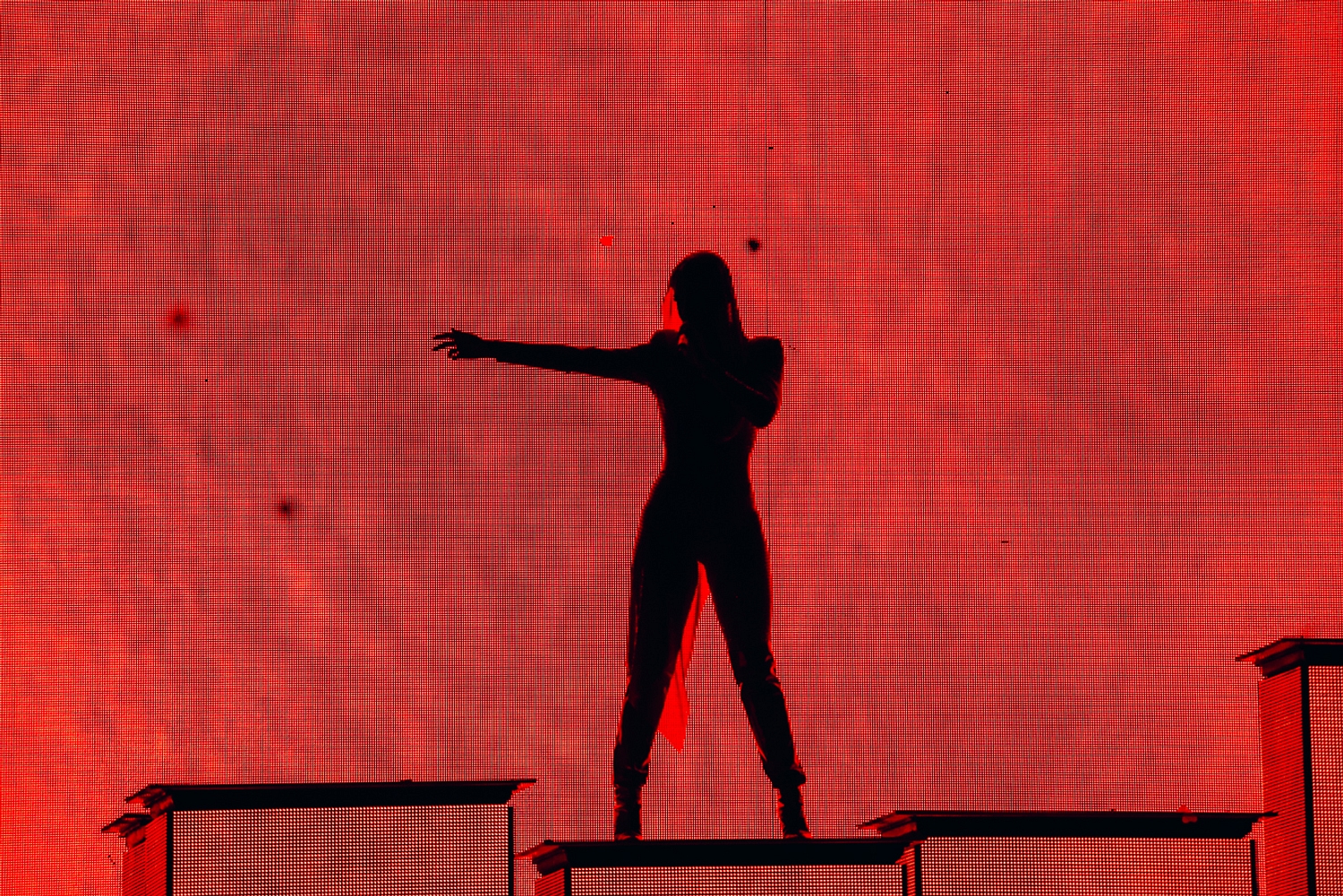 It's a shame too, because when she dives into her arsenal of giddy pop gems, she feels unstoppable. Despite the slew of interchanging props and backdrops, her hefty collection of hits are the real draw and it's in those moments – the warm nostalgia of 'Teenage Dream', the darkly gleaming 'E.T.', the resilient power of both 'Roar' and glorious closer 'Firework' – that she's strongest. While it's true that Katy Perry's charm has always lain with both her songs and the world she builds for them, she's also known when too much is just enough. Tonight that may not quite the case, but strip away some of the overblown façade, and she'll shine even brighter.