Festivals Sunday, Glastonbury 2022
26th June 2022
From Diana Ross to Jack White, Sunday's final day was a celebratory end to the festival's 50th year.
Like a powerful, theatrical cross between David Byrne's 'American Utopia' show and Beyoncé's Coachella spectacle, Sunday night of Glastonbury 2022 closes with a jaw-dropping headline from Kendrick Lamar that should by rights go down as one of the best the festival has ever seen.

Entering wearing a white tux and a sparkling silver crown of thorns, everything about the perfectly-choreographed 90 minutes that follows is visually stunning: as much a work of art as a thrilling live show. Separated into sections roughly moving through his albums, from 'good kid, m.A.A.d city' through 'To Pimp a Butterfly' and then 2017's 'DAMN.' - with cuts from this year's 'Mr. Morale & The Big Steppers' peppered throughout - the structure combined with the aesthetic makes it feel like the acts of a play. A troupe of Black male dancers with a subtle military nod augment the first section before we're plunged into darkness; a group of soft, tulle-clad female dancers come to cradle and nurture the singer on the second; the lighting is stark and white, lyrics blasted onto the background with mirrors placed tactically at certain points.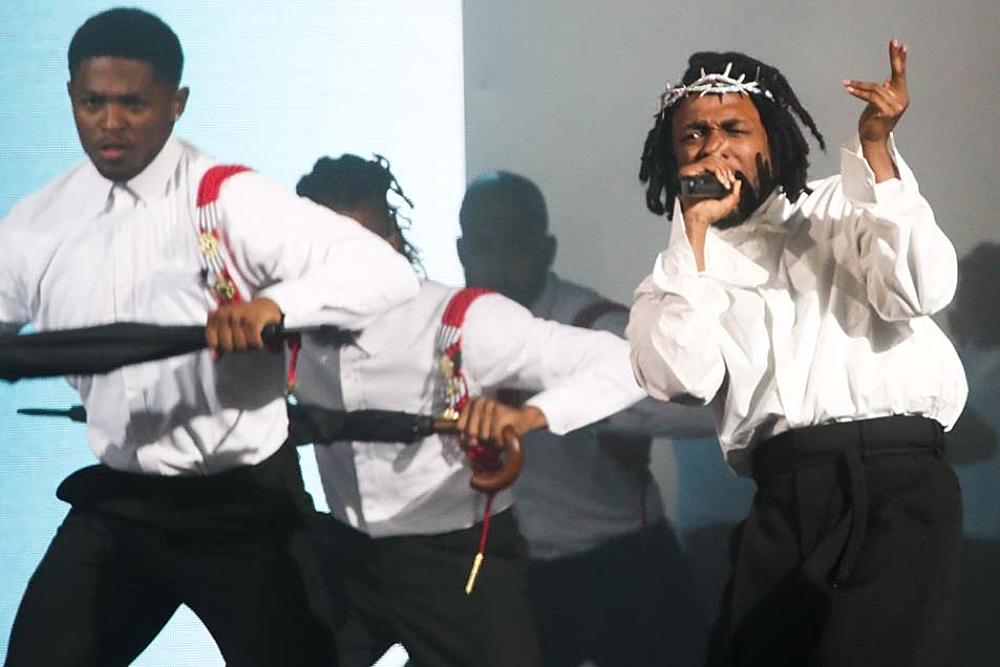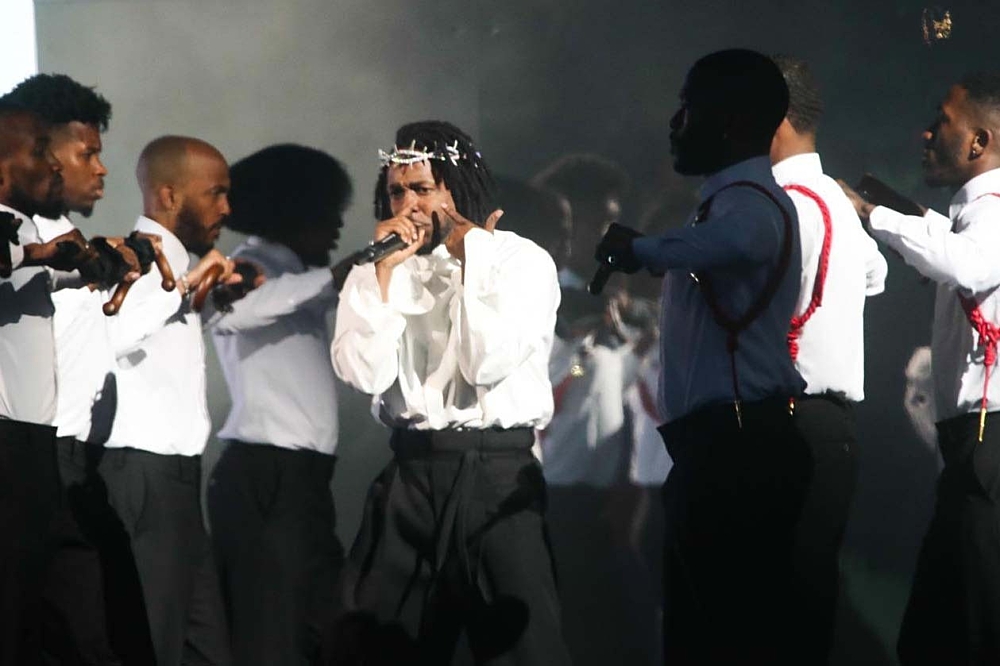 All of the drama, meanwhile, comes offset by a set that's so hit-packed, and delivered so flawlessly, there's no doubt whatsoever that Kendrick is at the absolute peak of his game. Laser-focused throughout, whether he's exorcising demons on 'United In Grief' or a thrilling 'The Blacker the Berry', or uniting the crowd with an indomitable 'King Kunta' or 'Bitch Don't Kill My Vibe', Kendrick is a magnetic commander of the stage, acquiescing to some light left side-right side competition on occasion but primarily just surveying his kingdom, taking it all in.

He ends with 'Mr. Morale…''s 'Saviour', crown of thorns dripping blood down his face and splattering his shirt as he changes its final lines in a nod to the weekend's Roe vs Wade decision: "They judge you, they judge Christ, godspeed for women's rights". Repeating the refrain over and over, it's an unforgettable final tableau on a show that feels as singular and special as a headline set could be.

Charli XCX might be up against it: her John Peel Stage headliner has her combatting not only Kendrick, but Pet Shop Boys (who inevitably invite preceding act Years & Years' Olly Alexander on for 'It's A Sin') leading the party over on the Other Stage. Grecian pillars bookend a slope on the middle of the smoke-filled stage. The audience has filled out by the time a leather-clad Charli - flanked by two similarly-dressed dancers - emerges from the mist to treat the Sunday evening revellers to a set that leans heavy on March's 'Crash'. The Charli-penned Icona Pop hit 'I Love It' does get a look in, as well as 'Boom Clap' from her earlier guises, but that's it. Caroline Polachek, who played a solo set earlier, joins for collaboration 'New Shapes'. It's a pop party in full swing, and looking around the cavernous tent, those inside are going hard before going home.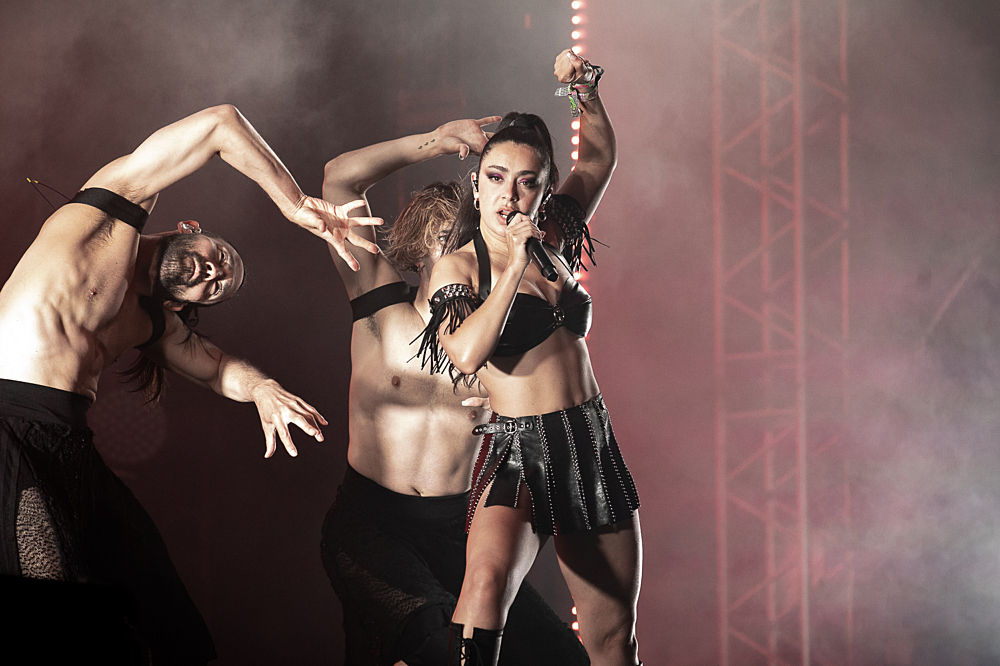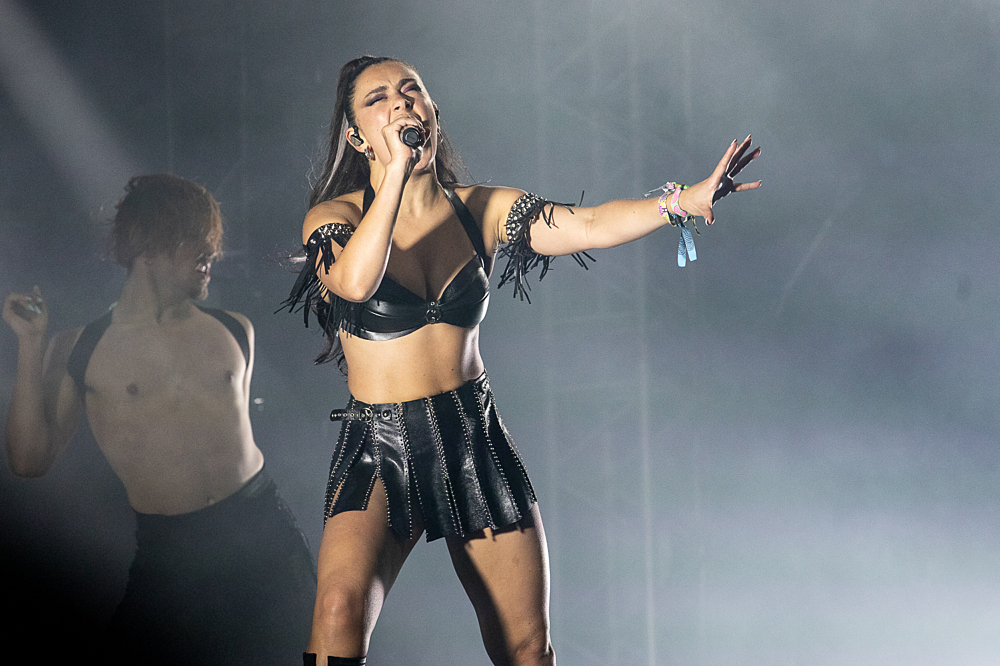 Over on the Park Stage, the secret's out as to to the afternoon's special guest and it's a sizeable crowd that pile in to watch Jack White storm through the classics. The less said about the guitar hero's acid-washed jeans the better, but anything can be forgiven when you've got this many bona fide anthems. White knows exactly how to play to a crowd and so we get a jaunty hoe-down version of 'Hotel Yorba' into the pinging fizz of solo highlight 'Lazaretto' into The Dead Weather's stormy 'I Cut Like A Buffalo'. Of course, the set ends as always with a sing-along 'Seven Nation Army', but even its ubiquitous riff gets a new lease of fun set against the glowing Glastonbury sun.

Opening with Pulp track 'She's A Lady', Jarv Is… might throw a misnomer by kicking off with a classic, but his new band are a world away from his first. Instead, the likes of 'Must I Evolve' with its robotic backing chants or 'Sometimes I Am Pharaoh''s dense walls of sound hit darker and more menacingly - Jarvis conducting the storm from atop a platform, angular dance moves still, thankfully, intact. He might have had to change the lyrics of 'Cunts Are Still Running the World' to 'Pricks…' to appease the BBC televised footage, but among a weekend of political shout-outs, the directness of the sing-along is still a cathartic one.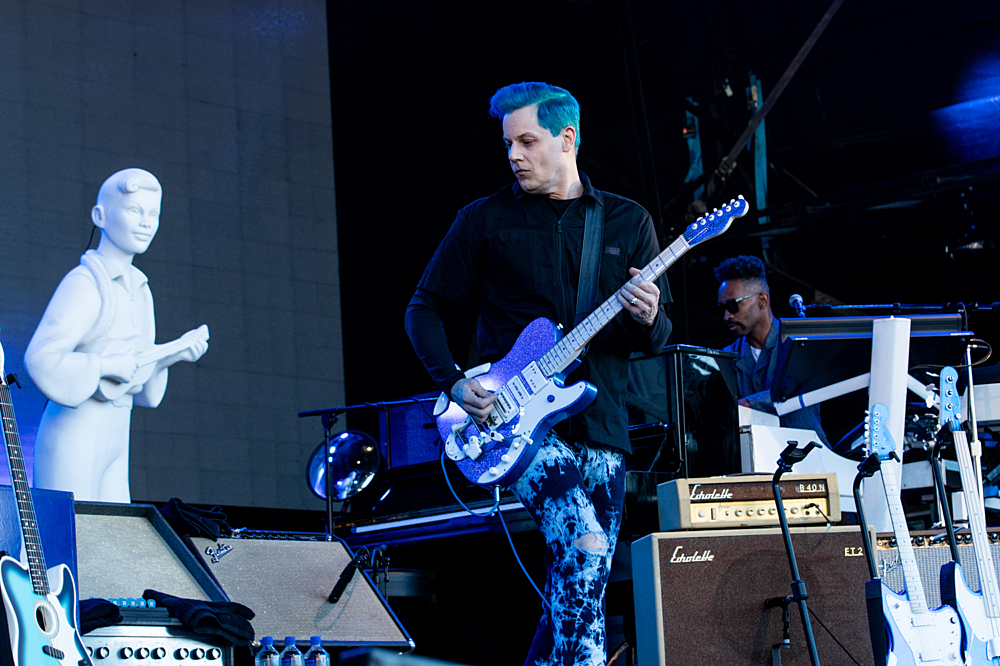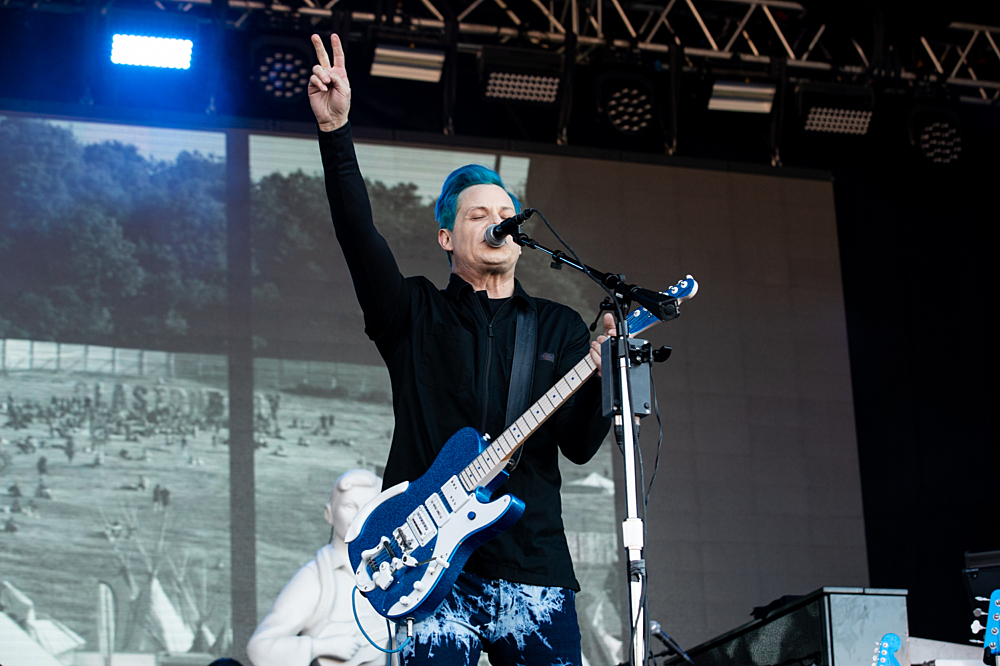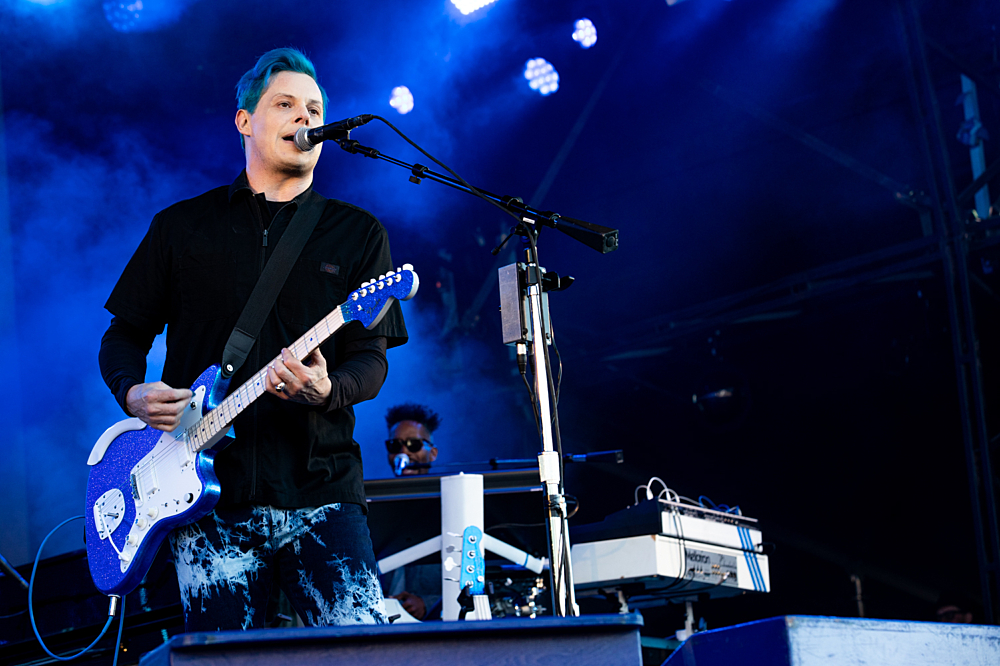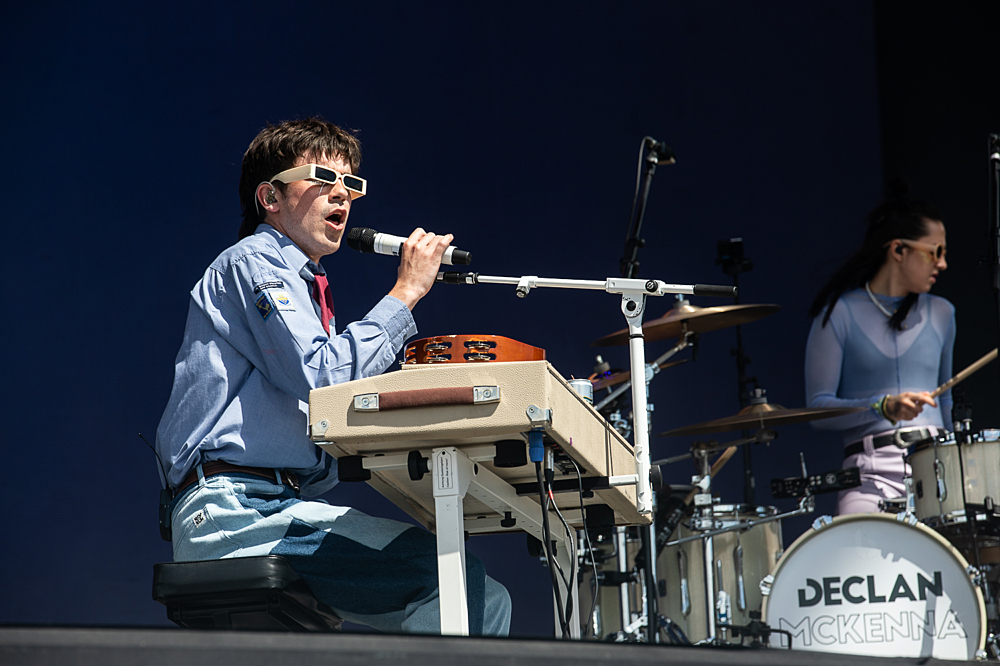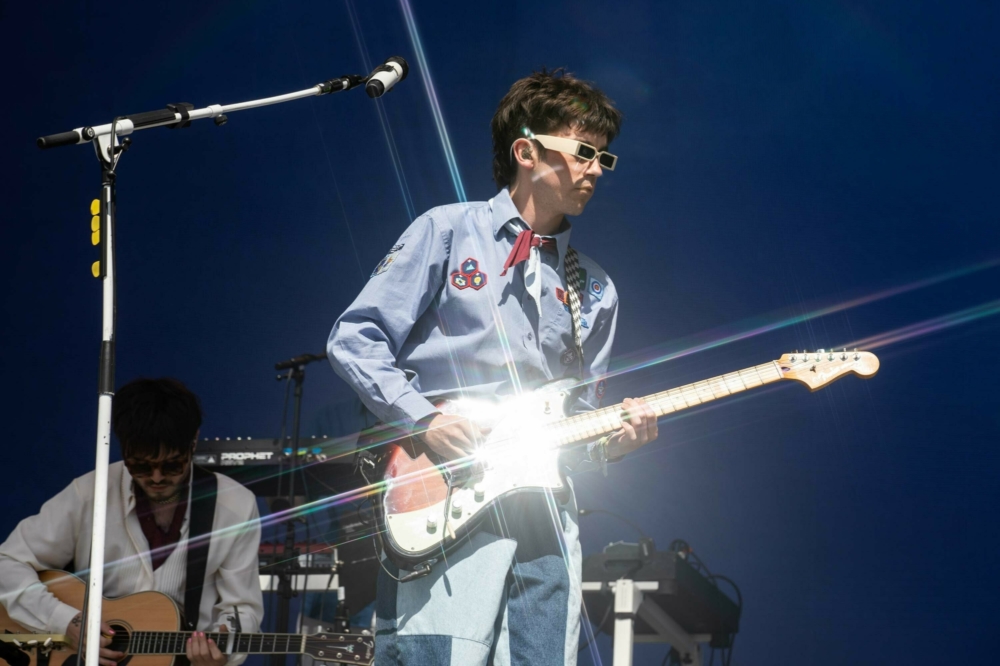 Rewind to earlier in the afternoon and, over on The Other Stage, Declan McKenna is channelling the aesthetic of a sort of souped-up boy scout, bursting with the wacky energy of a kid doing knee slides at a wedding. Meanwhile, over the way on the Pyramid Stage, Diana Ross' much-anticipated Legend's Slot comes backed by beaming sun and effortless good vibes.

Decked in a sparkling silver gown and purple fascinator, from the moment she comes out to 'I'm Coming Out' (see what she did there?), the iconic singer feels like she's on the way to a comfortable, easy win. With the back catalogue to easily justify the slot ('Baby Love', 'Chain Reaction', 'Upside Down' and oodles more get an outing), she peppers the hits with shimmying moves declaring that she "still feels 48" and fulfils the titular slot brief with charming aplomb. For a festival that thrives on its breadth - highlighting the new, applauding the old and raising superstars up to their dizziest heights - Sunday feels like the perfect ending.
Visit our Glastonbury hub across the weekend for all of our Glastonbury 2022 coverage.
Kendrick Lamar photos: Rick Mav

Read More