Live Review
Marina and the Diamonds, Roundhouse, London
21st February 2016
Even at her darkest, Marina glitters.
It's 'Froot Sundae' at The Roundhouse. Inflatable watermelon slices decorate the upper balcony as Marina and the Diamonds celebrates the end of her Neon Nature tour with the second of two shows in the capital. Splitting the evening into three acts to showcase the different chapters of her career, there's a grand narrative at play here. From the dreamy beginning of 'Mowgli's Road' through the pom-pom chorus of 'Bubblegum Bitch' until the insular reflection of 'Immortal', Marina visits every landmark of her seven-year journey.
Material from 'The Family Jewels' is still larger than life and sees Marina channeling a cartoon excitement before the 'Elektra Heart' suite takes that vibrancy and runs with it. 'Primadonna Girl' sees her performing with a pink poodle toy called Madeline under one arm, while the likes of 'Lies' and 'How To Be A Heartbreaker' cut euphoria with club excess. 'Froot' is more complex. The title track is determined yet glitching, before giving in to the bleak majesty of 'Savages'. 'Solitaire', 'Ruin' and 'Forget' are fraught with fear but even at her darkest, Marina glitters.
Despite the three distinct flavours at play, tonight feels complete. It's a heady cocktail that only the most assured of performers could pull off. Instrumental intermissions soundtrack the transition from album to album while Marina's larger than life performance and belief in the roles give the 19-song set a steely focus. "It feels like a special moment for me," she offers in the middle of the two-song encore. "It feels like we're friends or family. We've grown up together over these seven years and I don't know how to thank you for that," she continues, trying to hold back tears. "I'm saying it's the final show for a while but it's not goodbye." After an emotionally charged finale of 'Blue' the whole room waits as she introduces them to her band. It's a final showing of respect that's been present for the entire show. "Thank you for sharing this journey with me. I am Marina and you are The Diamonds." Bound together, tonight everyone shines.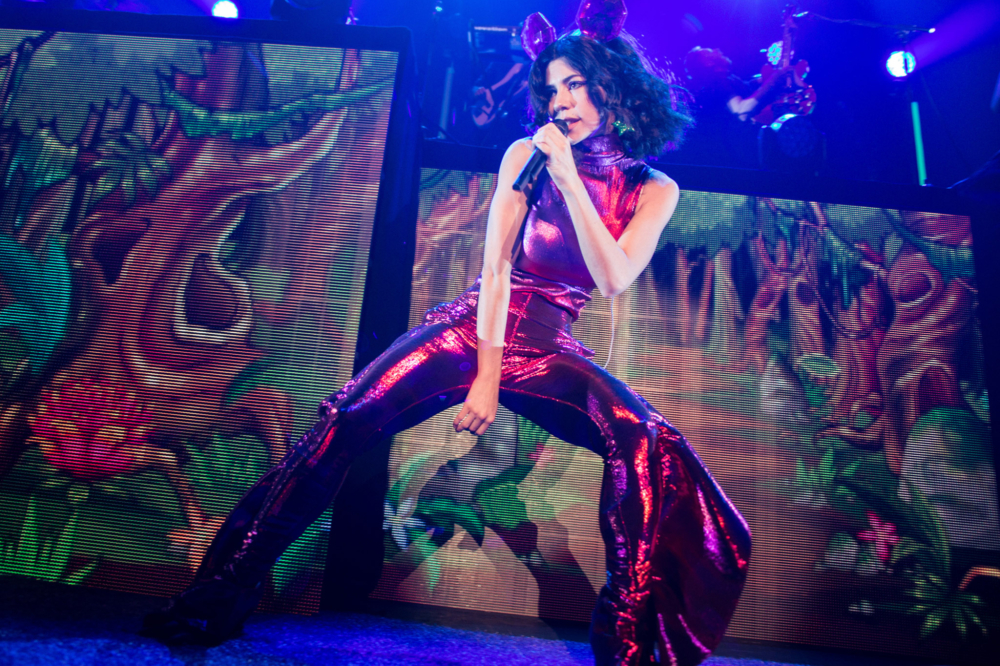 Photos: Caroline Quinn
Read More