Festivals Open'er Festival 2022
29th June - 2nd July 2022
Glass Animals, Måneskin, Little Simz and Years & Years are among the standout sets at the Polish festival.
"That's the Open'er spirit," says one festival employee, when hordes of attendees return giddily onto the site late Friday night. When South London-based rapper Flohio is told to stop a few songs into her Alter Stage set earlier in the evening, all indications are that the impending storm would pass quickly, as it had done the previous night. Four hours later - after a firework show of lightning, thunder that rocked the foundations of every structure on site, torrential rain, and an evacuation of the massive field - there's to be no Dua Lipa, no Megan Thee Stallion. A wet-ass Biffy, for sure, but not one who's going to be taking to the Tent Stage that night.
Cut back to Wednesday, and Damiano David pauses before Måneskin start their Main Stage set. "There's just one thing that we have to do," the frontman says, before proceeding to plant a kiss on drummer Ethan Torchio and guitarist Thomas Raggi's lips, respectively. "This is to remind all the homophobic that you're stupid assholes." It's all met, unsurprisingly, with ear-shattering screams.
The giant catwalk that's attached to the Main Stage provides the Eurovision winners with yet more fuel - and rock'n'roll cliche - to play with. Damiano, in leather trousers and a backless sequinned top that allows full view of his tattoo collection, struts his way up and down, arms outstretched, drinking in the adoration from a huge crowd that stretches back as far as the field allows. Thomas and bassist Victoria De Angelis, meanwhile, tag-team their way around, whether striding in unison, perfecting their best '80s hair metal poses towards the bright blue sky, or thrusting each other in an exaggerated manner. Without humour it would be well past the line of corny, but the Italians know what they're doing, and the Polish audience are lapping it up.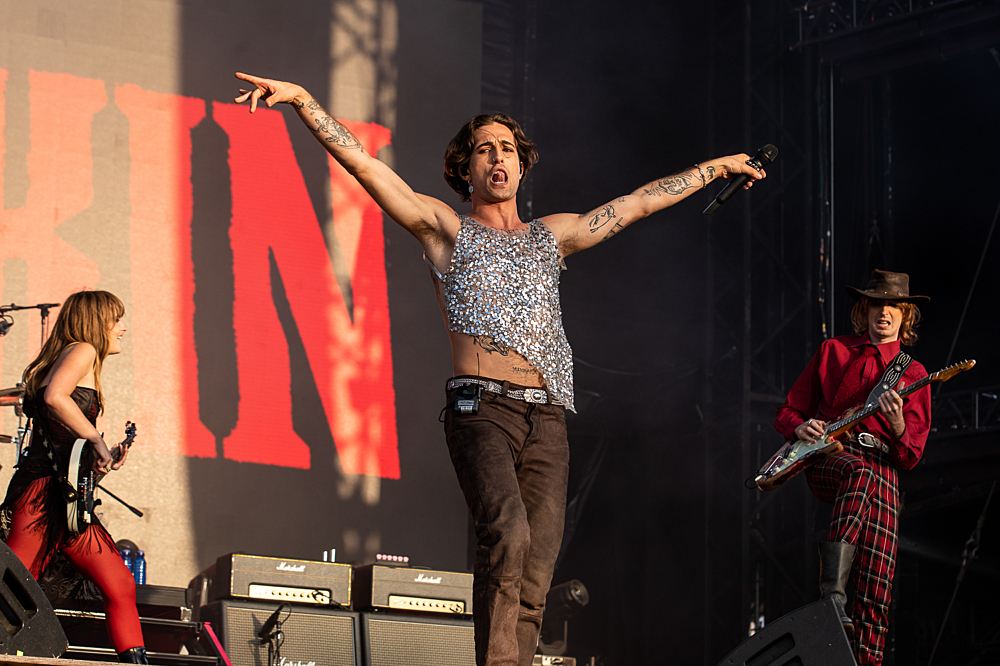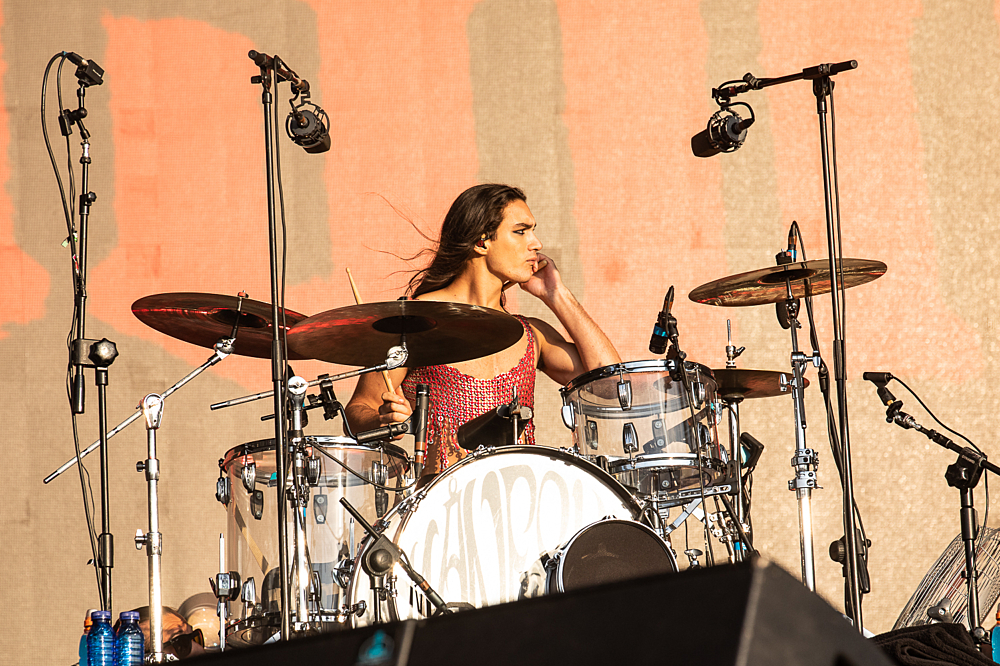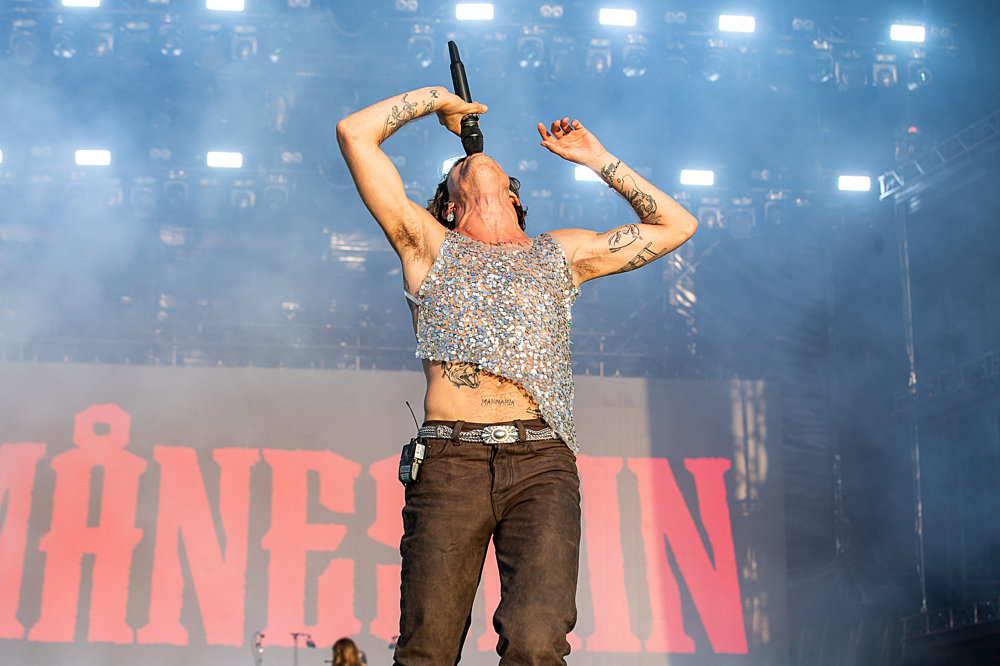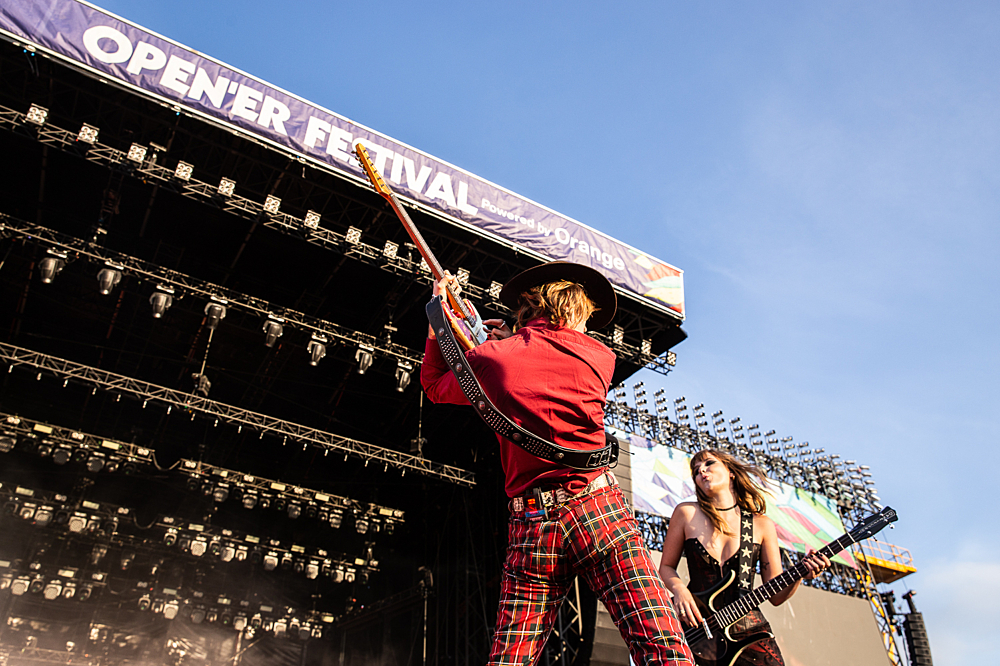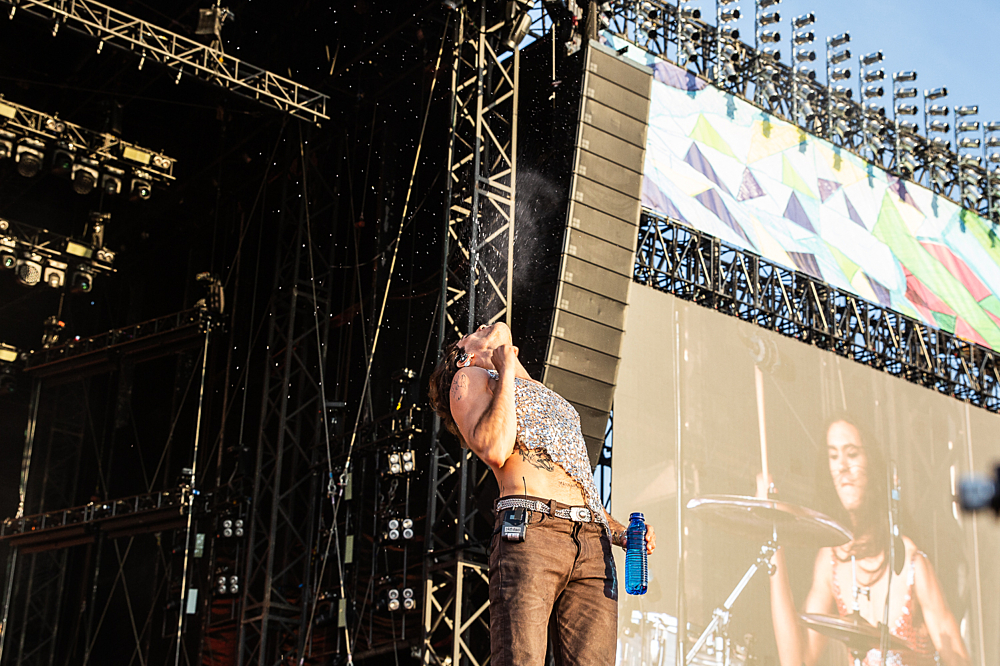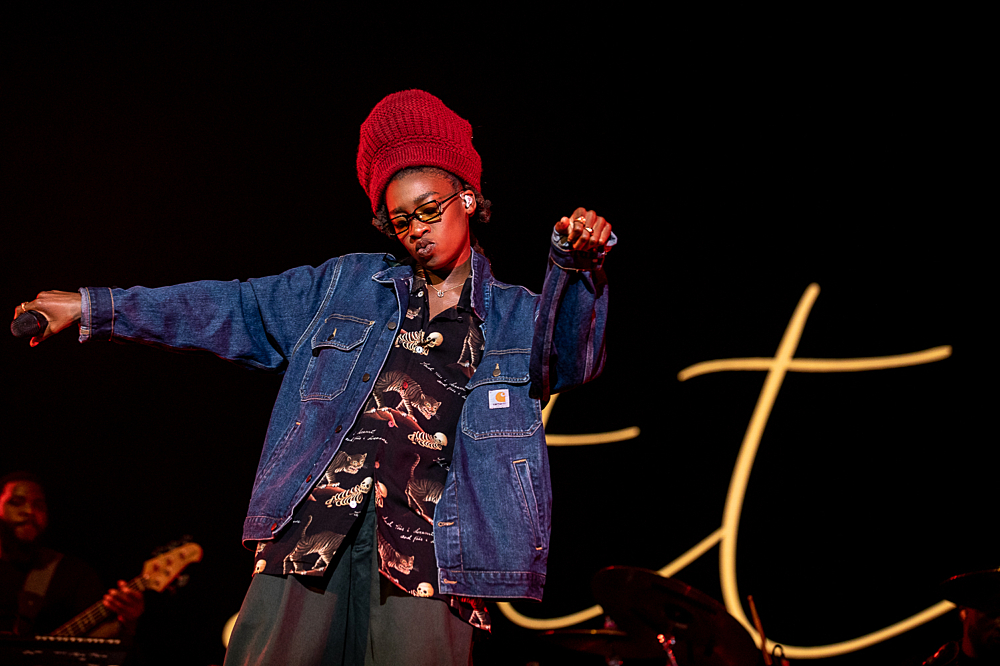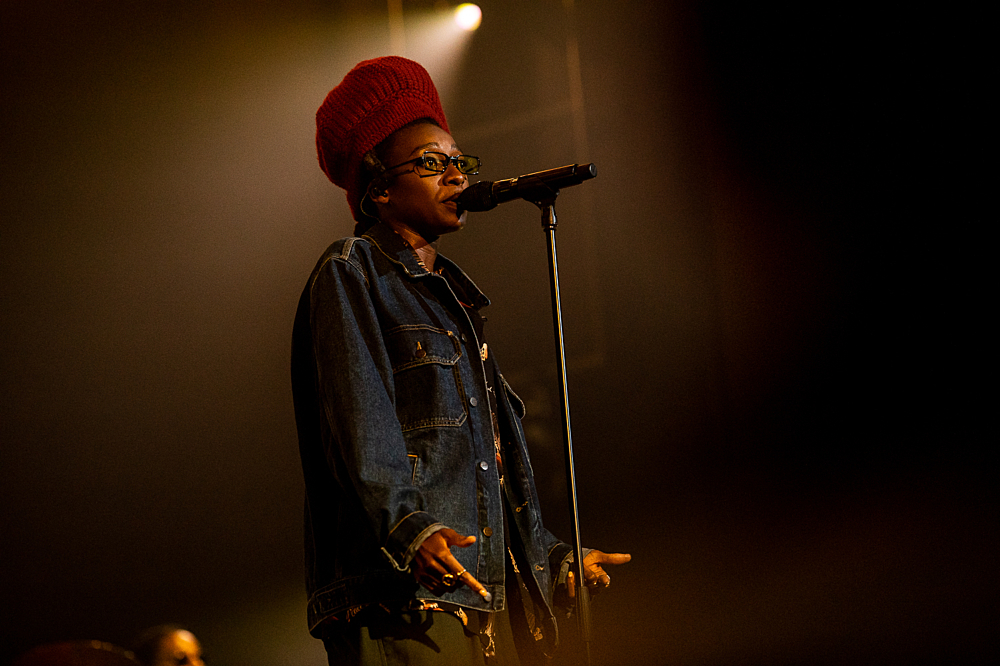 When Little Simz last played Open'er in 2018, she was a ball of ferocious energy. This time, upgraded from the Alter Stage to the festival's second stage - the arena-like Tent - she exudes a quiet confidence. An earned one, of course - both 'GREY Area' and 'Sometimes I Might Be Introvert' have followed since, with Ivor Novello and BRIT Awards won as a consequence. And as the full Tent finishes early bars for her in 'Two Worlds Apart', its later line rings all too true: "London-born estate girl to international sensation."

"We are a new band," repeats Thom Yorke, grinning while gazing out toward those congregated in front of him and The Smile bandmates, Jonny Greenwood and Tom Skinner. The trio know why most of those in front have made their way up to the Tent Stage; at one point Jonny plays purposefully towards drummer Tom, as if to make a point. The trio swap instruments, guitar to bass, keys to guitar, drums and synths. The band on stage look to be having fun nerding out; the throng in front of them transfixed by - if not the hypnotic freeform sounds emanating from the stage, then seeing a couple of their heroes in closer proximity than usual.

It's then A$AP Rocky's task to close the mammoth Main Stage tonight, and he quite literally fills it; the first few minutes of the rapper's allotted time is handed over to a giant crash test dummy inflating, behind which distorted footage of 9/11, the 2021 insurrection at the Capitol and more plays before pyro heralds his presence on stage. He's given a hero's welcome, fans crammed into the front sections of the arena hanging on his every word. 'Mazza', his collaboration with slowthai is given an outing, as well as the Rod Stewart-sampling 'Everyday'.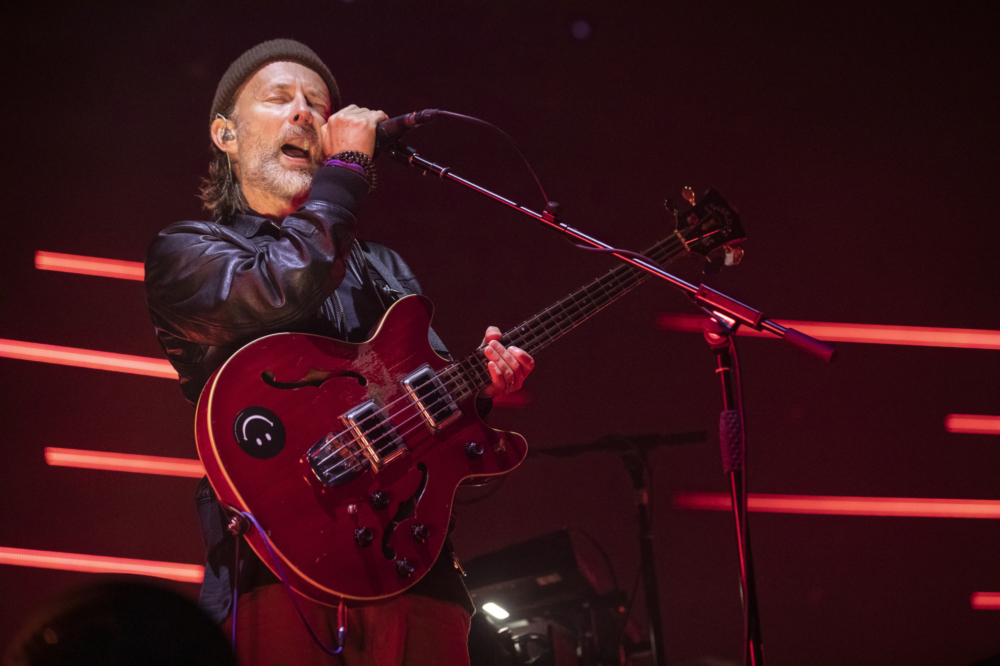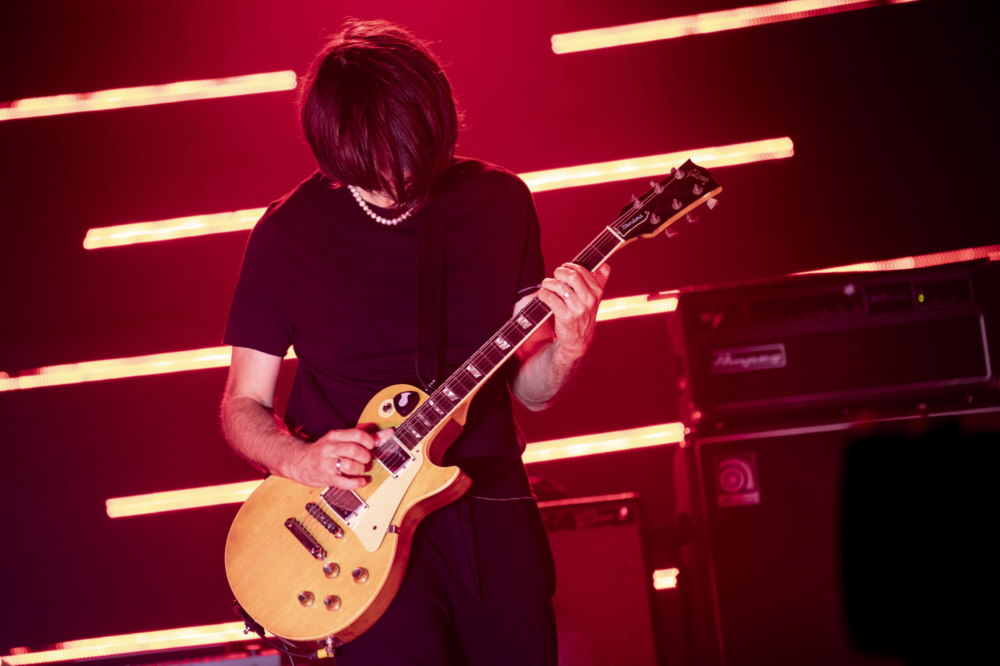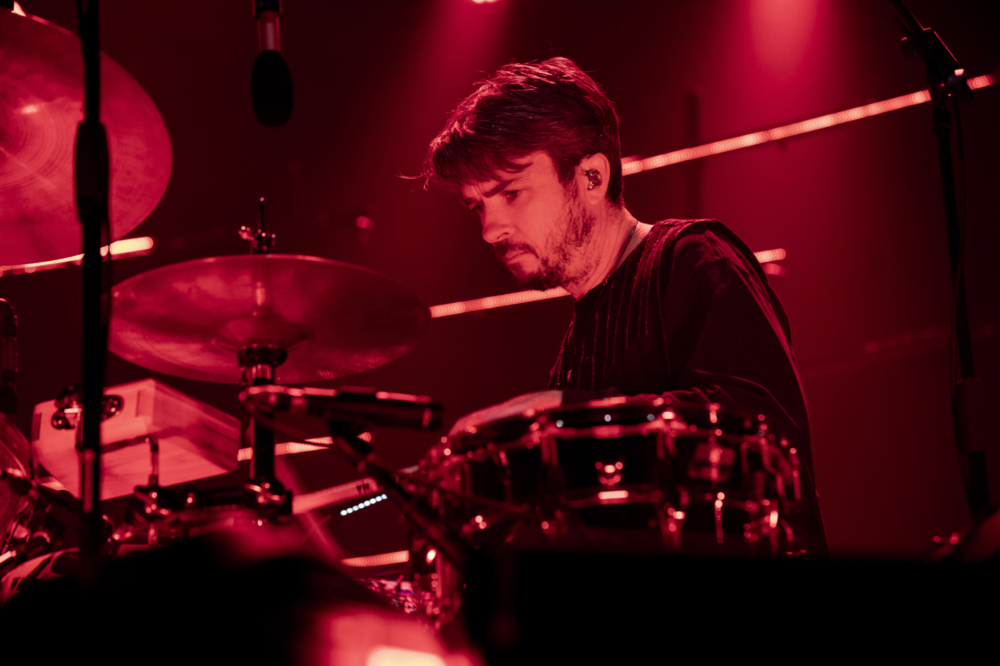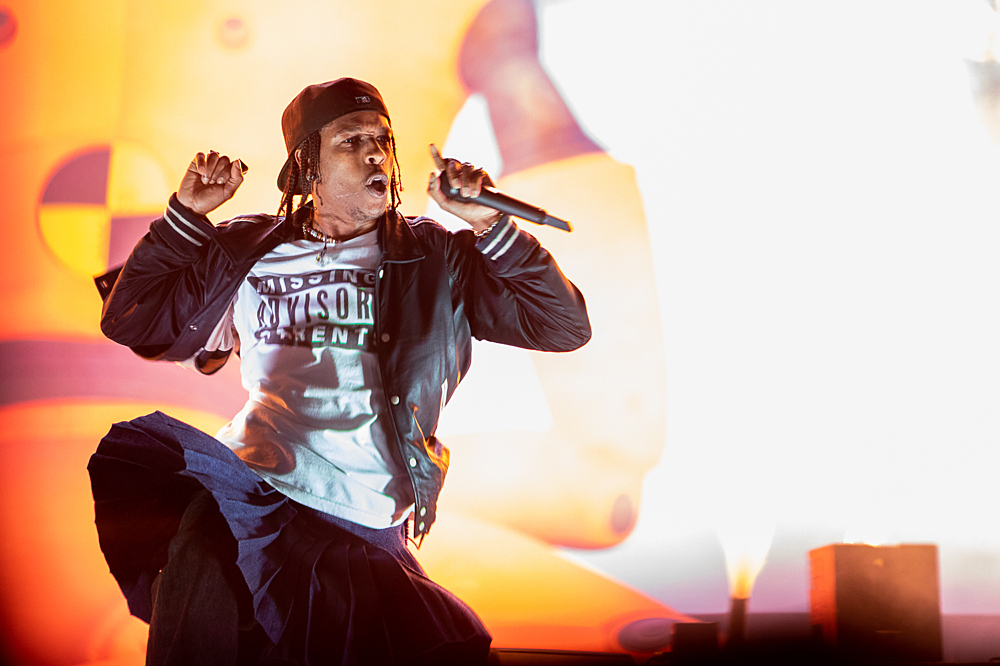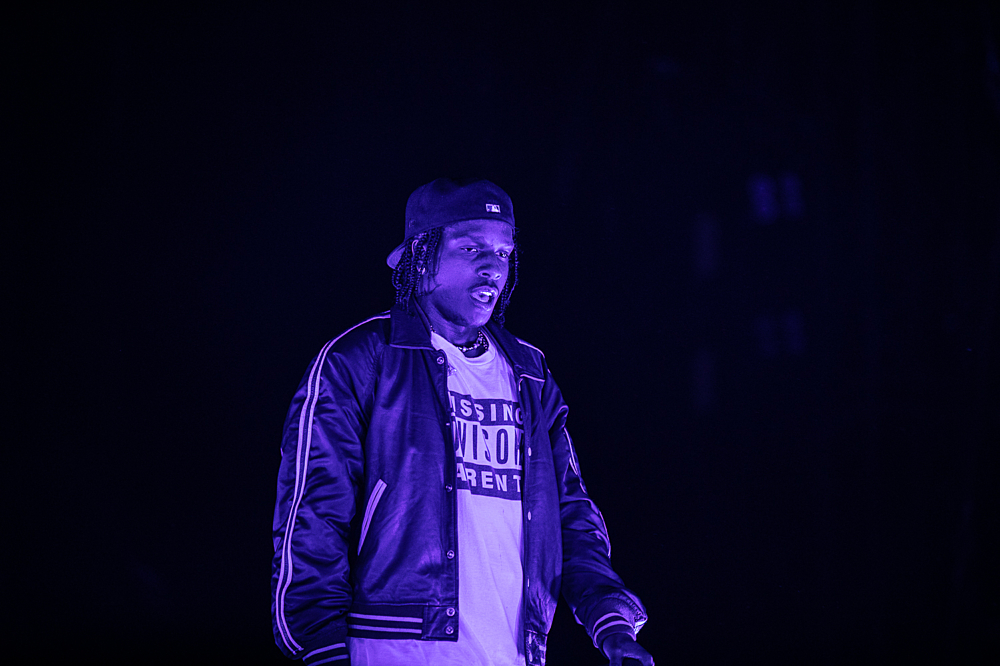 While Royal Blood usually find themselves well up the bill back home, they're tasked on Thursday here with opening the Main Stage. There's a steady stream of arrivals while their to-the-point rock rings across the field. The huge grey cloud that later delays headliner Twenty One Pilots' set is an apt foil for 'Trouble's Coming'. The sarcastic tone of Mike Kerr's introduction of bandmate Ben Thatcher ("on drums AND cymbals") might be lost on many, but the language of the drummer then proceeding to take a swig of his bottle of Patron is universal. 'Little Monster' is given ostentatious treatment, Ben's drum solo taking the form of a Stewart Lee joke: it goes on, and on, and on… then there's a crowd countdown before he makes use of the large gong behind, and then… back into that solo, before the song itself is allowed to return.

Glass Animals, meanwhile, are all smiles. Their staging - neon lights, mini diving board, pool steps - might be lost a little among the plastic wrapping covering the Main Stage's exposed lights in preparation for inclement weather, but they're still about to make Open'er dance as if there's blazing sunshine. 'Heat Waves' might not get the biggest reaction: there are festival-goers dad dancing to the US Number One single all the way back to the Tent Stage, but it's 'Pork Soda' which clearly still has Polish fans' hearts, frontman Dave Bayley throwing a pineapple into the crowd in celebration.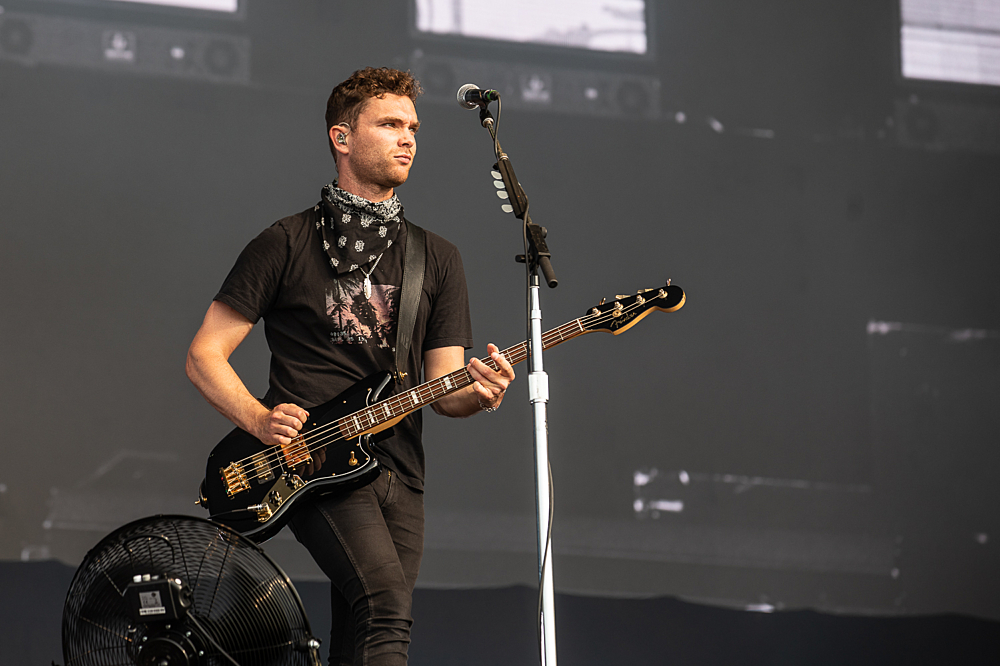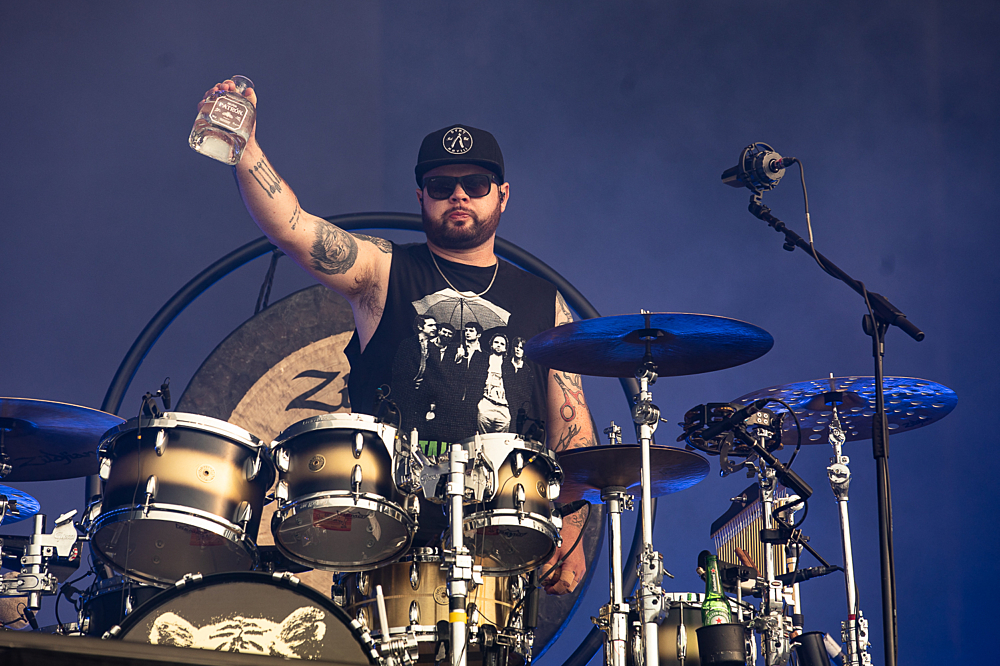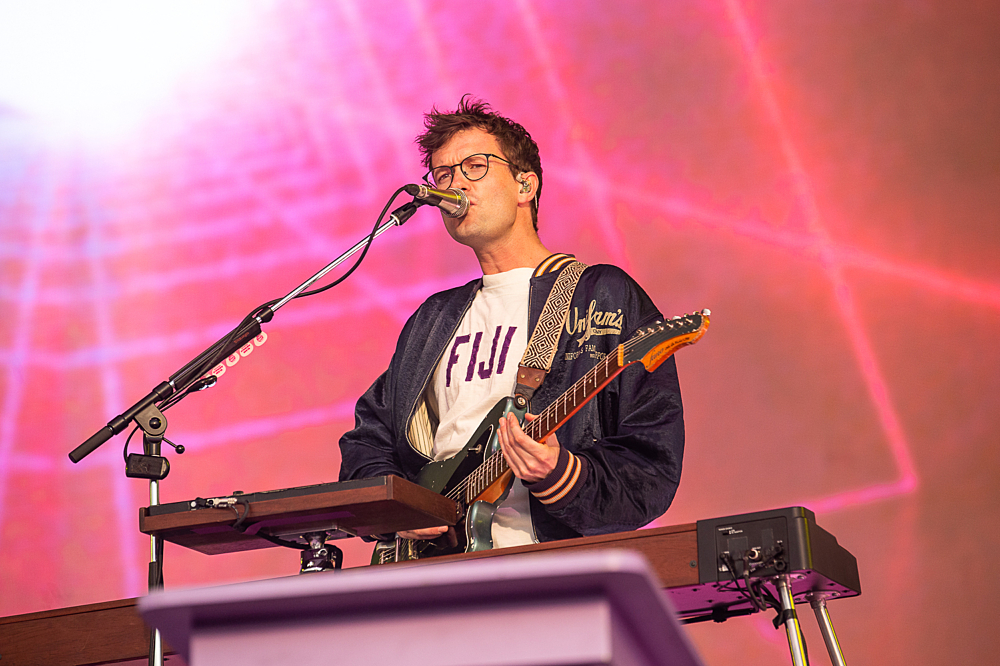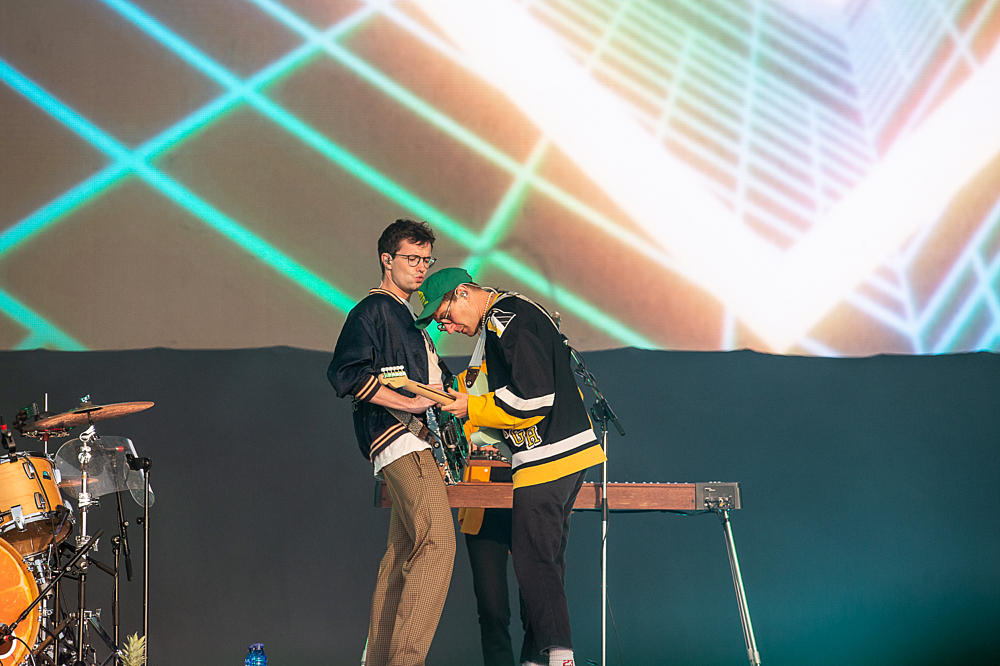 Whether the Tent Stage is overflowing because of Tove Lo's set or because rain is imminent isn't quite clear; the former is vindicated towards the front, at least, with chants of her name, singalongs to every syllable of the Swedish artist's songs, arms outstretched.

The party vibe intensifies later with Years & Years. Olly Alexander's graduation to full-on pop star is complete: while most artists come to festivals with as little setup as they can get away with, Olly's clearly not flown Ryanair. He emerges from a seedy telephone box; he'll later be thrusting away with a male dancer in a toilet cubicle, then spending the whole of 'Desire' walking on a treadmill. Dance routines vary from full Janet Jackson level to comic theatre, a woman staggering drunk from the same toilet; a man appearing to just repeatedly pull his trousers up and down). It's a sort of imagined '80s Soho vibe, with a smidge of science fiction.

It's the meticulous pace of the set - pre-programmed screens behind suggesting Olly and gang can't miss a single beat - though, that means it's a while before he addresses the crowd directly. There's a sea of Pride flags at the front, and it's a fact that hasn't gone unnoticed. "You've really embraced a gay artist like myself," he says, voice breaking. A 2021 report claimed Poland to have one of the worst statuses for LGBT rights in the EU; the government's ruling party PiS opposes gay rights. "I can't tell you what that means to me, and to all the LGBT cuties in the audience tonight, I see you, you are truly an inspiration to me."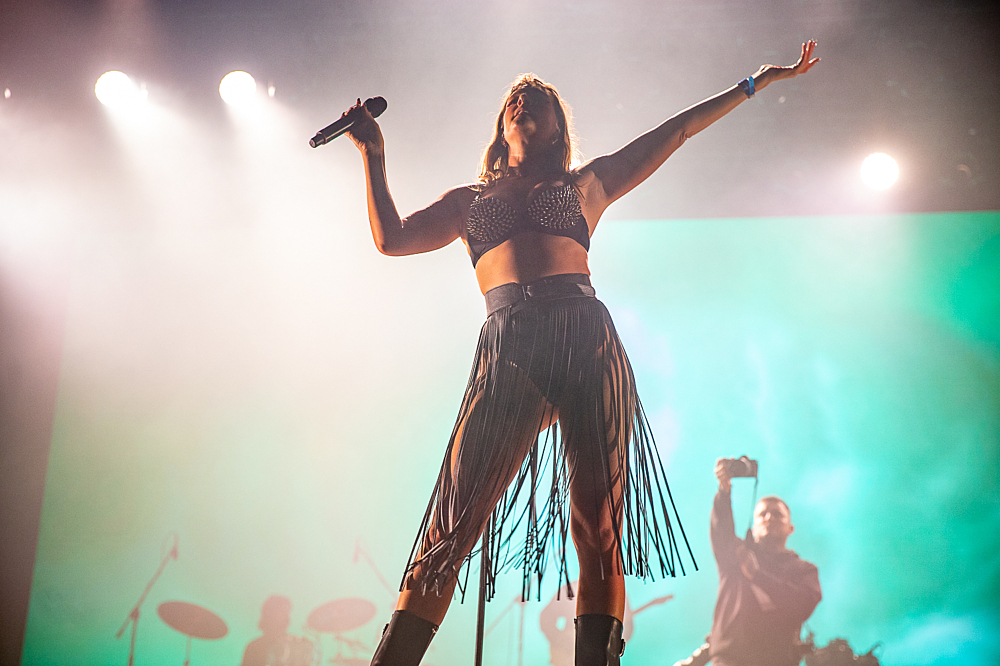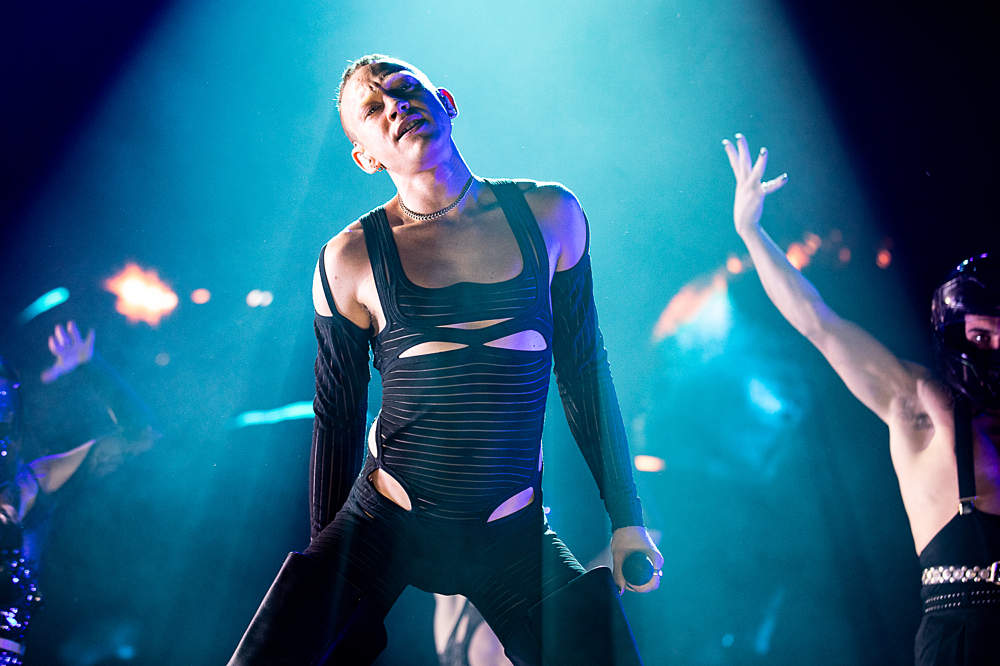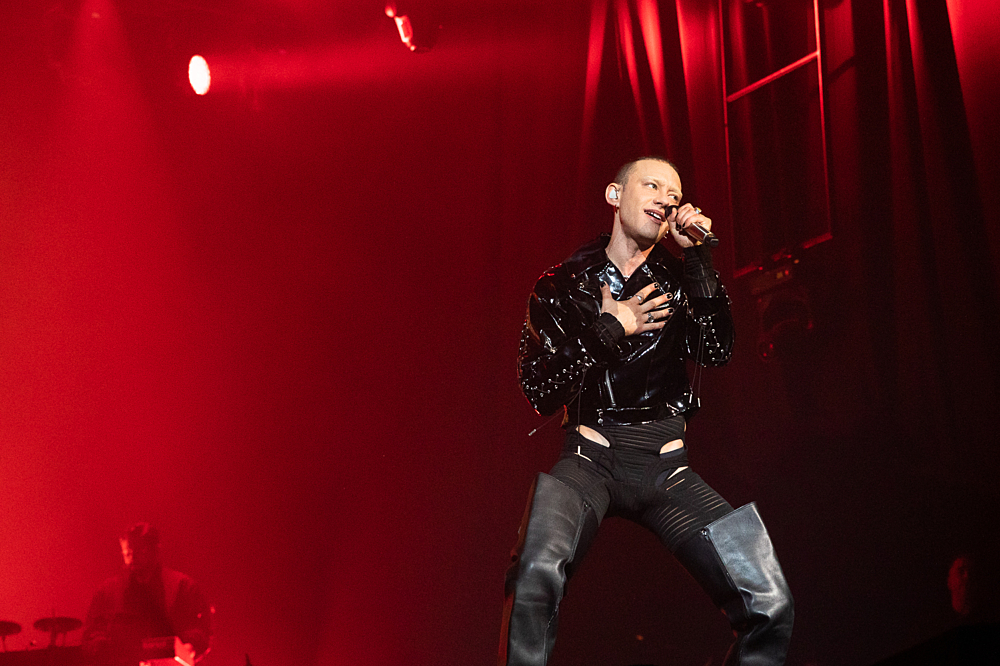 Friday, and Krakow rapper Jan-Rapowanie is in full party-starting flow on the Main Stage. With musical cues taken from all manner of places - some Eurodance here, American R&B-like samples there, tracks stopping to the sound of smashed glass - it would have been interesting to watch in light of a pair of rappers from different sides of the Atlantic following, with Megan Thee Stallion, and first, Flohio. And yet, we know what happens next. Flohio is (understandably, the kind of storm that follows isn't common in South London) confused, and before ultimately leaving the stage as the field is evacuated, freestyles for a while in a vague form of protest, before lighting a blunt.
The Alter Stage is allowed to resume just past 11pm. It might be hours after her original stage time, but Sky Ferreira is still late. Enough festival-goers have returned to the site to amass a decent crowd inside - and a few even attempt a chant to bring the singer out - but technical glitches again punctuate her set, which is largely a carbon-copy outing of her recorded material. There's no getting away from the fact that everyone here is exhausted.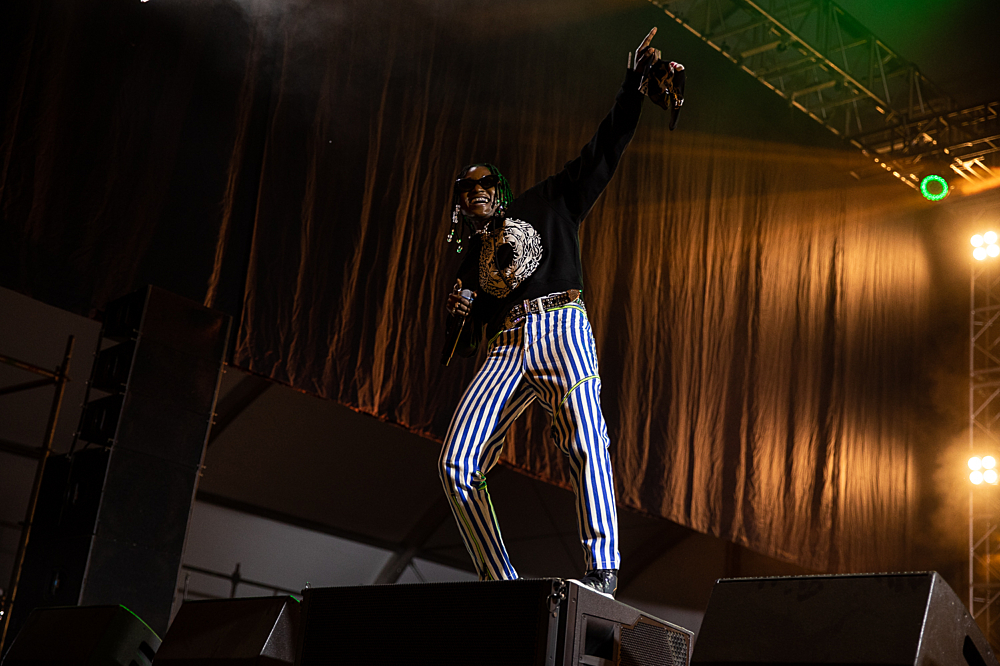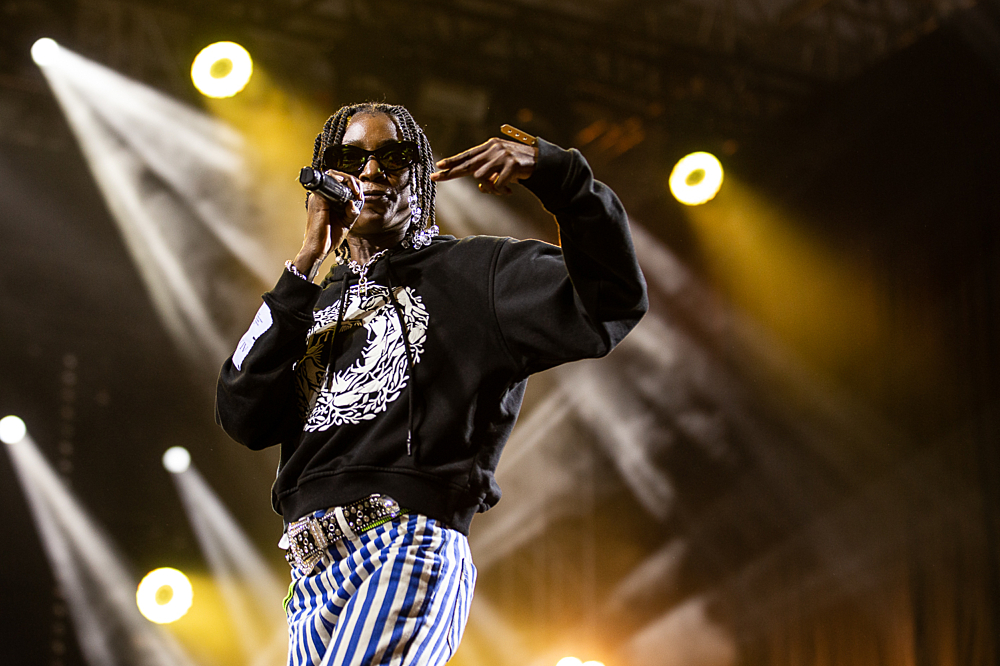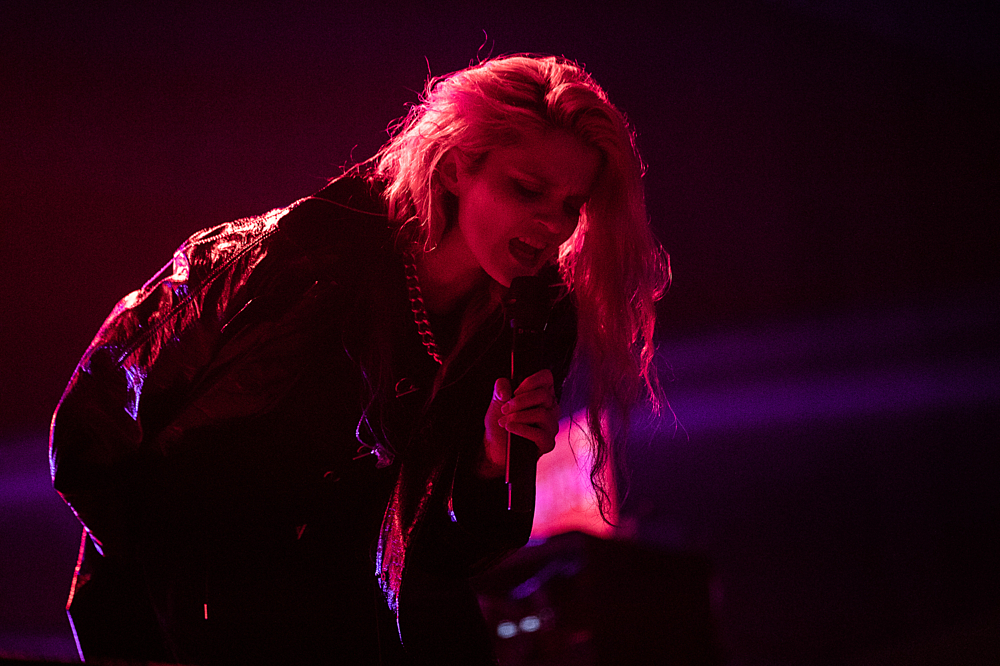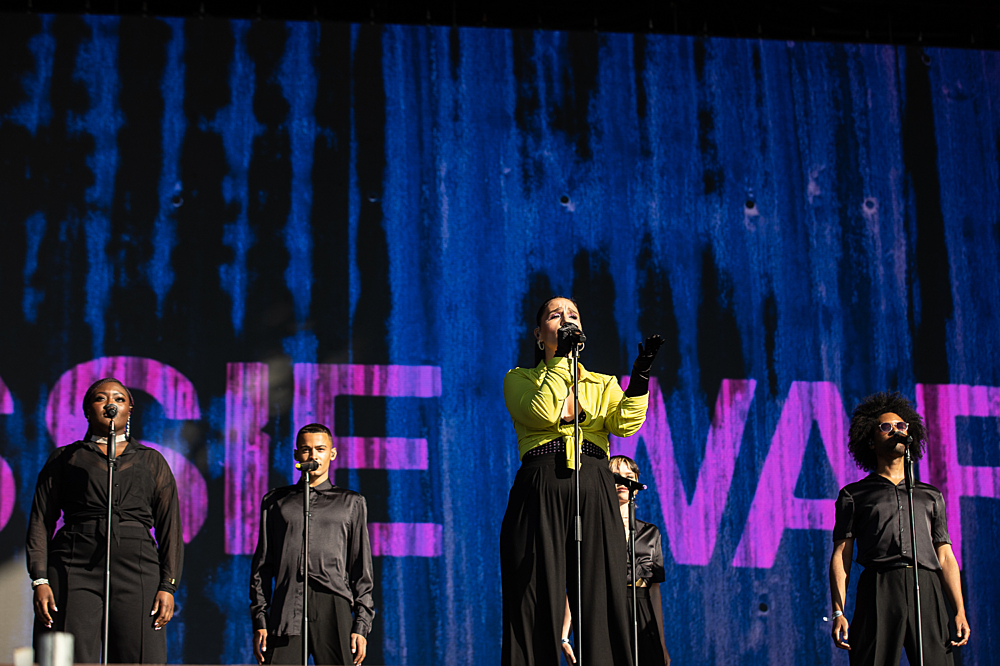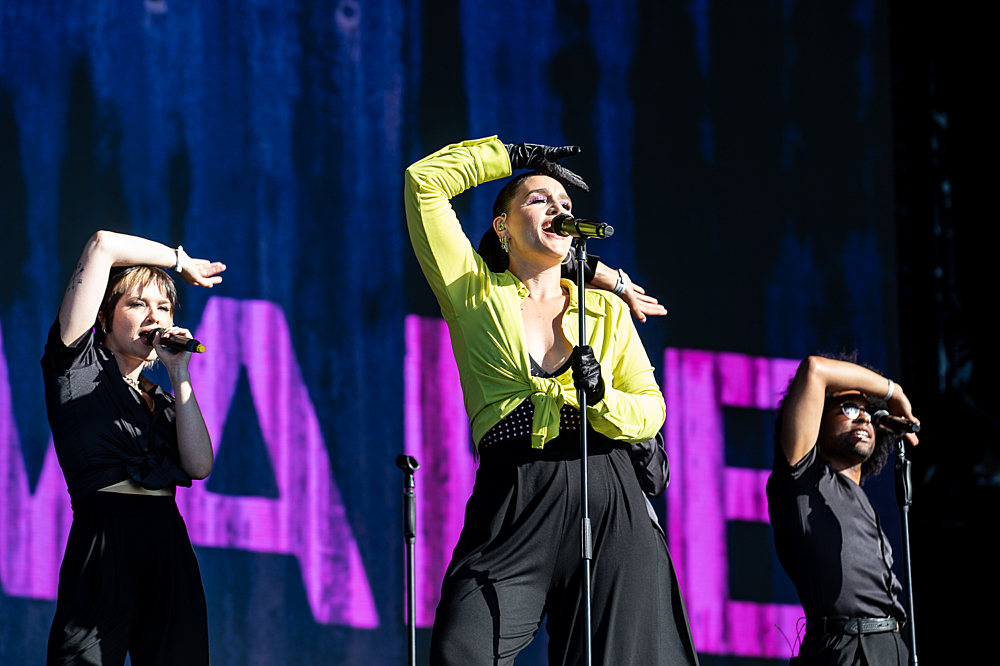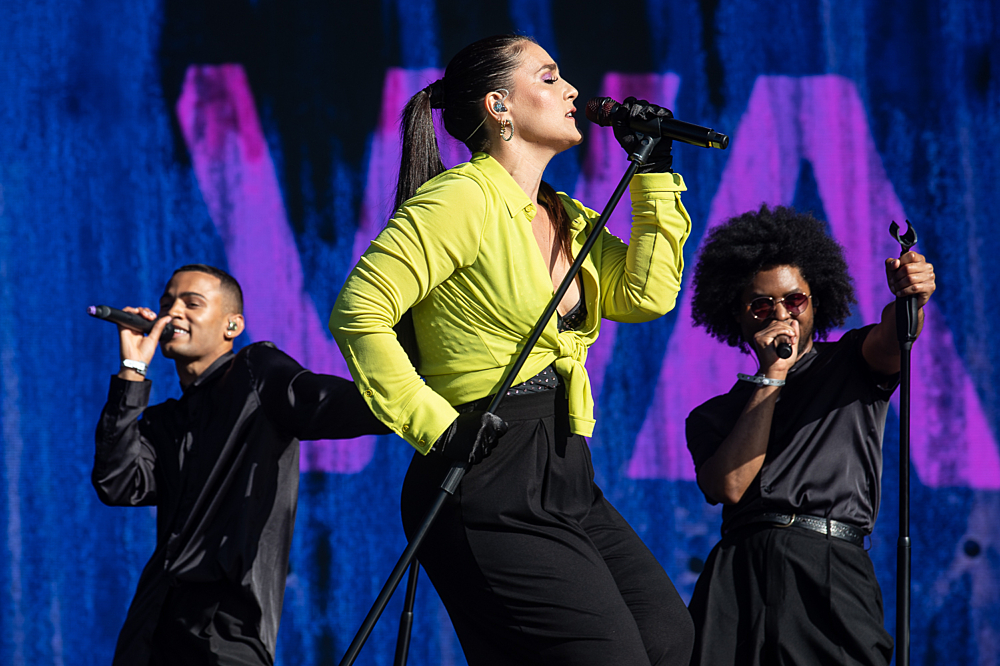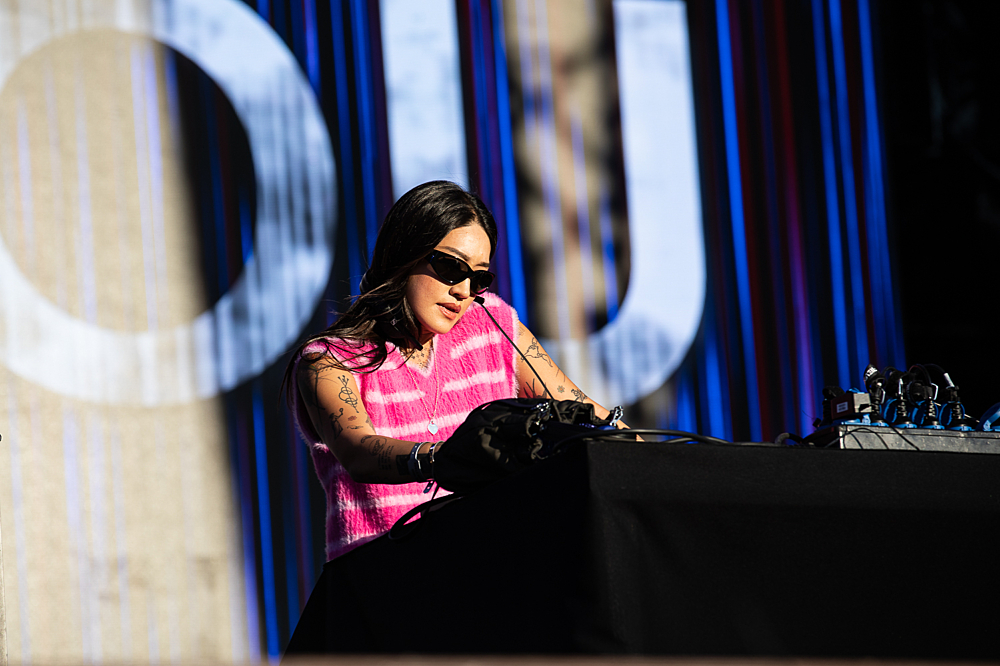 To shamelessly paraphrase tonight's headliners, Saturday has Open'er fully uncaged. Come midnight, The Killers will have successfully blown away all remaining cobwebs from the previous night's extreme weather - and added a considerable amount of confetti.

A bright blue sky and scorching sunshine greets early arrivals on Saturday, of which there are many. Jessie Ware's Main Stage opening set shows the singer in full disco diva form: a team of dancers and backing singers fawn around her, vogueing one minute, surrounding her with fans another, while she leans heavy on 2020's 'What's Your Pleasure'. Kylie collab 'Kiss Of Life' also makes a welcome addition to the set's uptempo vibe.

A late, Covid-related cancellation from The Chemical Brothers means Polish chart-topper Taco Hemingway is moved to the festival's closing slot, while electronic star Peggy Gou takes his place ahead of the night's headliners. Hers is usually the music of late nights in dark rooms, so her appearance at golden hour on a giant outdoor stage seems at first an odd concept, but as the crowd multiplies in anticipation of Brandon Flowers and pals, the palpable energy that's let off as Mylo's 'Drop the Pressure' releases is a glorious sight.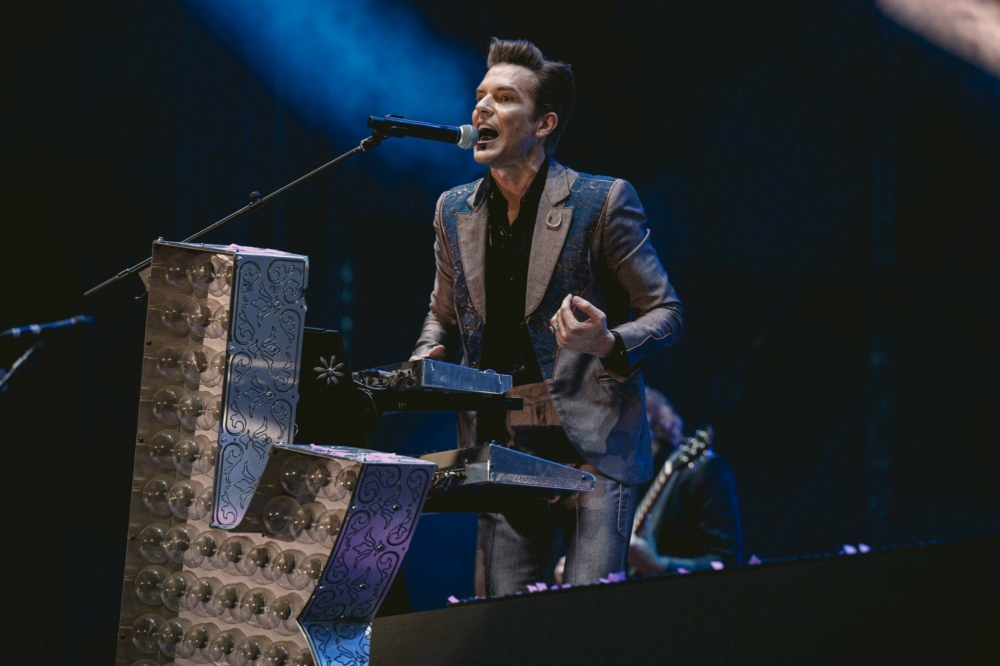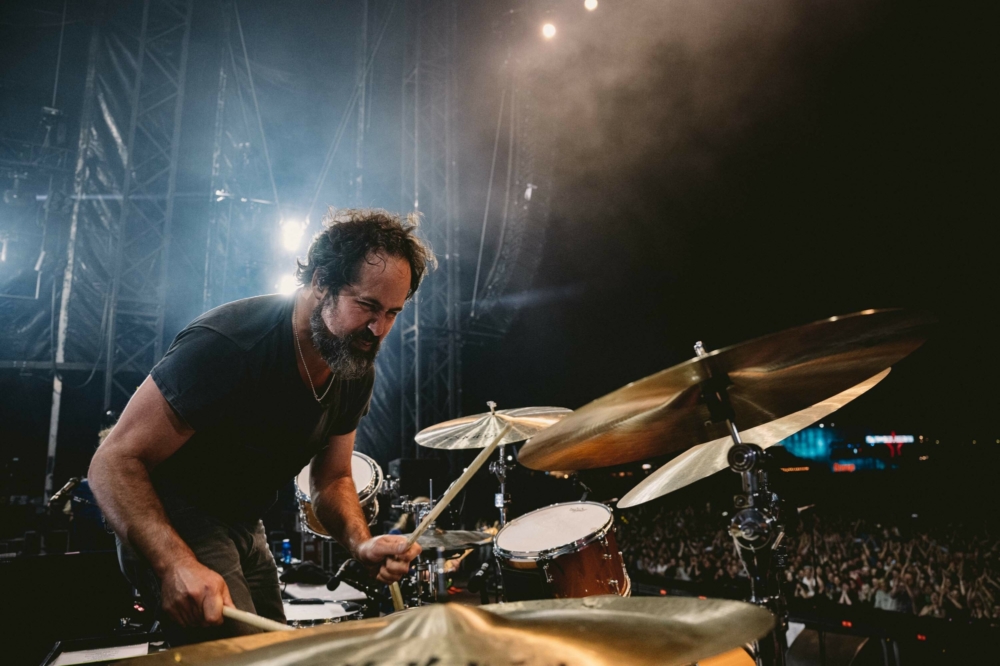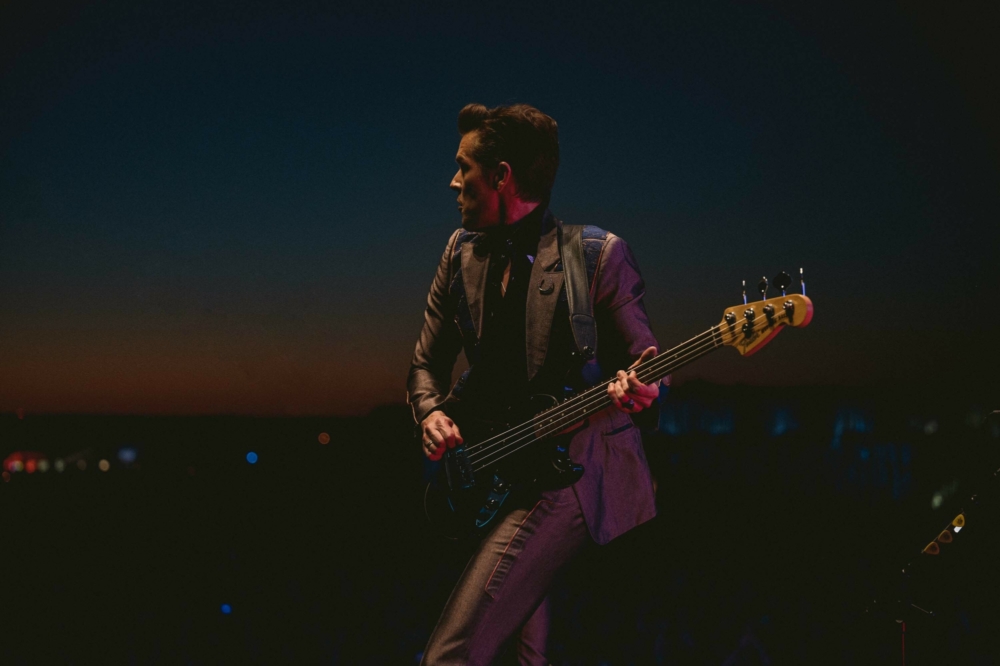 If there's ever a band who know how to headline a festival, it's this one. A reliable force of huge choruses, impeccable showmanship, and a list of hits and fan-favourites so long there was never going to be enough time to cram them all in, The Killers know just what to do. Kicking off with 'The Man' and its requisite pink confetti only to segue immediately into 'Somebody Told Me', theirs is a set that hits all the right notes. 'For Reasons Unknown' sees Brandon don a black bass, while 'Read My Mind' has him adding a snippet of 'Lean On Me'. He stops 'All These Things That I've Done' to mention their meeting with the US Ambassador to Poland earlier in the evening, and praise the country having embraced Ukrainian refugees.
"Thank you very much," he says, as inevitable closer Mr Brightside rings out, its intonation a definitive nod to a legendary name connected with Las Vegas (Elvis, duh). The feeling, one senses, casting an eye out across the huge Open'er crowd, is mutual.
The Killers photos by Rob Loud.


Get your copy of the latest issue
Read More