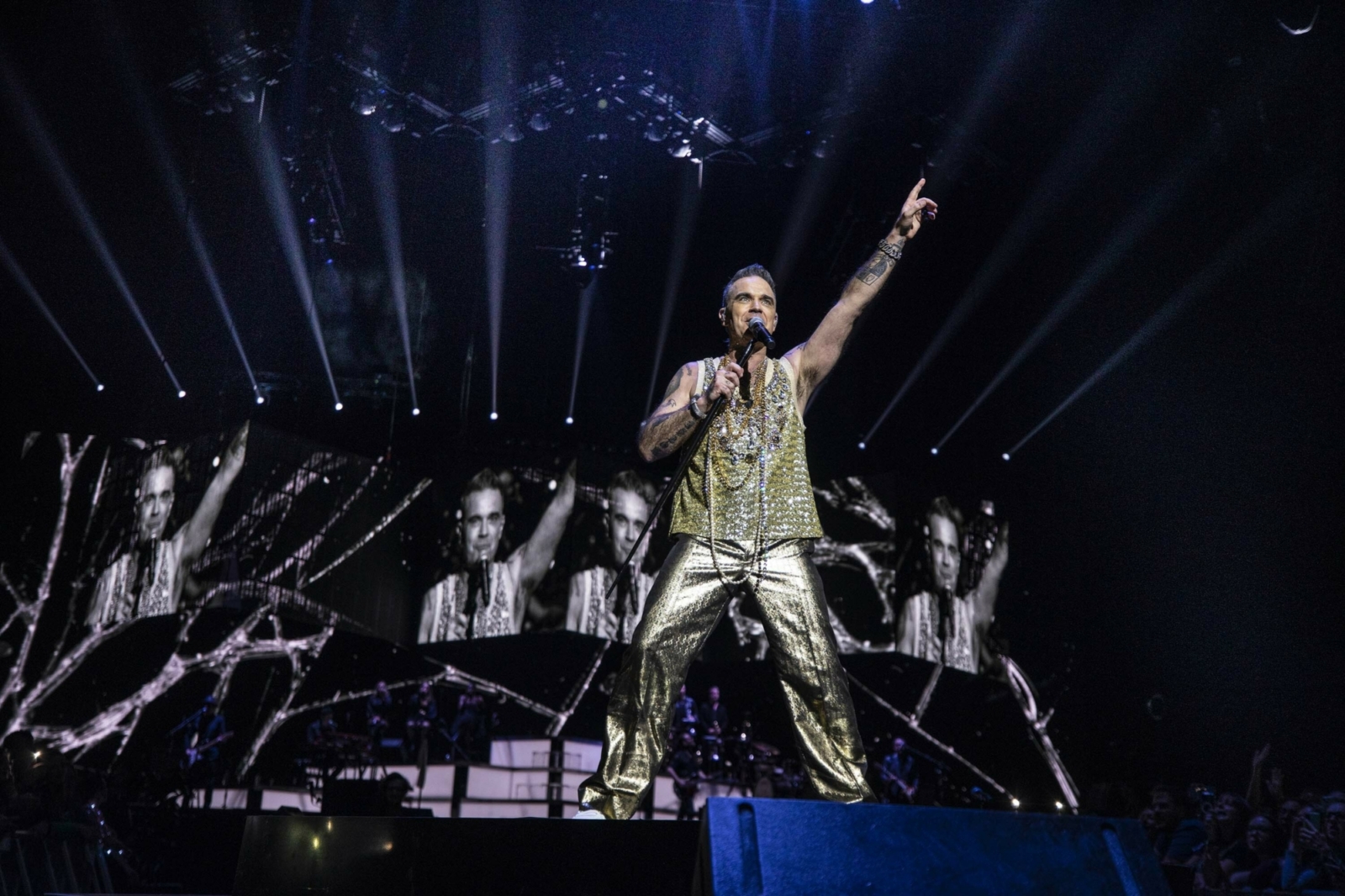 Photo: Simon Niblett
Live Review
Robbie Williams, The O2, London
10th October 2022
This is as jam-packed and charm-filled a greatest hits set as anyone's likely to offer up.
If proof were ever needed of the fickle, contradictory and unpredictable nature of fame, then Robbie Williams would probably be it. He'll admit almost as much tonight; half his material, he tells us, is bragging, the other about being lonely. He'll mention how he's now the solo artist with the most Number One albums in the UK, edging out Elvis, and then check that the 20,000-strong O2 crowd is still with him. Beloved as Take That's 'cheeky' one (until he had the audacity to think he could party with the indie kids at Glastonbury), Robbie was always the 'bad boy' counterpart to Gary Barlow's 'upstanding citizenry'; essentially you could take the lad out of the working mens' club, but hints of light entertainment would always rear their working-class head.

For this stop at the London arena, Robbie is nominally touring in support of latest collection 'XXV', on which tracks from across his 25-year solo career have been reworked alongside the Netherlands' Metropole Orkest – but such intricacies are kept to a minimum. It suits the twinkling 'She's The One' (tonight dedicated to barrier regular, Sue), fits right in on 'Angels', of course, but confuses on 'No Regrets' - the song's call-and-response messaging all but lost. Largely, however, this is as jam-packed and charm-filled a greatest hits set as anyone's likely to offer up.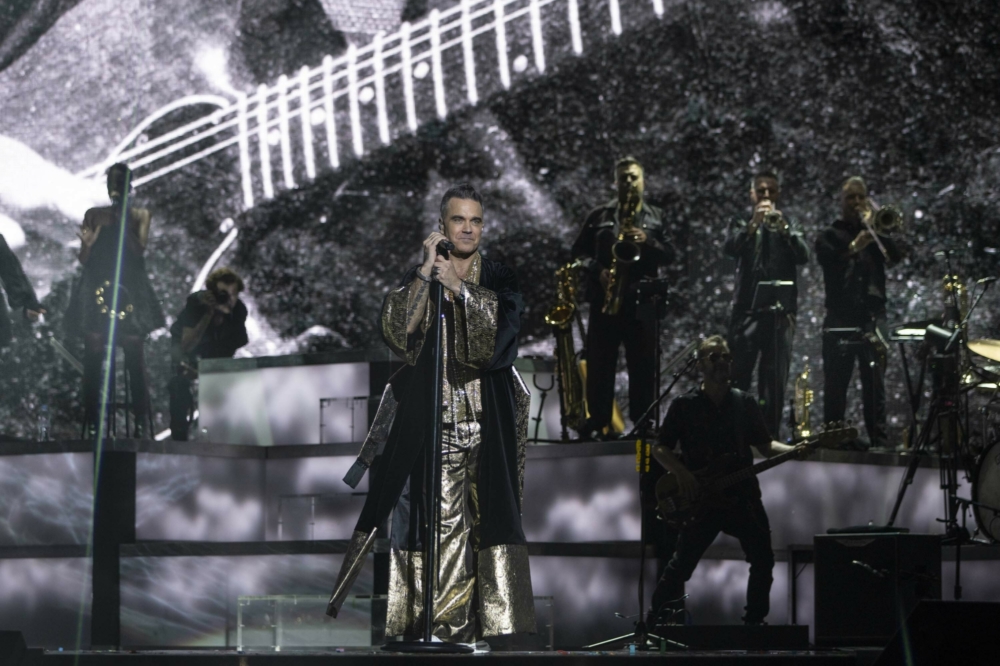 Occasionally choreographed to within an inch of its life (autocue screens visible even from the vast heights of the O2's top tier; an impeccable troupe of dancers; outfit changes that match the many screens' animations) and yet simultaneously chaotic (an arena-wide chant in search of the retired Jason Orange; the a cappella mish-mash of singalongs Robbie leads solo once the house lights are on), he flits back and forth in his timeline, self-deprecating one minute, swaggering the next. It's back to the beginning via a clip of Take That's 'Do What U Like' video, featuring a 17-year-old Robbie, leather, various foodstuffs and a lack of clothing. Then there's a short snippet of his first taste of lead vocals (1993's 'Everything Changes') and on to a faithful cover of Oasis' 'Don't Look Back In Anger' because, well, why not? Whether to showcase just how similar his '90s records were to Actual Britpop – 'Strong' and 'Old Before I Die' tonight's particular cases in point – or just to piss off Noel, it's a lot of fun.
'Kids' sees the backing singers swap roles to fill Kylie's shoes (despite a criminal lack of the song's rap outro), 'Eternity' is revealed to have been written about Geri Halliwell's support to a newly-sober Robbie, and newbie 'Lost', for which the singer requests forgiveness for his self-indulgence, has a kind of trip-hop undertone to it, though it doesn't quite reach quite banger level. "I hope I live to relive the days gone by," he sang in 1997, at a point where, perhaps, the song's premise was a little tongue-in-cheek. Tonight, the whole O2 has done just that.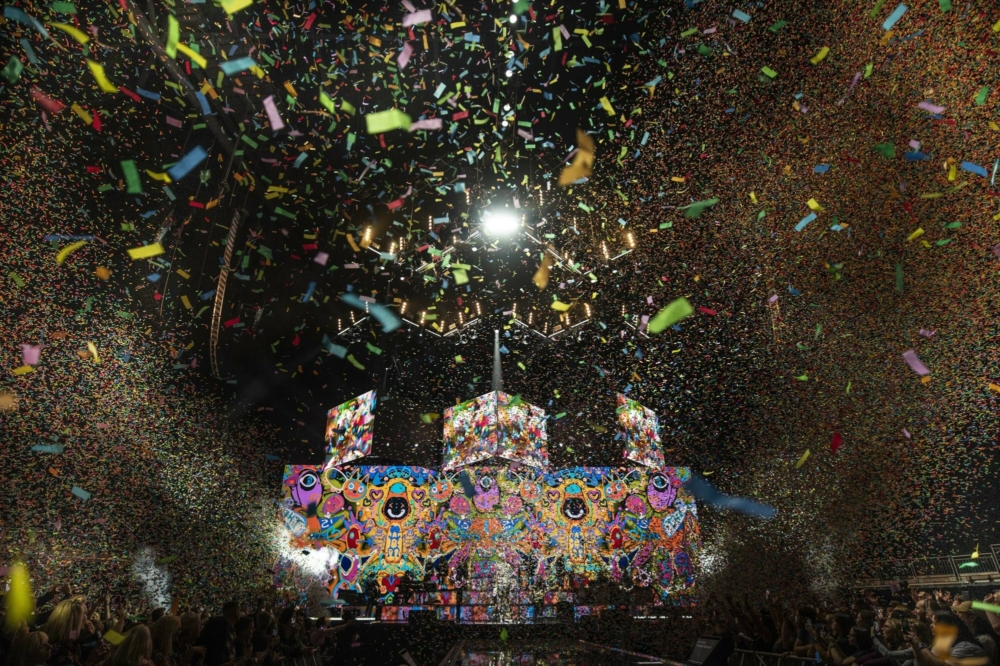 Photos: Simon Niblett.

Get your copy of the latest issue
Read More