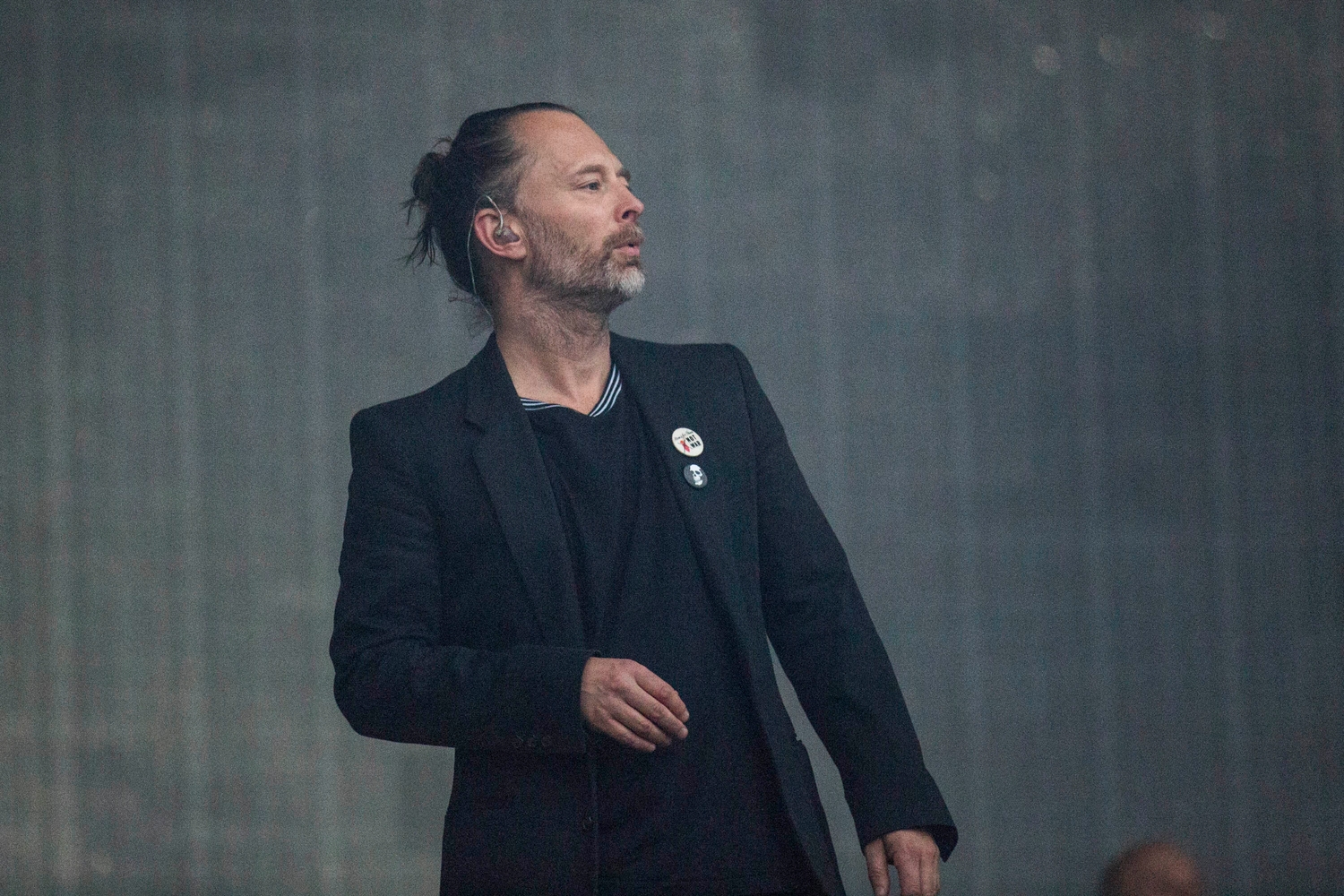 Photo: Emma Swann
Live Review
Thom Yorke brings hard-hitting techno and mind-bending beats to glorious Roundhouse show
A meticulously engineered, seamless trip through a fascinating solo discography.
Thom Yorke's solo career has always been a strange one to keep track of. A mix of live shows, DJ sets, collaborative albums and full solo full-lengths, fitted in around Radiohead's recording and touring schedule, there's always been a slight disconnect between the artist we know and love, and the figure we see performing solo shows.
Tonight, though, at London's famous Roundhouse, it all starts to fit together. Emerging behind backlit screens behind the stage, roars erupt when Yorke's distinctive, ponytailed silhouette strides through backstage, before they've even seen his face, and this kind of adoration continues for the near-two-hour show.
He opens sat at the piano for 'Interference' - from 2014's 'Tomorrow's Modern Boxes' - but he doesn't return to it until the very last song; tonight's show is a hyperactive, superbly energetic one, and channels more of the celebratory nature of Radiohead shows than the frontman has ever previously managed.
Three podiums are set up on stage, one for Thom (though he barely walks back to stand at it except to occasionally loop a vocal or set off a sample), and the others for long-time collaborator Nigel Godrich - who is an infectious ball of energy, whizzing around his workstation like a bumblebee, a delight to watch - and visual artist Tarik Barri, who operates from behind a myriad of computers, sketching intense, often kaleidoscopic visuals.
'A Brain In A Bottle' sees choppy, looped guitars set over thudding beats, with Thom bringing his microphone to center stage, though it rarely stays in one place for more than one song; he's a livewire tonight, clearly relishing the new live setup, and harnessing the off-kilter techno of 'Tomorrow's Modern Boxes' and beyond, the show feeling like halfway towards a rave.
Slinky, trip-hoppy new track 'Impossible Knots' follows, and leads straight into 'Black Swan', from his 2006 solo debut 'The Eraser'. The show is meticulously engineered; where some of the singer's solo shows have felt patched together, tonight flows freely, and becomes somewhat of a psychedelic trip.
New track 'Not The News' sees Aphex-like beats worm their way around a pinprick sharp, repeated piano riff - across the show it's clear that the singer can put his distinctive vocals to sounds from all ends of the spectrum and immediately make the song enter his world seamlessly.
An encore break follows, before Atoms For Peace single 'Default' gets a thunderous reaction, its glitchy, bass-heavy verse giving way to a glorious, beaming chorus, with arms aloft. A second encore sees Thom play Radiohead's rejected Bond theme 'Spectre', dedicating it to Jonny and Colin Greenwood. "I woke up one morning and they said 'We'd like you to write a Bond theme…'" he recounts, chuckling, before gliding through a gorgeous rendition of the 2016 track, backed by starry visuals.
"Hope that was ok guys," he says before departing, though you can barely hear him over the untamed screams from the audience. Bringing together sounds from all corners of his solo discography and melting them together into a meticulous, seamless new live show, Thom Yorke is in his prime, and it's sublime to watch.
Read More
Featuring James Blake, Romy, Marika Hackman, yeule and more.