Live Review
Viagra Boys, Troxy, London
25th January 2023
With vaudevillian rave-punks Fat Dog in tow, tonight is a glorious shrine to beautiful chaos.
Where The 1975 spent the early part of their chart-topping, arena-selling career backed by an ever-present, upright rectangle of light, it seems somewhat fitting that tonight, for Viagra Boys' biggest London show to date, the Swedish miscreants have plumped for a version that's fallen on its side.
Outlining the Art Deco stage of London's Troxy (with the gig moved east following the temporary closure of Brixton Academy), in some ways the upscaled tech feels unusually grand and impressive; an embrace by the typically swampy gutter punks of something like traditional grandeur. But don't be fooled. More like a harsh strobe than a gentle glow, the lights blind and dart around with unpleasant intensity; following a changeover set of mad rave tunes, Sebastian Murphy and co's walk on music, meanwhile, sounds like if The Grinch developed a penchant for mucky jazz. This, to sort-of cite the band's own song and an early set highlight, ain't supposed to be nice.
Buzzy south Londoners Fat Dog are, in their own equally, gloriously discomfiting way, the perfect support band for the job. If the scene around the crotch half of the capital has shifted from talky post-punk a la Shame to experimental collectives such as Black Country, New Road, then Fat Dog perhaps herald phase three: a reaction against overt proficiency, replaced instead by the hedonistic, frenetic aura of having stumbled upon the druggiest bit of Glastonbury's South East Corner. Helmed by yelping vocalist Joe, who spends the majority of their set in the crowd, the cacophony behind him is like a crusty Gabber rave: at times deafeningly loud and intense, but fuelled with a sort wild-eyed determination to squeeze every bit of energy from the time as possible (to which the crowd happily oblige).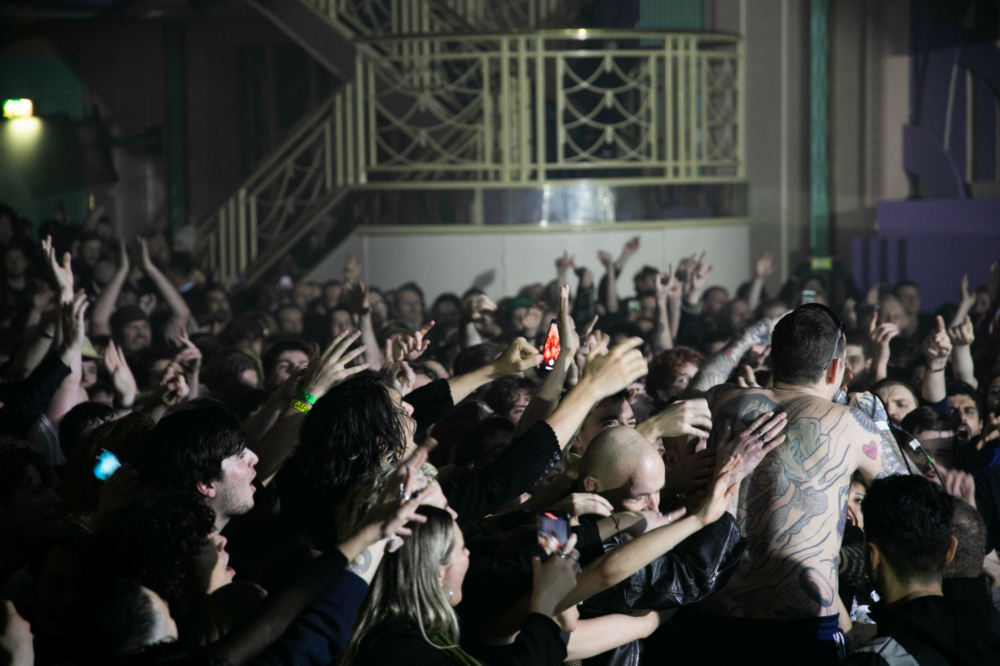 When the awful day finally comes for punk rock godfather Iggy Pop to depart from this mortal coil, he can rest assured in the knowledge that he's left a spiritual successor in Viagra Boys' tattooed frontman. It's not just in the fact that Murphy takes all of three minutes to take his top off, flanked on either side by two bandmates in tiny hotpants just to cover all bases of partial-nakedness. Alternating between a baritone growl and a wild-eyed yet strangely alluring knack for narration, and dancing around the stage with that all-important splash of the feminine that keeps things knowing and playful, he's a frontman in the truest sense of the word: an entertainer who understands that wearing shades and acting like a rockstar is fundamentally ridiculous unless everyone's in on the joke.
Where 'Punk Rock Loser''s sleazy stomp takes the piss out of the bad boy cliches ("I don't go to parties where folks get dressed up/ I go to the function just to fuck shit up"), between songs the vocalist embarks on equally, overtly ludicrous tirades. "I just wanna take drugs and they sent me off to Sweden, man!" he declares at one point, before claiming to have started a fitness TikTok: "I'm trying to get to the most ultimate form." 'Creepy Crawlers', meanwhile, is the midpoint between the two, its lyrics a stream of consciousness tirade from the point of view of an anti-vaxer.
It's a strange ingredient list for what is undeniably a brilliantly magnetic set, capable of holding 3,000 people in the palm of its sweaty hand, and yet there's no moment in this 90 minutes of madness that dips in pure ridiculous fun. At one point, one of the hotpants-men embarks on a long, spotlit sax solo; shortly after, Sebastian is writhing on the ground being battered by a relentless strobe light; not long later and, ahead of 'Shrimp Shack', he's giving a lengthy, lengthy monologue about the crustacean which concludes with a "your mum" punchline. It's stupid and clever, mad and fantastic all at the same time; their strain of brass-laced, seedy punk still hooky enough to reel things back in every time chaos threatens to entirely reign.
Tonight should have been at the milestone career venue of Brixton, and you suspect the sheer magnitude of the venue would have felt like a bizarre victory for the underdogs much like when Fat White Family crowned the space many years back. But within the decadent belly of the Troxy, Viagra Boys remain a beautifully grubby sore thumb; punk rock's winners, through and through.

Photos: Robert Karlsson

Get your copy of the latest issue
£10
£18
Read More