Live:
Reading 2014: Saturday Live Updates
Photos, reports, news and everything else from Reading 2014, as it happens.
Photo: Marc Sethi
Day two of Reading Festival and things aren't showing any signs of slowing down. Last night Paramore and Queens of the Stone Age teamed up to topple Reading. The former fought through technical issues before reaching complete triumph, the latter graduated to the top of the class after years of slogging away. Catch up with all of our updates here.
The action continues with a band getting more confident by the way with their headliner status. Arctic Monkeys aren't going to pull any punches - expect tonight's bill-topping set to be one to remember.
Gnarwolves open the main stage - getting a sudden and deserving promotion to the big-time - while Pulled Apart By Horses and Peace also make worthy appearances. We're also looking ahead to sets from Chvrches, Bombay Bicycle Club, Royal Blood, MØ and lest we forget, the almighty Wolf Alice, who we're tipping to deliver one of the sets of the weekend.
You'll find all the stage times over on the official Reading 2014 website.
DIY's right in the thick of the action on day two of Reading 2014. We'll be bringing you reports, interviews, backstage access and all the best photos throughout the day. Staying at home? Listen to a playlist of Saturday's best acts.
22:41: Arctic Monkeys are midway through their headline set on the main stage. Alex Turner's cutting a suave figure. There's flares. People dressed as inflatable penises. Enough hair wax to form an A-M shaped candle. 'I Bet You Look Good on the Dancefloor' just ripped through the site, and they've already fledged 'Teddy Picker' and 'Brianstorm'. Plenty more up their sleeve, mind you. Check back to the site later for a full report.
21:46: We Are Scientists were second from top on the Festival Republic stage. Photos from Sarah Louise Bennett, below.
21:19: The full report from Chvrches' superb set ahead of Bombay Bicycle Club can be found here. "Fans re-enact the bit-by-bit vocal samples, leap in excitement when Mayberry reaches the soaring chorus. It's only taken a year, but Chvrches have gone from a near-guaranteed success to the real deal."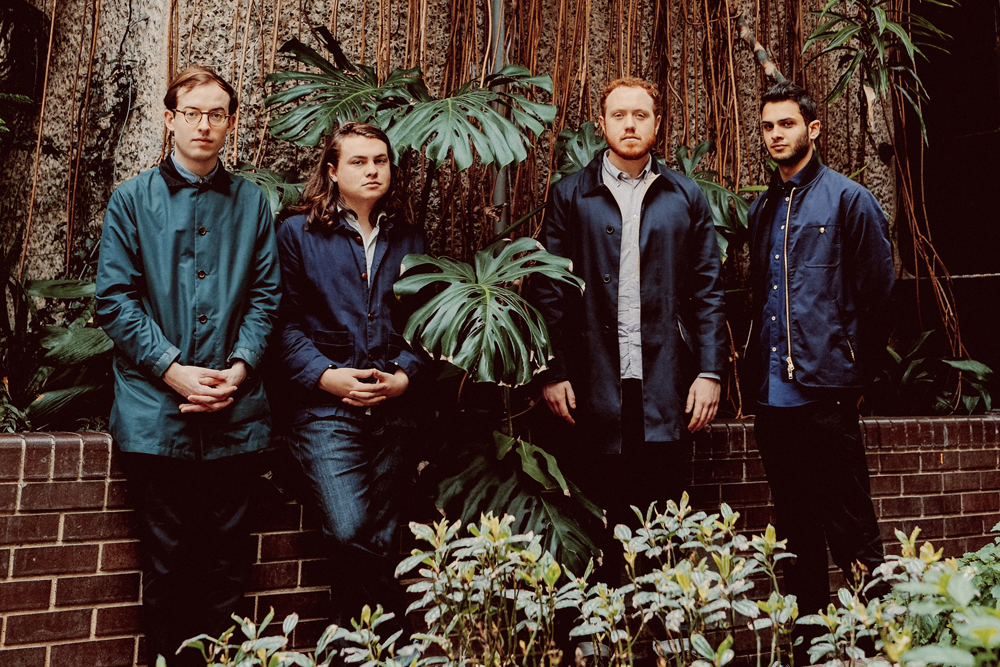 20:51: Bombay Bicycle Club are pedalling their set off to a start at the NME / Radio One tent. It's the band's seventh Reading Festival, so they're veterans of sorts. Jack Steadman had a chat to DIY earlier today and told us about his fondest memory of Reading Festival as a punter; "in the dance tent, a bit worse for wear, and a bit wide eyed" Playing tonight should leave the tent wide eyed for more responsible reasons.
20:40: See shots from The Hives' angelically clean, all-white Main Stage performance below.
20:26: Chvrches just played an incredible set on the NME / Radio 1 tent. Meanwhile Jake Bugg is playing the sunset slot on the main stage. The Amazing Snakeheads (above) introduced their new Dale Barclay-led band on the Festival Republic stage. Barclay recently parted ways with other original members, and the newly-fledged line-up offer a pacier version of the Scottish band's beer-soaked drawl. Dale remains a compelling frontman, obviously topless and drinking Buckfast, as you do.
18:27: Behold, photos from Lower Than Atlantis' NME/Radio tent set earlier today.
18:25: More on Wolf Alice's occasion-conquering set here: "It's a special moment, but it won't be the last. There's no stopping this band, and even if they continue to treat moments like these like the finest of their careers, they'll be met headfirst by something even more incredible."
17:55: Wolf Alice's Festival Republic set more than lived up to expectations. See photos below, full report to follow.
17:16: Royal Blood drew one of the biggest crowds of the weekend in the NME/Radio 1 tent. Their debut album's lit a match - we're witnessing a gigantic band in the making. Photos below.
17:14: Peace made good on their Main Stage slot earlier today. Behold, some shots of them playing are below.
16:37: After her brilliant and utterly bonkers set on Reading's Dance Stage earlier today, MØ seems to have recovered. "I almost gave too much energy," she laughs, chatting to DIY backstage. "I went in the crowd, but there was this mosh pit, so I couldn't go so far in. It was crazy, everyone hungover but still smiling. I really love the vibe here."
Providing inside scoop, of sorts, MØ adds that she's heard "a new STI is going to start at Reading. I wouldn't be surprised."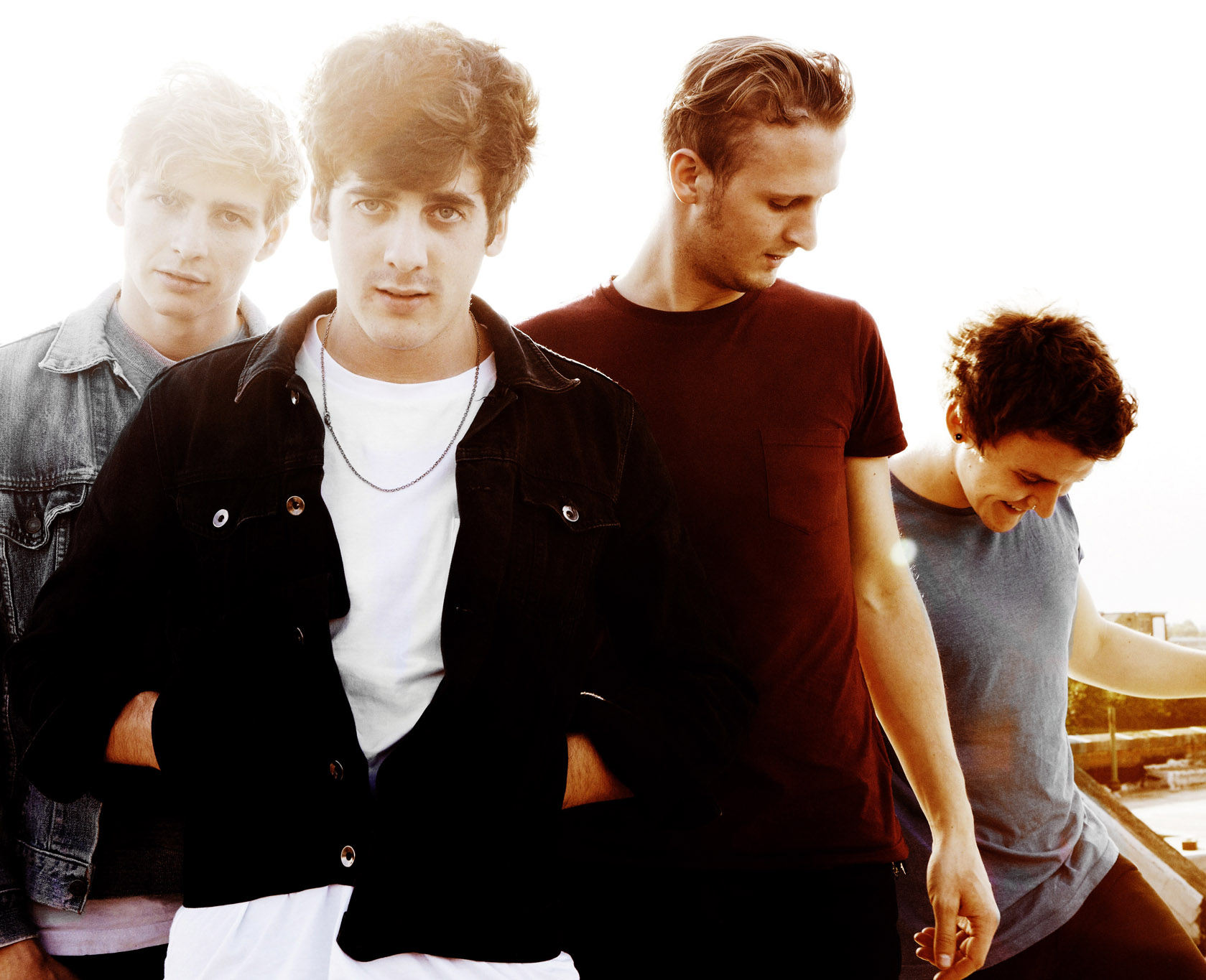 15:57: Circa Waves' Joe Falconer, on his love-in with Reading Festival: "It's a rite of passage, definitely. Not many kids from our school went to Reading but I remember getting my results, buying some cans and getting on a train. I went to the Festival Republic stage, or the Carling stage as it was known at the time. And I stayed there the whole time. Foals in 2007 - I remember that one."
15:53: Bloody hell. The Hives aren't holding back on the old Reading & Leeds attire.
15:33: Bombay Bicycle Club frontman Jack Steadman just caught up with DIY backstage, and he's looking forward to playing Reading's main stage tonight, mainly because it's a very nostalgic festival for all of the band. "It's a bit like a family reunion, isn't it," he says, "you dread it a little, but once you arrive, it's the best."
"We're going to be joined on stage by an old friend," adds Jack, "they've sung with us before." Lucy Rose perchance? "Maybe," accompanied by a nod, is the coy response.
15:09: Peace frontman Harry Koisser isn't disappointing with the stage attire today - he's got an all in one houndstooth ensemble on for the band's Main Stage set, along with holographic glasses and, of course, that furry coat. To top this, Jake Bugg is going to have to make a suit of armour out of tinfoil, or come on stage riding a horse made out of mirror balls. Perhaps both. Watch this space.
15:03: Two minutes until Peace take to Reading. It's a big moment for the band, stepping up and taking their place on the Main Stage, presumably with some eye-catching jackets in tow. Meanwhile, Marika Hackman is in full swing over on the Festival Republic Stage, Jake Bugg's surprise set is drawing to a close at BBC Introducing, and Royal Blood just finished playing what is surely going to be remembered as their defining show to an over-spilling NME/Radio One tent.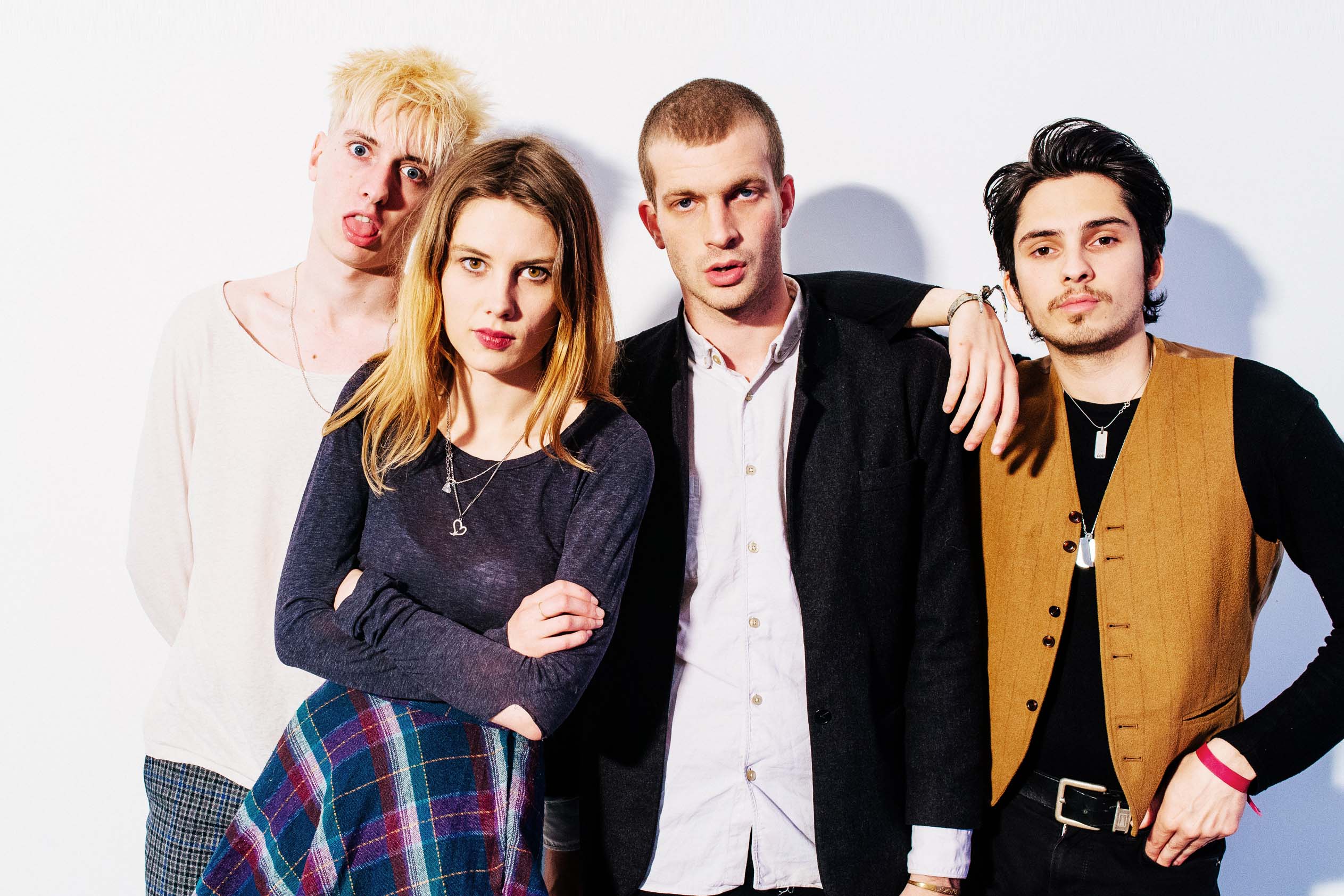 14:56: Between them, Wolf Alice have had their fair share of Reading experiences as punters. "Radiohead was great," remembers drummer Joel Amey.
"We saw the Foo Fighters together. There was more people there than there was for us at Glastonbury! I saw the Rasmus get bottled once, and 50 Cent. Someone threw a chair at 50 Cent. Someone got a deckchair and was like, 'Fuck off'. And he was off."
14:45: For the full report of MØ's Dance Stage set, head here.
14:33: This is the most packed we've seen the NME/Radio 1 Stage so far. Incredible scenes, people spilling out from all sides. In just under a week, surely - surely - they'll have a number 1 album under their belts.
14:19: Photos of Lonely the Brave's set over on the NME/Radio 1 stage.
14:06: MØ just wrapped up over at the Dance Stage, and it looks to be a game-changing show, cementing her as one of the main names to watch. Driving a packed tent into a frenzy, before throwing herself into the middle of said crowd, it was the perfect wake up call. Smooth, glimmering and brought completely to life on stage, all MØ needed to finish the set perfectly was a Spice Girls cover. Conveniently she had one of those up her sleeves too; her own take on 'Say You'll Be There'.
13:27: Here's Pulled Apart By Horses, completely owning the main stage in this early afternoon slot.
13:21: There's so much inter-band t-shirt love today. Lee Vincent from PABH is representing Big Ups, and DZ's Shane Parsons donned a FIDLAR tee. When is Jake Bugg going to come on wearing a MØ cap? That's the question.
13:16: Pulled Apart By Horses are midway through a colossal main stage set, and they're being watched by those DZ Deathrays guys, who rounded off an opening set earlier today. Tomorrow's the last day of their tour for a couple of weeks. "Yeah, we're gonna see everything tomorrow - we might leave Reading today to catch Queens of the Stone Age. Then we'll catch those Bloody Knees guys in Leeds."
12:39: And voila, photos of DZ Deathrays' opening set on the NME/Radio 1 Stage.
12:35: Gnarwolves just rounded off a headline set that might rank as healthy competition for "most moshing before everyone's managed to have their morning coffee." Photos below from Sarah Louise Bennett.
12:22: Jolting Reading festival rudely awake are Brisbane's finest, DZ Deathrays. Repping FIDLAR by way of his t-shirt, Shane Parson is yowling and roaring like his life depends on it. The twisted, monstrous 'Less Out of Sync' hits hardest, though it's a head banging onslaught from the very beginning. DZ set the mood raucously for a jam packed Saturday at Reading.
11:52: Gnarwolves are gearing up to kick off the second day of Reading Festival. "It's such a crazy thing to have to do," guitarist Thom Weeks revealed to DIY in advance of their performance, "and it's so out of our comfort zone."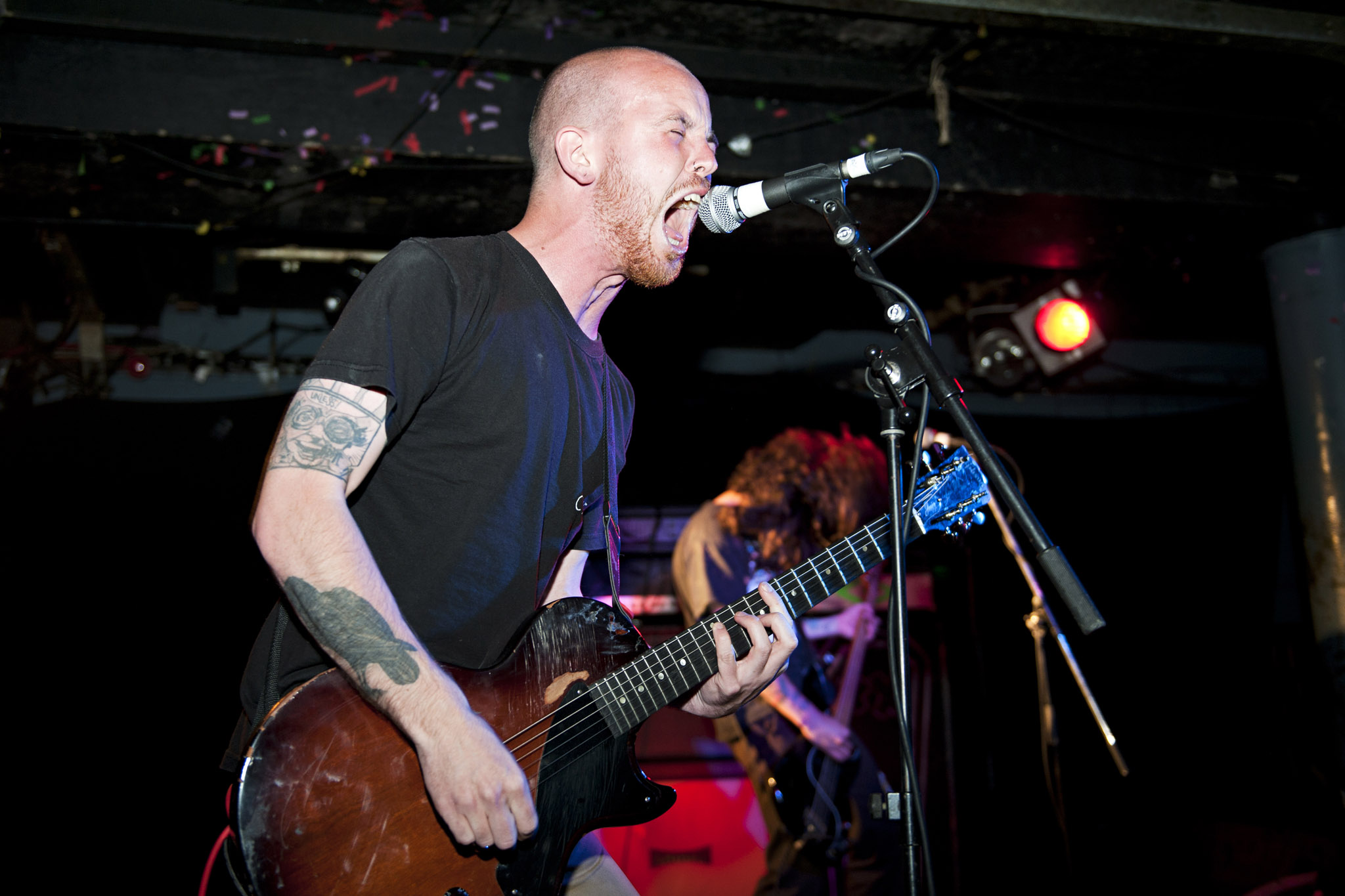 11:40: The first day of Reading 2014 wasn't short of thrills - Paramore spent a good five minutes without sound on the main stage and still managed to pull off a remarkable set; The Orwells took chaos to a whole new level, cementing their status as a R&L favourite; Jamie T kicked up a fuss with his first festival set in years.
It's continuing with an almighty bang today. Here's a handy list of things coming up within the next hour:
- Gnarwolves kick off the main stage almost a year to the good since their head-turning set on the NME / Radio 1 stage in 2013.
- DZ Deathrays arrive on the week of their new album release at 11.50 on the NME / Radio 1 Stage.
- Lyger follow Beasts (currently playing now) on the Lock Up Stage.