Interview:
The Juan Maclean: "People only referencing dance music gets very boring"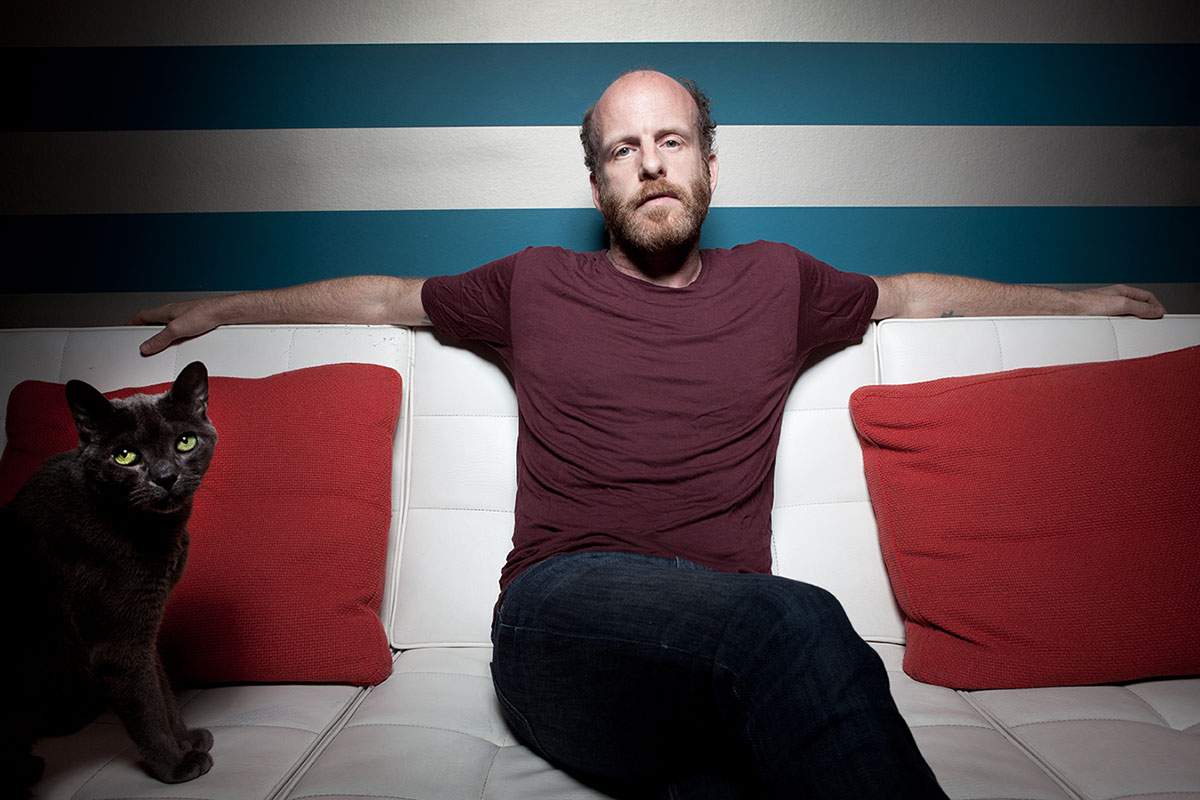 Juan Maclean takes inspiration from all over, as his new album - out this week - demonstrates.
In contemporary dance music there are few more well respected figures than producer and DJ extraordinaire Juan Maclean. Maclean has had a long and varied musical career taking in spells as guitarist in post hardcore group Six Finger Satellite, as well as teaching English to students at a New Hampshire University.
It's his music under the group name The Juan Maclean though, that has really captivated dance music audiences for almost ten years. As one of the standout acts on the LCD-less DFA records the time is right for The Juan Maclean to break out into the wider musical mainstream with their sublime third album 'In A Dream'.
DIY caught up with Juan down the line from his US home to find out more about the album, the power of melancholy emotion and the enduring success of DFA Records.
What're your feelings about 'In A Dream' as it's released across the world - what was the feeling like as you waited for its release?
It's always a funny thing because you finish an album and turn it in, like six months before it comes out. For this one I can honestly say that it's the most excited I've been about anything I've ever done. I think it's definitely the best thing I've ever done. There's a lot of anticipation
You released two outstanding singles last year, 'Feel Like Moving' and 'You Are My Destiny' which don't feature on the album. Where they precursors to the record or did they not quite fit.
When I make 12" like that, I consider those specifically songs to be played in clubs. Making an album for me is a totally different thing. I try to make it song oriented, in a frequency range that's more suited to being heard outside of a club; you don't need big subby bass to listen.
How would you describe the creative and writing process for this album?
It's a very similar process to how I do everything. About a year ago, I had the foundation of 12-15 songs. Then I go to our DFA studio and I take the little bits that I've written and have other people come in and play over them. I replace all my programmed drums with live drums, and we lay down keyboards and record as much stuff as possible for each song. From there I worked with Nick Millhiser from Holy Ghost! in New York at his studio. Everyday we would just go through the songs, whip them up into songs, and then do the vocals. Nick and I would mix it at the DFA studios. Nick had a big part in it.
Did you have a precise sound in mind as you began the process or did the sound morph into shape as you worked on it?
I have a very general idea of what I think it should be like. I also carefully pick who I'm going to work with. In the past, it had been James Murphy in the studio with me, this time Nick and I had never worked in the studio together. So, it was an open process of not being invested in working in anything before working with Nick. When Nick and I got together we said let's see what we can do together with these tracks. Nick definitely has different ideas than I would have. I tend to want to make things more groove based and loopy where Nick is more into chord changes and that type of thing.
Sounds like a good mix of approaches.
Yeah, that was as specifically why I wanted to work with him because it was a nice complementary relationship.
There seems to be infinite possibilities to your music. No sound or style seems off limits for The Juan Maclean. What sort of influences went into this record? The sound reaches far beyond typical dance music.
I try to not restrain myself from having other things poking through that might ring the alarms of dance music people. Like having progressive rock elements and some ridiculous guitar parts in there. There's always my same old influences in there of 80s new wave or even things as obvious as New Order, which is a pretty strong reference.
Do you think your diverse musical background and roots in punk rock etc have helped you create a varied sound.
I hope so. I always think that my favourite people, even in dance music, have come from live music backgrounds or just some other background. I think when people are only referencing dance music it gets very boring. The risk is always that you're doing something that might throw people off. They think, "Oh, I thought this was a dance music album," and there's these sounds in there that aren't supposed to be in dance music.
How do you feel about the renaissance of dance music in the US over the last few years?
I've done very well in the US in the past few years. I think it's because I was going around DJing in the US for years before this house music craze took off and before EDM. I'm in a funny position where I'm like someone like Tensnake, as a house music DJ I'm fairly traditional but when I make an album it's like this pop crossover that gets a lot of play with an indie rock audience as well. That gives me a lot of leeway. I can play at Panorama bar in Berlin or I can DJ at an indie club in London.
The album is characterised by lovely moments of wistful melancholy. It's certainly not full of celebratory euphoria. You can particularly hear that on a song like 'Love Stops Here' Do you feel making this sort of emotional music is easier at this stage of your career, having been making music for so long?
That's actually my favourite tone in music in general; not happy, not sad but this kind of melancholy emotion that I feel is very difficult to convey within music. It feels like an obvious reference but early New Order captured that tone very much. Another reference for that song is David Bowie's 'Heroes'. That song was my 'Heroes' which is a very lofty ambition.
What gives you more satisfaction then - writing a song with a strong emotional connection or a huge rhythmic groove that sets off a dance floor?
I think of them as two different things. I think it's a lot harder to make songs that have an emotional impact whereas with dance floor stuff you can right off the bat rely on production tricks to get your point across. I enjoy both of them equally and I'm lucky because I get to enjoy both worlds.
How much emphasis do you place on your lyrics? I feel like while all your songs have great rhythms etc you always look to tell a story in your lyrics. I guess that's kind of unique for a dance group.
Nancy [Whang] and I talked about that early on. In this kind of music and in a lot of indie rock these days, even in dance music. There's a tendency to have lyrics that are like party lyrics that don't mean anything or stuff that has just no reference that kind of sounds cool. We decided we were going to have really personal honest lyrics and not have irony to hide behind. Each album has been a documentation of things that are true to our lives and trying to be as honest as possible.
Tell us about your partnership with Nancy Whang then? How did you meet and what does she bring to The Juan Maclean?
It's funny because as I was making my second 12" for DFA called 'You Can't Have It Both Ways" around 2002 it was James Murphy and I sitting in the studio and we decided that we wanted to have vocals on it. At 8 o'clock at night we called up Nancy because she was a friend of James' to sing on it. She showed up at the studio about an hour later and that was the first time I actually met her. The next thing I knew she was in the vocal booth doing vocals and we've been working together ever since. It's really good for me because we both have really similar musical backgrounds. She is not a fan of modern dance music. All her dance music references are in disco or the electro of the 80s. When I make a track that's a loopy modern dance track, Nancy's vocals are really different to what you would usually get. It really helps it to stand out for me.
You're mostly known for 2009 single 'Happy House' and rightly so as it's one of the greatest dance records of recent times. Does it ever frustrate you though to be so strongly associated with one song? I feel like there's numerous candidates on the new album to top it.
It's funny you say that because I've just kind of resigned myself to living in the shadow of 'Happy House' for most of my music career. It's a blessing and a curse but more on the blessing side. I really can't complain about it. I do think now that I can say it's a defining dance music track. It's great that I got to make something like that but at the same time it's still the thing that I'm most often referenced with, sometimes you just want to get out from that kind of shadow. Maybe there'll be some things on this album that can step out from that shadow.
Now that LCD Soundsystem are no more do you know feel like the stalwart, flagship band on DFA?
I'm so used to being the underdog while LCD was around. I guess this now makes me the elder statesmen of DFA if anything. I always thought Holy Ghost! Would take on the LCD reigns but we'll see.
How important is it for you to still be recognised as a DFA band?
Being on DFA is still so much a part of my identity and what I do that I just can't conceive of being anywhere else. I think it's amazing that the label has stayed relevant for as long as it has in a world like the dance music world where things come and go. I always tell people that things that seem so big right now in five years will have been forgotten. Somehow, DFA has managed to survive a slew of musical trends.
Has James Murphy been more involved in your music now that he no longer has his own group?
Well, the last few things I've done have been the first that James hasn't had a hand in. He lives in three different cities in the world right now. Yeah! So there, take that James Murphy!
You're equally known for your DJ sets as well as your live band shows. What do you prefer?
It's such a hard question because they're too different things but there's so many similarities. At the end of the day, I think I love DJing so much; it's my favourite thing to do in life in general.
Within your music as The Juan Maclean, though it always sounds live and organic as opposed to processed and cold. How important to you is it to retain that organic quality in your music.
Those are the sounds that I grew up with, hearing instruments being played. I think that style of music has more staying power even by virtue of the way it sounds. People will come back to it for years. I find that a lot of music that is made with very contemporary computer production is hard to listen to over time. I'm really drawn to making something that sounds more classic.
So much music now is made for immediate gratification. You put on one song and it's super compressed and very bright and brittle sounding. At first, you think it's really cool but then you don't want to listen again.
Finally, there's a lot of renewed chatter about the album being on it's last legs and potentially on its way out. What do you say to people who question the lasting longevity of the album as a format?
There are people who say this, who say nobody listens to albums anymore; people only listen to one song and then when I talk to people all over the world they seem to listen to albums. I don't know who is doing a massive poll or where this data comes from but I always find it kind of suspicious. I think most people are like me. Sometimes when I'm driving in my car I'll listen to something more play list oriented and sit on the couch and listen to records or a whole album. I don't think albums are dead by any means.
The Juan Maclean's new album 'In A Dream' is out now via DFA Records.