Interview:
The Decemberists: "Time is relative"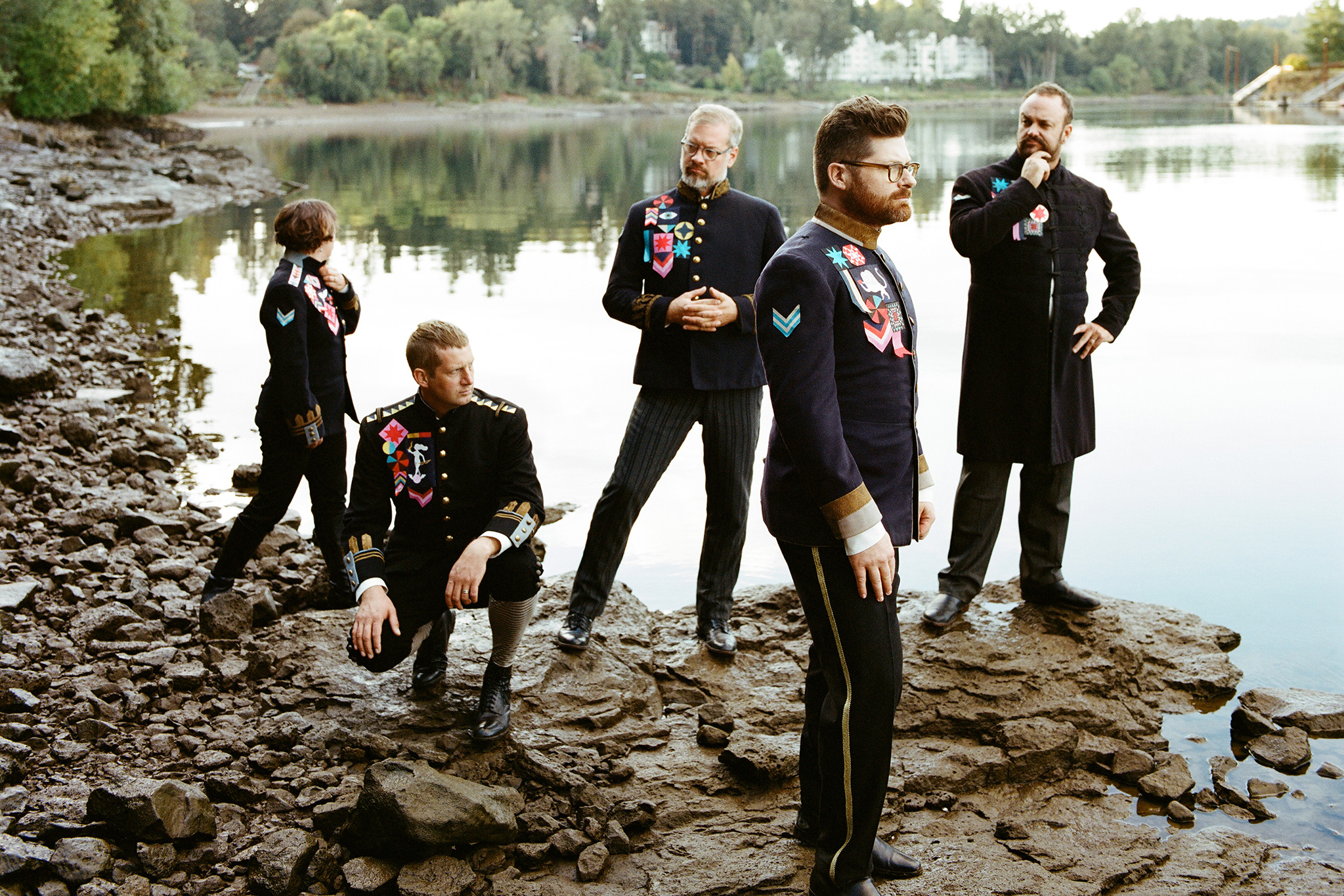 It's been four years since their last album, but The Decemberists have hardly been away.
"I think the weirdest thing was seeing ourselves as Simpsons characters. The Simpsons universe is a pretty surreal and exciting place. And then we were on The Hunger Games soundtrack. I think back to that and think, 'Oh, we were on that, weren't we? I forgot'."
After making six albums of intellectual, polysyllabic alt-rock The Decemberists decided to take a break. They'd earned it: their last album 'The King Is Dead' had sat atop the US charts and they'd even been nominated for a Grammy. But, speaking to Colin Meloy, it's clear that though the band may have been on hiatus for four years (a break designed to help 'keep the juices flowing'), he's not exactly had his feet up. In fact, it's as if they hadn't been away at all: they released a live album, contributed 'One Engine' to The Hunger Games soundtrack and appeared in The Simpsons as music teachers at Springfield Elementary (in which Colin, marvellously, gets to ask the children if they want to "learn a song about press gangs and infanticide"). He also had the small matter of a book to write.
Given all that, the fact that they took just four years to put an album together is pretty remarkable. Their hectic schedule also meant that, when it was time to start to piece together what would become new album 'What A Terrible World, What A Beautiful World', for Meloy it felt like no time had passed at all. "Time is relative and as you get older you just experience it differently. Initially, going into the break, I was setting aside three or four years, which felt like an eternity, and now I'm like 'Woah, what happened?' In some ways it feels like we're just putting out the next record after the 'King Is Dead' and somehow we'd got into a time machine four years later."
Those four years had been set aside for Meloy to write 'Wildwood Imperium', the third of his best-selling fantasy adventure novels. Yet, instead of becoming an obstacle to his songwriting, dividing his time between writing the book and writing new Decemberists' songs actually worked out – one acting as a holiday from the other. "They're nice procrastination tools, one from the other. When I was working on Wildwood it was a breather to work on the songs and likewise on the books. It meant I felt refreshed coming back to the other."
"I'm fairly prolific so I amassed a lot of stuff."
— Colin Meloy
The time away also gave him chance to reflect, and this coupled with having children and the events which he saw happening in the world around him, led to him writing his most personally-charged and inward looking songs. It was a change that had already been signalled by 'The King Is Dead' - 2009's 'The Hazards of Love' record was a lengthy prog-folk-rock opera but King signified a gear change to simpler songs, Meloy writing from the heart rather than writing opuses.
And 'What A Terrible World…' is a record that is more personal still. "With this one we let the songs dictate the shape of the record. Because I was working on them in my downtime between working on the book it meant I was writing songs in the same way I wrote them even before the band – as something that was fun to do and without a record in mind. I'm fairly prolific so over a four year period I amassed a lot of stuff so we had the luxury of just letting the bad ones go, knowing there would be more to take their place."
With no identifiable concept, the songs took a more personal shape, Meloy looking inward for inspiration rather than the narrative-led songs which have been his calling card. The fact that he was writing the book helps to partly explain why. "There's a weird correlation. When I was working on the books I was so focused on writing in that second person mode that when I wrote songs they tended to be more in the first person, as if the books were satisfying the need for narrative. Then, as soon as I finished the book, you can trace where the narrative starts to trickle back in. 'Carolina Low' and 'Till The Water Is All Long Gone' are the songs that came in last and you can start to see a narrative creeping back in."
It's that autobiographical approach that makes this album so beguiling and intriguing. It's a personal feeling we can all relate to: a bewildered sense of futility and helplessness coupled with a recognition of the good in people. It's captured in the album's title, a phrase which comes out near the end of '12/17/12', a track a which he wrote after watching President Obama address the nation following the Newtown school shootings. "That was how I was feeling during that time - and that was two years ago and I don't know that much has changed in my assessment of the world, or maybe ever will. I don't know if other people are having the same epiphany - not that it's a mind-blowing epiphany. If anything maybe it's even a cop out, it's both things. But I guess it's kind of a waymark of my own feelings, of being perplexed by this world. And I feel that things that have happened since then have just played that out."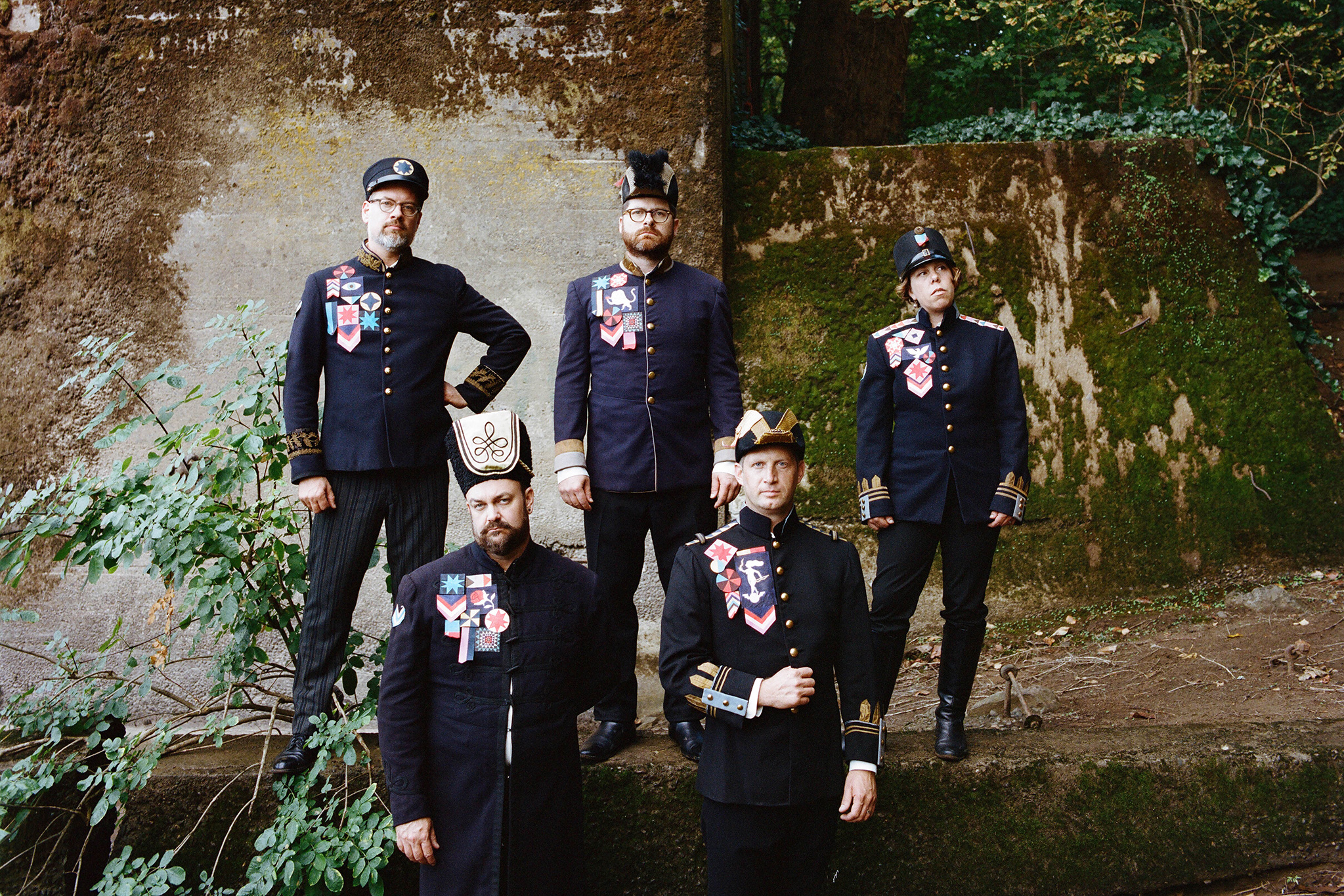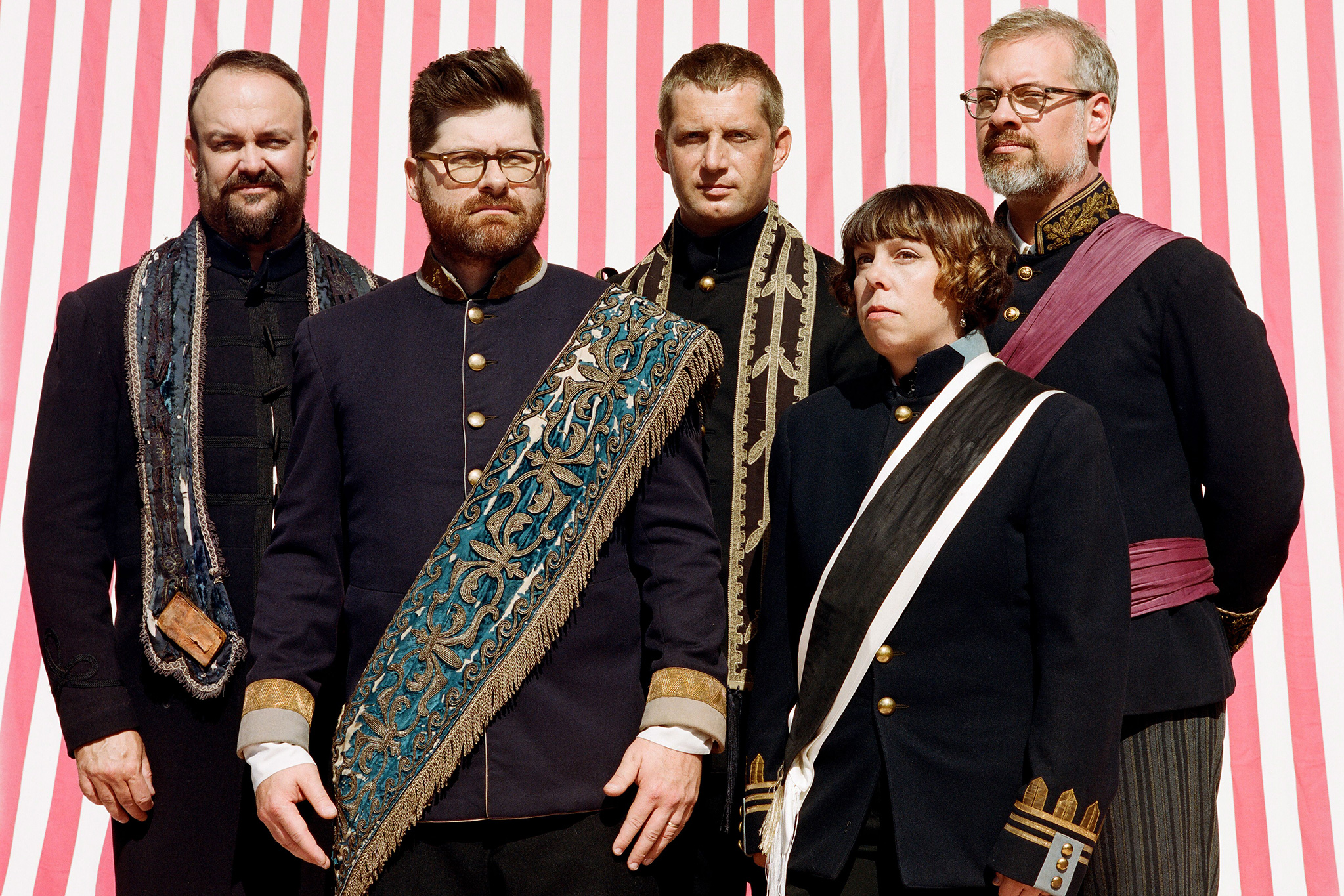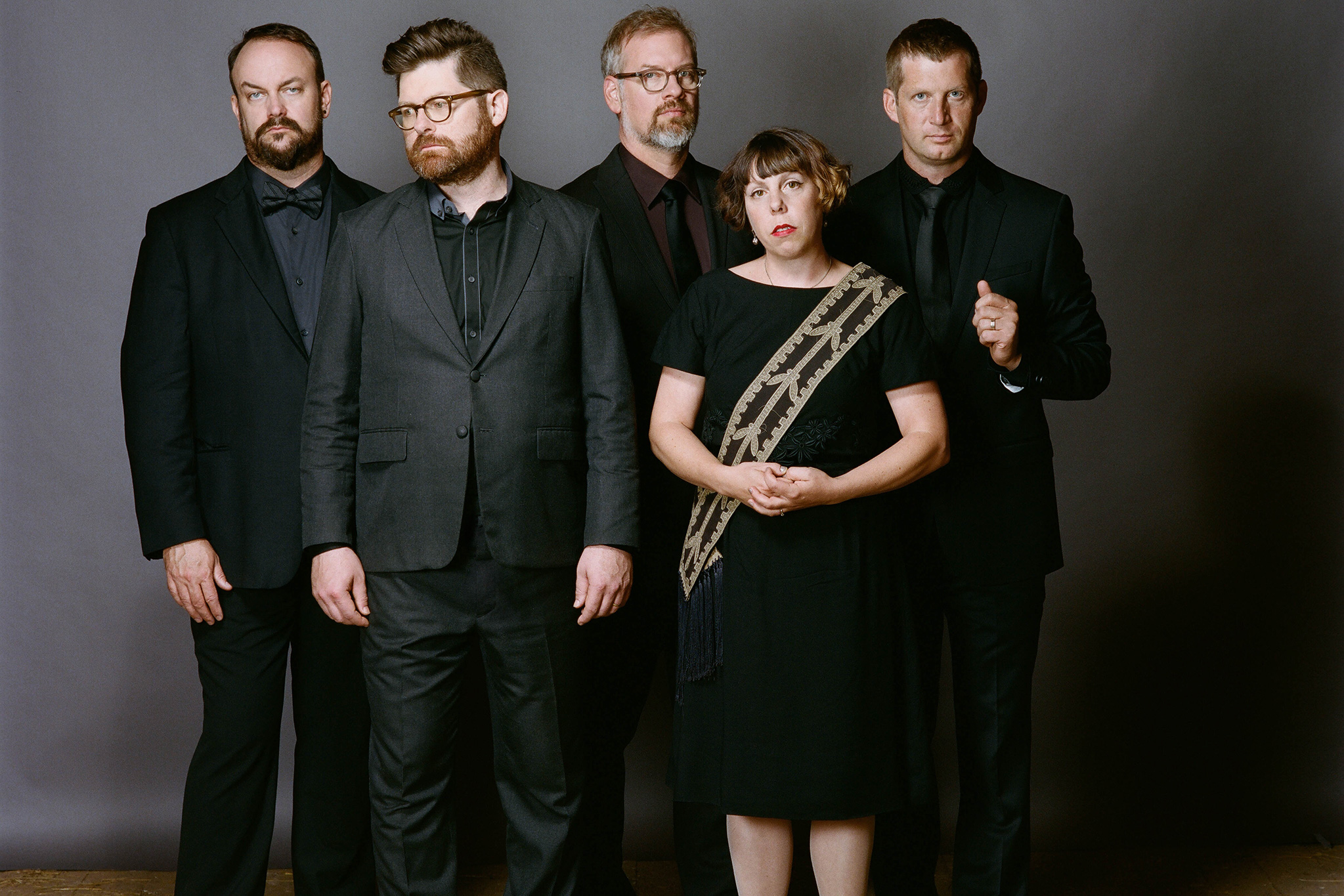 It's also clear that the birth of his two children gave him a fresh outlook and a change in his perspective. "I feel like there was a big shift in me. I think for a long time I wasn't concerned about writing about myself because I just wasn't a very interesting focus to write about. I felt like I was living a staid and uninteresting life, apart from being in a rock band. But once I'd had kids I had to adopt a new worldview. There was a lot more activity; a lot more things that I would be responsible for and it made me reflect on my place in the world and what I hoped for my kids. And I think that comes out in these songs."
And from the Nick Drake-ish 'The Lake Song' (the first song they recorded for the album) through to the stately swagger of first single Make You Better, this is a record that, seven in, shows they've found a rich seam of new ideas to mine. And the two closing songs offer a devastatingly emotional climax. "'A Beginning Song', the last song, is my most bold-faced autobiographical number (as he plaintively but optimistically asks 'I am hopeful, should I be hopeful?') and '12/17/12' – those two are both set together and those are the ones that are closest to my own voice."
Now it's time to put these most exposed of songs out into the open. It was announced with Colin busking in front of a mural of the artwork in New York ("I was sort of a poser busker – I didn't put my case out or anything like that. I don't want to diminish the work that real buskers do.") and will now see the band touring the world. ("It's the first time for us to play Brixton which is a feather in our cap.")
It's clear a lot has changed. But, seven albums in, does he feel like they're the same band, is he the same person? "I do. I look back at some of our older stuff and some funny, funny decisions were made along the way and I don't know if I would make the same decisions now. So in some ways I'm sort of separate to that person writing those songs. But I can still see it; I can hear my voice in them."
Taken from the February issue of DIY, out now - order your copy below. The Decemberists' new album 'What A Terrible World, What A Beautiful World' is out now via Rough Trade Records.