Interview:
Courtney Barnett: "It's like turning my brain inside out and showing it to everyone"
With her dry wit and knack for self-deprecation, Courtney Barnett is anything but pedestrian.
There are lots of things that Courtney Barnett claims she's not very good at. Anyone who's seen the video for 'Avant Gardener' from 2013's 'The Double EP: A Sea of Split Peas' will know she's rubbish at using inhalers and smoking bongs, not to mention that her two-handed backhand shots leave more than a little to be desired. As evidenced by the video for 'Pedestrian At Best' - the first single from her debut album - clowning isn't her ideal profession, either. She can't make balloon animals, and she has a tendency to misfire water pistols. Fair enough. "I've got such a bad memory," she says. Later on she concedes "sometimes my brain doesn't work with words," along with "I'm not a great artist or anything." Now she's just being very self-deprecating.
She might not enjoy sitting on a pedestal, but Courtney Barnett is wrong on that last point. She is a great artist, as it goes; though she deals in words and killer guitar lines rather than standard-issue paints. Her music regales bizarre, witty little stories in brief snapshots. Her album opener tells the story of a man who's sick of his 9-5 job and dreams of being an elevator operator (with clear skin) instead. When he stands on the roof of Melbourne's Nicholas Building watching the ants below, he's mistaken for somebody contemplating suicide. Really, he's just skiving off work, and he's never been happier. Elsewhere, on 'Dead Fox', her thought-tracks wildly career from nicotine-injected apples to taxidermy kangaroos lying at the side of Hume Highway - the ten hour long freeway that links her hometown of Melbourne with Sydney - in the space of a couple of sentences. She's an artist, alright. She might not have a natural flair for tennis, or in fact ping-pong, but when it comes to serving up wry observations she outplays everyone else on the clay.
"It's like turning my brain inside out and showing it to everyone," laughs Courtney Barnett, speaking with the same meandering drawl that characterises her music. "I try to keep my eyes open and take it all in when I see things. Even if I do see something I love, I forget I walked by it straight away, but I always remember the feeling that things give me. I keep a little book and write down absolutely everything," she says. "A lot of the songs and ideas come from those ideas, and my drawings. I work on them, and…" she hesitates, tracing a shape on the table. "What's the word? Elaborate. Yeah, I elaborate on them more, and they turn into something else. That 'Dead Fox' song grew from taxidermy kangaroos, that one line. It took me another year to figure out the rest."
That one line, indeed. "Taxidermy kangaroos are littered on the shoulder / a possum Jackson Pollock is painted on the tar / sometimes I think a single sneeze could be the end of us." It's a bizarre, macabre mirror image, but it's disconcertingly funny, too, like a warped hall of mirrors in an episode of Happy Tree Friends. "So much roadkill!" cackles Courtney, before scrunching up her face in an unconvincing effort to look more reverent. "So many dead animals, it's so sad. But then you see all these stiff…" she grins again, thinking back, "… and I just thought it was the funniest line. And the possum, Jackson Pollock, as well," she smiles, "it's so fucking gross because there's blood all over the highway from a dead animal, with gaps everywhere, and crows eating it." She laughs, "No, it's sad." She falls silent for a moment as if paying her respects to Jackson. "I thought it was good imagery."
It's just one still from the flickering stop-motion book of 'Sometimes I Sit and Think, and Sometimes I Just Sit'. "All those different pictures, even though they're so simple, you can sorta see what they mean," says Courtney. "It's nice being able to say so much with so little. Sometimes it takes a while to figure out what a song's about," she adds. "The songs off the last two EPs ['I've Got a Friend Called Emily Ferris' and 'How to Carve a Carrot into a Rose'] have grown into totally different things over the last two years. They reveal themselves in different ways, I reckon. It'll be interesting to see where these songs end up."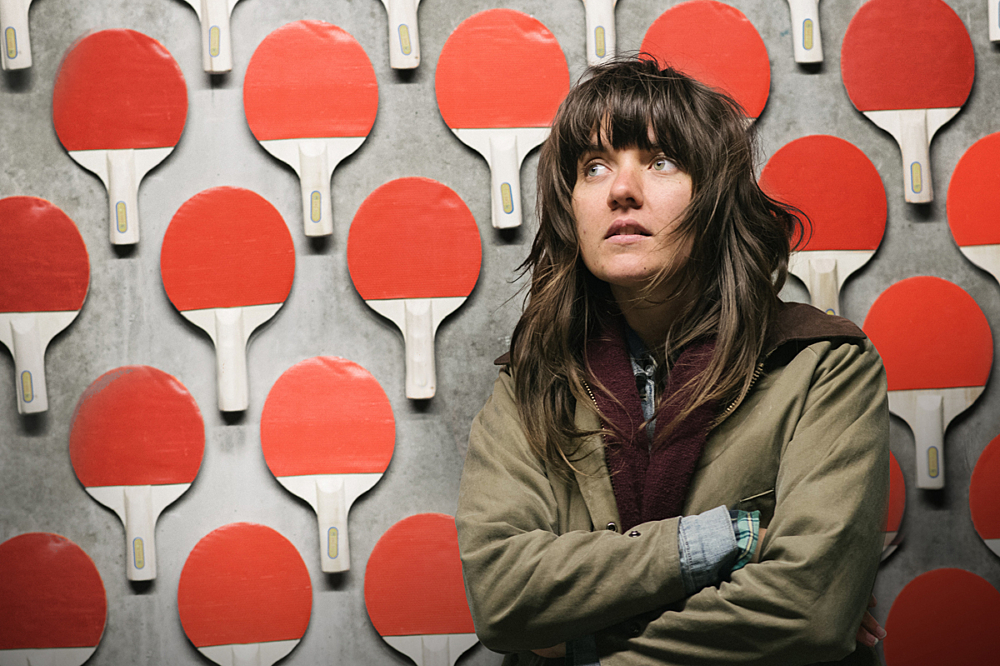 "I keep a little book and write down absolutely everything."
— Courtney Barnett
Letting her songs grow into wild little roaming creatures that make their own way through the world, Courtney Barnett is a relentless documenter, and she's more interested in capturing specific moments than big floating concepts. Everything, she agrees, is in her songs already. Her lyrical stream-of-consciousness, and her unfussy approach to tidying up a recording's edges means she's received comparisons in the past to anti-folk outsiders like Daniel Johnston and Jeffrey Lewis. Courtney Barnett, though, has found her own distinct voice; an unpolished and acutely observational vernacular.
"When I sing I try to keep my own [first-take] vocals, but sometimes they're shit so I have to re-do them," she laughs. "But yeah, I try to capture that moment of the songs coming together, and those small imperfections. I'm not too precious about my vocals. I only do them two or three times - and actually it's the same with everything. I try not to let anyone get too precious about stuff. Otherwise it gets way too polished and perfect. I only showed the guys [in Courtney's backing band] the songs a week or two before, so it was all fresh and new. I think it comes across that way," she says decisively, "to me it does. It feels like there's energy, and everyone's kind of on the edge of their seats, wondering if they're gunna fuck up or not."
"I'm happy with the energy that we captured," she concludes, laughing. "I'm really annoying in the mixing process. I'm like, nah! Make it shitter! I want it to be kind of shit!"
Despite her relaxed approach to recording, Courtney Barnett's been busy sharpening up elsewhere; namely Milk! Records, the label that she runs, and uses to release all of her music. "It's going really well, actually!" she enthuses. "We re-grouped and tried to write a business plan…" She stops mid-sentence. "Business plan?" she asks herself with some disgust, "gross. It's more like a manifesto. We've found more clarity. I feel this year it really dawned on me what Milk! Records is. It's this amazing platform that has been created, that we can produce art from without any of the bullshit, or people wanting money, or all that other boring stuff, y'know?" Frequently Courtney Barnett is asked why she decided to start up Milk Records!; when really, she agrees, the question should be 'why the hell not?'
Above everything else, there's a sense that Courtney Barnett likes to keep things grounded and importantly, in the moment. Last summer, she says, her and her band ended up running around the hazardous and watery streets of Venice, because they only had two hours to look around the whole city. "It was like express Venice," she grins. "We went to the Grand Canal, or whatever, we got in a gondola, did a quick ride, headed to the square, and then ran into another boat. Then we left. I was like, what just happened? Is that real?"
Though she's played on radio waves worldwide these days, Courtney still runs things herself, as much as possible. She still draws her own artwork like she did at the very start, and she releases her own records on Milk! too, along with all her other musician friends from Melbourne. Touring last year was the first time that Courtney had ever travelled outside of Australia, and the wacky old world of jetlag played a big part in 'Sometimes I Sit and Think and Sometimes I Just Sit'.
"It fucks you up!" she exclaims. "Everyone used to talk about jetlag, and I was like, whatever. Stop whinging. But yeah, 'Illustration of Loneliness'," she says, referring to an especially dazed song on her record, "that's very jetlaggy. It really messed me around, I have always worked to a weird time, with weird hours, but it's so spacey, it feels like some other world."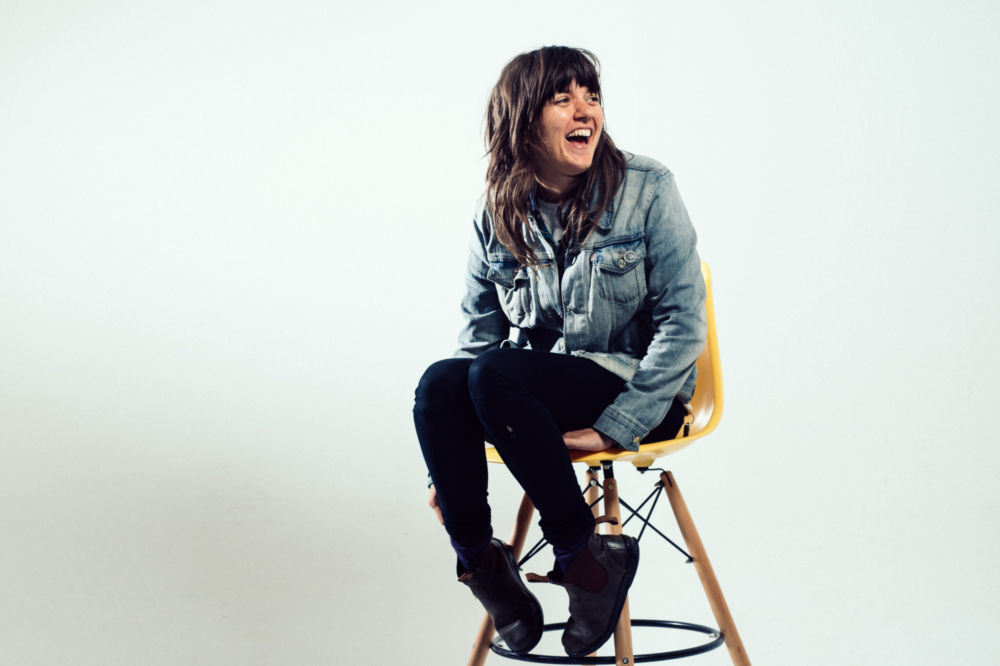 "I'm really annoying in the mixing process. I'm like, nah! Make it shitter! I want it to be kind of shit!"
— Courtney Barnett
Courtney Barnett first started writing for the same reason that lots of people start writing songs; because it felt like the most natural way to express herself. What began as "mucking around and experimenting with different ideas," has grown into something far greater, and her inner thoughts resonate with a lot of people; not just in Melbourne, but across the world. "It's very surreal," she agrees. "It definitely gives you a happy feeling inside. Everyone's so nice, they know what I'm talking about, and they get the humour, and come and talk to me. I feel like I've got quality over quantity of audience," she says with a smirk. "I'd way prefer a small amount of awesome people to like my music. Rather than a thousand redneck idiots buying my records, and being like," she giggles, "derrrrp!"
"I feel like I've achieved so much already," says Courtney Barnett, looking back at her whirlwind year. "Songwriting wise, and musically-wise," she adds, "is that a word? It was a new experience and it feels like I've already achieved something. Hopefully people will find something in there that means something."
Photos: Mike Massaro / DIY. Taken from the March 2015 issue of DIY. Courtney Barnett's debut album 'Sometimes I Sit and Think, and Sometimes I Just Sit' is out now.

Get your copy of the latest issue