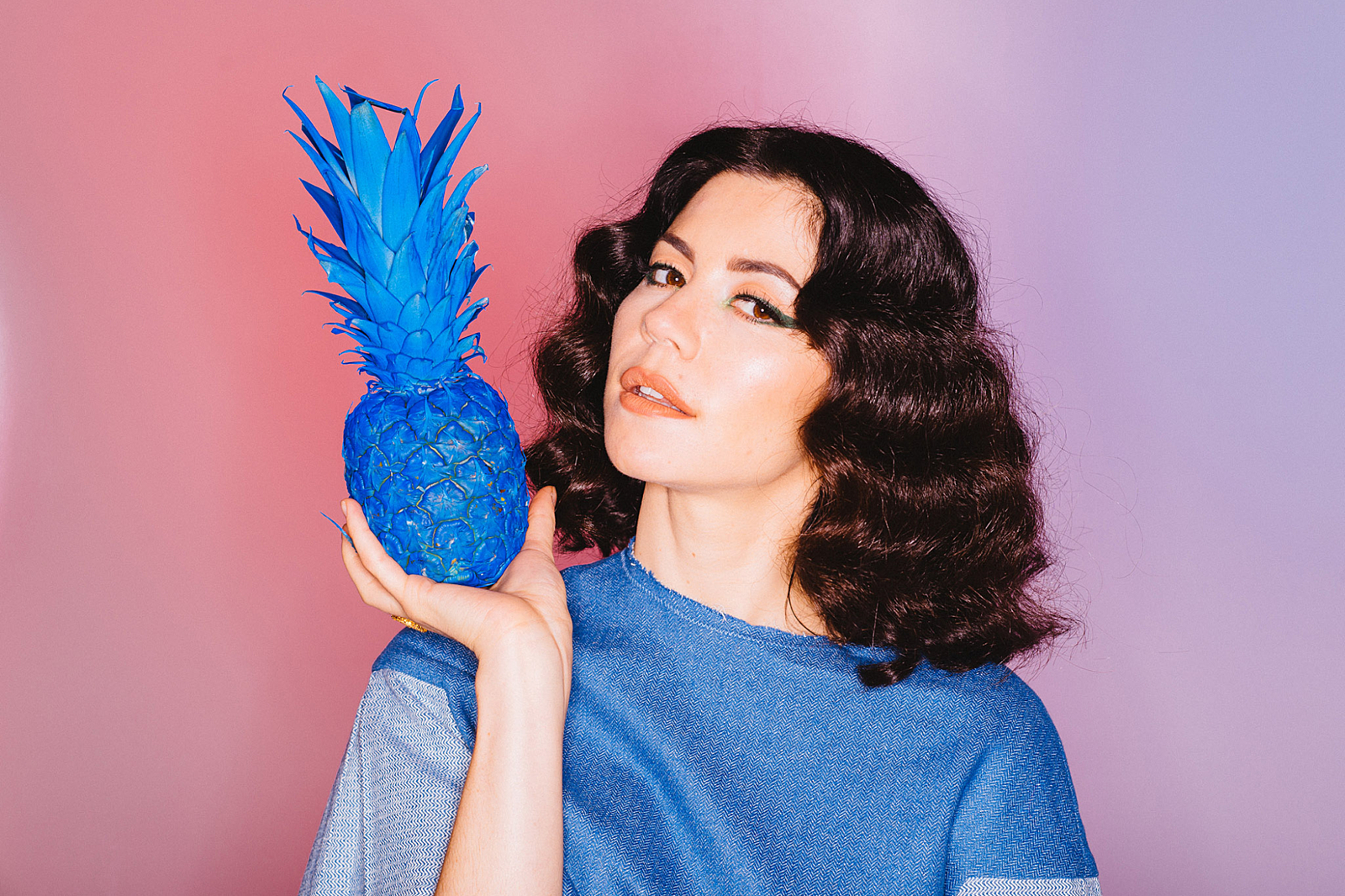 Marina and the Diamonds: Can't pin her down
'Froot' may be Marina and the Diamonds' third album, but as she takes control, it's the first that's truly her.
Artistic transformations come in all shapes and sizes. From the grandiose alter ego of David Bowie's Ziggy Stardust, to the constantly-shifting style of Lady Gaga, pop stars channelling different personalities is nothing new. Yet, when Marina and the Diamonds introduced Electra Heart to the world with her last album, it caused quite a stir.
For those not up to speed, Electra Heart was both the title of Marina's last album, and the name of the character she inhabited. Originally conceived as a side project and described at the time as "the antithesis of everything that I stand for," Madonna, Marilyn Monroe, Britney Spears and Marie Antoinette were all namechecked as influences. Though it may have been the second Marina and the Diamonds album, it was far from personal.
"Looking back, I used Electra as a big lesson." Three years on, Marina Diamandis couldn't appear further away from her previous on-stage incarnation. That infamous blonde wig has been abandoned in favour of her natural dark locks and gone is the tiny black heart that once sat proudly on her cheek.
"It taught me a lot of things about songwriting," she readily admits, "and a lot of things about what I didn't want to be as an artist that were completely independent of the album." She pauses slightly to reflect. "I think people expect me to maybe say negative things [about the album] because it's so pop and it's so different to what I'm doing now. It's not that at all. It was actually how I felt treated, as a 'fake pop star', which turned me off completely. It wasn't much to do with the music but all about the perception."
In the end 'Electra Heart' was a gamble, but it paid off. Not only did it win Diamandis an even larger fanbase and earn her a place at the height of mainstream consciousness, but it topped the charts for good measure. "It's what I wanted to do. It was an extreme position," she confirms, "therefore, you get an extreme effect!"
More than anything, though, it opened the door for what was to come next.
It was only three months after the release of 'Electra Heart' that Marina put pen to paper again. According to Diamandis, that's common practice for her: she'll give herself some time after an album has landed, but soon throw herself back into writing. This time, while she was acting the primadonna pop star on stage, behind the scenes she was making some key decisions about her next move.

"I knew I wanted to write completely alone," she explains. After two albums' worth of writing partners, independence was key. "It was something that I hadn't done so far in my career because, well… It wasn't that I didn't have the confidence, it was more that there were people - culturally-speaking, songwriting-wise, labels and teams - that encourage you to co-write. It's not a bad thing, but I think for me, actually, it would've been if I continued to do that for my whole career."

When it comes to her previous works, the production credits read like a who's who of pop producers: Greg Kurstin, Diplo, Dr. Luke - the list goes on. Yet, Marina still didn't quite feel as though her records were representative of who she was as a performer.

"It wasn't a squeaky clean pop star," she explains, referring to her live shows. "I felt like a band and that part of me hadn't really been expressed yet. I loved playing live and that raw energy and sound that it gave me the opportunity to express. I felt that the way in which I was presented on record was actually much cleaner and I didn't really want that anymore. I wanted to have a sound that was a bit more human this time. That's when I realised I wanted a live drummer. So, once I had done all of the drums live, I thought, actually I really want a lot of guitars on this record. Bit-by-bit, it fell into place."

Since firmly taking the reigns, Marina has become unstoppable. From the funk-infused riot of the title track to the dark dramatics of 'I'm A Ruin' and the 60s shuffle of 'Gold', 'FROOT' is a multi-faceted pop gem, as intriguing and unexpected as it is brilliant.


"
I knew I wanted to write completely alone.
— Marina Diamandis
One of the best examples comes in the album's opener 'Happy'; a not quite what-it-says-on-the-tin affair. "I feel like, after 'Happy', people go like," she stops to put on a charming fake accent, "'So, Marina, what is the key to happiness?!' and I'm like, 'I don't know, I'm not the Dalai Lama!' Listen to the lyrics, they're actually quite depressing!" she laughs. 'Happy' was less a eureka moment or a declaration of intent; instead inspired by the gradual realisation that for the best part of the last decade, she had been at an emotional standstill and now was time for change.
"I had felt the same way for almost ten years of my life, since I was eighteen. Now I'm 29 and that's kind of what led to writing that song," she continues. "It just came from being emotionally static for a long time. Especially post-Electra. It was such an extreme and stressful two-year period, not just in terms of music, but with my health and voice. I had loads of problems and things go wrong, and I just didn't wanna be like that anymore. It certainly wasn't a thing where I was like, 'I'm not gonna do this anymore. Tomorrow I'm gonna wake up happy.'" That's evident enough from the song's lyrical journey. "I think it was more about having realisations about what you like and what you don't like." It's a thread that runs throughout the album; the cold-daylight reflection of 'Blue', the voice of advice in 'Better Than That', the glorious admission of 'Immortal'. Marina becomes both the devil and angel on her own shoulders, tempting fate and throwing her chips in, betting them all on her own happiness.
It isn't just lyrically that Marina takes control, either. Musically, there's an eclecticism that feels natural yet refreshing, and it's a credit to the band-like dynamic that she was intent on exploring. "It's about what the song needs. I think I was always really pedantic before when I was involved in production," she adds, "but I think this time because - from the start - I made it clear that I wanted to co-produce it, it was a completely different vibe from the off. That allowed me to arrange things in the way that I wanted. Actually create a sound that made the songs feel very at home, as opposed to forcing a sound onto the song, like, 'Ooh, this is gonna be disco!' or whatever. Even with 'FROOT'," she admits, "I'm not a disco fan, I'm not a funk fan, but my bassist James did the riff at the beginning, and from that it gave the whole song a groove. The disco element shifted it.

"You can just tell if something doesn't really sound at home. 'Savages' for ages didn't feel right. David [Kosten, producer] had done these really heavy, dark drums and I wasn't happy with it and so it took a while. That was the only song where we were at loggerheads, but it got there in the end."

Marina also teamed up with both Everything Everything's Jeremy Pritchard and Alex Robertshaw, and The Cure's Jason Cooper. "David knows Jason," she laughs. "That's the only reason that I got him!" The recipe for 'FROOT' seemed to come together nicely, even calling upon Guillemots' Fyfe Dangerfield for extra piano. "It was very much like old connections and David's new connections. It was nice, it was very chilled actually." The results became one of Diamandis' most fulfilling recording experiences.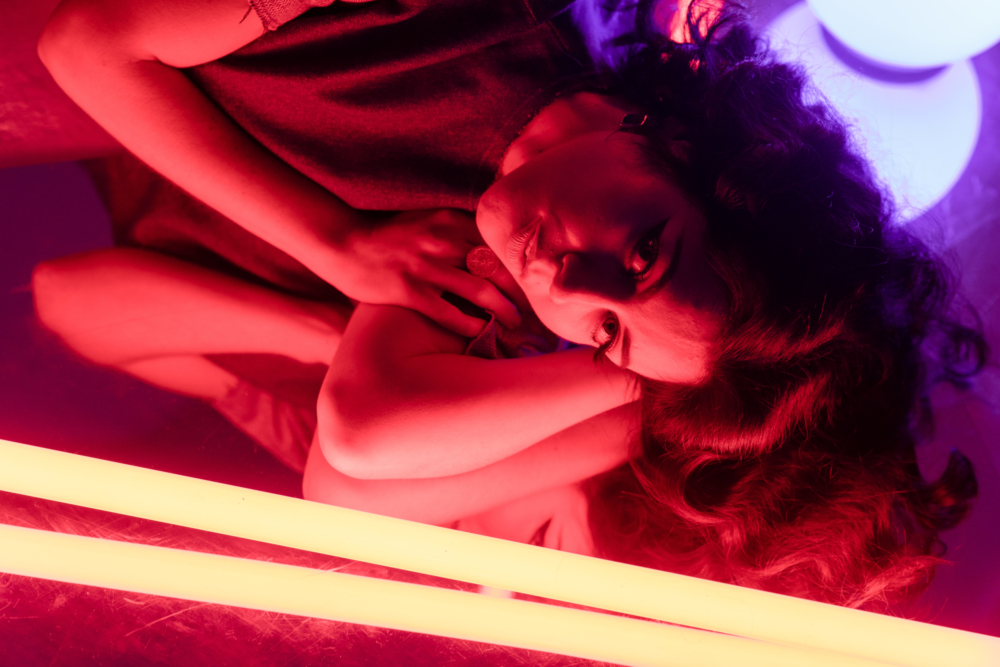 "It was probably my most pleasant experience working with a producer. Not that they've been bad before, but I like David, he's really funny. He gave me a huge amount of confidence. Before, I felt like, when you're a girl and you have the potential to be pop, it's like they think you can't really do things, or they assume you're not gonna be trusted in terms of production because it's a very male role.
"This time felt quite stable because in the past, I've done a week here and there, and that's how I wrote and produced. With this one, we locked off two and a half months. It was nice to just go into a studio every single day."
More than anything, her third album has given Marina the opportunity to finally fully realise herself on record. While 'Electra Heart' and 'The Family Jewels' went on to become learning curves, it turns out they were only warm up acts. 'FROOT' is the start of something new.
"As an artist, to be challenged and stimulated is really important," Diamandis says. "Whatever I go on to do is going to be very different again. I have to have that because otherwise there's no point in me doing this. I don't want to recreate the same album. Even in terms of songwriting and production, you have to be progressing, otherwise I don't wanna do it anymore.
"I kind of see this as a starting point for me as a songwriter and an artist. This is the first album I've been properly represented in. I wanna go on to do other things that are completely out of the mainstream - outside of pop - and this will allow me to do that." She smiles, already clearly excited at the prospect. "It's like a calling card, in a way."
Marina and the Diamonds' new album 'FROOT' is out now via Atlantic.