Live Review
Florence + The Machine, Alexandra Palace, London
22nd September 2015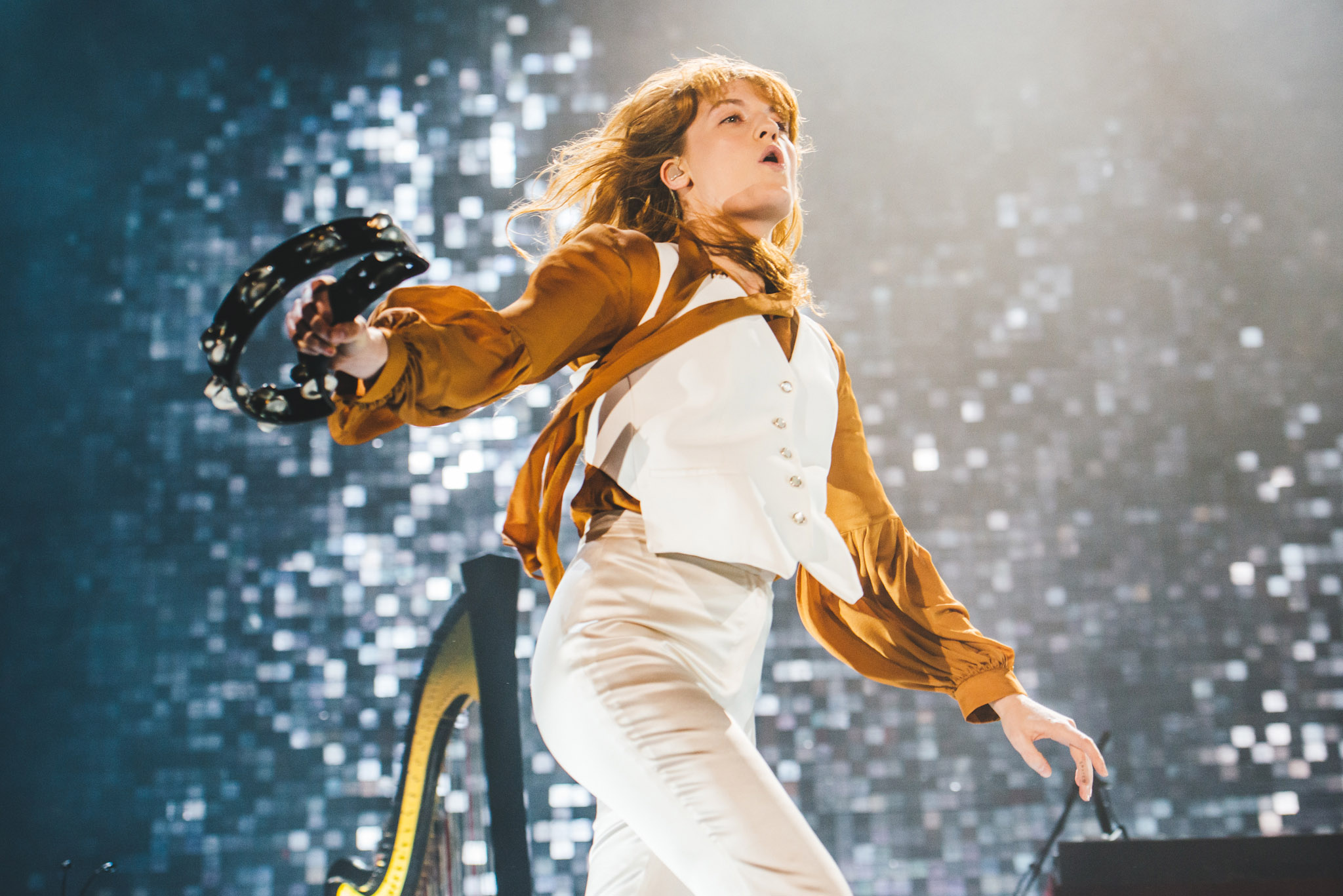 Florence is a marvel to watch.
Tonight's opening trio - 'What The Water Gave Me', a dramatic 'Ship To Wreck' (which feels like her vocal chords will burst at any given moment), and 'Shake It Out' - are a Usain Bolt like burst out of the blocks. During the last, Florence Welch invites the audience to be part of her choir for the evening, an invitation enthusiastically taken up by a crowd who are in fine voice. Up there, on that massive stage she's having tremendous fun - and she wants her audience to share it, whether it's inviting the crowd to climb onto each-others' shoulders during 'Rabbit Heart' or throw off items of clothing.
Hers is the face that radiates from the pair of giant screens flanking both sides of Alexandra Palace's auditorium as she cavorts barefoot around the stage with theatrical abandon, twisting and spinning in a display of ballerina-like grace.
Her versatility is shown in the stripped back version of 'Cosmic Love' which features harp and acoustic guitar to spellbinding effect. Despite some occasionally shrieky backing vocals, a heavier rendition of recent album cut 'Delilah' and a blistering 'Mother' explode with energy in balance with some of the more sedate material tonight. It would be easy to throw in a crowd-pleasing remixed version of 'Spectrum' but the original, and a euphoric 'You've Got The Love' succeed in getting tired limbs moving in this all-standing venue.
Having finished the main part of the set clutching a host of retrieved garments and throwing them over the stage, Florence re-appears back on stage arms wide open before throwing herself to the floor and getting up close with male audience members during a faultless 'What Kind of Man'. 'Drumming Song' concludes proceedings on a high note, the intensity of the "louder than sirens…hotter than hell" lyrics building with every drum beat.
Florence is a marvel to watch, charged with charisma yet charmingly quiet and refreshingly normal. One of the musicians of her generation.